Hello and welcome to the seventh recap of the fifth season of Glee, a terrifying late-night television program about toilet plungers, Thumbelina, overpriced cocktails, strip poker sans poker and a fierce team of crime-fighting balloon animals with chapstick for brains and an irritating tendency to spontaneously break into song. This week's episode took us beyond the candleabra into a majestical world of bubblegum and crack rock, investigating such pressing issues as wildlife preservation, heavy periods and underwater sex acts. Will our merry gang of warriors discover which artifact is turning innocent children into legless puppets? Let's find out!
This week's episode was penned by none other than our dear Matthew Hodgson, best known for the abysmal and offensive situation "I Kissed a Girl." Matthew strikes me as the kind of guy who'd want me to bake him a pie but GOOD NEWS, Marni made a pie yesterday for Thanksgiving so I don't even need to make another pie, I just have to recap this g-dforsaken show.
I feel like this recap isn't very funny but I think that's because everybody in this episode is cranky the whole time! I can't be the only one who came here to party.
---
We open in the Glee Room where, free from the watchful eyes of the Very Shy Anonymous Backup Band, the children have sprung themselves upon wayward instruments. They're plucking and clutching and pounding until interrupted by Blaine, who's been sent to supervise Glee Club 'cause I lit William Schuster's house on fire and watched it burn.
Blaine immediately tops the entire class with his ideas about going acapella in Nationals (starring Blaine of course) and then the entire class power bottoms right back and protests his vision of a night sans guitars.
Tina calls Blaine "Blaine Jung-Il," because of the famine and totalitarianism Blaine's musical tastes will surely inspire. Then Blaine goes and sulks in a corner and Fake Quinn says he's "man-strating." Mhm.
---
We then seal our skulls in Outdoor Research Sun runner caps, stuff the meat and cheese of our fallible bodies into lumpy sky blue snowpants, snap our tiny feet into bedazzled snowshoes and cross-country ski all the way from Ohio, taking a brief detour through the fine slopes of New England, until at last arriving in New York, New York, where Kurt's called an emergency meeting of The Gayest Band Ever.
Kurt's booked The Gayest Band Ever a gig at Broadway piano bar Callbacks, but his band members protest that debuting at Callbacks will be detrimental to their inevitable stardom. Glambert insists that he follows "lots of bands just starting out" and "it's kinda all about the launch," which is nonsense. All bands start out playing open mikes, Bar Mitzvahs, farmers markets, shitty dive bars and A-Camp. Nobody denies you a record deal 'cause you played your first gig at your Uncle's 40th Birthday Party.
But before I can dwell on Glee's ten-thousandth inaccuracy, we segue into Kurt's dream fantasy of the group's debut, which involves Madonna, bright colors, lesbians, my gay boyfriend Adam Lambert, and therefore basically everything good and holy in the world.
http://youtu.be/IMhAkJCvBPs
My gay boyfriend Adam Lambert is sexy, Santana is hot hot hot, and Dani is um… nowhere to be seen?
Kurt's wet dream is interrupted by a ring-a-ding-ding from his fiancee Blaine Warbler, who's despondent that Glee Club finds him controlling when all he's trying to do is control everything. Kurt tells him not to be a puppet master and also tells Blaine he'll send him a JetBlue voucher so Blaine can catch Kurt's debut at Callbacks. Does Kurt get tipped in JetBlue vouchers.
---
Already transported to Lima via the power of The Telephone Split-Screen, we then gamely swing on down the hallowed hallways, where Sue's harassing Figgins 'cause today is Evaluation Day, starring Ted Beneke as the guy in charge of whether or not Sue will get to be Forever Principal Sylvester.
Following her inspirational speech about making McKinley NUMBER ONE, Ted Beneke asks Sue if she'd like to grab a beer sometime 'cause he needs more dude friends. The punchline here is that he thinks Sue is a man because um… she's wearing pants? Perhaps he fell on his head recently.
---
Cut to Sue having an out-of-character feelings-fest with her Beckretary and a bowl of Honey Nut Cheerios.
Sue: "That Bob Harris thinks i could star in the sequel to Boys Don't Cry honestly, it kind of bums me out."
HAHAHAHA HATE CRIME MURDER RAPE HAHAHA SEQUEL HAHAHA
Becky suggests Sue wears a skirt, which segues into Sue segueing us into a flashback wherein a younger Sue Sylvester, clad in a sensible skirtsuit and rocking luscious locks of hair, is unable to demand respect from '80s teenagers hooked on dope and Pac-Man.
Intrepid Intern Grace made this graphic wherein she demonstrates Sue's likeness to Bill Haverchuck from Freaks and Geeks dressing up as the Bionic Woman for Halloween: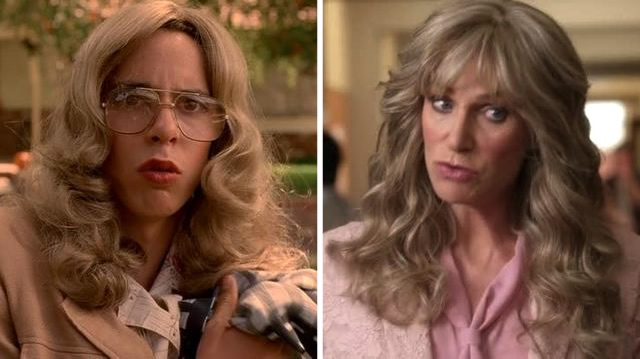 I should watch that show some time, maybe instead of this one? Anyhow, Sue's inability to create change to believe in while wearing a pink blazer inspired Sue to chop off her terrible wig, adopt tracksuits 4 lyfe, and charge through the hallway beating up children.
Sue notes that "the moment I put that track suit on, the world bowed before me," but Becky rebuts that it couldn't hurt to "girl it up a bit." If only "girl" was a word that invoked specific standards of appearance and clothing items! It isn't, but nobody cares because Gender Trouble is really dense and hard to get through.
---
Back in Glee Club, Blaine's sulking that nobody wants his fist up their butt and the Piano Guy's sulking that he lost all his moolah playing online blackjack.
Then Blaine recedes into a misty fog of himself, transitioning into a bizarro-world in which the entirety of Glee Club is represented by muppets, which is really how Glee should always be from now on. Look: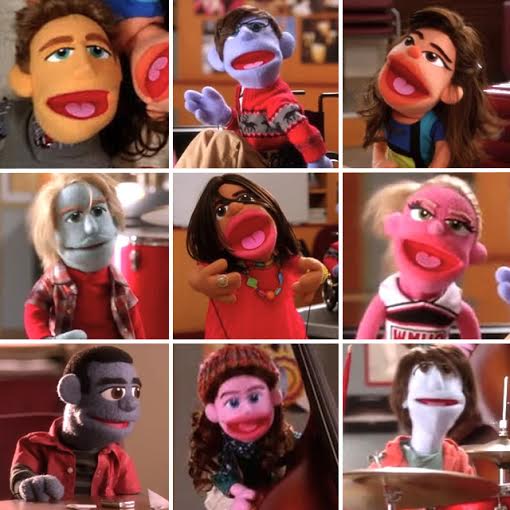 They launch joyously into "You're My Best Friend," a terrible song I totally hate.
We then snap back into real life, where apparently while we were treated to a muppets-enhanced zone-out, Blaine's body remained in the Glee Room, silent and surly. Fake Quinn says she'll call him a wahmbulance but nobody ever calls the wambulence when they say they will, you know?
---
Elsewhere in McKinley High, New Puck is teaching the Cheerios to dance but he thinks they all suck. Then he looks at a girl, and New Santana is like "are you fucking everybody now," and he's like "YUP" and she's like, "ew."
Then Blaine thanks New Puck for standing up for him and warns him of a mystical artifact in the Glee Room causing normal humans to do strange things!
Cut to Glee Club, where New Puck's lost interest in coreographing the Gleeks 'cause they can't booty pop.
Marley's like "you think you're all that but you're totally not," and he's like, um, yeah actually I totally am all that, just like the movie She's All That, but instead it's He's All That, and I'm the star.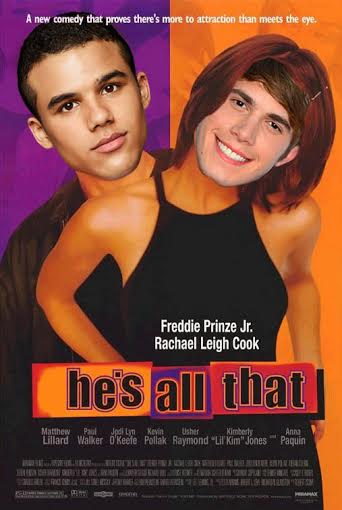 Then New Puck enters the Twilight Zone for a rousing rendition of the Janet Jackson classic Nasty/Rhythm Nation, and it's actually really fucking cool and good and I'm not sure why New Santana has a new personality this episode but whatever I like her better than Marley-Paste that's for sure.
Here, a video:
http://youtu.be/uCQlqM4lSBM
At the song's end, New Puck wakes up from what was apparently a daze inspired by the yet-to-be snagged/tagged/bagged mysterious artifact causing musical blackouts and everybody hates him.
---
Cut to Art Class, where Blaine secures permission to make a Kurt puppet, probs for sexual purposes. Then he chats with said puppet throughout the hallways, which is supposed to be weird but is actually awesome.
Then Sue trips in a pair of heels because HAHAHA FEMINITIY HAHAHA WOMENSTUFF HAHAHA POWERFUL WOMAN IN LADY-SHOES HAHAHAH
Sue, disturbed by Blaine's relationship with his new felt real doll, snatches it from his clammy clutches and leaves him empty-fisted and alone.
---
Sue then barrels into the Glee Club room, where Sir William's dancing around like somebody I didn't infect with E Coli three hours ago. As per Ryan Murphy's Law, Sue is well aware that when a woman needs a thing — even when that thing is getting in touch with the softer side of Sears— the best thing to do is to ask a man for help.
Sue: "You're an oddly feminine man."
Will: "What?"
Sue: "Oh please you just literally did a pirouette."
Will: "Sue, just because a guy can dance doesn't make him effeminate."
Sue: "That's what I'm saying. When you dance, somehow, you're able to maintain your manliness. Here's the thing: um, I happen to have a sizeable crush on the handsomest man in the universe. Superintendent Bob Harris. I've had multiple conversations with him. In fact, several days ago, I was quite certain he was flirting with me. But it turns out, all this time, he thought I was a man. I blame the Johnny Cash song, "A Boy Named Sue."
Will explains to Sue that Ginger Rogers was "the pinnacle of femininity" and did everything Fred Astaire did, except backwards in heels, and yet "managed to find a way to be feminine and strong." Therefore Sue should have no trouble being both strong and feminine. EUREKA! Yup, shit's getting real wild with these combos, what's next? Pretzels stuffed with peanut butter? Books with pages in them? Children with mouths and ears? Movies with comedy and tragedy?
Will says he'll teach Sue to be a strong feminine lady if she ponies up for the Glee Club's trip to nationals, but she refuses 'cause they spent so much money on the Lady Gaga airbag. I guess her job now is to say what we're all thinking. But backwards, in sneakers.
Then the Glee Club laughing gas chimes in, and we transition to a black and white fantasy dance number starring Will and Sue Sylvester.
http://youtu.be/VGXT2tLrx90
Then Sue wakes up because it was all just a dream and Becky needs a mini-fridge. There's obviously nothing wrong with wanting to look feminine, I do it every day and love makeup
---
Cut to the hallowed hallways, where New Santana tells New Puck that she's pregnant and that he's gotta take her to the doctor.
Later that day or week or hour, Blaine Anderson breaks into Sue's office to snatch his puppet and/or snag it, bag it and tag it, but Sue catches him puppet-handed, and demands he kindly remove his fist from Puppet Hummel's butt. Then Sue condemns him to a week of detention, which'll get in the way of his big trip to New York for Kurt's first gig.
Sue: "Well then you're gonna have to cancel Wonder Woman's invisible jet, or whatever magic discount bullet train you kids use for your weekly jaunts to New York."
Okay really, having Sue point this shit out will never taste as good as THIS SHIT NEVER HAPPENING IN THE FIRST PLACE.
---
We then pick up some bargain space-suits at Ross, hijack the Battlestar Galactica, and immediately command Gaeta to jump to New York, New York, where Kurt's on the phone with Blaine. Kurt wants to know if Blaine's on his way from the airport, but Blaine's like oh whoops yeah I'm totes at The Cracker Barrel right now eating my feelings in cinnamon apples and gooey macaroni and cheese because Sue caught me stealing my puppet back.
Apparently, Blaine decided it'd be easier on Kurt's feelings to skip his flight and then wait 'til two minutes before the show to inform Kurt that he won't be making it than it would be to inform him as soon as he knew he'd be absent. Kurt asks if Blaine sees him as a thing made out of felt with button-eyes instead of a flesh-and-blood human with bones having a really big night because now Kurt is a muppet again.
Rachel creeps backstage, Kurt says they can un-reserve Blaine's seat, and Rachel says that won't be necessary 'cause nobody's at the show.
It's a Thursday night though so to be fair all their potential fans are probs at home waiting for Scandal to come on, except for one single solitary old man who's shown up with his Angela Lansbury box-set.
---
We then slip on some too-skinny Jordaches and our favorite shiniest newest cowboy boots and mount a band of Wild Horses (like in the Rolling Stones song "Wild Horses") and gallop all the way back to Lima, Ohio, where Sue has summoned Unique to teach Sue how to be more "feminine" because whatever this show.
Sue: "When a woman of my stature needs a makeover, she rings up all her best gays, but unfortunately, Porcelain The Sassy Toothless Elf is in New York, so G-d's most fabulous mistake, I turn to you. I want to look more like a lady."
Unique: "Girl, I have already pulled out my makeup kit — I got you, boo."
The levels upon which this is problematic are as follows:
Conflation of trans* women and gay men
Sue Sylvester, strong womanbeast, is so into this guy that she's willing to get a makeover to please him
Sue Sylvester, who once married herself, is so into this guy that she doesn't realize any guy who she has to get a makeover for isn't worth her time
Unique should barter with this bitch! For example, perhaps in exchange for a makeover, Sue could let Unique use the motherfucking bathroom
Plays into the trope of trans* women being more obsessed with makeup than cis women("In other words, the media's and audience's fascination with the feminization of trans women is a by-product of their sexualization of all women." – Julia Serano, Whipping Girl)
SUE IS ALREADY WEARING MAKEUP!
Every time I'm forced to use the term "problematic" in a Glee recap, my eyeballs roll back and fall out of my head
Santana and Dani aren't having lesbian sex in this scene
---
Cut to detention starring Blaine, Becky and New Puck. This scene is chock-full of Breakfast Club references, much to my delight. Remember that really awesome episode of Dawson's Creek that played off of The Breakfast Club? I miss Dawson's Creek.
Blaine suggests to his fellow inmates that they take this opportunity to bond, which I imagine will involve eating yogurt, talking about chicks in the Niagara Falls area, making lamps, smoking pot, breaking windows, humping a statue, putting out cigarettes on their arms and eating my shorts.
Then everybody turns into a muppet and begins sharing their feelings by quoting members of The Breakfast Club. Blaine feels terible about missing Kurt's show, but the muppet versions of Becky and New Puck are very supportive:
Blaine: "Maybe the fact that I can only really feel like myself with friends I can totally control is keeping me from really feeling like I'm close to anyone, maybe it's indicative of a deeper intimacy issue."
New Puck Muppet: "Or maybe everyone should just wise up and start doing everything you say because you are so right on all the time!"
New Puck's gotta jet early to accompany New Santana to abortion avenue, but good news: she got her period and he's off the hook, thus dashing my fantasy of a riotous dance number in Planned Parenthood featuring lots of overworked super-nice nurses, teenagers with yeast infections and a bunch of bored boyfriends. Have I told you lately that I love Planned Parenthood, because I do.
ALSO THOUGH: No girl would tell her hookup that she was pregnant until she took an actual g-ddamn pregnancy test. Instead, she'd say 'my period is late, I might be pregnant." Then she'd go buy a motherfucking pregnancy test and make sure she was in fact actually pregnant before signing up for a doctor's appointment. New Puck's totally relieved, and she's suddenly pissed because why anything.
New Santana: "Let me hit you with the blunt instrument of reality, Puckerman. You're still you, a douchey playboy who's gonna spend the rest of his life dealing with one mess after another as long as he lives. One of these days, you are gonna knock someone up, and I feel bad for whoever has to have a child that shares your DNA."
New Puck: "Hey, I'm gonna make a great father one day."
New Santana: "To who, your seven kids by seven different women? Not unless you change."
New Santana then asks New Puck to stay away from her because he's toxic.
If hearing the word "toxic" made you wish you were watching the Britney Spears music video for "Toxic," good news, I have it right here for you:

---
Later in the hallowed hallways of McKinley High, Sue's wearing a nice pantsuit and a J-Law haircut and The Watchers love everything and want her to be McKinley principal forever.
Then she asks Ted Beneke on a date and he's like hell no, I don't want Walter White up my ass again, stay away from me. :-(
---
Back in The Auditorium of Broken Dreams, Blaine's talking to a Tina puppet and also to himself, but Tina quickly catches him with his fist up her ass, and proceeds to inform him that the Glee kids stuck their hollow melons together and managed to summon compassion for their hapless pocket gay's mental unraveling. They've decided he can do lead on one song and choose whatever arrangement he believes to be best.
---
Elsewhere in the hallowed hallways, New Puck tells Marley-Kate that he misses her every second of every day and that he needs her to make him a better person. She goes rogue against the Glee Misison Statement / Ryan Murphy's Law, declaring "I'm not here to fix you, Jake." And she doesn't even like him any more SO THERE.
---
We then zip ourselves into spandex bodysuits with little ear-holes and work together as a team to build a cross-country zip line, thus enabling us to skyrocket all the way from Lima to New York, New York, where Adam Lambert, Santana and Rachel are determining the fate of Hamela Shamsbury following their depressing gig at Callbacks.
Kurt then strolls in to announce they'll be playing their second gig at the Williamsburg Music Hall! Apparently, the one dude who showed up to their first gig had a swell time and passed the bootleg on to his nephew, who undoubtedly was like "oh lord help me another fucking tape from Uncle Randolph."
This of course is silly and would never happen, but I really hope Stef is working the door for their first gig so she can live-tweet it for us. Anyhoo, this meeting of the minds (sans Demi Lovato, again) is interrupted by a delivery from Blaine — it's a large box!
What could be inside it?
Oh whoops sorry, wrong show. It's muppets!
Slightly further west, Blaine apologizes to the Glee Club and apologizes for being so toppy and commits to being a Bossy Bottom from now on. In celebration of this event, he's purchased muppets so that the entire Glee Club can freely enjoy bossing around their very own bottoms.
Thus we segue into this episode's rousing closing number, a song I thank the Blessed Lord above to have never heard before promos for this episode launched last week and a song which is now stuck in my head, I think, for the rest of my tender life on this small planet.
Here you go, it's on video:
http://youtu.be/FALPMw8jqL0
The End!
---
Next week on Glee, aka December 5th, we'll have a Christmas special! This means there are two events I'm already dreading for December 5th: 1. Glee, 2. Jury Duty. Everybody pray to lesbian Jesus tonight that I won't get picked for Jury Duty, okay?
Pages: 1 2See entire article on one page