Evan Rachel Wood Bisexual is starring in a new movie called Charlie Countryman, but before most of the nation has even had a chance to see it, the patriarchy is already trying to get in the way. Keeping in line with its long history of censoring sex (and specifically sex being enjoyed primarily by women) above all else, the Motion Picture Association of America put pressure on the film's director Fredrik Bond to edit a sex scene in the film in order to get the film's rating down to an R instead of NC-17. Wood wasn't having any part of that, and on Wednesday she took to twitter to let the world know how screwed up the MPAA really is.
Wood first pointed out that the MPAA has a long history of doing this and that their actions are rife with hypocrisy.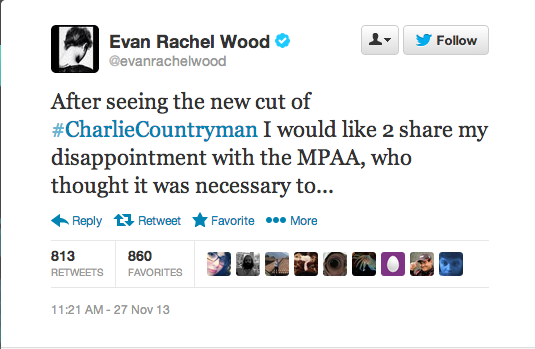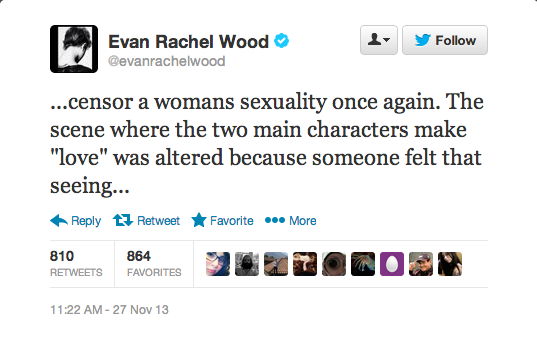 She also highlighted the fact that this problem isn't limited to just the movie industry. Society as a whole often seems to have a problem with women's sexuality.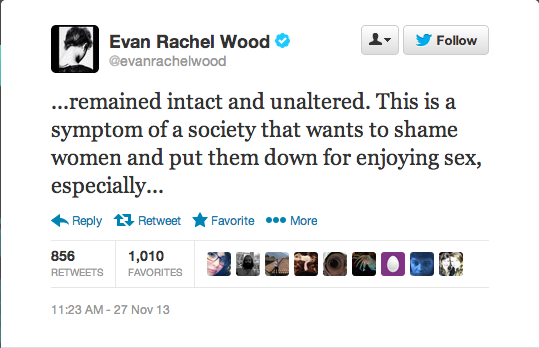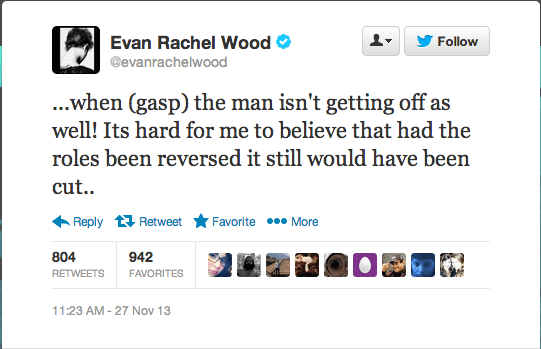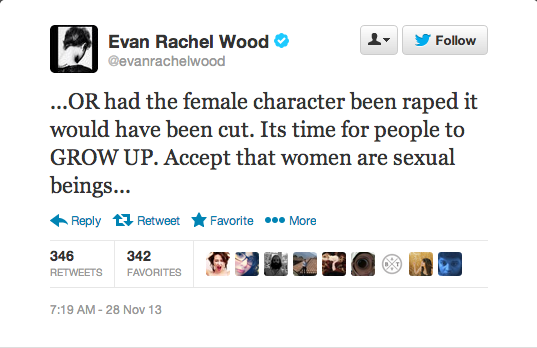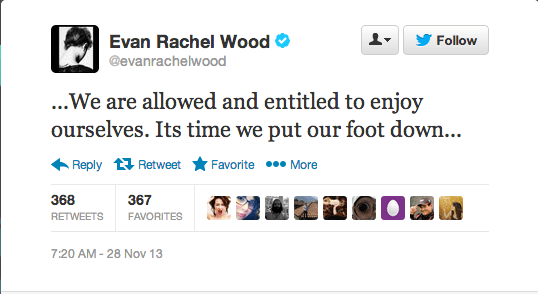 If you've seen the documentary This Film is Not Yet Rated (available to stream on Netflix), all of this might seem familiar to you. Many of the decisions made by the ratings committee seem flawed, arbitrary and without oversight. For example, when director Jamie Babbit submitted But I'm a Cheerleader to the board, they initially gave her film an NC-17 rating. This would have not only meant that many of the most popular theater chains wouldn't show her movie and the most popular stores wouldn't sell it, but the production company might not have even released it. She was able to get the film down to an R only after editing a scene where Natasha Lyonne's character masturbates, over her underwear and while fully clothed. Babbit points out that this was at the same time that the preview for the far raunchier film American Pie showed Jason Biggs' character (a man) masturbating into a pie, and that movie had no trouble getting an R rating. Other films were threatened with the NC-17 rating for reasons ranging from "a woman's orgasm lasting too long," "a glimpse of a woman's pubic hair" and a three-way sex scene in a movie that also featured gruesome ax and chainsaw murders (those violent scenes weren't seen as being as objectionable as the sex).
This current situation is also calls to mind to the outcry after Blue Valentine was originally stamped with the dreaded NC-17 rating back in 2010 because of an emotionally intimate scene where Ryan Gosling's character performs oral sex on Michelle Williams' character, who is his wife. In the case of that movie, the filmmakers appealed the rating and eventually got it overturned without having to make any edits. At the time, Gosling (in true Feminist Ryan Gosling style) called out the MPAA in much the same way as Wood.
You have to question a cinematic culture which preaches artistic expression, and yet would support a decision that is clearly a product of a patriarchy-dominant society, which tries to control how women are depicted on screen. The MPAA is okay supporting scenes that portray women in scenarios of sexual torture and violence for entertainment purposes, but they are trying to force us to look away from a scene that shows a woman in a sexual scenario, which is both complicit and complex. It's misogynistic in nature to try and control a woman's sexual presentation of self. I consider this an issue that is bigger than this film.
So, while it looks like the MPAA is going to keep on propping up the patriarchy in this respect, some actresses and actors are willing to stand up and speak truth to power. If more people are willing to call out the ratings board like Wood did, hopefully we'll see a change in the system sometime soon. By going after the MPAA like this, she's letting them know that women have it just about up to here with their patriarchal and arbitrary double standards. And to top it all off, even while standing up to this storm of sexism, Wood was able to remain eternally gracious.