Hello, giblets! This year at Thanksgiving dinner I came to terms with adulthood when I proclaimed, "I just don't get blackout on the holidays like I used to." But it all worked out anyway.
ICYMI: Lady Gaga Does Thanksgiving With The Muppets
RuPaul, Lady Gaga, and the Muppets walk into a bar.
https://www.youtube.com/watch?v=8SX6tLh6zuM
The Salvation Army Takes It Back
The Salvation Army has removed ex-gay therapy links from their website, and a new statement claims that they don't think being gay is a sin. SAY WHAAAT?!
The Salvation Army has taken down links from its website to two "ex-gay" ministries.

The links, posted under resources for dealing with "sexual addictions," ferried users to the websites of Harvest USA and Pure Life Ministries, which promote the idea that gay people can – and should – alter their sexuality…

"We apologize for our oversight and any confusion this may have caused," wrote Jennifer Byrd, the group's director of communications. "The Salvation Army does not consider homosexual orientation a sin. Please know that we serve anyone who comes to our doors without discrimination."
A Bar Mitzvah Speech You Can Believe In
When Duncan McAlpine Sennett became a man, he used his soapbox to speak out about marriage equality.
Sennett says those who disagree with him on marriage equality often claim "traditional marriage" is between only one man and one woman. But that's not what he found in his reading. "The definition of traditional marriage has changed a lot since the days of the Torah, so why can't it change just a little bit more so everybody can marry who they love?"
Dianna Agron Makes A Good Brandon Flowers
Oh my fucking god. Have you seen the latest from The Killers? Have you died? Have you absolutely fucking died.
Blessed Be The Homos
The Church of England can't marry gay couples – but it can bless 'em. Turns out even sins have loopholes! Who knew. (We all knew.)
The Church of England will announce that it will offer public blessings to gay and lesbian couples, though it will still not perform official weddings for same-sex couples.

While the change is significant for the Church of England, the services will only allow priests to "mark the formation of permanent same-sex relationships," the Telegraph reports. The new doctrine, recommended by an investigative panel, comes with the message that the church must "repent" for its past attitudes toward LGBT people.

"You can make a church a cold place for gay and lesbian people … or you can make it a more warm and accepting place," group chairman Joseph Pilling said at a press conference, according toReuters. "No member of the clergy, or parish, would be required to offer such services and it could not extend to solemnizing same sex marriages without major changes to the law."
Mary Cheney Takes Sibling Rivalry to a New Level
Mary Cheney is headlining a gay marriage fundraiser in Indiana, which is probably the most productive and healthy form of retaliation against her anti-gay sister of them all.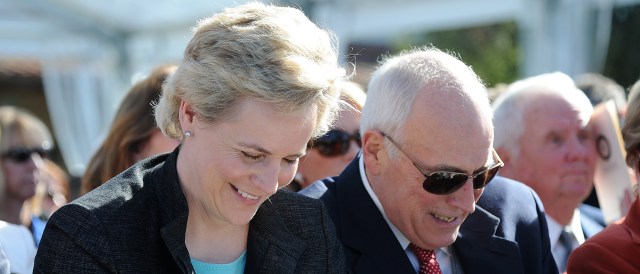 "No one should be denied the fundamental liberties we all deserve," Cheney said on Tuesday in a message to Freedom Indiana supporters. "There's nothing I wouldn't do to protect my wife Heather and our two children. And then I think about the thousands of same-sex couples and their families in Indiana who would be directly impacted by HJR-6. I'm committed to standing together and working across party lines to keep this amendment out of Indiana's constitution."
The First Gay Wedding in Illinois
Vernita Gray and Pat Ewert are now legally married. Unfortunately, their wedding came early due to a court order put in place because Gray is terminally ill, and probably will not make it to June when the rest of the state's homos can begin to live happily ever after in the eyes of the law.
Get out those tissues.
Babies Singing Dot Tumblr Dot Com
I heard some of you like these. Babies, that is. So maybe you'd like one singing on autoloop.