It's dinner time at the academy! Here we get the rundown on all the girls' superpowers, because apparently being a witch means having one specific witchy skill.
Emma Roberts aka Madison Montgomery is basically Lindsay Lohan with telekenesis. Sidebar, how amazing would Lohan be on this show? I think she'd kill it. Madison got angry at a director and killed him with a lighting fixture.
We also learn that Nan is clairvoyant and Queenie is a human voodoo doll. How do we know this? She says, "I'm a human voodoo doll." Classic Ryan Murphy subtlety. She stabs herself in the hand with a fork, causing Madison's to bleed.
Instead of supervising the teen witches, Cordelia is in the greenhouse working on her potions. You know, witch stuff. Fiona shows up, and it turns out she is Cordelia's mother. Fiona apparently disapproves of Cordelia for not accomplishing more with her life, proving that not only is she the Supreme, she is also a Jewish mother.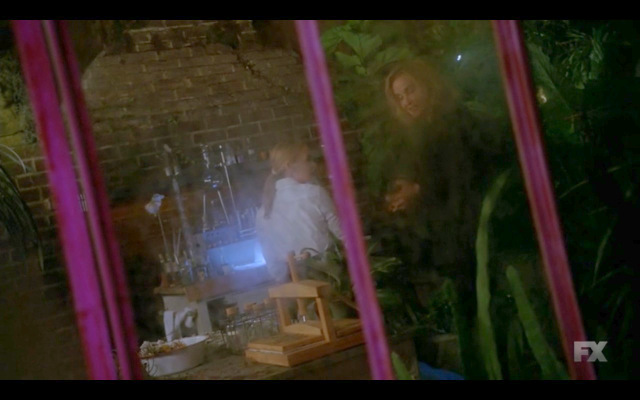 Fiona tells Cordelia that she is there at the academy to help her, because something big is coming. Also, Twitter and YouTube are making it impossible for witches to hide from the public anymore, which has to be the best complaint about the internet ever.
Cut to a bus full of frat boys, where Evan Peters again plays a character I don't give a shit about. Seriously, he's the Toby Cavanaugh of this show. Here he plays Kyle, and he gives his bros a rousing bro pep talk before slapping them all on the ass and herding them into a frat party.
Guess who else is at the party? Madison and Zoe.
Zoe and Kyle lock eyes across an ice luge and proceed to flirt and it's boring and nobody cares because they already did this in the Murder House season.
And then this next part, where some of the bros roofie Madison and take her into a room where they take turns raping her. It is horrifying to watch, and even more so when it's intercut with Zoe and Kyle's meet-cute.
I don't know what to say about this rape scene. I don't know what to say any time rape is used as a plot device. I also don't understand why the TV-MA parental warning readily gives warnings for language, nudity, and sexual situations, but never for rape and sexualized violence.
Kyle and Zoe find Madison and Kyle attacks the rapists, but is knocked out and dragged onto the frat bus. Zoe and Madison follow them outside, where Zoe enacts serious revenge by using her telekinetic powers to flip the rape bus.
The next morning, Fiona shows up, tosses the girls around with some hand waving, and drags the witches out for a field trip.
They go to Madame LaLaurie's house, which is now a museum. Fiona uses her Supreme powers to get free museum admission for herself and girls, which is honestly what I would do if I had supreme witch powers.
Anyways, Fiona hears about LaLaurie's beauty treatments involving people blood and people organs, and jumps on the murder bandwagon. We also get a flashback featuring Angela Bassett (!!!) as famed voodoo priestess Marie Laveau.
She tricks Madame LaLaurie into drinking a "love potion" that is really a murder potion.
Turns out the poor tortured servant from earlier was Laveau's lover and she's out for revenge.
Laveau goes into the attic and nuzzles her lover's bullhead. Jesus H. Christ Marie, take the fucking bullhead off your boyfriend!
You know who else is out for revenge? Zoe. She goes to the hospital, hoping that Kyle survived the bus crash.
When she sees the rapist frat bro in a coma, she climbs on top of him and fucks him to death with her cursed vagina. Soooo… yay? I'm all for revenge, but there are non-vaginal ways to do it, right?
Meanwhile, Fiona has LaLaurie's hidden grave dug up and cracks open the coffin to find a very much alive Madame LaLaurie. Blood facials for everybody!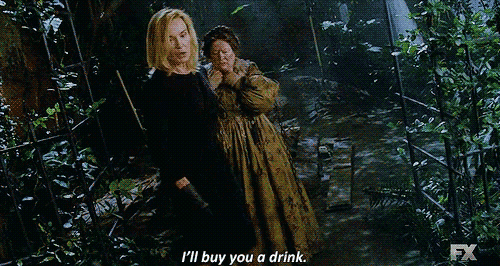 You and me both, sister. You and me both.
Pages: 1 2See entire article on one page