It's that time of year again. When the cloven-hooved infants scurry around the basement and the mutant people come out to play. The third season of FX's horror series American Horror Story premiered last week, and I could not be more excited to be recapping this show. Why, you may ask? Because:
How do I even begin to describe the rampant batshittery that is American Horror Story? It's as if Stefon from SNL took a break from clubbing and created a late night premium cable series. Seriously, this show has everything: demon babies, mutants, Nazi doctors, Jessica Lange singing "The Name Game." Dylan McDermott crying while masturbating (or as I call it, masturbating like normal. Is that bad?)
This season is titled Coven and it takes place in my hometown of New Orleans. I can only assume it will look something like this:
So go out to your local Halloween store, buy a plastic, overpriced witch hat, and prepare to hold the fuck onto it!
We open in 1834, at a grand party at the mansion of Madame LaLaurie (played by the always amazing Kathy Bates). Madame LaLaurie is trying to entertain suitors for her daughters, but one daughter is more interested in making sexy eyes at a servant.
The servant is definitely not into it. We've all been there, am I right ladies?
We then move on to LaLaurie's bedroom where we witness her night-time ritual of putting on some Neutrogena hand cream, a pair of cotton gloves, and the Colbert Report. Just kidding, she's painting her face in the blood of servants as a beauty regimen.
Her ritual is interrupted by the sexy eyes daughter, who is caught trying to force herself onto the servant. TRIGGER WARNINGS: This is the first of multiple sexual assaults in this episode – all different, all extremely disturbing.
Madame LaLaurie is not thrilled, and blames everything on the servant. She then drags him up to her attic of horrors. Turns out, Madame LaLaurie is a serial torturer and killer with an attic full of caged and mutilated black men. It is terrifying and upsetting. LaLaurie has a child bring her a severed bull's head (because those are just lying around New Orleans) and places it on top of the poor servant.
OPENING CREDITS. Holy crap, the credits haven't even started yet. There is SO much upsetting racist content. Is this exploitative? I'm gonna go out on a limb and say yes, this is racist and dealing with the actual torture of actual slaves for shock value. I'm gonna need a drink, you guys.
This season, the opening credits feature Klansmen in white AND black hoods (which I assume are funeral hoods. I'm not up on the latest in Klan fashion), mouths sewn shut and a floating Jessica Lange. They use the same theme song every season, which sounds like the background music of a ghost porno.
Spooky cut to that classic horror staple: a cute, straight, white teen couple about to bang. You might recognize the girl as Violet (Taissa Farmiga), the daughter from AHS: Murder House. SPOILER ALERT FOR SEASON ONE: it's a house that straight up murders people.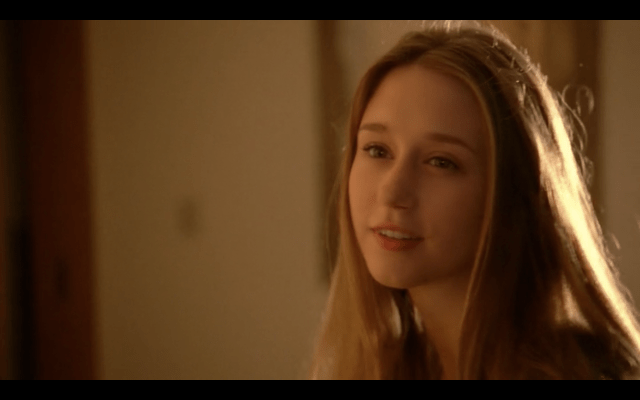 Here she plays Zoe Benson, a girl about to swipe her v-card when the strangest thing starts happening: her boyfriend gets a nose bleed and goes into a seizure. I liked this scene better when Anna Paquin did it in X-Men.
Cut to Zoe on a train, where we hear her angsty teenage post-traumatic voice-over tell us she's a witch. Again, I liked this scene more when Julia Stiles did it in Save The Last Dance.
Turns out, killing your boyfriend with your witch vagina is a major faux pas, and Zoe is being shipped off to New Orleans to go to a witch boarding school that is definitely not Hogwarts. It is also definitely not Xavier's School for Gifted Youngsters. She's being chaperoned by a group of six to eight albino black men and Frances Conroy aka Ruth Fisher, who is dressed like a grown-up Luna Lovegood.
Zoe is dropped off at Miss Robichaux's Academy for Exceptional Young Ladies and is promptly deserted by her arguably offensive handlers.
She walks around the empty academy, seemingly unaware of the weirdos in Venetian carnival masks. I think we can all agree that Venetian carnival masks are the creepiest masks, right? Or do I just feel that way because as a child I accidentally watched Eyes Wide Shut?
Suddenly, the masked weirdos attack Zoe and one of them straddles her on a table. She takes off her mask, revealing herself to be… Emma Roberts!
She introduces her two accomplices, Queenie (Gabourey Sidibe!) and Nan.
Zoe then meets headmistress Cordelia Foxx, played by Sarah Paulson aka Lana Banana Winters aka Cheekbones for Days. Cordelia informs her that Miss Robichaux's is a safe haven for young witches, where they can learn to hone their powers and hide themselves from the general public. She says that witches are a dying breed, BOTP and such.
She also explains that in every generation, a slayer is born. One to stand against the… whoops, wrong show. Every generation has a super witch, called the Supreme. If Diana Ross doesn't cameo in this series, it will be a pun sorely wasted.
We then get the story of a witch named Misty Day, who had the power to resurrect the dead. Unfortunately, people freaked the fuck out about it, and burned her alive. Because of this, Cordelia thinks it's all the more important for the teen witches to conceal their powers.
Jessica Lange is back and thank Goddess, because this show would be garbage without her. I mean, even more garbage-y without her. It's still pretty bad. This season she's Fiona the supreme witch, and she looks amazing. She is also on a quest for eternal youth/immortality, which means she obviously hasn't looked in a mirror and beheld her own magnificence.
There's some boring stuff with lab monkeys and rejuvenation serum, but I can't be bothered to care because the next scene is Fiona rocking out to "In-A-Gadda-Da-Vida" by Iron Butterfly and it's pretty much the best thing ever. Fiona swans around smoking, snorting coke, and dancing into some curtains like a drunk mom at a Fleetwood Mac show.
Oh, she also kisses a doctor and sucks the life out of him like a Dementor. It's non-consensual.
It's dinner time at the academy! Here we get the rundown on all the girls' superpowers, because apparently being a witch means having one specific witchy skill.
Emma Roberts aka Madison Montgomery is basically Lindsay Lohan with telekenesis. Sidebar, how amazing would Lohan be on this show? I think she'd kill it. Madison got angry at a director and killed him with a lighting fixture.
We also learn that Nan is clairvoyant and Queenie is a human voodoo doll. How do we know this? She says, "I'm a human voodoo doll." Classic Ryan Murphy subtlety. She stabs herself in the hand with a fork, causing Madison's to bleed.
Instead of supervising the teen witches, Cordelia is in the greenhouse working on her potions. You know, witch stuff. Fiona shows up, and it turns out she is Cordelia's mother. Fiona apparently disapproves of Cordelia for not accomplishing more with her life, proving that not only is she the Supreme, she is also a Jewish mother.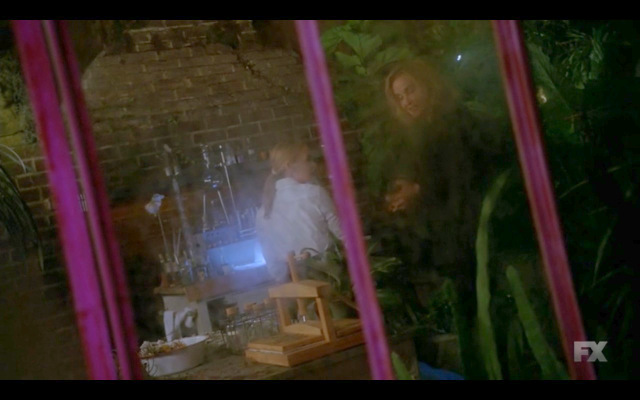 Fiona tells Cordelia that she is there at the academy to help her, because something big is coming. Also, Twitter and YouTube are making it impossible for witches to hide from the public anymore, which has to be the best complaint about the internet ever.
Cut to a bus full of frat boys, where Evan Peters again plays a character I don't give a shit about. Seriously, he's the Toby Cavanaugh of this show. Here he plays Kyle, and he gives his bros a rousing bro pep talk before slapping them all on the ass and herding them into a frat party.
Guess who else is at the party? Madison and Zoe.
Zoe and Kyle lock eyes across an ice luge and proceed to flirt and it's boring and nobody cares because they already did this in the Murder House season.
And then this next part, where some of the bros roofie Madison and take her into a room where they take turns raping her. It is horrifying to watch, and even more so when it's intercut with Zoe and Kyle's meet-cute.
I don't know what to say about this rape scene. I don't know what to say any time rape is used as a plot device. I also don't understand why the TV-MA parental warning readily gives warnings for language, nudity, and sexual situations, but never for rape and sexualized violence.
Kyle and Zoe find Madison and Kyle attacks the rapists, but is knocked out and dragged onto the frat bus. Zoe and Madison follow them outside, where Zoe enacts serious revenge by using her telekinetic powers to flip the rape bus.
The next morning, Fiona shows up, tosses the girls around with some hand waving, and drags the witches out for a field trip.
They go to Madame LaLaurie's house, which is now a museum. Fiona uses her Supreme powers to get free museum admission for herself and girls, which is honestly what I would do if I had supreme witch powers.
Anyways, Fiona hears about LaLaurie's beauty treatments involving people blood and people organs, and jumps on the murder bandwagon. We also get a flashback featuring Angela Bassett (!!!) as famed voodoo priestess Marie Laveau.
She tricks Madame LaLaurie into drinking a "love potion" that is really a murder potion.
Turns out the poor tortured servant from earlier was Laveau's lover and she's out for revenge.
Laveau goes into the attic and nuzzles her lover's bullhead. Jesus H. Christ Marie, take the fucking bullhead off your boyfriend!
You know who else is out for revenge? Zoe. She goes to the hospital, hoping that Kyle survived the bus crash.
When she sees the rapist frat bro in a coma, she climbs on top of him and fucks him to death with her cursed vagina. Soooo… yay? I'm all for revenge, but there are non-vaginal ways to do it, right?
Meanwhile, Fiona has LaLaurie's hidden grave dug up and cracks open the coffin to find a very much alive Madame LaLaurie. Blood facials for everybody!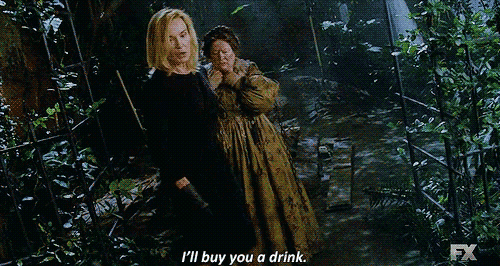 You and me both, sister. You and me both.
Pages: 1 2See entire article on one page