Okay, most of y'all have probably already heard of IFTTT. Most of y'all are probably already using it. Why? Because it's a) cool and b) easy. For those of you who haven't stumbled upon it yet, IFTTT stands for If This Then That. And it's a service that hooks into other services like Dropbox, Evernote, Etsy, Facebook, Twitter, Tumblr, Buffer, Feedly, Bit.ly, Boxcar, WordPress, Flickr, Gmail *takes a deep breath*, Foursquare, your iOS contacts, your google calendar, hell—even your light switch—and lets you use the internet to automate just about how they interact in a virtually infinite number of ways. And they're adding new services (Gumroad, for example) what feels like every darn single day.
I think we're busy enough in this New Year that we could all use a little bit of automation in our lives. So for those of you who are just starting out with IFTTT, let's talk about how to get going. And for those of you who are already IFTTT power users, let's exchange recipes like our foremothers sitting around a fire exchanging bread-baking tips except digital and virtual and almost nothing like that! Wahoo!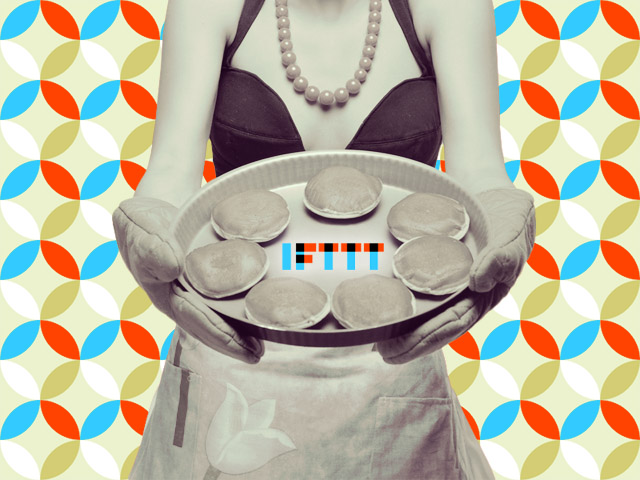 Sorry, I've had a lot of coffee this morning.
Getting Started
1. Obvi, sign up first. No Facebook or Twitter sign in here, which I always appreciate—it's the standard username, email and password combo.
2. Take a look at the "channels" link in the top navigation bar, more towards the right and just before your username drop down menu. Click that and feast your eyes on the veritable cornucopia of shit this service can do. Unlike the Hunger Games, don't run away from the cornucopia. I want you to actually battle your way through this. I'd actually encourage you to google any service you've never heard of. It's a great way to discover new tools and there might be something here that's EXACTLY what you're looking for to make your life just a wee bit easier.
3. I'd also encourage you to activate just about every channel you've got a service for, EVEN IF YOU DON'T KNOW WHAT YOU'LL DO WITH IT YET. I say this because when we start cooking up recipes, you just never know what kind of inspiration will strike you. It's kind of like moving through life with a well-stocked spice cabinet. Use the ingredients you want when the mood hits you.
4. Now comes the hard/fun part. Recipes! A recipe consists of two things: a trigger  and an action.
The trigger could be something like "if I take an instagram photo" and the action could be "then post it to my tumblr." And like magic, it happens. Except the magic is logic.
For your first couple, I'd actually pick from some already-made recipes. Kind of like when you start baking you don't just jump into soufflés from scratch—you ease in to, like, Betty Crocker mixes. Here are the easiest of the easy Betty Crocker mixes to play around with so you get an idea of what IFTTT can do:
5. Okay, now that we've got an idea, let's start whipping up our very own IFTTT soufflés. I'll walk you through one that I'm making right now—
I'm going to try to solve a problem I've been having for a while. I love reading my RSS feeds with Feedly, but their tagging system? Once you make a tag, you can never delete it. So it's really hard to save and organize things that you want to keep around and change your mind about it later, or to organize research for a temporary project. Pocket, on the other hand, is really excellent for all of that. So what I want to do is find a way to easily put articles from my Feedly into Pocket. I'm not exactly sure how I want to do it yet, but let's explore.
First, I'm choosing the trigger channel "Feedly."
Next I'm going to explore what kind of triggers I can pick from this channel.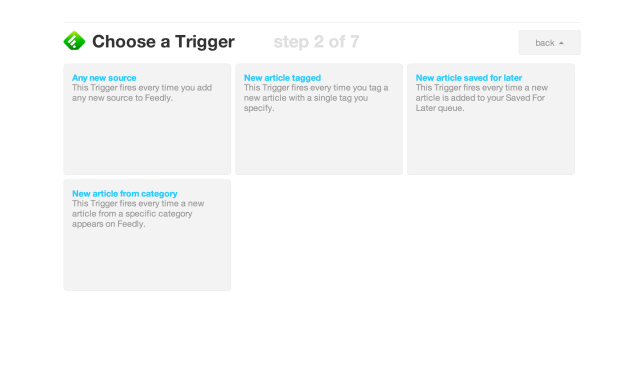 I toyed with trying the tagging trigger, but I'm doing this all to avoid using tags on Feedly ever. So I'm going to try the "saved for later" trigger.
Now it's time to work on the "that" or action portion of a recipe.
After choosing Pocket as the action channel, I found out there's only one action for it to take, making this a very simple recipe indeed. So I guess I'm not doing a soufflé right now—more like biscuits?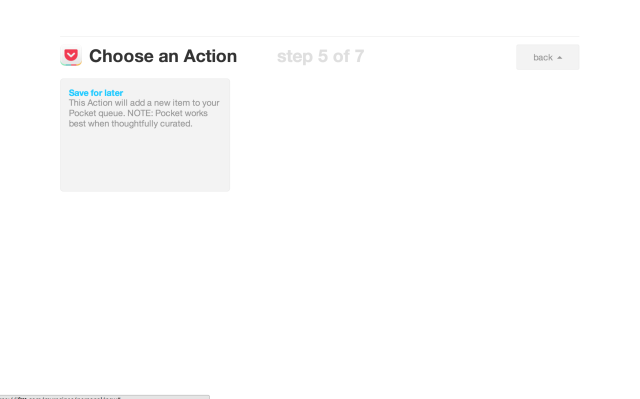 Then we can personalize it a bit. Hit the plus sign to add more ingredients.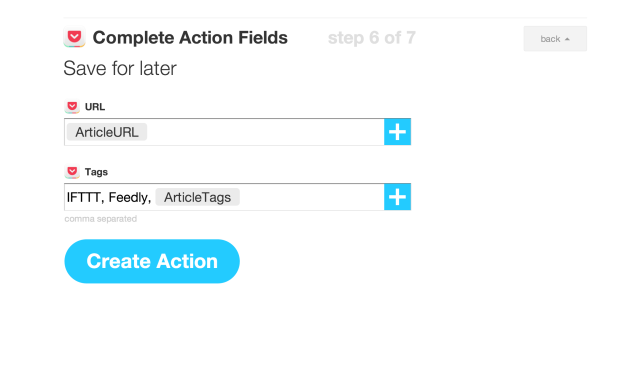 The last step is finalize and activate!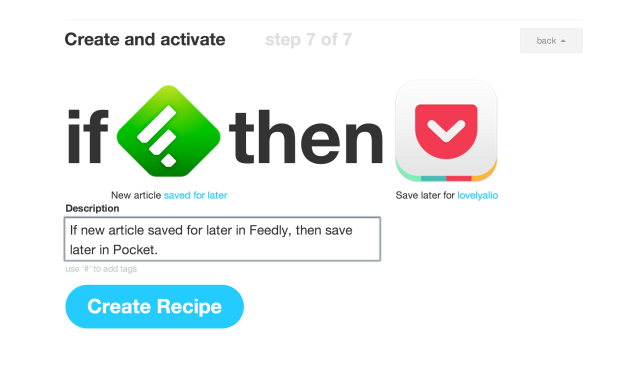 But Pocket does work best when it's thoughtfully curated and often I'm saving articles to return to with a bunch of tags. So check this—
BAM. I am a terrible cook (the worst) and need my girlfriend to help me with anything that I tag as a recipe.
6. Try it. Trigger the recipe you built. And wonder at your own genius.
And just like that, you have started on IFTTT. Congrats!
Your Turn
Obviously, IFTTT recipes can get pretty specific. Like, the only person sending (food) recipes to my girlfriend is me (most likely?). But that's why we need to share these recipes with each other—the more specific we get, the more helpful and inspiring they are. I bet even though I'm the only one sending my girlfriend recipes, some of you might like to do something similar. Or that might have inspired something else you can do with the Gmail channel. OMG, all sorts of possibilities! So here's the part where we share our very favorite IFTTT recipes and ask questions of the queer hive mind if there's something we're not quite sure is possible/how to do. Have at it, automators!
---
This has been the sixty-second installment of  Queer Your Tech with Fun, Autostraddle's nerdy tech column. Not everything we cover is queer per se, but we talk about customizing this awesome technology you've got. Having it our way, expressing our appy selves just like we do with our identities. Here we can talk about anything from app recommendations to choosing a wireless printer to web sites you have to favorite to any other fun shit we can do with technology.
Header by Rory Midhani