Welcome to the forty-sixth installment of  Queer Your Tech with Fun, Autostraddle's nerdy new tech column. Not everything we cover will be queer per se, but it will be about customizing this awesome technology you've got. Having it our way, expressing our appy selves just like we do with our identities. Here we can talk about anything from app recommendations to choosing a wireless printer to web sites you have to favorite to any other fun shit we can do with technology.
Header by Rory Midhani
---
Well, my iPhone/iPad-owning queermos, it's that time again. It's time to update your software. Apple released iOS 7 on September 18th and, supposing you got through the 12 hour download and install, it's time to finally figure out how your iOS device changed. To be clear, this guide isn't for people planning to order the iPhone 5s or 5c, so we're not really gonna talk about that finger print scanner today. Naw, this guide is for those of us with pre-existing iDevices that underwent a crazy overhaul this week.
My over-all first impression: iOS 7 is sexy. The new flat look – clean and futuristic. The addition of layers makes the interface feel less cluttered. And they did away with a lot of cutesy stuff that just made everything feel messy.
Important! Back Up Your Device First
If you haven't upgraded yet, this is your PSA. Before doing any software updates or upgrades, it's really important to back up your iPad or iPhone. This guide is still pretty applicable if you're not sure how to do so. Updates/upgrades don't usually go poorly, but when they do the results can be devastating to your data.
Okay, did you do that? For real? Okay, read on.
Multitasking Got Easier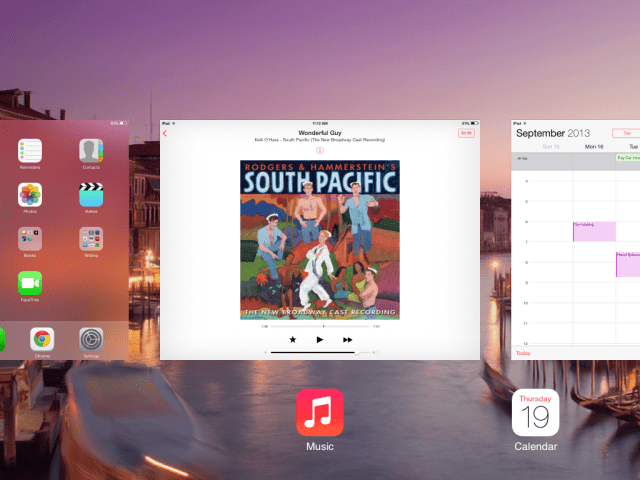 To get to your multi-tasking view, you still tap the home screen button (the circular button on the face of the device) twice. But things will look a little different once you get there.
You no longer have to press and hold to close apps. See those thumbnail pictures of what's going on in the app? Just place one finger on the thumbnail and quickly swipe up to the top of your screen. Bam. App closed. So much easier. Less button pushing. Better flow.
Spotlight Moved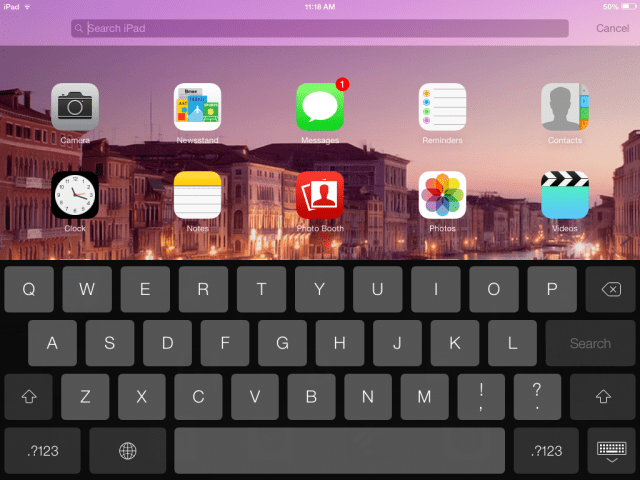 I always thought that weird spotlight screen was like an appendix. They've taken it away and made it much more visually appealing – you can now spotlight search your iOS device by using one finger and quickly swiping down – and you can do this from anywhere on the screen. Except the very top. Pulling down from the very top of your screen will get you Notification Center, which now has a handy "Today" view.
Control Center is My New Favorite Thing
You can get Control Center by swiping up from the bottom of the screen, even when in lock mode. And it is everything I have ever wanted shortcuts for. Let me tell you why. I frequently travel and I frequently use my iPad to write while I'm traveling, which means I am in possession of a bluetooth keyboard. If I do not turn off the bluetooth connection, however, the keyboard gets banged in my bag. This has resulted in my iTunes library beginning to play at embarrassing moments. It used to be a bit of a pain in the butt to go turn the bluetooth off – it was in settings. And now! Now I can just swipe up and hit that bluetooth button. I can do the same thing with airplane mode! And Do Not Disturb! And the timer (which is good, because I use the timer for baking and to remind me when to take the moisturizing mask off my face). You can also find the Camera, Brightness, and all iTunes controls in here as well. Oh, and on the phone, there's a flashlight here. And a calculator shortcut.
I Can Now Actually Use iCal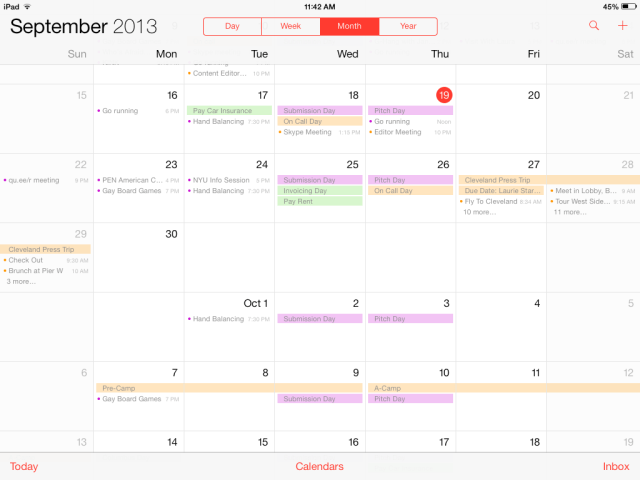 I recently started outsourcing all my mobile calendar needs to an app called Cal. When I upgraded to iOS 7, I deleted Cal. Why? Because iCal now both visually appealing and usable. The brown stitching across the top used to drive me crazy – so cluttered! But now the app is streamlined and gorgeous. Much of the functionality is still the same – tap and drag to create events, for instance. But there's one huge thing for me: the continuous scroll in month view. I did not know I needed this until right this very second. See? You can stop between the end of September and the beginning of October and see both months at once.
Safari – It's Different!
When you launch Safari, all your book marks are right out in front in this lovely grid shape, which is once again super clean and uncluttered. And instead of private browsing being all tucked away, it's right there – just take a look in your lower left corner. Search all the porn you like! This might also be a good time to discuss the new share button – it's still a box with an arrow coming out of it, but it's a got a much different look to it. You can see it in the top right corner of Safari, next to the back and forward buttons.
The Camera Got Some New Features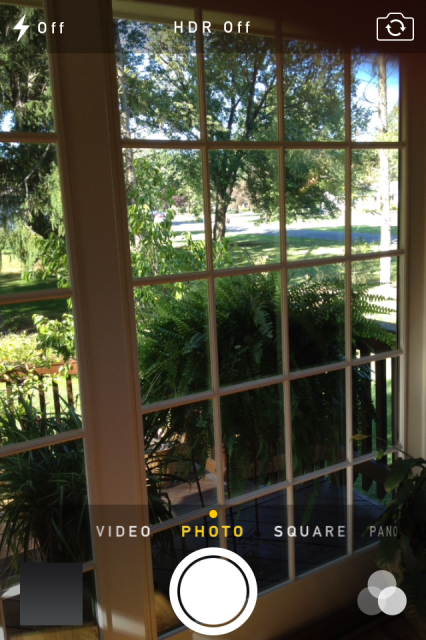 The camera is lookin' sharp with its new almost entirely text-based look – scroll through your options just above the shutter button. You can now also take square pictures – is this a thing people wanted for Instagram? And hey, speaking of Instagram, there are now filters you can choose right from the camera. Panorama is easier to get to (it's in that click wheel of options), but the functionality is the same.
Photos – They Self-Organize!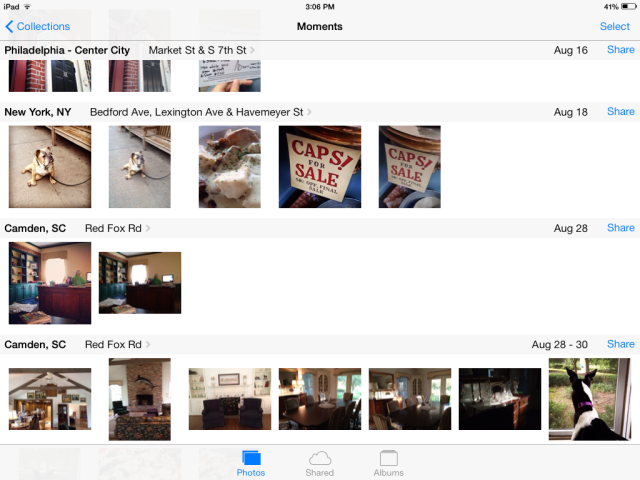 Instead of being one big mass, the photos now sort themselves into "moments" based on time and place. You can even share entire moments by tapping the share text to the right of the moment. It's so much easier to find things – and if you go all the way out to years level, it's kind of a "this is your life" thing. Also, the photos still show up on a map if you tap the headings above the moments/collections/years. Check out A-Camp on my map!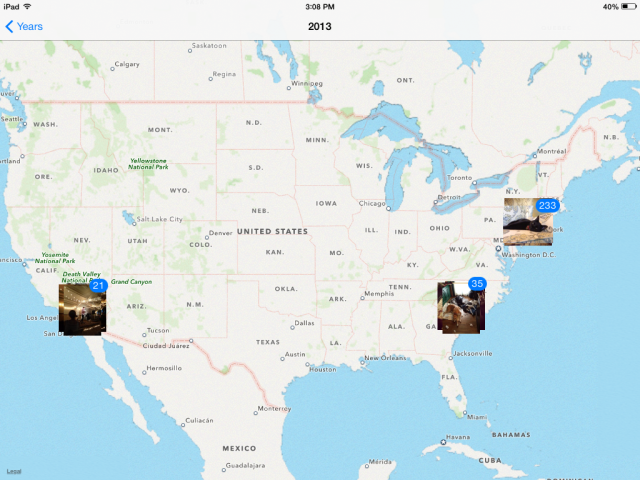 iTunes Radio. Now a Thing That Exists.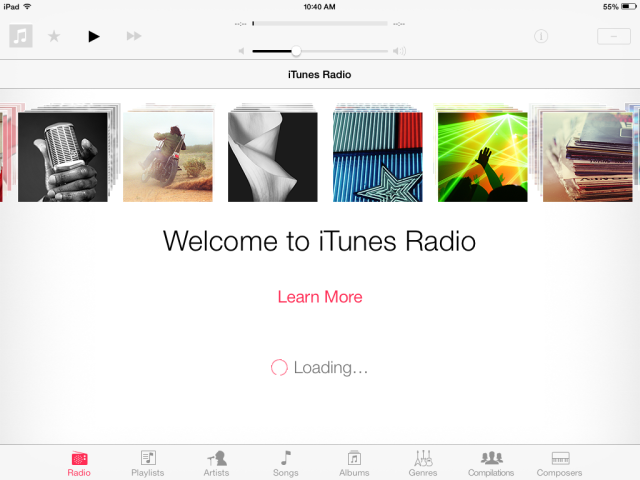 I'm using iTunes Radio on my iPad Right now. And I am not ashamed to admit that I immediately used it to create a Broadway channel via the [title of show] soundtrack. So what is iTunes Radio? It's like Pandora – create or choose a station and iTunes will stream music that fits into that category. So for instance, I selected [title of show] and it played a song from that show ("Way Back To Then," if you're curious). Then "One" from A Chorus Line. And then "Morning Person" from Shrek The Musical. In the top corner, there's a purchase button in case you hear something you absolutely can't live without. And using the info button (the "i" in the little circle above the album art) you can do things like create a new station based on the current song or artist, or allow explicit tracks to play.
Game Center Isn't Fugly Anymore!
It used to be a felt monstrosity reminiscent of a pool table. Now it's a well designed cluster of happy bubbles. I might tap on game center more now that it's not terrible. But as you can see from the above picture (I have two whole friends!), I don't really use Game Center and don't know as much about it as I do about the other features. Kotaku explains it pretty well in their rundown of iOS7 features, though.
Folders Are A Bit More Expandable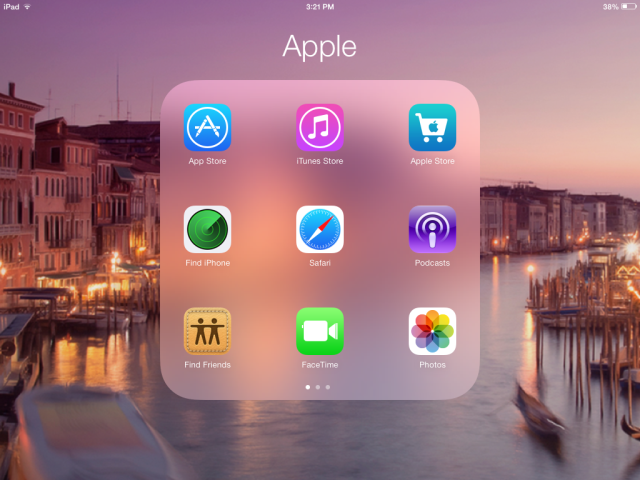 Folders are not just prettier. I tested them out and they house more than they did before. Folders are more like their own miniature home screen and are no longer limited by how large the display is – instead, they just scroll over like any other home screen. Oh, and you can put Newsstand in a folder.
I Personally Think The Unlock Screen Is Easier to Use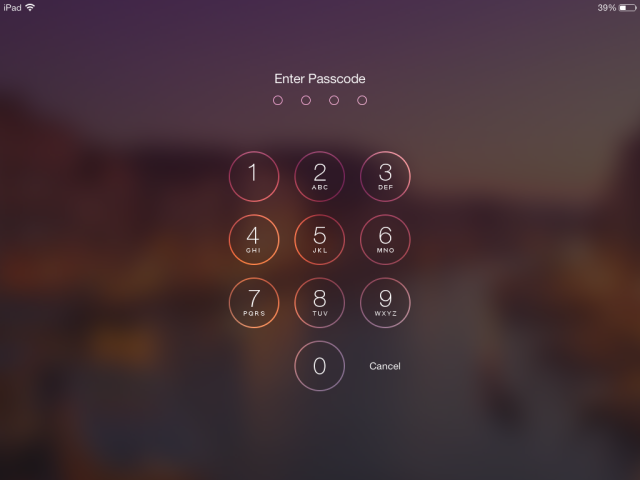 Like everything else, the lock screen and passcode input are prettier. But I also truly believe it's easier – with the numbers definitively in their own space, I seem to eff up with my ham fingers a lot less. They've kept the slide to unlock feature, but it seems to make a whole lot more visual sense now what with the whole screen sliding to reveal the passcode puncher.
Some of You Got Airdrop. I Didn't.
Womp womp. I have an iPad 2 and an iPhone 4S. Wireless drag and drop file sharing is a thing I have on my computer and love, but it is juuuussssttt out of reach for me on my mobile devices (the iPhone 5 has it). In fact, not every feature in iOS 7 works on every device. Check out this handy chart from The Apple Lounge:
…And For the Font Junkie
The new font is called Helvetica Neue Ultra Light. Just FYI. Because I see y'all. I know some of y'all were wondering.
In short, iOS 7 has been a major win for me. The only thing driving me crazy is that when I turn the pages in my Feedly app, I accidentally bring up the control center, which then sends me to different sections of Feedly. But that's literally the only thing I don't like. How about y'all? Please feel free to leave your iOS 7 tips, tricks and feels in the comments below. Have an Appy Weekend.