The New Year, it's here! 2020! We're only ten days into it, but boi, does it not feel like we have lived a hundred lifetimes already in the last two weeks? Well, teevee is here to fix that. Just kidding, but it is here to distract you just a little bit. This is our seasonal list of all the shows featuring LGBTQ women coming to your televisions and phones and iPads in the coming weeks. There are plenty of returning favorites below, over a dozen new shows, and loads of series that are just picking up where they left off in the fall (those are the ones in small text with no photo, just a return date). If we missed anything, let us know!
---
December
You (Netflix) // Season 2 // December 26
// watch the trailer //
Unlike season one, the lesbians do live in season two of Netflix's version of Lifetime's mysteriously breakout series You. This time, Dan Humphrey/Joe has moved to the west coast to do his stalkings and murderings. Straight people cannot get enough of this series, is the main thing I know about it.
Dare Me (USA) // Season 1 // December 29
// watch the trailer //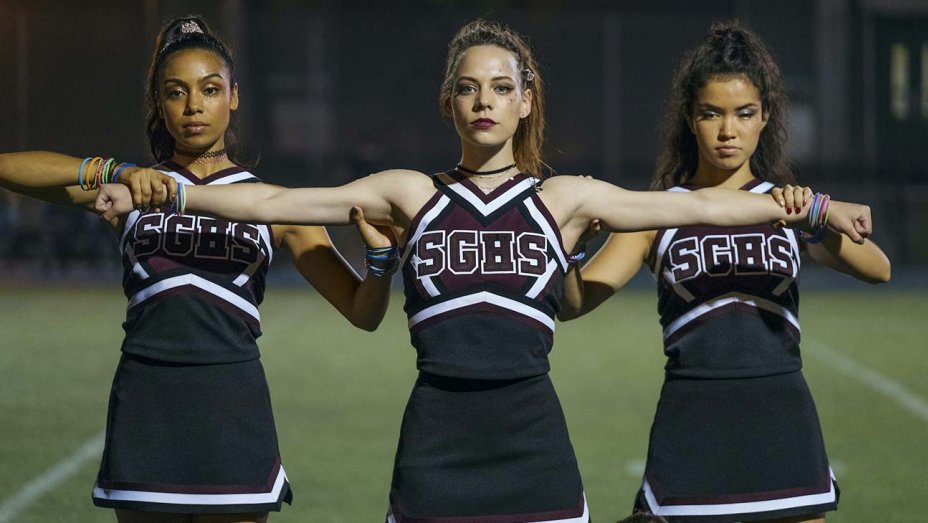 It takes reading about 300 pages of the 2012 Meg Abbott novel upon which Dare Me is based to confirm what the reader has suspected the whole time: Beth and Addy were more than just friends. Fingers crossed that the competing cheerleaders queerness carries over to the small screen. So far it's dripping with girl-on-girl sexual tension and a lot of mystery.
---
January
The L Word: Generation Q (Showtime) // Season 1 Continues Through January
Work in Progress (Showtime) // Season 1 Continues Through January
The Circle (Netflix) // Season 1 // January 1
// watch the trailer //
Are You The One? showed it was still possible for reality television to explore new stories about LGBTQ folks for the first time since the lat '90s, and The Circle is coming to the U.S. to do more of the same. Contestants include Karyn, a black butch lesbian playing the game as a femme bicurious woman, a proud bisexual Latinx girl named Sammie and Miranda, a bisexual who grew up in foster care. There's so much to unpack on EVERY LEVEL of this weird-ass show.
Deputy (FOX) // Season 1 // January 2
// watch the trailer //
Bex Taylor-Klauss plays Brianna Bishop, the butch lesbian security guard / chauffeur / de facto partner to good ol' boy Stephen Dorff's Bill Hollister, the Deputy in what Indiewire describes as "a very conventional police procedural, bolstered by its rambunctious lead and hampered by a disinterest in embodying his renegade spirit."
Anne With an E (Netflix) // Season 3 // January 3
// watch the trailer //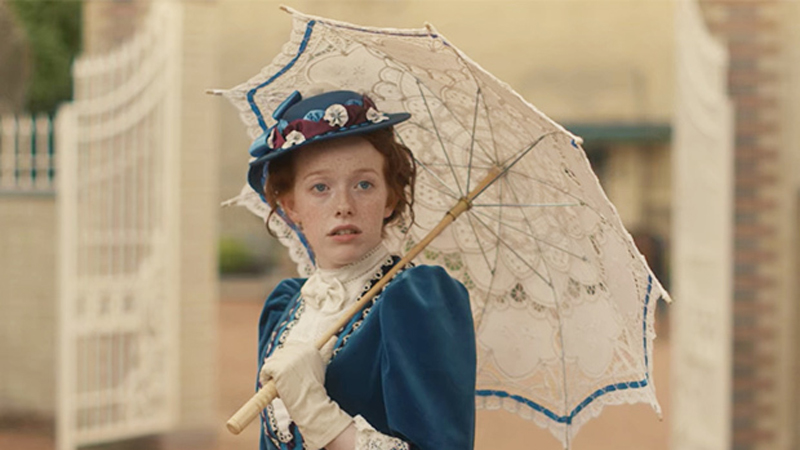 Gay Aunt Josephine is back for four episodes of season three, the most of any season yet, as Netflix's series comes to a close and Anne says goodbye to Avonlea. The series has been lauded for its canonical representation of queerness, and even just a year ago, having a single episode dedicated to a lesbian side character in a period piece felt revolutionary. (Try Apple+ TV's Dickinson if this cancellation leaves a hole in your heart.)
God Friended Me (CBS) // Season 2 Returns January 5th
All Rise (CBS) // Season 1 Returns January 6th
Manifest (NBC) // Season 2 // January 6
// watch the trailer //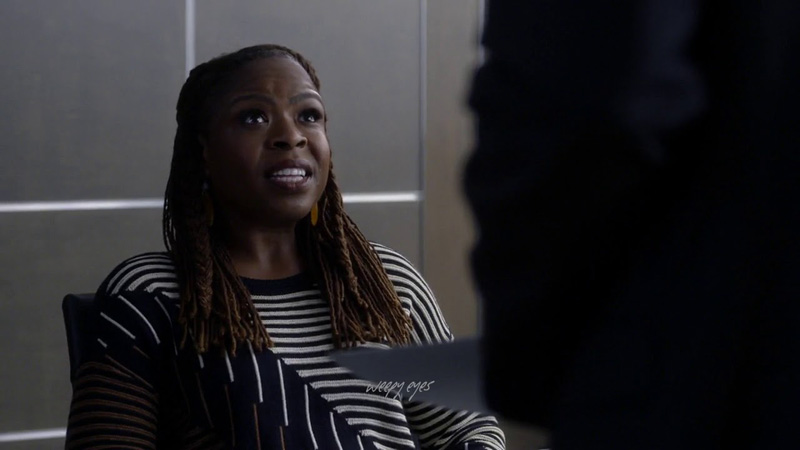 Bethany and Georgia are a lesbian couple who are both still alive going into season two of NBC's supernatural drama about a commercial airliner that reappears out of the ether after five years (and, of course, after all the passengers were presumed dead). What else is going on on this show? Not even the audience seems to know!
Zoey's Extraordinary Playlist (NBC) // Season 1 // January 7
// watch the trailer //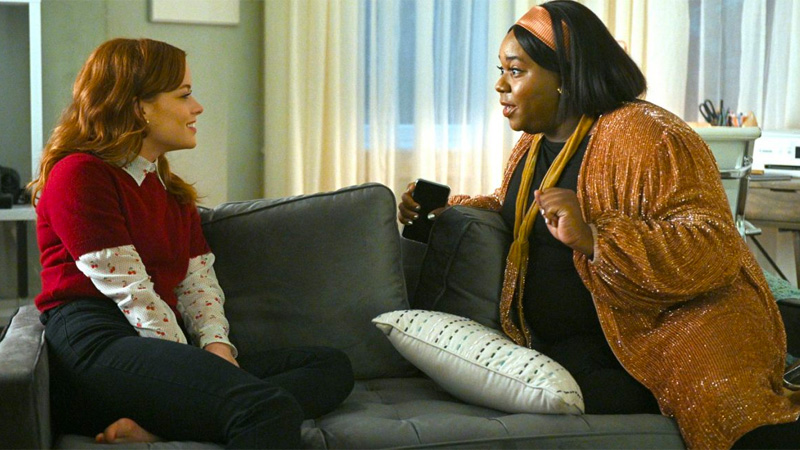 Zoey's Extraordinary Playlist stars Alex Newell, who you probably remember as Unique from Glee, as Zoey's gender nonconforming neighbor, Mo. Mo is music-obsessed and tries to help Zoey understand the meanings behind the songs she registers after she gets the power to hear other people's thoughts.
Schitt's Creek (Pop) // Season 6 // January 7
We're all sad about the final season of the whip-smart Canadian comedy Schitt's Creek, starring queer actors Emily Hampshire and Dan Levy and the legendary Eugene Levy and Catherine O'Hara. According to TV Guide, the final season will see our minor lesbian character, "the gloriously deadpan Ronnie (Karen Robinson), "get a few more punchlines thrown her way."
Party of Five (Freeform) // Season 1 // January 8
// watch the trailer //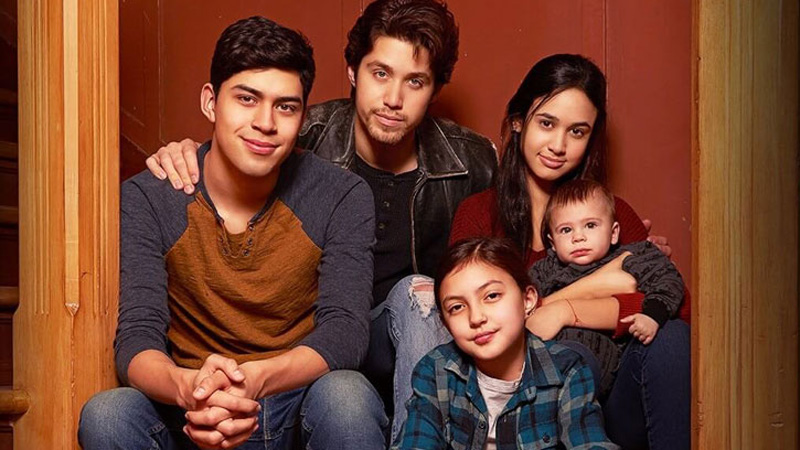 Series creators Amy Lippman and Christopher Keyser have rebooted their Gen X classic and moved it to Los Angeles to explore the lives of five teenagers who are forced to grow up parent-less — not because of their untimely deaths, but because they are taken by ICE during a family dinner. We don't know for sure, but it seems like the oldest daughter, Lucia, might be getting a coming out story.
Chicago Fire (NBC) // Season 8 Returns January 8th
Stumptown (ABC) // Season 1 Returns January 8th
The Good Place (NBC) // Season 4 Returns January 9th
Ackley Bridge (Acorn) // Season 3 Returns January 13th
This is Us (NBC) // Season 4 Returns January 14th
Good Trouble (Freeform) // Season 2 Returns January 15th
The Magicians (SYFY) // Season 5 // January 15
// watch the trailer //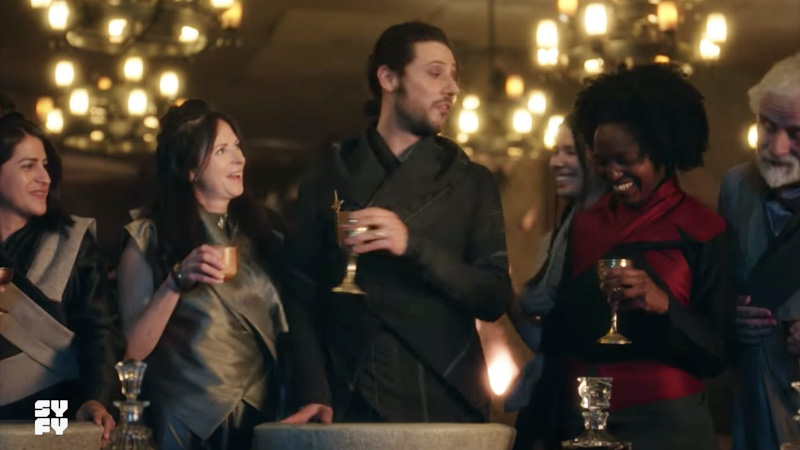 The Magicians season four finale was a shocking gut punch, as it killed off series anchor Quentin Coldwater. Anything could happen in season five, including further exploration of what seems like every character's sexual fluidity. Maybe Marina will even return from "having tons of next level fantastic world rocking sex w/ her mega smart ultra babe worth-jumping-thru-a-time-portal girlfriend." Maybe they'll return together.
Grace and Frankie (Netflix) // Season 6 // January 15
// watch the trailer //
Grace casually revealed that she's bisexual last season, but that wasn't nearly as shocking as the fact that Grace and Frankie haven't yet admitted they are COMPLETELY AND TOTALLY IN LOVE WITH EACH OTHER. Grace is remarried now. Frankie is devastated. Who knows what their future holds? (Jane Fonda and Lily Tomlin recently got arrested together IRL protesting the climate crisis, just FYI.)
S.W.A.T (CBS) Season 3 Returns January 15th
grown-ish (Freeform) // Season 3 // January 16
// watch the trailer //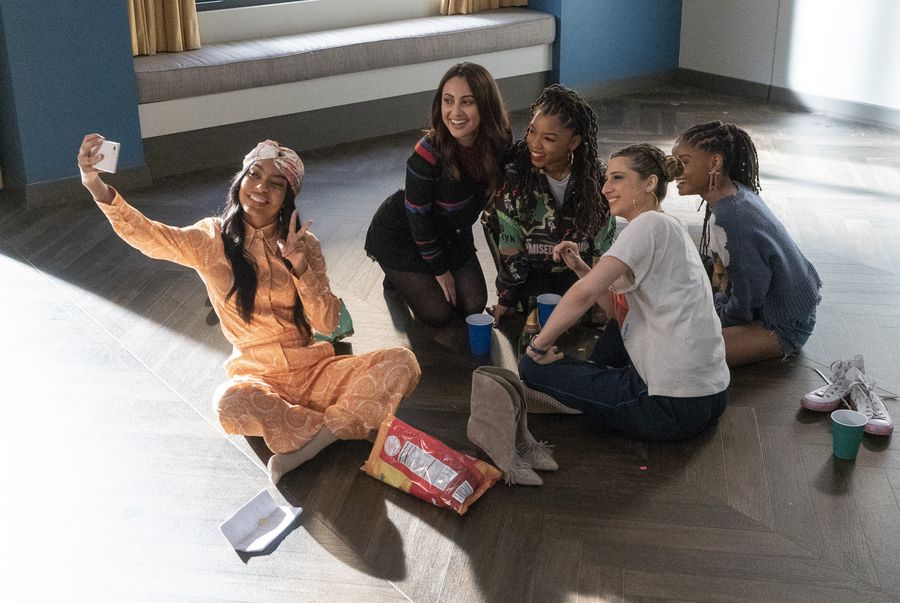 Grown-ish is one of the most endearing little comedies you ought to be watching if you aren't already! Last season, bisexual Nomi Segal fell for Shane, as we are all wont to do, but she starts her junior year with that relationship in her rear view and with lots of change in her future. She'll tackle that future surrounded by her girls and Vivek, as they share a swanky off-campus house this year.
Legacies (The CW) Season 2 Returns January 15th
Sex Education (Netflix) // Season 2 // January 17
// watch trailer //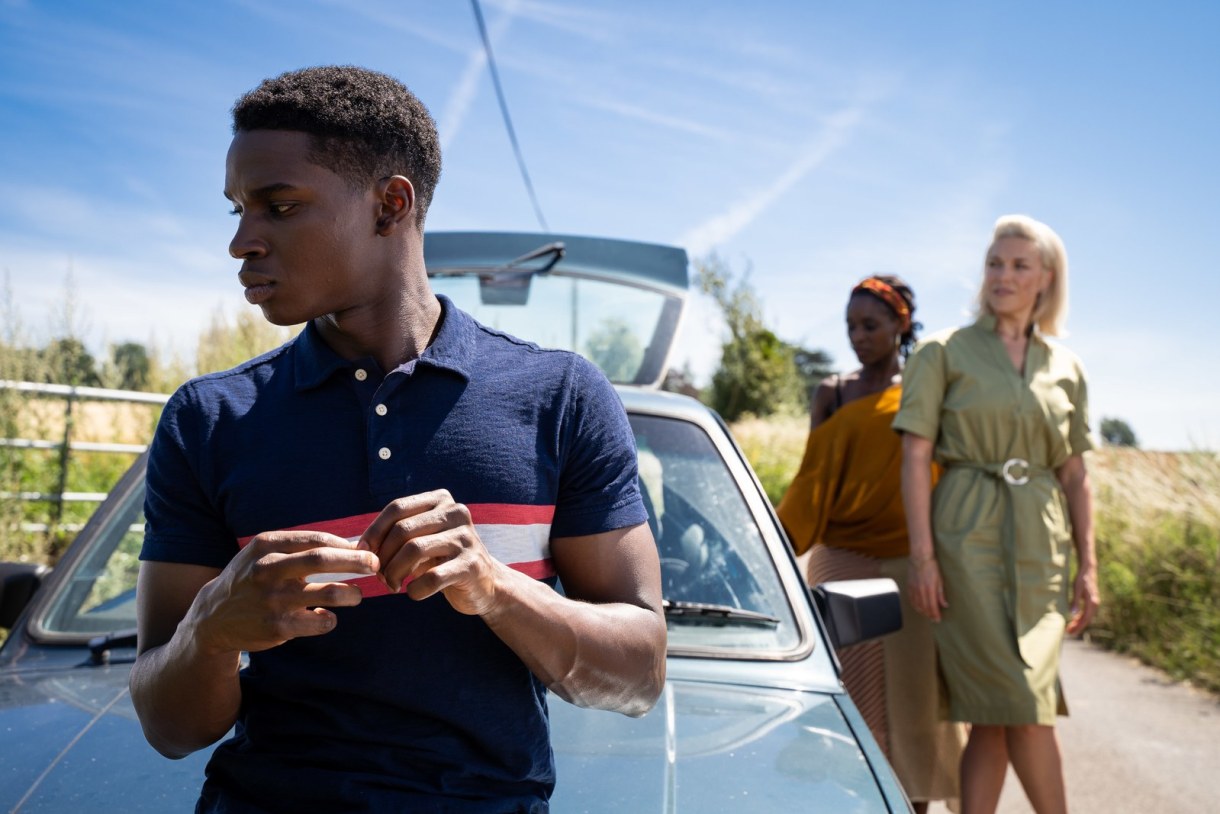 It's unclear how visible queer women will be on Season Two of this vehicle for our collective Gillian Anderson lust, but we know from Teen Vogue that our fave Eric is becoming a bit of a heartthrob, Maeve will join Aptitude Scheme and continue developing her friendship with Aimee and Jackson will tire from all the pressures put on him by his [lesbian] Moms.
Charmed (The CW) Season 2 Returns January 17th
9-1-1: Lone Star (Fox) // Season 1 // January 19
// watch trailer //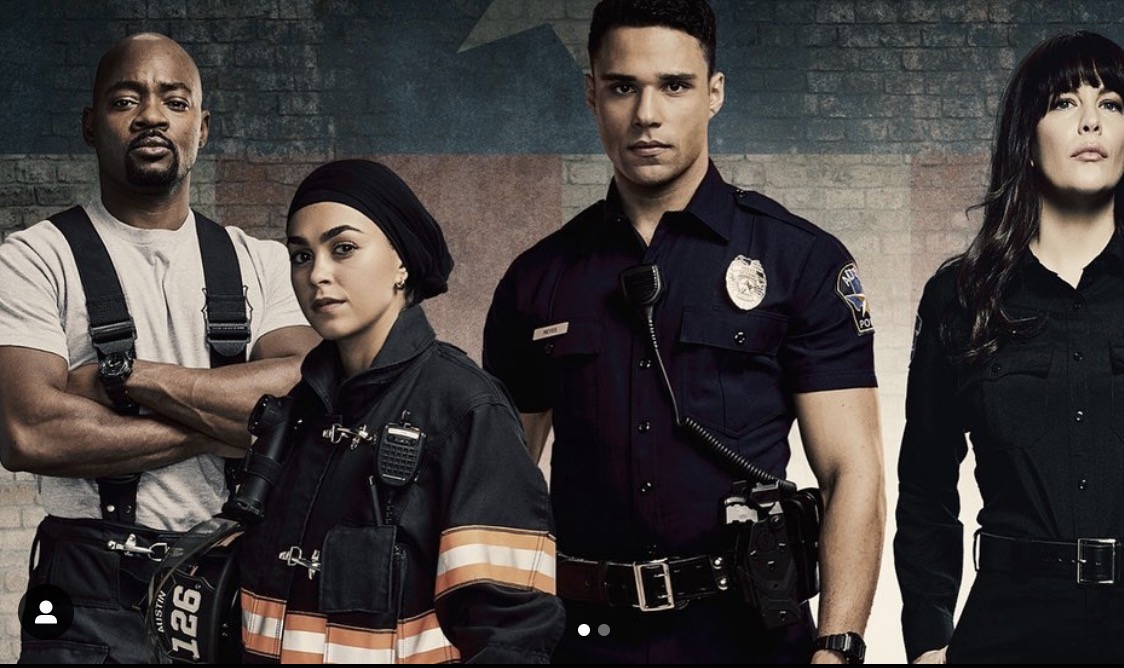 Black trans actor Brian Michael Smith plays a firefighter on this extension of the 9-1-1 franchise into Texas, which sees Rob Lowe playing a New Yorker relocated to Austin with his son, where he "must try to balance saving those who are at their most vulnerable with solving the problems in his own life." Natacha Karam plays a Muslim "adrenaline junkie" and "badass firefighter" who wears a hijab and Liv Tyler plays chief paramedic Michelle Watts. There will also be two queer male characters.
Batwoman (The CW) // Season 1 Returns January 19th
Supergirl (The CW) // Season 5 Returns January 19th
Awkwafina is Nora From Queens (Comedy Central) // Season 1 // January 20
Nora gives off some low-key Ilana Wexler "open to whatever" queer vibes in this show with an all-women writers room and two out queer actors (BD Wong and Bowen Yang) based on her own experiences growing up in Queens, NY.
Black Lightning (The CW) // Season 3 Returns January 20th
All American (The CW) // Season 2 Returns January 20th
// watch the trailer //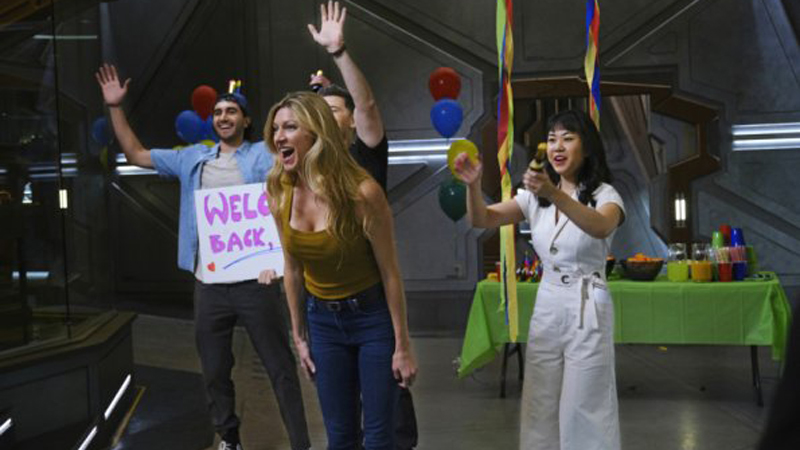 Sara Lance has a couple more Crisis on Infinite Earths episodes left before she returns to the Waverider. In season five, the Legends are famous! And Sara doesn't love it! They're even planning to invite a documentary crew on board to watch them investigate the blips in time and space. What could go wrong? (Literally everything in the most bananas possible way, which is the best thing about this show.) (Well, that and the fact that Sara and Ava continue to grow as individuals and a couple.)
Fortune Feimster: Sweet & Salty (Netflix ) // Comedy Special // January 21
// watch the trailer //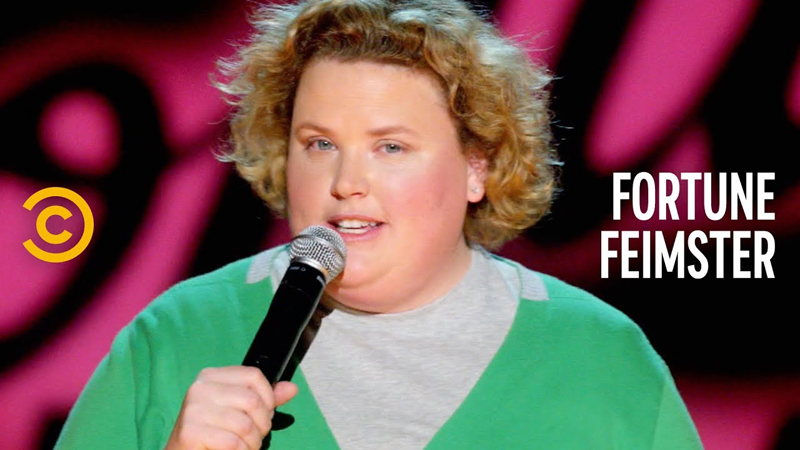 Lesbian comic Fortune Feimster is finally getting her own Netflix stand-up special and the just-released trailer proves it's as hilarious and gay as we all knew it would be. She's heading South for her "homecoming out."
Riverdale (The CW) // Season 4 Returns January 22nd
Station 19 (ABC) // Season 3 // January 23
// watch the trailer //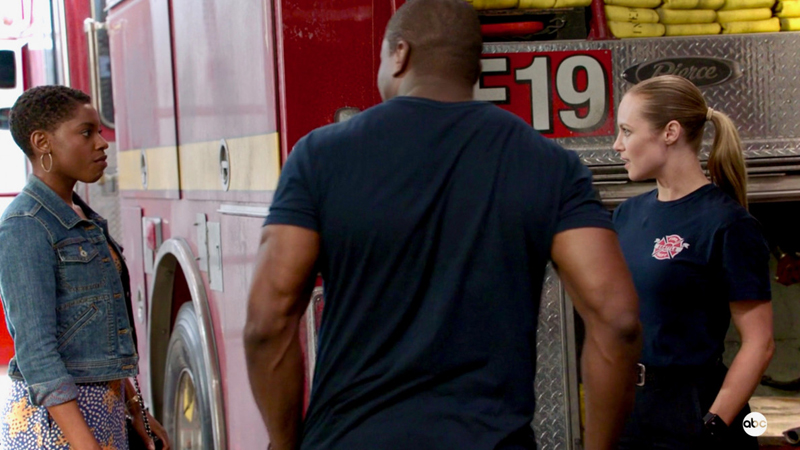 Olympic gold medalist/bisexual firefighter Maya Bishop is still hanging around being a badass at Station 19. Though she's mostly been in a serious relationship with Jack, she did run into her ex-girlfriend last season. She was also dating a firefighter! Here's hoping there's more of that in season three. In the wise words of Dr. Carmen Phillips, "Listen, it's Shondaland, so you know shit's going to be messy."
Grey's Anatomy (ABC) // Season 16 Returns January 23rd
The Bold Type (Freeform) // Season 4 // January 23
// watch the trailer //
It's true — they're putting our beloved Jacqueline out to pasture after a pretty horrible Season Three finale, and the girls left behind aren't taking Scarlet's power for granted. The trailer shows Kat welcoming a hesitant Adena back into her apartment. Glee's Chord Overstreet will be guesting as Jane's brother and lesbian actress Raven Symone will play a recurring role, coming to Scarlet as a celebrity model for their photo spread on anti-cultural appropriation. Aisha Dee told TV Insider that Season Four will see the girls "careers and personal lives take a shift" and Kat continue her dedication to "being a voice for people who maybe can't speak for themselves or they aren't able to be as loud as Kat is."
// watch the trailer //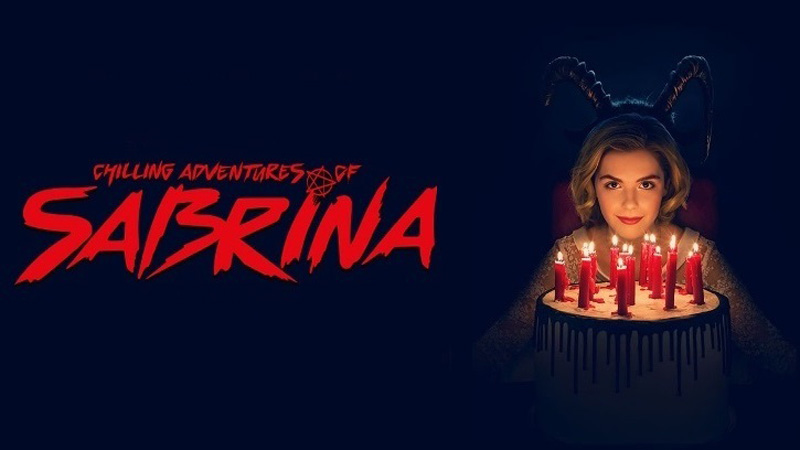 Sabrina has finally defeated her father, Lucifer, and now she's gotta go to hell to rescue her boyfriend in season three. Lachlan Watson's character, Theo, came out as trans and began his transition in season two — which, Kayla noted, was "as with much of the show's narratives, an uneven road" — and will be back for season three. In fact, they've been promoted to series regular!
Shrill (Hulu) // Season 2 // January 24
// watch the trailer //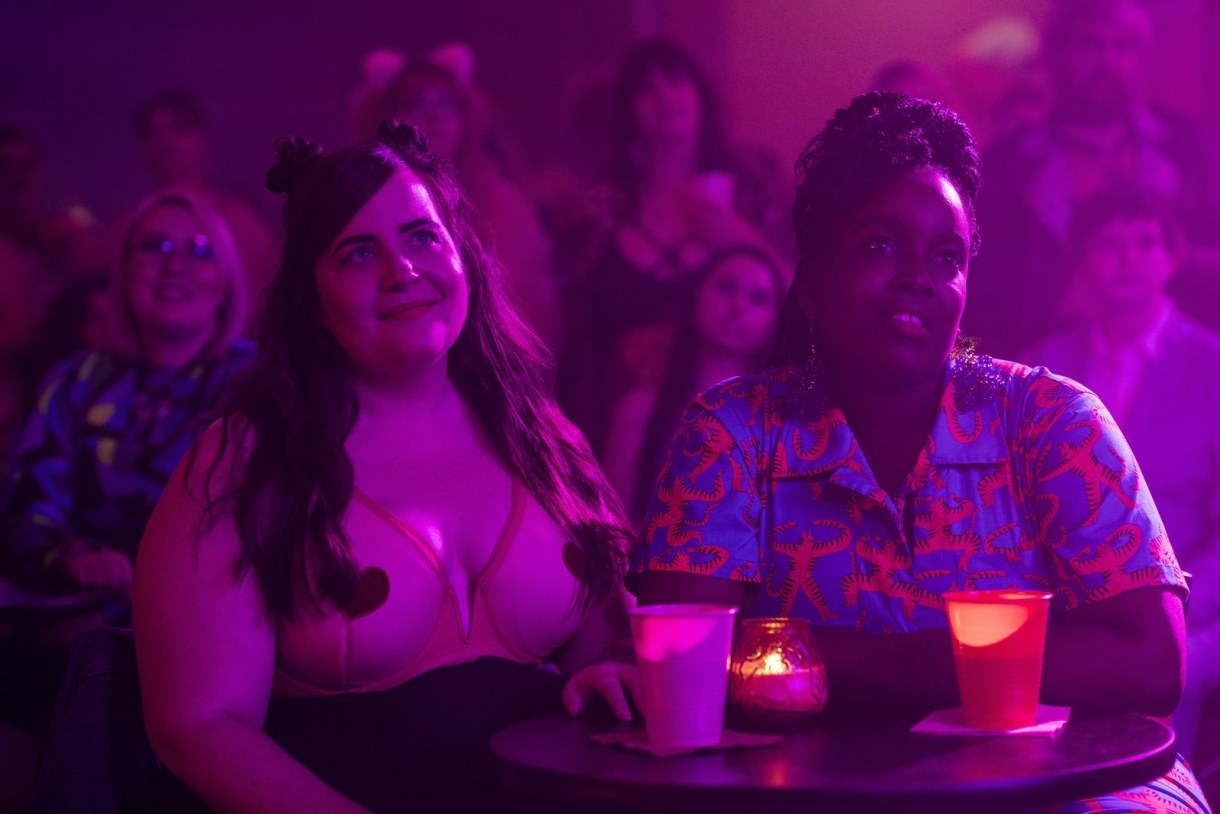 In Season Two, Annie will "start the season on a high" before realizing that quitting her job was a hasty move, as was, possibly, her desire to commit to Ryan. Meanwhile, her Black British Lesbian BFF Fran will be "dealing with a breakup and figuring out what she really wants out of her life too."
---
// watch the trailer //
When last we left Stephanie Beatriz's Rosa Diaz, Cameron Esposito had very nearly broken her heart! But they worked it out, despite the fact that Captain Holt was side-eyeing them the whole time and Amy was sliding across the hood of a car yelling "Yeah work/life balance, I've got that too!" More of Rosa's personal life seems inevitable at this point and we're here for it. NBC has already renewed B99 for an eighth season.
Tommy (CBS) // Season 1 // February 6
// watch the trailer //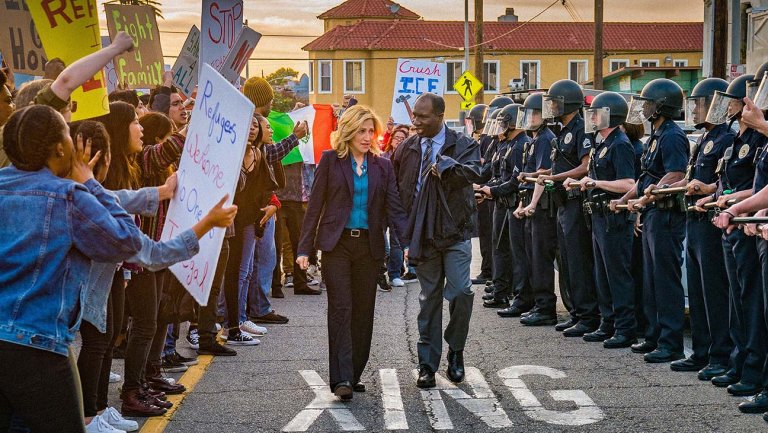 Edie Falco plays Tommy, Los Angeles first female police chief, in this new CBS drama. Tommy is "a little rough around the edges." She's froƒwestm Queens. She also is a lesbian. About the role, she told The Hollywood Reporter: "I think it's important that every single person — large, small, different colors — gets represented in our television. I think everybody in the world wants to look at television and be able to find themselves somewhere, and I think we've been leaving huge swaths of the population out of that experience. I could always find myself on television as a kid. The world is changing; we've got to change with it."
// watch the trailer //
Brought to you by showrunners Ben Sinclair (who also stars as The Guy) and Katja Bilchfeld (who is a lesbian), Season Four will find The Guy back on his bicycle in episodes that play out over the course of a year. One episode will feature Ira Glass and the This American Life team, another will feature an intimacy coordinator played by Abigail Bengson.
Visible: Out on Television (Apple TV+) // Season 1 // February 14
// watch the trailer //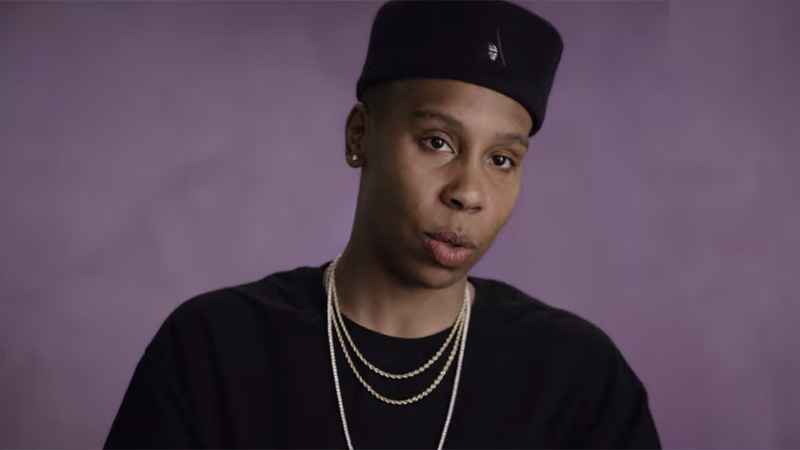 From Emmy-nominated filmmakers Ryan White and Jessica Hargrave, Visible: Out on Television is a five-part docuseries that takes a look at the history of the LGBTQ movement through the lens of TV. The docuseries is narrated by Janet Mock, Margaret Cho, Asia Kate Dillon and Lena Waithe and features never-before-seen interviews with Ellen DeGeneres, Oprah Winfrey, Rachel Maddow and Sara Ramirez.
High Fidelity (Hulu) // Season 1 // February 14
// watch the trailer //
This television adaptation of the film adaptation (starring John Cusack and Jack Black) of the Nick Hornby book replaces the male lead character with a woman played by Zoe Kravitz who is seen mostly talking about men — but kissing at least one woman! — in the show's first trailer, and from what we've heard of the show, her character will be bisexual. Da'Vine Joy Randolph's character also looks gay (and appears to be filling the Jack Black spot from the film), but we'll see!
NCIS: New Orleans (CBS) // Season 6 Returns February 16
Indebted (NBC) // Season 1 // February 20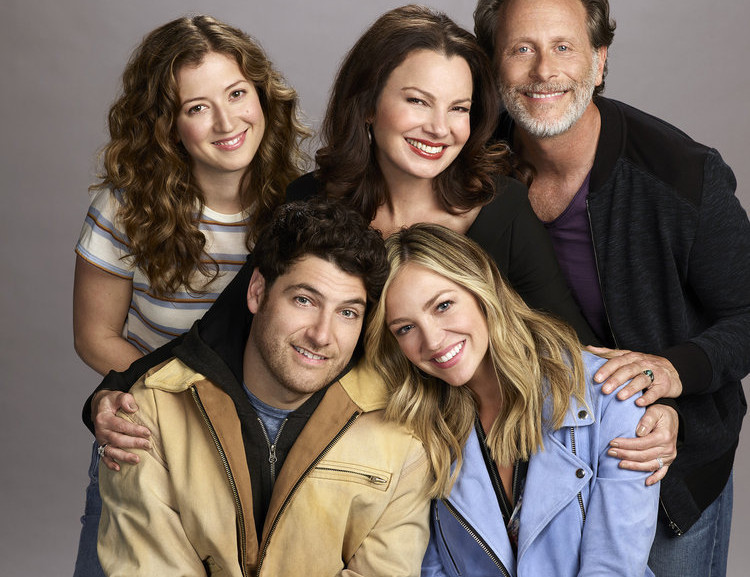 Dave and Rebecca are ready to start a new life after years of parenting — a plan immediately thwarted by Dave's parents (played by Fran Drescher and Steve Weber), who go bankrupt and move on in. Jessy Hodges (who you may remember for her role as Sophie in seminal queer webseries Anyone But Me) plays Joanna, Dave's weirdo lesbian sister.
---
March
Twenties (BET) // Season 1 // March 4
// watch the trailer //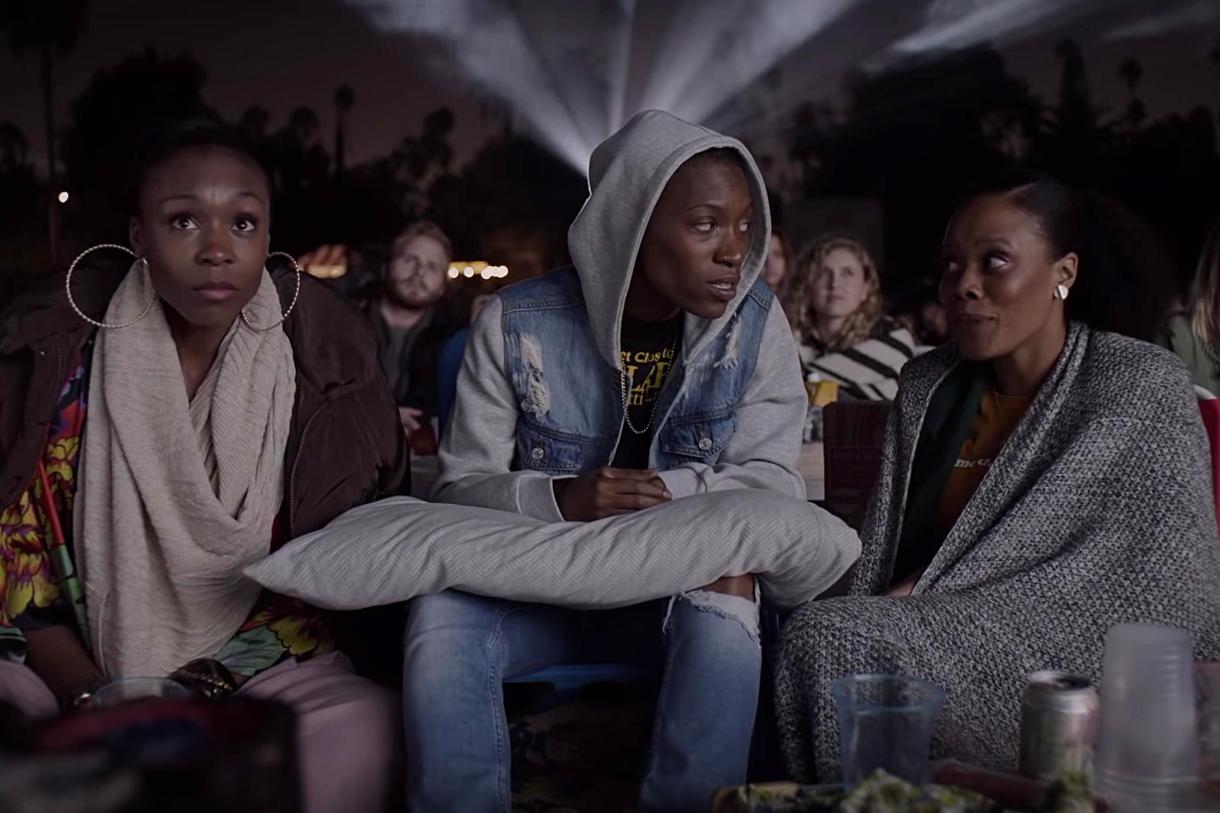 It's been seven years since we first wrote about the webseries Twenties, which Lena Waithe has adapted into an eight-episode TV series for BET about Hattie (JoJo T. Gibbs), an aspiring TV writer who gets a job as a writer's room production assistant hoping it'll open doors to her real dream job. Her best friends are Marie and Nia, a film executive and yoga instructor, who are also finding themselves in their 20s through career and romantic opportunities.
Roswell, New Mexico (The CW) // Season 2 // March 16
// watch the trailer //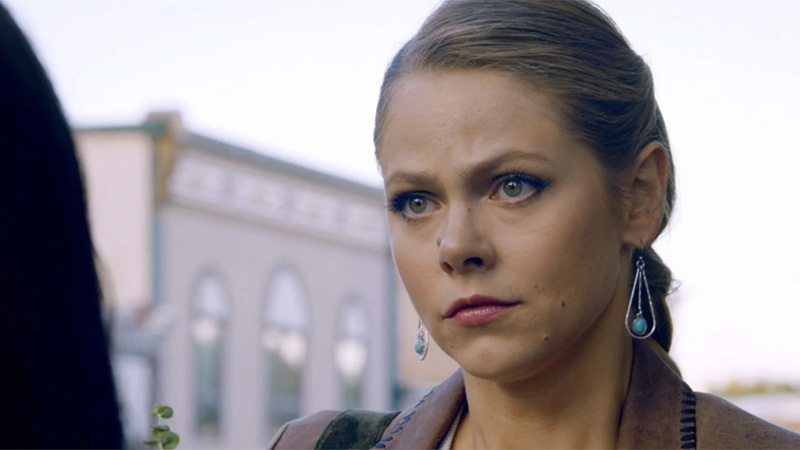 Hey, another living queer woman on a sci-fi show! Unfortunately, she's a queer woman who also murdered another queer woman. Isobel is an alien living as a human, occasionally blacking out and doing killings. It's all very Stahma Tarr.
Self Made: Inspired by the Life of Madam C.J. Walker (Netflix) // Four-Part Limited Series // March 1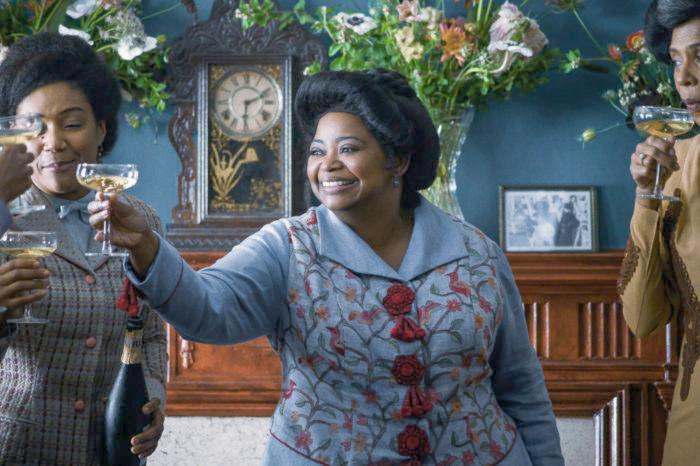 I yelped to see this show on the spring docket. Octavia Spencer is set to play Madam C.J. Walker, the first woman and the first black person to become a self-made millionaire in America when she debuted a best-selling line of hair and beauty products for Black women. Her daughter, A'Lelia — who will be played by Tiffany Haddish — was a vivid presence in The Harlem Renaissance, throwing lavish parties attended by princesses and dykes from Europe and Russia, New York socialites and the well-known intellectuals and writers of the Harm Renaissance. "A'Lelia Walker probably had much to do with the manifest acceptance of bisexuality among the upper class in Harlem," wrote Lillian Faderman in Odd Girls and Twilight Lovers. It's unclear if the show will address A'Lelia's bisexuality or feature the queer characters who surrounded herm but we sure hope so!
Westworld (HBO) // Season 3 // March 15
// watch the trailer //
We honestly have no idea what in the world is going to happen in the third season of Westworld, but we do know it stars Tessa Thompson, Evan Rachel Wood, and Lena Waithe — and, at some point, will feature this particular bisexual spooning situation.
Council of Dads (NBC) // Season 1 // March 20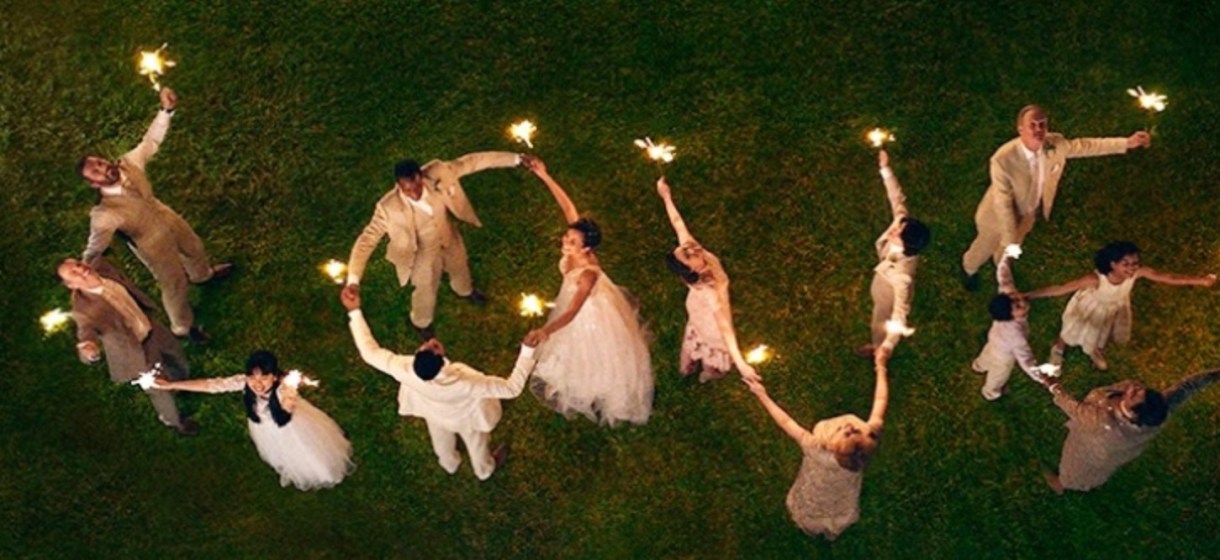 Based on a book by a father diagnosed with a life-threatening cancer who formed a "council of Dads" — six of his closest friends — to raise his children when he dies, this tearjerker will include a revelation that his youngest child is transgender.
// watch the trailer //
One Day at a Time being saved by Pop TV was one of our favorite pieces of pop culture news of 2019. The show's first non-Netflix season will be released on a weekly basis. (With commercials even.) We don't know too much about what's coming in Season Four, but if you want to get extra-hyped while we wait for information, check out Drew's dispatches from the Vulture Festival.
Motherland: Fort Salem (Freeform) // Season 1 // TBD

From the creator of Claws, Motherland: Fort Salem follows three young women from enlistment in a supernatural army to basic training in combat magic into early deployment. We can't say for sure that this series will have lesbians but it's about a modern witch academy and it's on Freeform, so: it's 98% likely there will be lesbians.