Do you have chores that need to be done but you can never bring yourself to do because cleanliness isn't actually motivation? Do you have times where you really want to do something but there's no way you'll bring yourself to actually do anything? Do you have moments of ennui so mindbogglingly pointless that you can't even tweet about it? These reasons and more are why podcasts exist. If you've never been the person on the bus giggling to themselves or the passenger roadtripping alone in sweet serenity, you need some podcasts in your life. Yes, I know you already listen to This American Life but there is so much more out there. Sometimes I'm afraid to search for more because it becomes overwhelming. There are so many people out their with voices that they record and make available for free download! The novelty of it all is astounding.
Since I am a person that is often concerned with laughter, I listen to comedy podcasts–or rather podcasts by comedians. If you've ever wanted to give podcasts a try but didn't know where to start, here is where you should start. By listening to me. I have opinions.
My Favorites
You Made It Weird with Pete Holmes
Pete Holmes, aka Fun Dad, talks to other comedians about all the things that make them weird. There are a lot of interview podcasts out there. A lot. But this one is my favorite because Pete Holmes never stops being Pete Holmes during it. You never feel like he's putting on some serious face to have a serious talk with a serious guest. He's a comedian, he's a nice guy, and he likes talking about himself while he's interviewing other people. He often touches on relationships, religion, and people's general outlook on life.
The best part about YMIW is you can genuinely hear the joy in his voice while he talks to people about whatever comes up. It's like he's learning about himself through other people. Start with the Chelsea Peretti episode if for no other reason than to know who Chelsea is because he brings her up pretty much every episode.
Doug Loves Movies with Doug Benson
Super High Me's Doug Benson hosts this podcasts about, you guessed it, movies. He brings on 2-4 guests an episode to discuss the last movie they've seen, what's in theaters now, and to play a few games that are not for the casual moviegoer. It's fun to listen no matter how into movies you are but don't expect to fully enjoy the experience unless you watch a fair amount of films. How many games they play varies from episode to episode but it always end with the the Leonard Maltin game which I can not even begin to explain in this post. If you enjoy puns, it'd be worth it to listen just for the categories used in the game.
Some of my favorite guests have been TJ Miller, Zach Galfinakis, and Alina Foley. Probably everyone in the world should listen to the May 25th episode with Alina Foley and see if they can keep their ovaries in check. You probably are thinking that Alina Foley is some buxom woman from that sentence but she's actually a child.
Gay Pimpin' with Jonny McGovern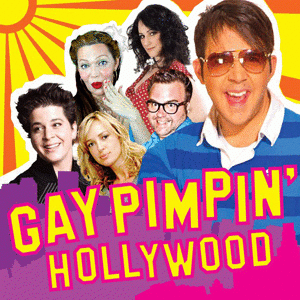 If you only know of Julie and Brandy from In Your Box Office, I'm so so sorry that someone did not bring this into your life sooner. Gay Pimpin' has been around for years and when Jonny moved to Los Angeles, Julie Goldman and Brandy Howard took the podcast to hilarious new levels. Gay Pimpin' is the funniest podcast out and if you are easily offended, I would suggest you stay away. However, if laughing is more important than "being a good person," listen to it immediately. One of the longest and most structured podcasts available, the Hollywood cast of Gay Pimpin' also features Calpernia Addams, Michael Serrato, and Nadya Ginsburg.
Obviously you should listen to the episode where Julie and Brandy talk about #CAMP.
Making It with Riki Lindhome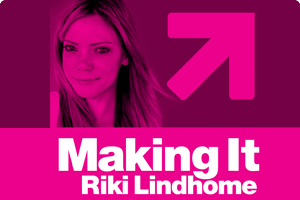 Riki Lindhome of the adorable yet scathingly funny singing duo, Garfunkel & Oates hosts this podcast about the path people in the entertainment industry took to get where they are. If you're trying to figure out what your next step should be slash you'd like to become depressed once you realize how much chance and luck figures into your future in entertainment, this is the podcast for you. Or if you need to be reassured that all of the privileged poverty realness you're enduring will be worth it in the end, this podcast could help. She branches out from just comedians and sits down with actors, writers, casting directors, and producers.
She's had some great guests but obviously I am going to offer the Joss Whedon episode up since I know how much you all love Buffy.
Popular
WTF with Marc Maron
This was the podcast that kind of started it all. I don't really like Maron's ramblings at the beginning and I think he might cross the line with his questions every now and then but plenty of people love it. He without a doubt has had a guest you care about in some capacity.
Professor Blastoff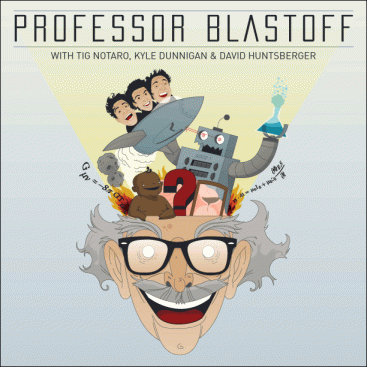 Tig Notaro, Kyle Dunnigan, and David Huntsberger get all philosophical-like during this podcast. They don't have many guests but if you want to think deep thoughts about immortality, sustainability, and cheating, this might be the podcast for you. Sexual Attraction with Sarah Silverman is a good one. Also, if anyone could remind me which episode first mentioned "cool beer" I'd really appreciate it.
Nerdist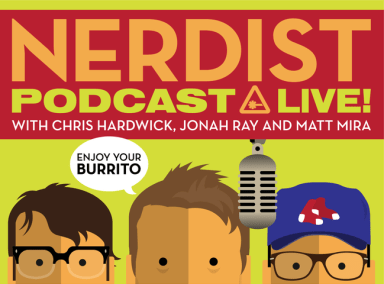 King nerd Chris Hardwick and his two buddies Jonah Ray and Matt Mira sit down and chat with famous people about nothing in particular. Usually they talk about being nerds which is fun for other nerds to listen to. I think the most disappointing thing about this podcast was how long it took them to have a female guest (Alison Brie was the first). I just expected more from Chris Hardwick maybe? Eventually Chris sat down with Tina Fey though so maybe put that episode in your ears.
Comedy Bang! Bang!
Scott Aukerman hosts this podcast that ranges from music to improv to just shooting the shit. If you'd rather watch moving pictures than just listen to words, you're in luck because Comedy Bang! Bang! will be on IFC (the channel, not the person) this summer.
Hosted by Women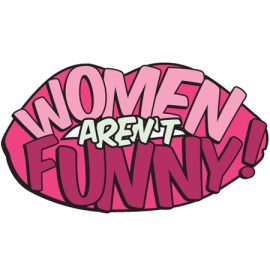 JV Club with Janet Varney
Women Aren't Funny with Alana Johnston, Mo Welch, and Emily Candini
You Had to be There with Nikki Glaser and  Sara Schaefer
How Was Your Week with Julie Klausner
My To Listen List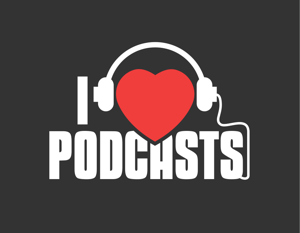 Here's the Thing with Alec Baldwin
Throwing Shade with Bryan Safi and Erin Gibson
It's That Episode with Craig Rowin
improv4humans with Matt Besser
The Pod F. Tompkast with Paul F. Tompkins
Alison Rosen is Your New Best Friend with Alison Rosen
Please leave recommendations below so that I can continue spending late nights alone on my air mattress listening to podcasts.
*Featured image via Nerdist Fan Art
ETA from Riese: Also worth mentioning is the Lesbian Lounge podcast — they were one of the first lesbian media outlets to recognize the awesomeness of Autostraddle (back in 2009), and have also been broadcasting live in the US & UK for seven years! That's a long time!