Hi bumblebees! I'm not at A-Camp experiencing the 13 stages of Klub Deer or partying like Dionysus but I am super excited to bring you this week's comment awards! I understand the traditional format is to talk about your dog so words words words.
This week, Riese recommended 12 lesbian resorts to visit this summer if you have a time machine. Make some tea or bring some rad inclusive games or essays and memoirs from the future to help you make friends as an adult. Or get cryptic with internet haiku. And remember not to stare.
Neesha wrote about how queer and trans people of color resist gentrification and displacement.
Courtney wrote about what happens when the person you send nudes to doesn't sext you back.
Heather took one for the team by sitting through Netflix's Anne of Green Gables, which cannot be saved.
In fat fashion, crop tops are timeless.
Everyone got or turned out to be gay married, and by everyone, I mean Diana Taurasi and former WNBA teammate Penny Taylor and Abby Wambach and Glennon Doyle Melton. (Not all to each other though.) (Not yet all to each other?!?) (If that were to happen they could read through the now-ended Poly Pocket series archives I'm just saying.)
Brittani Nichols is a babe and made you a song for when it's not your problem.
And then you left some killer comments!
---
On "12 Lesbian Resorts You Could Visit This Summer If You Have A Time Machine":
The We Are All Jealous Of Your Grandma, Who Frankly Sounds Like A Babe, Award to Allison:

On "Pop Culture Fix: Dee Rees Is Making a Black Lesbian Horror Film with the Producer of "Get Out"":
The Just Take Our Money Award to C.P.:

On "Let's Kickstart LinkedIn: More Internet Haikus":
The Most Pisces Award to Sally:

The Can't Tell If You're Bragging Or Not Award to Queer Girl: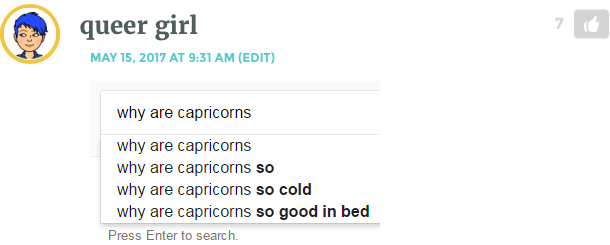 On "No Filter: This Is Not Brittani Nichols' Problem":
The I Can Only Assume This Made Stef's Day Award to Cleo:

On "22 Easy Steps to Rethinking Your Whole Relationship Through Late-Night Nudes":
The What Noooo I Have No Idea What You're Talking About Or What The Insides Of Your Phones Look Like, Promise, Award to verycoolname: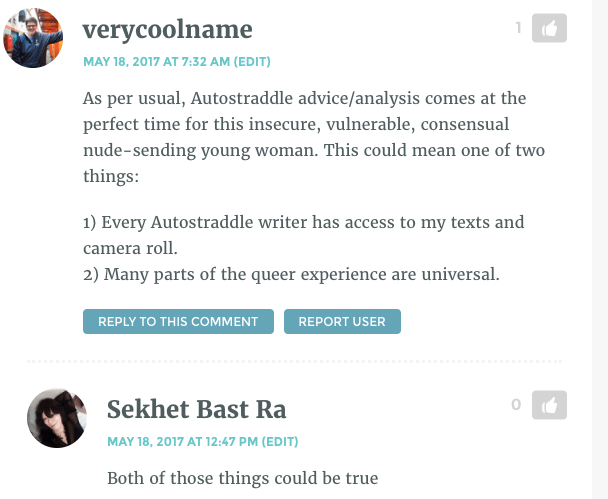 ---
See a stand-out hilarious comment that needs a comment award? E-mail Queer Girl about it at queergirlblogs [at] gmail [dot] com!