Hey there friends and happy Friday! Welcome to the Friday Open Thread! This is my first time hosting and I'm excited. How are y'all doing wherever you are? If you're not at A-Camp 8.0, that's all right cause neither am I. It's okay to be sad. I'm sure you've got lots of other fun stuff happening this weekend, and other cool things going on in your life. Or maybe you're working over the weekend and are not so thrilled about that.
I'm looking forward to going to the Vancouver Comic Arts Festival, aka VanCaf in my city this weekend. I think some of you Toronto folks were at TCaf last weekend? My weekend plan probably doesn't surprise any of you who've been reading my Ask Your Friendly Neighborhood Lesbrarian column. Surprise! I am a huge book and comics nerd. The annual VanCaf is kinda like a pilgrimage for me, one that is TERRIBLE for my wallet. Last year there were so many rad indie comics makers and so many of them were queer and I could barely stop myself from spending my entire month's budget. I found one of my all-time favorite comics there last year, O Human Star by Blue Delliquanti. This Sarah Anderson comic really is my life: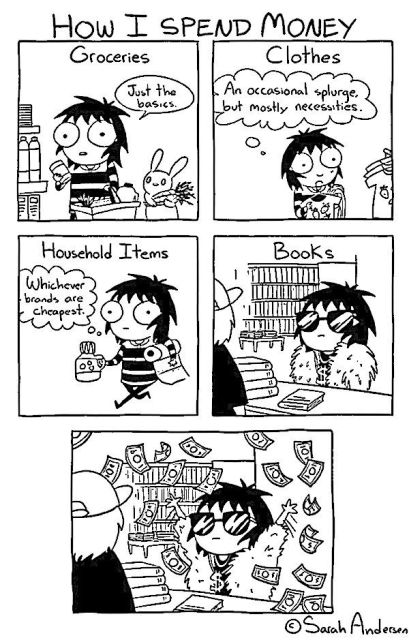 How do you limit yourself when it comes to spending money on that thing, whatever it is for you, that you just can't resist? And if I limit myself to buying, say, just two comics, how do I decide which ones? Please help me. VanCaf was packed last year, which I'm sure was great for the organizers and exhibitors but kind of bananas for people attending, so my friend is planning a system to avoid that, which probably mostly means getting out of bed earlier than I want to on weekends. But apparently books are one of the only things I'll get up early for, since a few weeks ago I got up VOLUNTARILY at 5AM on a Saturday morning to do this thing called the Dewey's Readathon, which entails trying to read as much as humanly possible in 24 hours while a bunch of book nerds in other parts of the world do the same thing.
Besides weekend plans, what else is going on in your life? I'm almost officially done my librarian degree, which is exciting but also terrifying. It means pretty soon I'm going to have to start applying to grown-up, full-fledged librarian jobs. I know some people hate being in school, but I'm kind of a Hermione who thrives in school and is scared of the real life workplace. If someone would pay me, I would honestly probably just keep getting degrees in all of the new things I discover I'm interested in until retirement. I know working as a librarian full-time is gonna be awesome, but transition can be tough, you know?
So tell me all about you and your life! What are you doing this weekend? How nerdy is it on a scale of super nerdy to not at all nerdy? Do you have any tips for me to save my bank account at VanCaf? Are you at a transitional period in your life or are you all settled into a routine? How do you feel about where you are?
---
How To Post A Photo In The Comments:
Find a photo on the web, right click (on a Mac, control+click), hit "Copy Image URL" and then…
code it in to your comment like so:
If you need to upload the photo you love from your computer, try using imgur. To learn more about posting photos, check out Ali's step-by-step guide.
How To Post A Video In The Comments, Too:
Find a video on YouTube or Vimeo or WHATEVER and click "embed." Copy that code, paste it, you're good to go!