feature image via The Key West Hotel facebook page
---
As we move gracefully from a mediocre spring into the depths of another volatile summer season filled with dread and uncertainty, one might ask oneself "are there any hotels / resorts / B&Bs / guest houses / ranches / etc in the U.S. where I can be surrounded exclusively by other queer women?" and the answer is "yes, there is one, it's called The Highlands Inn and it's in New Hampshire."
But, if you'd asked that question a decade or two or three ago, the answer would've been, "Yes, SO MANY!" (Wanna know why? Check out the outro to this list at the end for some lesbian travel herstory and also the sources I used for this post!)
---
Ellie's Nest Guest House // Key West, FL // 1980s
In 1981, Ellie's Nest was advertising itself in Gaia's Guide as "Key West's only guest house by and for women" (read: lesbians), owned by a lesbian couple named Martha and Judie. The property included tropical gardens, a pool, continental breakfast brought to your door and individually decorated rooms named after famous women like Gertrude Stein, Alice B Toklas, Georges Sand, Tallulah Bankhead and Patience and Sarah. A 1983 issue of The Empty Closet features a review of Ellie's Nest, of which the author says "…the best Night life [in Key West] is right at Ellie's Nest. Lounging by the pool in 76 degree temperatures, babbling with peers into the morning hours left us with some of our fondest memories of Key West."
But by 1994, Ellie's Nest had become Newton Station, a clothing-optional guest house for gay men that advertised a quiet, secluded and romantic location, and in 2005, its owners decided to make it their private residence. Now, the 3,000-square-foot renovated house is on the market for 2.6 million dollars — advertising a Cat 5 hurricane-ready estate with a 30-foot black swimming pool surrounded by orchid gardens and a waterfall, as well as a generator that can run the house for two weeks in the case of a weather emergency. "At the pass-through window is a granite bar with metal stools rescued from the old Atlantic Shores," lures the real estate listing, "Just one bit of the site's gay history."
---
The Key West Hotel // Asbury Park, New Jersey // 1982-1990
In the '70s, a team of three lesbians — Carol Torre, Camille Neto and Kay San Fillipo — teamed up to start The Owl & Pussycat Bar in Asbury Park, New Jersey, a lesbian bar that did so well that Kay was inspired to buy a nearby hotel in 1981 when it went on the market. Together, Kay and her partners renovated the dilapidated property and cleaned up the Floridian Pool. The place looked great on the inside, but the owners left the outside a little raw in order to avoid attracting any attention to their establishment. The 1983 Gaia's Guide listed The Key West Hotel as a "Lesbian Super Complex." Downstairs, there was dancing in the Rainbow Room disco; drinks, video games and pool in the Owl & Pussycat lounge, a weekends-only cabaret at the lobby Treehouse Bar and Sunday Brunch at the Key Largo Restaurant. A community quickly developed around the 50-unit 3-bar complex; they hosted weddings, sponsored a softball team, featured performances by gay musicians, celebrated holidays together and held summer picnics. Although primarily a space for women, gay men with lesbian friends also frequented the venue. But by the late '80s, fear and uncertainty around the transmission of the AIDS virus and impending development on the Asbury Park waterfront led Carol Torre, Camille Neto and Kay San Fillipo to close the hotel. For more photography from The Key West Hotel, their Facebook page is a treasure trove of '80s lesbian magic.
In the mid-00s, the site was demolished, and is now a parking lot.
---
Springhill Farm // Glenford, Ohio // 1980s – 1990s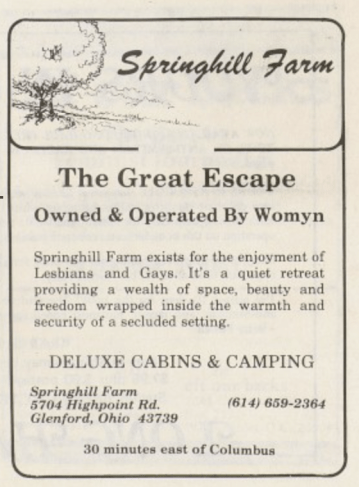 Just 30 miles east of Columbus, Ohio sat Springhill Farm, a 30-acre lesbian-owned property offering private deluxe cabins as well as a public hot tub, a swimming pool and a nearby fishing pond for "womyn" travelers. The 1991 Gaia's Guide for Lesbians informs that "GREAT reports about this wonderful place always come in," and the spot is also listed in a 1984/1985 issue of The Lesbian Connection, although it doesn't appear in the 1983 Gaia's Guide, so it seems the farm was probably in operation from the mid-80s 'til the early-90s. Google Earth reveals empty land where it once existed. Worth noting that visitors would've been about 30 minutes away from the annual Ohio Lesbian Festival, one of a few women's music festivals that still exists.
---
Pagoda on the Beach // St. Augustine, Florida // 1977 – 1997
"They called it a lesbian paradise," a New York Times article about the women of Pagoda began, "the pioneering women who made their way to St. Augustine, Fla., in the 1970s, to live together in cottages on the beach."
In 1977, Morgana MacVicar, a "ritual performer and matriarchal belly dancer," along with three of her like-minded thirtysomething lesbian friends, bought four cottages on the Florida coast, formerly part of the Pagoda Motel. They incorporated as a non-profit called "The Temple of the Great Mother" and declared Pagoda a womynspace open for lesbians to live and vacation — albeit quietly, as St. Augustine wasn't necessarily gay friendly. While women in Oregon were buying up cheap property and living off the land in secluded areas where they could live openly, free of patriarchy, the ladies of St. Augustine kept their clothes on and their voices down. Within their parcel of land, however, a magical lesbian community was given room to develop. The 1991 Gaia's Guide For Lesbian Travellers says "rave recommendations keep coming in about PAGODA year after year," advertising its "unique complex of monthly cottage rentals and a lodge house with a theater space / small wholefood store / short-term sleeping rooms / shared neighborhood swimming pool."
In the late 1990s, development in the area contributed to Pagoda's decline — a bridge "diminished the peace and beauty that had played a large role in the community's founding," the dune grass that offered beach access was replaced with condos and rising land costs and beach erosion eventually drove the founders out of Pagoda.
In 2009, The New York Times sent a reporter and noted-photographer-of-lesbians Angela Jiminez to Alapine, the lesbian community in Alabama where Pagoda's founders relocated. Although shy of publicity all their lives, the women consented to the Times story "because of their concern that their female-centered community would disappear if they did not reach out to younger women."
---
Honeysuckle Inn // Milton, Delaware // 1988 – 2000
Mary Ann & Julie offered their guests "privacy, romance and seclusion" and a clothing-optional pool at their Women's Victorian Inn and Guest Houses, only two hours from Philadelphia, Washington and Baltimore. Specifically, you were invited to "spend the day on clean beaches, enjoy a marvelous gourmet dinner and have a moonlit stroll along the ocean before returning "home" to Honeysuckle." You could get a room at the Inn, some of which offer "private bath with use of a toy boat and rubber duckie" and another which offers deep burgundy wallpaper, a canopy bed, a whirlpool tub AND "a charming stuffed walrus named Mookie." Or you could stay at one of the adjoining farmhouses renovated by Mary Ann and Julie.
After selling the Inn in 2000, Julie was finally able to devote herself to what she'd wanted to do all her life: paint. Julie passed away in 2009 from cancer, and in 2012, the Mispollion Art League in Milton hosted a retrospective of her work.
---
The North Crow Vacation Ranch // Ronan, Montana //1981 – 2001
Teressa "Tary" Mocabee fled her family's ranch in Mission Valley at the age of 18, following the death of her mother, a drug addict. Her father had died five years earlier, of a heart attack, so after getting an English degree in Missoula and spending seven years writing in San Francisco, Tary returned to the land she'd inherited from her family and started a Vacation Ranch in 1980. In the 1982/1983 Lesbian Connection, North Crow Vacation Ranch bills itself as "a new social alternative for lesbians and gay men on holiday." Their listing in the 1991 Gaia's Guide announces "WELCOME TO DYKE COUNTRY." The ranch offered tipis, hot tubs, camping and adventure packages. In a journal entry, Mocabee wrote,  "One of the biggest rewards of sharing this place with others is to see a kid-like excitement on adults' faces when they come back from a walk or a white-waterless raft trip on the canal and say, 'I haven't done that since I was a kid."
The fun came to an end when, in 2001, the 49-year-old environmental activist, outspoken lesbian and substitute teacher was found dead in a stream that runs through her land. The state medical examiner determined drowning — an accident — as the cause of death. But many of her friends and associates suspected foul play: "They believe the outspoken—and sometimes strident— activist was murdered. But by whom, they do not know."
---
Simple Addition & Simple Interest // Alligator Point, Florida // late 1990s – early 00s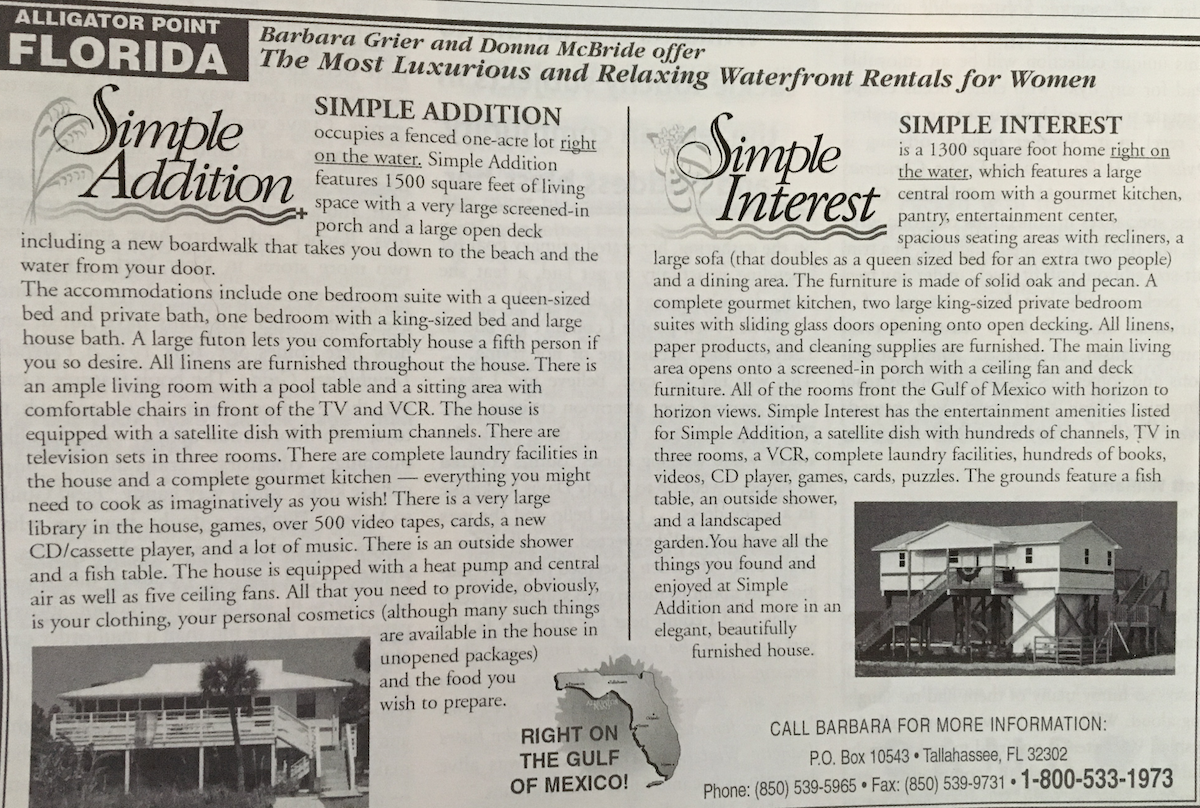 Lesbian publishing legend Barbara Grier began collecting lesbian books at the age of 16, served as editor of The Ladder from 1968 – 1972, and launched Naiad Press in 1974, dedicated to publishing lesbian literature. In addition to re-publishing out-of-print lesbian books by authors like Ann Bannon (The Beebo Brinker Chronicles), Jane Rule (Desert of the Heart) and Gertrude Stein, they were the first to publish Sarah Schulman and Patrick Califia and supported the careers of writers like Katherine V. Forrest and Claire McNab. Naiad eventually became one of the few lesbian business success stories ever (it has since been folded into Bella Books), and eventually Barbara and her partner, Donna McBride, relocated from the East Coast to Tallahassee, Florida, subsequently buying up up two vacation rentals in Alligator Point. They rented one or the other to visiting women, who could book by calling Barbara on the phone. The properties, named Simple Addition and Simple Interest, advertised beach access, porches, bedroom suites, TV/VCRs, an open deck, horizon views and other stuff people like to have when they go to the beach. But the real draw if you are a giant nerd is the over 500 video tapes and the "hundreds of books" available in both houses. I know that in 1992, Grier and McBride donated Naiad's entire collection of books, which included their own titles and others from Grier's personal "Lesbiana" collection, to the San Francisco Public Library — around 14,000 books in all. But I imagine some of those remained in Florida and if you'd stayed here you could've read so many lesbian books! Maybe one day I will have a beachhouse with my Lesbiana in it and you can call me and come sleep there and read the books. I probably won't answer the phone because I hate the phone, but maybe I'll make a google form or something. See you in twenty years ago!
---
Above the Clouds Bed & Breakfast: A Mountain Hideaway For Women // Dahlonega, GA // 1992 – 2002
Two B&B suites were available for women who wanted to chill in the bubble bath, experience a terrific view of the Blue Ridge Mountains, enjoy full gourmet breakfasts, a hot tub, a private entrance, "access to women's books, videos and music" and the chance to "talk with your hostesses about women's issues, surrounding community, or what it might be like to retire in these mountains or find a home here within commuting distance of the exciting international City of Atlanta."
Diane Durham Stephenson, the former co-owner of Above the Clouds, was a teacher and researcher at the University of Georgia in the '60s, where she led the Women's Rights Movement on campus, which eventually caused her to lose her job there. So Diane moved to Atlanta and became the first female general contractor in the area, starting her own construction company as well as helping to start foundations including the Lumpkin Literary Coalition and the Atlanta Gay Center. When she died in 2013, obituaries noted she was "survived by her partner of 16 years, Betty Greene," who helped run the Inn when it still existed.
Now, the property is owned by two straight guys who love motorcycles.
---
Camp Pleiades // Bakersville, North Carolina // 1995- 2004
The lesbian couple who opened Camp Pleiades loved women's music festivals so much that they wanted to create a similar space for women to gather year-round. (I feel the same way about A-Camp!) Guests were encouraged to "rejoice in who we are" while partaking in activities like volleyball, whitewater rafting, horseback riding, stargazing, trout fishing, campfires, arts & crafts, hiking the Appalachian trail, swimming and family-style dining with the whole group. Special events and themed weekends included the homosexual standards: lesbian comedians, musical performances, meditation sessions, song circles, canoeing trips, cooking classes. In 2004, the owners announced that it was time to move on to other things, and that they would be putting 13 acres of the property on sale. It's now owned by the Southern Appalachian Highlands Conservancy.
---
Blueberry Ridge Bed & Breakfast // Scotrun, PA // 1980s – 2008
Owned and operated by a lesbian couple adorably named Pat and Greta, this womens-only guest house in the Poconos Mountains promised a full country breakfast, nearby skiing, and a panoramic view of the Delaware Water Gap. A 1991 ad in the Gaia's Guide announces NEW HOT TUB! in all caps, while Blueberry Ridge's 2004 description in Purple Roofs includes the stand-alone sentence "Stroll in the woods" and invites you to "spend time with your friends and/or share time with new friends." WHY NOT DO BOTH? Because I can't find any evidence that this lodge — which offered a safe space for lesbians seeking tranquil Delaware Water Gap activities going back at least as far as 1984 and possibly earlier, and is still listed on this Women's Travel website — still exists. Its last listing on Purple Roofs is from 2008. In 2000, Blueberry Ridge was advertised along with "Stoney Ridge," a "charming cedar log getaway." The surrounding area now contains a Kalahari Resort and Convention Center as well as a Pocono Manor Resort & Spa.
Some obsessive googling suggests its owners, now in their early 80s, spend a lot of time golfing, which, good for them!
---
The See Vue Motel // Yachats, OR // 1990s – 2013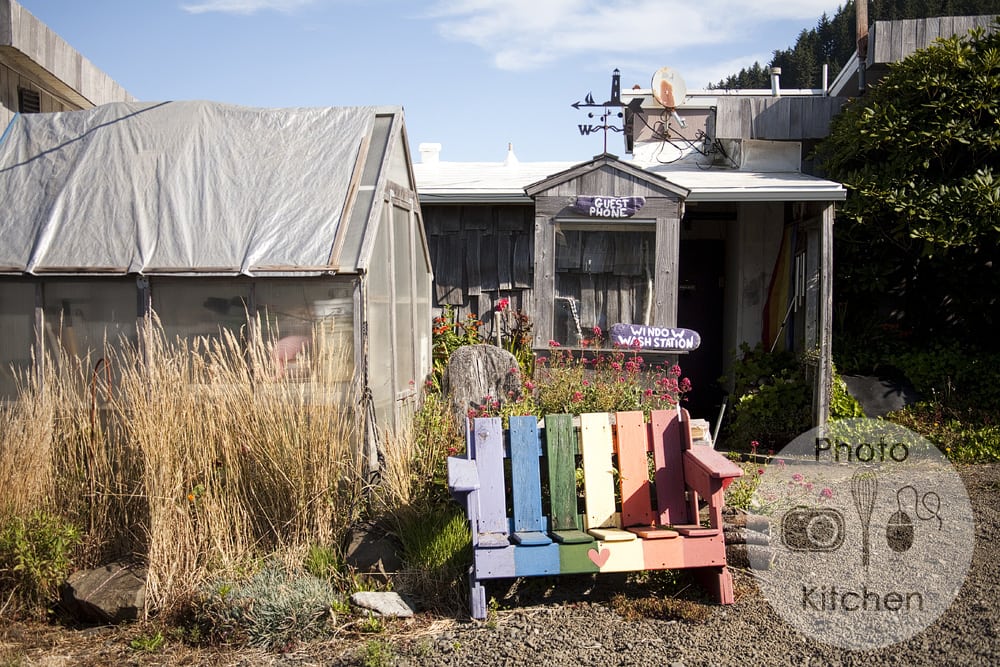 As of 1991, Jacqueline's See Vue Motel was touted as "the Oregon Coast's only gay/lesbian oriented motel," owned by two gay guys. As of a decade later, Purple Roofs listed Renée's See Vue Motel as owned by a lesbian activist named Renée LaChance, who labels herself a "woman-identified butch Amazon virgin grandma." The place remained lesbian-oriented, but straight-friendly. Most importantly, it had THEME ROOMS. "The Study" comes with a wall of books, the "Mountain Shores" offers a "rustic mountain theme complete with redwood burls" (don't know what those are, don't care, confident I'd love 'em regardless), the "Far Out West" pays homage to the American cowgirl, "The Princess and the Pea" sounds super creepy and the "Far Out East" is too problematic for the modern lesbian to truly enjoy, so I guess that's a small blessing. Now, little identical cottages are being built in its place and everybody on the See Vue Inn Facebook is really mad about it and misses the old place.
Renée LaChance remains a lesbian environmental activist and works in sustainable construction in Portland, Oregon.
---
Casitas Laquita Inn // Palm Springs, CA // 1998 – 2016
Palm Springs has been, and remains, chock-full of gay men, and is mostly known to younger lesbians as the location of the annual sexy pool party, Dinah Shore Weekend. In addition to being a hotspot for vacationing and often closeted power lesbians of Hollywood in the '80s and '90s, Palm Springs has been home to many lesbian-oriented resorts and events over the years. But as of December 2016, when Casitas Laquita stopped being a lesbian hotel and started being a regular hotel called The Gypsy Rose, there were 12 clothing-option gay men's hotel/resorts available and zero lesbian hotel/resorts, clothing optional or not! (The Gypsy Rose intends to "welcome Gypsies from across the spectrum of human sexuality," but has promised lesbian Casitas Laquita fans some lesbian-only weeks as well as lifetime discounts.) But in its heydey, Casitas Laquita held a private social club in its wine cellar with music on Sunday nights, hosted events like the Left Coast Lesbian Literary Conference and the Bold Strokes Books Festival, and developed a very passionate following of lesbian couples who appreciated a man-free pool and the famous chocolate / coconut / pineapple bread co-owner Joanna made every day. According to this interview, some women loved the place so much they lived there half the year.
---
Pearl's Rainbow // Key West, FL // (1989 – 2012)
If you've purchased any type of lesbian glossy magazine in the past 30 years, you've probably seen an ad for Pearl's Rainbow. They even advertised on Autostraddle back in the day. In 2010, Curve Magazine named Pearl's Rainbow Resort the guest house that's had the greatest impact on lesbian culture over the past 20 years. The resort had 38 themed guest rooms ranging from economy rooms to four-person suites, two hot tubs, on-site massage, two swimming pools (one was clothing-optional), lots of parties and Key West's only bar just for women, Pearl's Patio.
But merely a month later, the B&B's loyal lesbian patrons were disappointed to learn that the owners were making the resort "all-welcome," although they still hosted lesbian parties during WomenFest. Lesbians weren't packing the house like they used to, and the recession hit Key West tourism real hard. It seems around 2012, it was sold to new owners who renovated the place and re-opened it as "The Southernmost Inn," billed as an "adults-only" resort. According to AfterEllen, Mey Espinoza, the former General Manager of Pearl's, is now doing a great job managing the Silver Palms Inn & Suites.
---
Holly's: A Vacation Place For Women // Lake Tahoe, CA // 1992 – (Still exists, but stopped being women-only in the mid-'00s)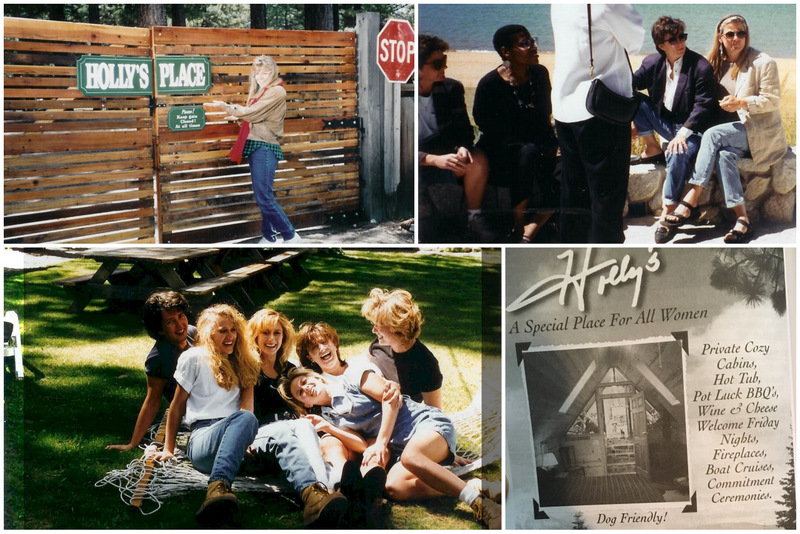 Deep in the Sierra Nevada Mountains, lesbians and their dogs were invited to enjoy a memorable experience in Lake Tahoe at Holly's Place, a colony of cabins with a dog pool, hot tubs, in-room kitchens and a "large knotty pine family room" for gathering with guests called The Rainbow Room. Cabins were named after gay icons, with names changing as the times changed: The Streisand, The Jodie, The Kate Hepburn, The Alice Walker, The Martina, The Lucy, The Baldwin, The Madonna, The Etheridge and, of course, The k.d. Lang. In 2009, Lavender Magazine wrote that "outside of Palm Springs, Holly's Place is probably the most popular women's resort (all are welcome, but the clientele is mostly lesbian) in California."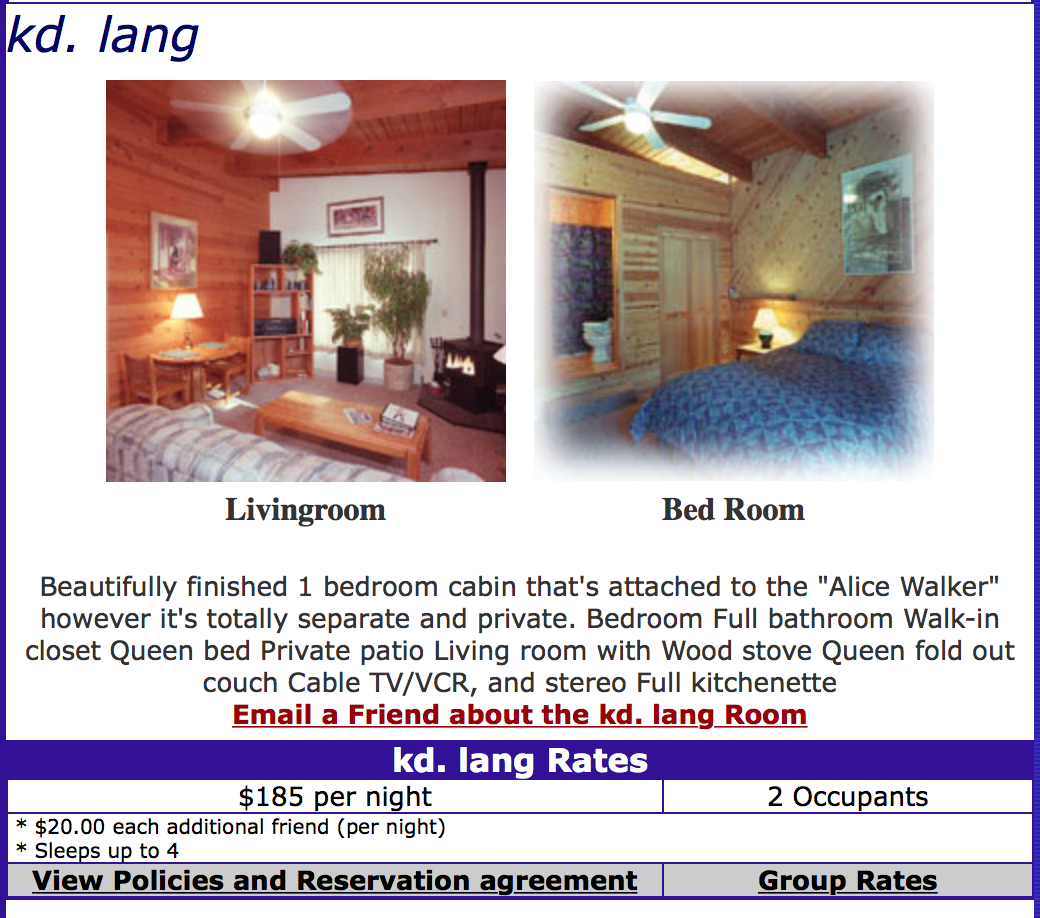 But by 2012, The Bay Area Reporter writes that "lesbian-owned Holly's Place in South Lake Tahoe used to be a women-only property but is now gay and straight mixed." With dwindling numbers of lesbians requiring a secluded, barely-marked-from-the-street vacation retreat, Holly's shifted to a new market: families traveling with their dogs. But the history of Holly's Place remains on its walls, where Holly has put together a collage of Polaroids she took of every lesbian who stayed at her resort. An amateur historian, Holly also has videotapes of many of her lesbian guests telling their coming out stories.
Like so many lesbians who create spaces for lesbians, Holly Eimer didn't care about making a big profit, she just wanted people to love her resort and feel comfortable being themselves there. Her next dream was to make it a comfortable retreat for people with disabilities — she'd been diagnosed with multiple sclerosis in 1989 and knew she'd one day need a wheelchair-accessible property. Through the South Tahoe Chamber of Commerce she met financial planner Lori Zoval in the late '00s, and hired Lori to run Tahoe Helping Hands, the non-profit Holly started to make the retreat wheelchair accessible. But by 2011, it was reported that Holly lost half a million dollars to Lori Zoval, who through an investment fraud scheme stole Holly's entire life savings to "fund a lavish lifestyle." After taking out a $200k equity loan to pay for fundraising on Lori's advice, Holly faced foreclosure on several of her cabins.
It's unclear how that case turned out, but it looks like Holly's Place is still going strong! It remains very popular with lesbians as well as families with dogs, who now stay in cabins with names like Bears Den, Wolves Den, Fox Hole, Top Dogs and Tall Pines. You should check it out.
---
A Little Herstory To Send You On Your Way
In response to growing numbers of out lesbians who desired community but needed to keep it quiet, women all over the country in the '80s, '90s and '00s were launching lesbian magazines and newspapers, opening lesbian bars and resorts, planning women's music festivals and developing womyn-only lands for permanent separatist lifestyles. (We'll have some more pieces about the lesbian 'back to the land' movement of the '70s and womyn's lands when Vanessa gets back from her little stroll.) During a time when most hotels, resorts and campgrounds weren't friendly to openly gay travelers, queers turned to ads in lesbian magazines, directories like Gaia's Guide (1974-1994), The Women's Traveler / Damron Women's Traveler (1989 – present), Places of Interest to Women (1980s), and, later, websites like Purple Roofs to find safe places to sleep, eat, drink and hang out. Gaia's Guide, published out of London, "led to a proliferation of trips and excursions organised by and for Lesbian women appearing in publications, as well as amongst groups and social spaces."
The Lesbian Connection, one of the few remaining lesbian publications in the U.S., did extensive listings of womyn's lands and also often listed guest houses, campgrounds and lodging for lesbian travelers. "Guidebooks and notes in club newsletters were important because they extended the 'imagined community' of lesbians," writes Liz Millward in Making a Scene. "…they opened up a sense of possibility for women who read them, women who might not be linked into an existing network and who needed to imagine that they could, if they were ever in that part of the country, find a sense of belonging in a visit to the Back Street Athletic Club in Thunder Bay, or Cercle des Amazones in Quebec City."
It's unfortunate that, although the internet has made it easier than ever for queers from all over the world to find community online, it's gotten harder for them to do so in real life — the gradual shuttering of lesbian bars and women's and LGBT bookstores, for example, has been a hot topic in the community for the past ten years, although those spaces were not without their faults and exclusions. Although this particular tide seems a formidable challenge to turn, it's important, at the very least, it's important for us to ensure that although those spaces might be lost, they won't be forgotten. Making queer space is hard f*cking work. Whether it be a bar, magazine, website, camp, newspaper, travel company, record label, hotel, music festival, collective or something else, creating queer space is rarely financially sustainable, let alone profitable, and it's uniquely emotionally/politically exhausting. But because so much of our space-making was promoted only on the underground, through community networks, we risk forgetting it ever happened at all.
For this post, I used some books I have in my personal library: The Gaia's Guide 1990/91: The International Guide For Travelling Women, Gaia's Guide Winter 1983, and the 2000 Damron's Women's Traveler, as well as web sources cited therein.