The Pacific Crest Trail is "a wild and scenic pathway" spanning from Mexico to Canada. It's 2,650 miles long and winds through California, Oregon, and Washington. Every year, thousands of people attempt to thru-hike its entire length over the course of about six months. On this very Thursday morning, I will become one of those people! I'm so excited and so nervous I could totally pass out right now, but instead I'm gonna tell you all about the PCT so you can follow along as I embark on the coolest thing I've ever done! C'mon, this is gonna be fun (I think?)!
Thru-hiking 101
Like any community, the hiking community has a specific vocabulary and group understanding of its subject (hiking!), and it can be difficult to follow without some explanations. With that in mind, I'd like to explain a few things about thru-hiking so that everyone can follow along easily. Full disclosure: I am a total beginner when it comes to long distance hiking; this trek will be my very first long trail, and I know I'll be learning a lot as I go.
Thru-hiking is the act of hiking a long distance trail from end-to-end in one hiking season. This usually entails hiking 15-30 miles a day, camping almost every night, and carrying everything you will need in a pack on your back. The three most commonly hiked long trails in the United States are the Pacific Crest Trail (PCT), the Appalachian Trail (AT), and the Continental Divide Trail (CDT); anyone who has hiked all three of these trails is called a Triple Crowner. Some people choose to hike these trails in sections, ranging from 20 miles to 700+ miles; these hikers are called section hikers.
Other important vocabulary to know: base weight refers to how much your fully loaded pack weighs, excluding all consumables (food, water, fuel). Lightweight backpackers aim to have a base weight of 20 lbs or less (that's me!), and ultralight backpackers aim to have a base weight of 10 lbs or less. Taking a zero means taking a rest day – you hike zero miles (or close to zero) that day and instead relax and recuperate, usually in a trail town. Trail names refer to nicknames hikers receive on the trail. Trail angels are magical human beings who go out of their way to help hikers, either by hosting them, gifting them food or water, or simply offering a ride from the trail to town – the kindness performed by trail angels is often referred to as trail magic. There are many other hiker-specific vocab words, but I think that's a good beginning.
Oh, and the most important one: HYOH, or Hike Your Own Hike. It's like You Do You, but for the hiking universe.
Preparation and Training
My preparation has taken on a lot of forms. Some people who hike the PCT have a lot of backpacking experience and so there's less of a learning curve, but I honestly have very little – I just love hiking and became obsessed with the idea of doing a thru-hike, and because I'm a Capricorn sun / Virgo rising, I willed and to-do-listed this whim into reality.
In order to prepare for this trip I put together the best gear kit I could afford, learned as much as I could about backcountry snow safety, and tested out different foods that I may (or may not!) enjoy eating for 5+ months. I talked to other thru-hikers, lurked on Facebook hiking groups (and tried my best to ignore the mansplaining and fearmongering I found there), and read trail journals from 2016 (here's my favorite: Brown Girl on the PCT). I consulted with friends who had hiked the trail before, most frequently my friend Carrot Quinn who is a fellow queer person who has hiked the PCT twice and even wrote a book about it! I trained by walking 6 miles a day almost every day, to get my feet and my muscles ready for their upcoming challenge. I also hiked on real trails when I could, and aimed to do long routes with large elevation gains to prepare my muscles, my lungs, and my heart.
I basically became obsessed with the PCT and funneled all of my free time and most of my money into this endeavor. While I do believe that anyone who wants to can and should be able to get outside (and I loathe the gatekeeping that happens in the outdoorsy community) I do want to emphasize that taking on a thru-hike is not a low-key scenario. It takes a lot of time, logistical planning, commitment, and money, especially if you have never done one before. Pretending otherwise does future thru-hikers a disservice, in my opinion.
Being a Queer Fat Femme On The Trail
I mentioned gatekeeping in my last paragraph, and how much I hate it. Let's talk about that for a minute! There's a long, rich history in the United States of pretending that white cis straight thin athletic men are the only people who enjoy being outdoors. If you flip through an REI catalogue, scroll through popular outdoorsy Instagram accounts, or visit our National Parks, there is an overwhelming lack of representation of anyone who does not fit that mold.
We are slowly starting to see a shift in this model, with badass resources and organizations like Big City Mountaineers, Unlikely Hikers, Melanin Basecamp, Latino Outdoors, Fat Girls Hiking, Outdoor Afro, and The Venture Out Project, to name a few (and with major brands following suit with campaigns like REI's Force Of Nature).
However, as we all know, change is a slow game and it can still be really hard to exist in these spaces that are in theory open to everyone but in reality have been framed as a boy's club. And I say that as a cis white woman, a femme chubby girl who often passes as straight if she just keeps her mouth shut. (And I mean, I never keep my mouth shut, but I know that I could, and honestly that is a privilege even if it's rooted in femme invisibility, you know?) At most I am fat-shamed or condescended to on the trail – neither is pleasant, but I have rarely been fearful for my safety when I'm hiking. I know that's not true for all queers.
When planning my hike I decided I didn't feel comfortable simply showing up on the trail and using my presence as a vehicle for change – I know that in many ways choosing to go on this hike is a luxury, and I wanted to use the opportunity to raise awareness and funds for Big City Mountaineers, the nation's leading wilderness mentoring organization. Big City Mountaineers partners with community-based youth organizations to send close to 1,000 under-served urban youths per year on backcountry expeditions. This felt like a tangible step I could take to help create an outdoor community that actually fosters inclusivity.
The saying goes, in the long distance hiking community, that you should never discuss religion or politics on the trail. As I set off to hike the PCT in 2017, in Donald Trump's America, what does that mean for me? I'm preaching to the choir if I begin to explain here that who I am coincides so directly with "religion or politics" that to cheerfully, willfully ignore them on the trail would be to hide my true self from all my potential new life long friends. I think being visible and being open about my who I am is a way to be radical, to resist, to play my part in creating a small bit of change in the outdoor community.
I'm not sure what hiking the PCT as a queer fat femme will feel like, but you can be sure I'll be reporting back on this particular aspect of my experience.
Why The Heck Am I Doing This?
I've tried to answer this question a million times in my head, and I'm never satisfied. It was a whim, sort of. But it was also a dream that feels as though it was a long time coming. I want to create the version of myself I would most like to be. I'm going to prove something, to myself and to the world, about what a person who looks and thinks and exists like me is capable of doing. I'm hiking because I can, but also because some people think I can't. It's not that I need to prove myself to anyone else, but rather that I'd like to prove myself to me.
You're supposed to know exactly why you're hiking the Pacific Crest Trail before you start – you're less likely to quit when things get hard if you have a concrete list of reasons as to why you're out there, and anyway, people will inevitably ask why you're doing it, and it's awkward to blink at them thoughtfully and say, "that's a great question,wp_postswithout really answering, every time.
But I've never been great at logic; emotions rule my world. Hiking the Pacific Crest Trail is a feeling I have to follow, a love letter I want to write. A friend asked me recently what I'm hoping to accomplish by hiking the PCT. I think he was expecting an introspective reply, something philosophical, maybe spiritual, but I don't want to burden myself with those ideas just yet. I laughed and said, "I'm hoping to accomplish hiking the PCT!"
I'm not sure exactly why I have to hike this trail, but I think the answers will come to me along the way. For now, I just know I need to get out there and do it. I've got a lot of miles ahead of me to figure the rest out.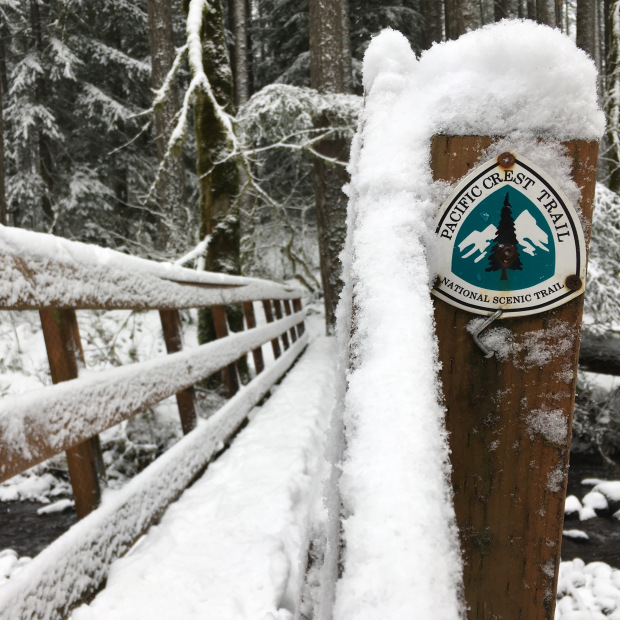 ---
Thanks for letting me bring you along on my very first thru-hike – I hope you're ready to hit the desert together bright and early on Thursday! I'll be back here with an update soon enough. Until then, you can follow my progress on Instagram or at my personal blog – I'll be updating as much as I can, wi-fi permitting. And if you have any questions, please feel free to ask them in the comments! I would love to help more queer humans feel comfortable and capable of taking on long distance hiking, and the only thing that made me feel confident in myself was asking a million questions and receiving non-judgmental answers. Keep in mind that I'm a beginner, but I'm trying to get over my imposter syndrome feelings too, so maybe we can all learn together. Until next time, I'm off to filter water from tiny streams, dig catholes to poop in, and avoid stepping on any rattlesnakes! Bye!