Since the last time I spilled my slightly melodramatic teenage feelings on Autostraddle, my college life has, as predicted, gotten a LOT better. Aside from that whole school thing (you know, like going to classes, writing papers, feeling totally and completely not smart/driven enough for higher education), I've settled into something like contentment. I've ridden the bus THREE WHOLE TIMES by myself. I know, generally, how to find north, east, south and west (I know, I'm not sure how I got into college either).
I'd say that about seventy percent of the time both Barnard and Columbia genuinely feel like home and that walking back to them at three in the morning (which I only do … sometimes) provides a sense of comfort and contentment. This all isn't to say that I don't still have my fair share of feelings. I'm an eighteen year old lesbian—I'm genetically predisposed to feel every little feeling to the EXTREME.
The past two weeks or so have felt, well, really really gay. Between writing for/telling everyone I know about Autostraddle and attempting to attend every gay event and school organization meeting possible, I feel that I should probs go ahead and change my major to "gay." Well, I guess "Women's Studies" is close nough.
Not only did the amazing feedback from our fabulous Autostraddle readers fill my heart with rainbows and butterflies, but kind messages from both old and new friends have helped to turn my major of gay into something incredibly special and meaningful.
Now for something a bit less heartwarming!
New York is f*cking cold and I have nothing to wear. I like clothes, I like make-up, and I like shoes. Perhaps this is why I am constantly hearing the phrases "But you're so trendy!wp_posts"But she's so pretty!wp_posts"I can't believe how girly you are!wp_postsafter informing the otherwise clueless friend of a friend of my inclination towards the ladies. These phrases of oblivion are sometimes cute and sometimes obnoxious but responding to them makes me feel like I'm saving the world, one straight girl at a time.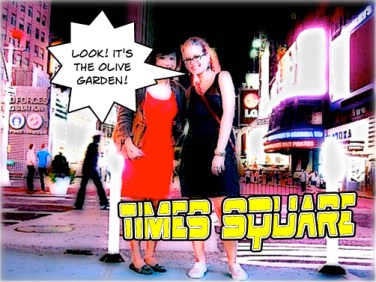 However, no matter how many of those familiarly clueless questions I face, it's still incredibly refreshing not to have to announce my sexuality to every new friend but rather just casually drop an ex-girlfriend into the conversation and roll normally forward.
I ride the subway and see women holding hands, and one very special two-in-the-morning train ride home I even saw two women passionately making out! I walk under a giant rainbow of balloons on my way to Women's Studies class at Columbia and then back to Barnard behind girls who hold hands and kiss each other before parting ways for class. Moments like these make me realize why people enjoy college so much (or at least liberal colleges like Barnard and Columbia).
One qualm that I do have with Barnard is that these girls totally throw off my gaydar! It is near impossible to tell by mere observation who is gay and who is just sporting flannel, skinny jeans, and a short haircut because it's in style. Alternately I've found myself acting like a complete hypocrite when meeting gay girls, some of whom are now my friends, and thinking "but she doesn't look gay at all!" The blasphemous phrase that I hear all the time in response to my own sexuality is now something I find myself using on other long haired, dress wearing, lady loving ladies.
Columbia Queer Life
The month of October is queer awareness month and Columbia is really into celebrating it. And although I haven't consciously constructed it this way, October really does look like it will be the Gayest Month of My Entire Life. My "queer buddy" (as the leaders of our on-campus gay groups like to put it) and I have been trying desperately to find a weekend to visit her sister at Smith (strictly for academic comparisons of sister schools, duh) but every weekend another gay thing comes up that we must attend, like the March on Washington or the Tegan & Sara concert. We've tried doing other non-Columbia associated gay things too but every outing seems to become a complete fail.

Back in high school the only out gay people I really knew were guys … and girls I dated.I mean, I attended a performing arts school that leaned liberal, was proudly progressive, and even had a non-gender specific senior prom court. It just wasn't "cool" to be homophobic.
However, lesbians were few and far between and I didn't think having a gay girl as a friend (as in, not a date/fling/girlfriend/ex/etc) was even an option.  And although it's not easy to befriend gay ladies without feeling awkward attraction at least once, it's still refreshing to have a friend or more to talk to about problems straight friends just can't relate to.
So I went to this dance…
I've only been here for a month but I've made a really conscious effort to find a gay community here and I'm happy to report that it's alive and well as long as you participate in the myriad of events they offer.
One such event was a particular dance that I attended last night. I got there under the preconceived notion that it would be awkward, lame, sparse, and just a bunch of gay guys dancing while five girls sat in the corner looking at their cups.
I was wrong. I got my ticket from the rainbow-decorated ticket table and busted right in to a full-on dance party featuring Lady Gaga, Britney Spears and The Spice Girls (I'm sort of a ridiculous cliché of a gay man at heart). Maybe it's because I may have been around some alcohol prior to arriving, but this dance ended up being one of the most fun things I've attended thus far at Barnard/Columbia.
Boys dancing with boys and girls dancing (non-platonically) with girls! It's a phenomenon every young gay has dreamed of and now I was finally experiencing it!
Many times when I am somewhere where dancing is involved I will be asked to dance by a member of the male species. I, unfortunately, am far too nice to say no. Now I have nothing against men—but grinding against them is something that often triggers nausea and discomfort in my very lesbian body. But this time as I was rather embarrassingly singing my heart out to "Baby One More Timewp_postsI felt a tap on my shoulder. Not a guy asking to dance but an actual real live female. WHAT?! I can dance with a girl? Who isn't straight? I may not have been 100% conscious at this dance but the weight of this moment transcended any "under 21wp_postsillegal substance in my body.
School? What school?
I could talk about the papers that I haven't written yet, or the million pages in various text books that I probably should get to reading—since academia is probably what college is supposed to be about. But seeing as just a few weeks ago I felt like I had no friends, filling my time with gay events to find friends is top priority on my list (even my mother agrees with this outlook). I now have people to eat with at the dining hall but sometimes actually prefer eating there alone. My life in school has gotten better but I still am at my core, a bit of a loner. My favorite moments here have been sitting alone on the Columbia steps at two in the morning and being completely overtaken by the surreal notion that I am where I am doing what I do.
It is crazy, it is amazing, it is scary. But I'm glad it's finally beginning to feel like home.