Well, well, well. This episode is all about drugs!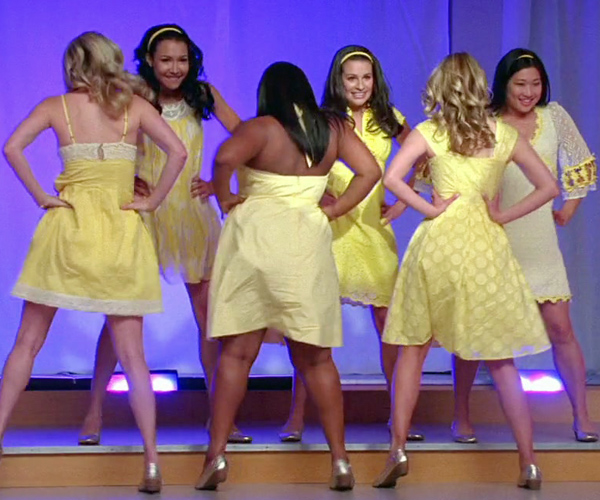 Ok, not really. It's about expectations and stress and competition, all of which are smoothed over by drugs! There we go. As if it wasn't hard enough to get cold pills to actually cure colds… I was actually sorta surprised to not see any sort of disclaimer about abusing pseudoephedrine accompanying this episode, not because I thought it needed it but because this show is on Fox. ABC woulda done it, what with all the Disney money and all. This episode was as frenetic as the kids' performances but was also one of my faves because of THE LYNCH. I hope that next episode she writes a musical about how you shouldn't do drugs ("She's a party girl with a bad habit, a bad habit for drugs!").
The Glee kids are complacent because the only teams standing between them and a spot at regionals are even more of a joke than they are, so they're all like, pssh, whatever. Will doesn't know how to light a fire under their collective asses so he gets some advice from Sue, of all people, who tells him he should scare them into working harder. So he comes up with a mash-up contest, pitting the girls against the boys, which he bizarrely presents Michael Scott style with random photos hanging on the wall.
The Lynch: "Ellen that blouse is just insane."
Emma: "I can't believe she's allowed to teach at this school."
Meanwhile, Sue is stressed out and insecure about the Cheerios doing well, so she writes about it in her journal. Let's see what we can learn about her…
Dear Journal, feeling listless again today. It began at dawn, when I tried to make a smoothie out of beef bones, breaking my juicer. And then at Cheerios practice… disaster. It was unmistakable. It was like spotting the first spark on the Hindenburg — a quiver. That quiver will lose us nationals. And without a championship, I'll lose my endorsements. And without those endorsements, I won't be able to buy my hovercraft.

GLEE CLUB. Every time I try to destroy that clutch of scab-eating mouth-breathers, it only comes back stronger, like some sexually ambiguous horror movie villain. Here I am — about to turn 30 — and I've sacrificed everything, only to be shanghaied by the bi-curious machinations of a cabal of doughy, misshapen teens. Am I missing something, Journal? Is it me?! Of course it's not me. It's WILL SCHUESTER. What is it about him, Journal? Is it the arrogant smirk? Is it the store-bought home perm? You know, Journal, I noticed something yesterday — of course, it's coming clear to me now. If I can't destroy the club, I will have to destroy the man.
Um, wow. That was the best thing I've ever seen/heard. Ever. And extra-special thanks to Intern Lola for painstakingly transcribing that (and for the screengrabs, she does them every week you guys!).
Sue figures out that Will and Emma are into each other (because she has EYES and a BRAIN) so she goes and tells Terri about it. She trips the school nurse, putting her into a coma, so that Teri will come take her job with no prior experience. Sue's never met a plot device she didn't like. So Terri gets the job, Will freaks out, and things get VERY AWKWARD. No more staring dreamily into each other's eyes, lovebirds, Nurse Terri's in town.
So good ol' Finn is super tired you guys. He can't even play video games, that's how tired he is. Puck tells him to go lie down in the nurse's office so he stops by and instead of a nap, Terri gives him drugs! As a person with chronic sinus congestion, I can tell you that I've never experienced any sort of high from Sudafed, but if that's where the show wants to go, then with it we'll go. I was secretly hoping it'd be caffeine pills, and that the boys would perform "I'm So Excited," and Kurt would be wearing legwarmers and he'd be so… scared, and he'd pass out and have to go to the hospital for a minor addiction to caffeine, but alas… no. Anyway, Finn tells the boys that Terri gave him some totally a-ok pills and they should take them too and they can all be awesome together, so they do and then they perform "It's My Life/Confessions":
I'm so confused about the passage of time on this show. It's like, one second they find out they have to do a routine and the next scene they're doing a full-on choreographed routine with musical accompaniment and costumes. Amazing. And I found it hard to believe that Finn knows what Swimfan is, but not who Justin Timberlake is. He reminds me of Chris Klein's character in Election. Glee, stop being so awesome. So oblivious Will is like, wow you guys are awesome, and the girls are freaked out.
Rachel finally realizes that the only way she's going to succeed is if the entire team succeeds, so she starts acting normal and has a sweet conversation with Quinn. The girls go to rehearse their performance and Kurt shows up to help them out. Yay babygay! He tells them that the boys were on something, and so the girls take the pills too. Ruh roh. The girls perform "Walkin' on Sunshine/Halo" and wear insane yellow dresses and are all hopped on pills singing and dancing and it's all over the place and AWESOME.
Pay close attention to Tina, she's totally intense during the routine. So all Will has really accomplished here is getting his kids hooked on pills and having completely lost the ability to read people and judge a situation. I'm not sure if this is better or worse than last week, when he foisted a 30-something drunk upon them who taught them to shoplift, have threesomes, and get drunk. Bravo, sir. Your judgment is in no way clouded at all!
It makes me think that talking about TV shows makes you a crazy person and then I think that I'm a crazy person because all I ever do is talk about TV shows. Wait, did I just see Rose Rollins in a Toyota ad?
As an aside, the Fancast ad where the lady is talking about Glee to the lady who couldn't care less about Glee is not good. It makes me think that talking about TV shows makes you a crazy person and then I think that I'm a crazy person because all I ever do is talk about TV shows. Wait, did I just see Rose Rollins in a Toyota ad?
Now, back to the reason that Terri's really here: spying on Will and getting Emma out of the way. She acts really clingy on her husband until he tells her he needs space (finally!), and (very easily) convinces Ken to propose. So Ken proposes to Emma and it's sorta sweet but mostly awkward. She doesn't say yes right away. Will asks her if she's going to say yes, and she asks if she has any other options. ZOMG. Terri sees this happening and stops by Emma's office later and totally gives her the business. Uh, not that business. The "keep yo hands off my man" business.
Emma goes to the boys locker room (ew) to ask Ken what getting married would mean. Her demands: keeping her last name, living in separate parts of town, not seeing each other outside of school, not telling anyone they're married. Ken's totally into it! Noooooooo!
Finn and Rachel feel bad about their drug use and tell Principal Figgins, who calls Will and Terri into his office. Apparently Howard got arrested under the suspicion of running a meth lab (since he bought so much pseudoephedrine). Will gets mad at Terri, Figgins asks her to resign, and then tells Will that he's going to assign someone to co-direct Glee with him, since he is obviously a disaster. And this person is, you guessed it, Sue Sylvester. Oh yes! I could not possibly think of a better thing to happen to this show.
Will is having a bad day clearly. And then he bumps into Emma and she tells him she's going to marry Ken. They're both so clearly heartbroken, exchanging lingering glances across the hallway.
Was there a Saved by the Bell shoutout at the end when Rachel looks at the box of pills in her room? She's totally wearing a Jesse Spano outfit, no? This show references like, all of my favorite things: Popular, Election, Summer Heights High, Saved By the Bell… well done Ryan Murphy! (Uh, also, I apparently have a thing for comedies set in high schools?)
Next week: The Lynch joins Glee, dances, screams, and almost throws up. CANNOT WAIT.