Wow wow wow we are hurtling toward the 2021 finish line at full speed! This week, Drew reviewed The Matrix Resurrections. Heather reviewed Lifetime's first lesbian holigay movie, Under the Christmas Tree and also Prime Video's Christmas Is Canceled. She also recapped a very cringey new episode of And Just Like That. Riese ran down the best TV shows of the year, with an assist from the TV Team. The TV Team listed our favorite episodes of 2021. Kayla recapped Yellowjackets. And Carmen reviewed Harlem.
Notes from the TV Team:
+ If you haven't already, make time to watch the latest series from One Day at a Time showrunner Gloria Calderón Kellett: With Love (now streaming on Amazon Prime). It's an adorable 5-part series that centers this beautiful, inclusive and expansive Latinx family, starring Isis King, Mark Indelicato (forever my Justin Suarez) and Josh Chan Vincent Rodriguez III. It's the perfect binge for the holiday season. — Natalie
+ For American viewers that didn't catch Vigil, the exciting British police procedural starring Suranne Jones that debuted earlier this year, you can now watch all six episodes on Peacock. — Natalie
+ I did a quick catch up on Queens before our holigay break and if you'll recall during our last check in, Eve on the show got shot in the parking lot so that Eve in real life could have time off to have her baby! Well, in the latest episode we found out the identity of the shooter, Jill's super religious (ex?)husband, who thought it was all God's Plan. Anyway, he tried to choke Jill in the hospital chapel and instead she knocked his ass out cold with a candelabra. Happy Holigays! — Carmen
---
Hightown 209: "Small Craft Warning"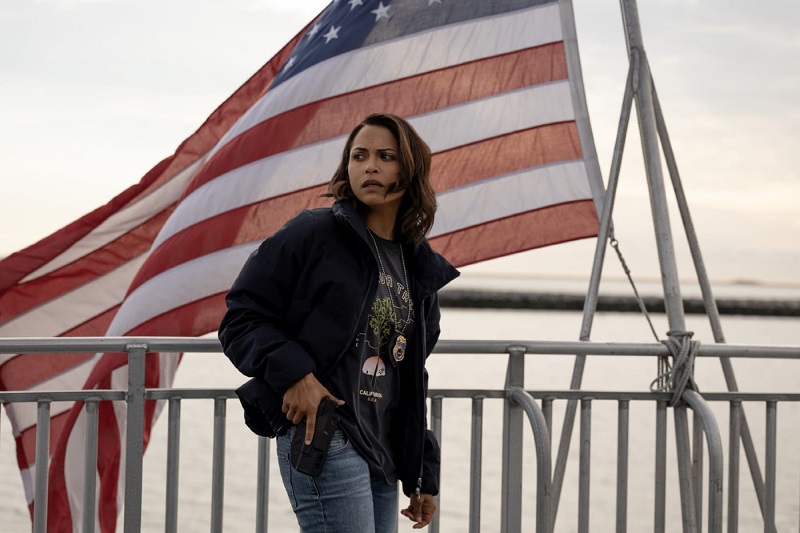 Jackie Quiñones could be a good cop — she has good instincts, she relates well to people — and part of what has made watching this season more enjoyable is watching Jackie be good at her job. But, on the other hand, her personalization of cases, along with her lingering addiction issues, means that Jackie's always teetering on the brink of collapse. So, as the State Police search the forest Frankie Cuevas uses as a dumping ground, I find myself both hoping they find Daisy's body — as proof of how good Jackie's instincts are — and that they don't — for fear of what a dead CI might do to Jackie, emotionally.
Frustrated by the search's lack of results, Jackie returns home to her apartment, only to be greeted by Ray. He apologizes for not being honest with her but insists he truly needs her help this time. He shares the intel from Renee that a drop of carfentanyl on the Cape is imminent. Understandably, Jackie doesn't buy it — Renee's bad intel already burned her once — but when Ray appeals to her as someone in love (no matter how problematic that love is), she relents. Jackie takes Ray's intel direction to Alan and he's less than thrilled to hear that she's working with Ray again. Jackie pushes the sergeant to trust the intel and he yields. He agrees to monitor traffic coming into the Cape on the bridges, while assigning Jackie to monitor the traffic coming in by boat.
To get back on the water, Jackie has to apologize to Eddie again and solicit his help. She attributes whatever success she's had, including her making this case against Frankie, to him. He softens and helps Jackie narrow done the potential entries onto the Cape. They spot and search a ferry which, while not yielding dividends, showcase Jackie's good instincts — Charmaine's likely taking public transit — and lead to Alan catching Charmaine getting off a bus. Back at the station, Charmaine's not interested in talking and asks for her lawyer. Alan promises to hold her responsible for the carfentanyl weight she was carrying and all the overdoses on the Cape, including her sister. Left in a room with Charmaine, Jackie leans into their shared history — "two girls from the same shitty ass fishing town" — to try and get her to talk. It doesn't yield any new information.
Meanwhile, Alan brokers a deal with Ossito to get the location of Frankie's new dumping grounds, the cranberry bogs. They locate the bodies of Frankie's most recent victims: the pilot and Daisy. Then, in a nearby sloppy grave, they locate another body: Jorge Cuevas. Fearing that Frankie might escape to the Dominican Republic, Jackie pressures Alan to arrest him now. Alan agrees and sends his team out to search for Frankie. Jackie and Leslie lead a team into Xavier's where they find Frankie and his henchman. Jackie slaps the cuffs on Frankie while Leslie secures his gun and they wonder if it was the murder weapon used to kill Daisy or Jorge.
"Holy shit," Leslie exclaims, as she watches the police lead Frankie out, "we just arrested Frankie Fuckin' Cuevas."
"Yeah, we did," Jackie answers, with a bright smile on her face.
---
Claws 401-402: "Chapter One: Betrayal" and "Chapter Two: Vengeance"
Can you believe it's been more than two years since we watched Quiet Ann go all firestarter on Desna's casino? To put it in perspective, the last time we saw Niecy Nash in one of Desna's jumpsuits, she was married…to a man…and now she and her wife, Jessica Betts, are perennial Vapid Fluff fixtures. It's been a fuckin' lifetime, basically.
But it hasn't been long enough for Desna Sims who is still so angry at Ann, she imagines killing her (and the baby she's carrying) to open Claws' fourth and final season. There's not a stitch of remorse from Desna after she pulls the trigger either; it's clear that Desna's gone full Heisenberg. Back at the salon, Desna reports that they'll avoid charges on Roller's jailbreak and just keep laundering Uncle Daddy's money. When a client notices that Ann's missing, she asks about her and Jen, Virginia and Polly immediately try to put the kibbosh on any Ann talk.
"That bitch went full 'burning bed' on our bag and our future," Desna explains. "She's dead to us."
But by "us," Desna definitely means just her because everyone else in the crew is content to maintain their relationships with Ann. Jenn visits Ann at her trailer, armed with baby clothes, snacks and a promise to do anything she can to help. Later — after Ann's effort to get a job in academia is derailed by her criminal history (#banthebox) — she has Polly and Virginia over for dinner. Ann assures them that they won't make them choose between her and Desna which results in Polly and Virginia getting a little too comfortable. They spill all the tea about Desna refusing to launder money for Uncle Daddy anymore and the plan to set up their own pill mill, using Uncle Daddy's own supply. Polly encourages Ann to try and make things right with Desna but quickly apologizes when she sees that Ann is absolutely not having it. She and Virginia leave Ann with assurances that they are still her friends.
Despite her attempt to avoid any interaction with Desna, Ann shows up at the salon the next day to collect her things and her former boss lady is still there. Polly tries to get Desna and Ann to make things right between them but neither Ann nor Desna are interested in a reunion. The pair trade insults — Quiet Ann definitely isn't quiet anymore — until Desna orders Ann's "triflin', backstabbin' ass" out of her salon. Once Ann leaves, Desna directs her ire at the crew for having the gall to consort with the enemy. She pushes them all to pick a side but Jen refuses.
Alone, Desna and Ann recall happier times — karaoking to TLC's "What About Your Friends" — and afterwards, Ann spots Uncle Daddy across the parking lot. She takes over his phone call, speaks in Korean to Uncle Daddy's would-be money launderer, and offers to wash his money for him. To sweeten the pot, she offers another piece of information: the whereabouts of the pills he doesn't even know are missing. Once Uncle Daddy hears that Desna stole his pills, he storms back towards the salon. Desna, having spotted her two adversaries together, rushes out to meet them and dares Uncle Daddy to do something. Desna knows Uncle Daddy can't kill her because the clinic license is in her name and without her, he's out of business. Uncle Daddy promises to get his revenge another way and then heads into the salon to search for his drugs.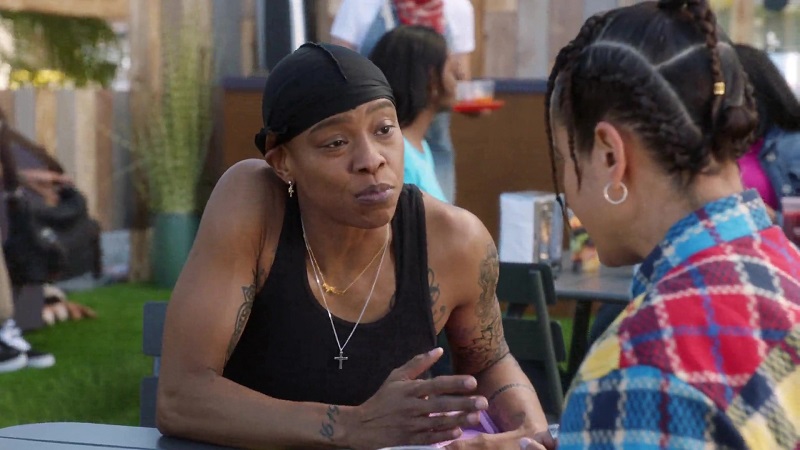 A few days later, Polly joins Ann for an appointment with her obstetrician and Ann confesses that she's already tired of Uncle Daddy's shit. She admits that her partnership with him isn't about Desna at all, it's just the quickest way to make a lot of cash before she gets out of town. Polly tries to push Ann towards reconciliation with Desna but Ann resists and instead thanks Polly for coming to her appointment. But Polly's not the only friend Ann's calling one: she reaches out to two of her friends from her prison softball league to help Uncle Daddy. The first, offers up her mobile tattoo parlor as a place to launder Uncle Daddy's money and another provides her with enough oxy to satiate the "pillbillies" until the next shipment arrives. And who just so happens to be playing one of Ann's old prison buddies? Niecy Nash's hersband, Jessica Betts!
Polly approaches Ann at the nearby juice bar and let's her know that they'll have to meet at yoga tonight. When Ann asks why, Polly forgets that she's on one side of a war and Ann's on the other and proceeds to spill the details of Desna's plan to sell Uncle Daddy's pills. Predictably, Ann and Uncle Daddy show up and, while he's ready to charge in and steal his pills back, Ann urges patience. She convinces Uncle Daddy to let Desna, Jen and Polly do the hard work of selling the pills and then they can just steal the profits. And sure enough, as soon as the Nail Artisans are distracted, Uncle Daddy walks up and collects the money.
Realizing that Ann snitched, Polly is heartbroken. Back at the salon, Polly laments Ann's betrayal and Desna pushes Polly to see Ann for what she is: a traitor. Polly shows up for yoga to share a message with Ann: they're done. Ann tries to assure Polly that what she didn't wasn't about her, it was about her war with Desna but that doesn't ease Polly's pain. She's always been loyal to Ann and this feels like a betrayal; their friendship is over. But, thankfully, Ann finds a yoga partner (and friend) in Desna's brother, Dean.
But as is Claws wont, just as the battle lines feel defined, something happens to ratchet the tension up: Bryce reconnects with his prison buddy who now works for Big Pharma…and suddenly their drug game has leveled up: from oxy to fentanyl.
---