I can't stop talking about how shocked I am that there are so many gay Christmas movies now — and while I've been absolutely delighted with nearly every holigay thing on offer, something's been missing. So many films! So many! But none of them just… hit the spot. There's been supporting gays in Christmas movies with decent budgets, leading gays in Christmas movies made on a dime, there's been Christmas movies that promised rom-com tropes but made y'all want to run over Mackenzie Davis with your own reindeers, and, of course, there's Carol. But what about a very sweet, very low stakes romantic comedy that takes place in a town that might as well be the North Pole, where both main characters are queer women who have chemistry with each other, and every scene is just saturated with CHRISTMAS. Trees and lights and stockings and jingle-jingle-jingle bells and wreaths and caroling and every single movement punctuated by basically the Nutcracker score?
Well, I am very pleased to tell you Lifetime's Under the Christmas Tree is exactly that movie, the one we've been waiting for.
Best of all, the leading actresses are Elise Bauman, who you've been knowing and loving for about a thousand years, since she first appeared on Carmilla; and Tattiawna Jones, who has been in at least five shows you watch, including The Handmaid's Tale, The 100, The Bold Type, Lost Girl, and Rookie Blue.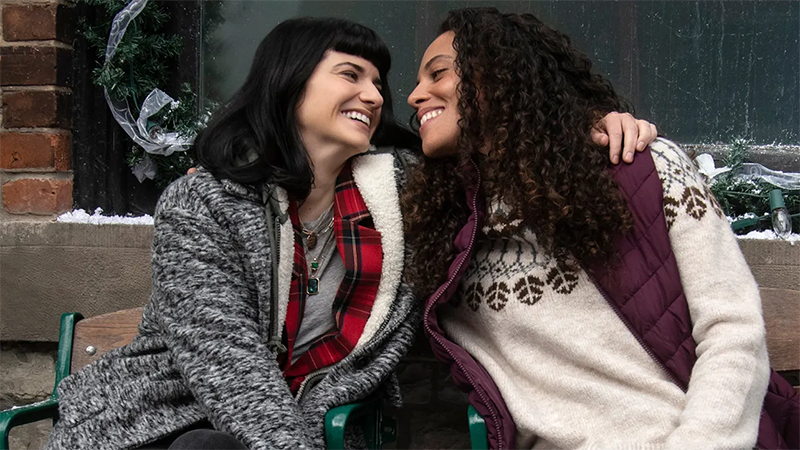 The story goes like this: Alma (Bauman) lives and breathes Christmas, in large part because her family owns an old school Christmas business where they still hand-wrap gifts and send out paper catalogues. Charlie (Jones) is from the governor's office and she wants one of the giant firs from Alma's family's property for the big state tree lighting. Alma's parents think it would be a cool thing to do; the state will plant a thousand trees to replace it. Alma, however, has had just about enough changes in her life and doesn't think parting with her beloved fir — the one her great-grandparents planted with their very own hands, the one that shades her chicken coop! — is a good way to celebrate this festive season. It's more complicated than that, though, because from the second Alma and Charlie meet, they cannot stop making cartoon heart eyes at each other. Sometimes in the middle of the street, sometimes in the snow, sometimes in the dark, sometimes at the French patisserie owned by Ricki Lake.
"Do you think she's gay," Alma's dad (who is also Veronica Mars' dad) asks after meeting Charlie. "DAD!" Alma says, "Of course she's gay." (I laughed.)
Alma and Charlie both love Christmas, they both love their families, they even have a shockingly candid chat about their queer identities, just clip-clipping away at wrapping paper and tying bows. They are both so charming. If you loved Laura Hollis, you're gonna love Alma too. There's no surprises here, no twists and turns, it's exactly the kind of formula we've all come to crave from our Christmas movies, the kind your mom could wake up to after dozing off on the couch, and just keep watching when she wakes up 'cause it's adorable. This movie is freaking adorable! And that simple adorableness is actually what makes it subversive. This is the network that gave us The Truth About Jane, you know? Christmas tropes have now been officially queered. We've come a long way.
You can watch Under the Christmas Tree on Lifetime or stream it from Lifetime dot com.