We watch a lot of TV around here. Add that to the fact that time has basically lost all meaning, and it's a tricky pickle to try to remember our favorite episodes of TV in 2021. When we started working on our year-end lists, we had a hard time remembering what shows even aired in 2021! But no matter how much media we consume, and no matter how many existential crises we endure on a global level, there are just some episodes of television that stick with us. These are the ones that warmed our hearts and stimulated our minds and activated our lust the most this year.
---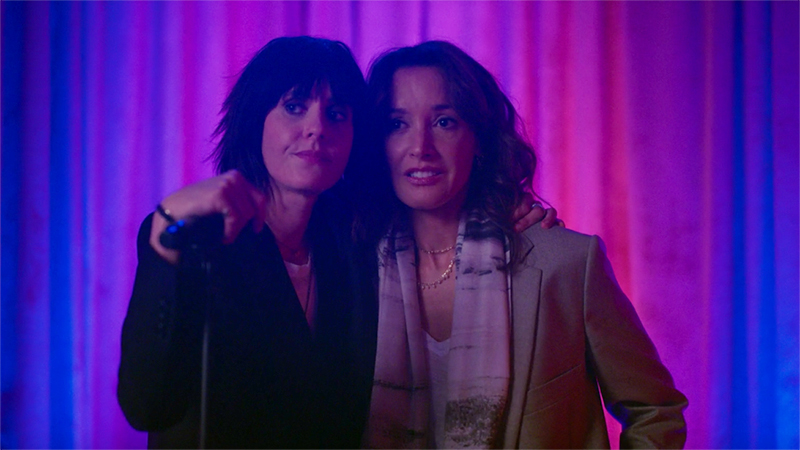 Gathering every character into an enclosed space for a limited period of time was a perfect recipe for all the best soapy lesbian drama we expect from The L Word franchise, shot through with joy and jokes and actual music! This episode had everything: a love confession via Tegan and Sara karaoke, a half-turtleneck-sweater that I will never stop thinking about, awkward vibes, arguments that actually made sense and moved the story forward, silly conflicts resolved with relative finesse, and a major step forward for three of my favorite couples: Sophie and Finley, Dani and Gigi and Alice and Tom. But most importantly, it had that epic performance of "Love Shack" from our OGs; Bette, Alice and Shane, giving Leisha and Jennifer a chance to show off the vocal skills they'd not yet had a chance to showcase. – Riese
Yep! I second all of the above! An episode set entirely at queer karaoke feels specifically engineered for me! My only complaint is that it didn't have MORE musical performances. Gimme an entire musical episode! – Kayla Kumari Upadhyaya
---
Reservation Dogs Episode 107: "California Dreamin'"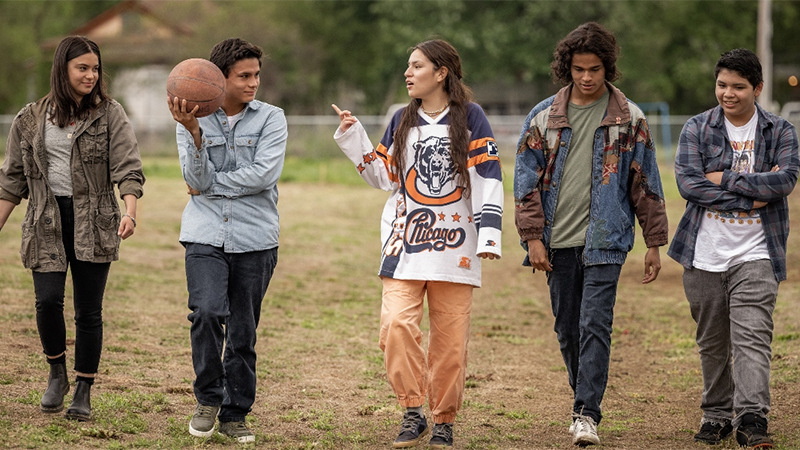 It's honestly damn near impossible to choose a favorite episode of Reservation Dogs. It's one of the best first seasons of a new series I've seen in a long time, and there isn't a single flop in the bunch. I love the structure of the season and that we get episodes that zoom in on individual characters within the ensemble. This is the spotlight episode for Elora Danan, played by Devery Jacobs, who deserves all the accolades for her performance. Reservation Dogs is truly a hybrid comedy-drama, moving between grief, humor, goofiness, and ache, sometimes delivering all of it at once within a single scene. "California Dreamin'" confronts multiple losses for Elora, and Tazbah Rose Chavez's writing and direction is gorgeous and crackling throughout. It's pretty much perfect television. — Kayla Kumari Upadhyaya
---
Reservation Dogs, Episode 106: "Hunting"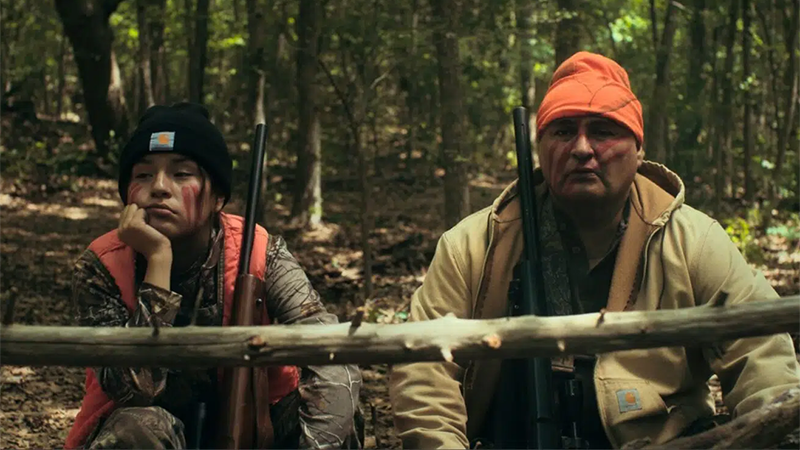 So much of Reservation Dogs' first season is a meditation on grief…how we cope in the aftermath of loss and, in "Hunting," what our traditions look like in someone's absence. In the episode, Willie Jack (played exquisitely throughout the series by Paulina Alexis) and her father, Leon, on the first day of hunting season. Leon goes reluctantly: he hasn't been hunting in a year because it reminds him too much of his late nephew, Daniel. But Willie Jack wants the reminder: settling back into the tradition she once shared with her cousin allows her to grieve freely. Plus, there's work yet to be done: bagging Chunk, the "big-ass buck [Willie Jack and Daniel] seen about three, four years ago." Through the hunt, the father and daughter bond with each other and let go of the emotional weight they've been carrying since Daniel's death.
The grief that poured out of Leon and Willie Jack, as they hunted, felt like my own grief spilling out of me, as I watched March Madness for the first time without my father. Willie Jack's overwhelming desire to chase Chunk reminded me of the ways in which I chased (and continue to chase, if we're being honest) the goals my father set before he died. "Hunting" resonated with me as much as anything I saw on television this year. — Natalie
---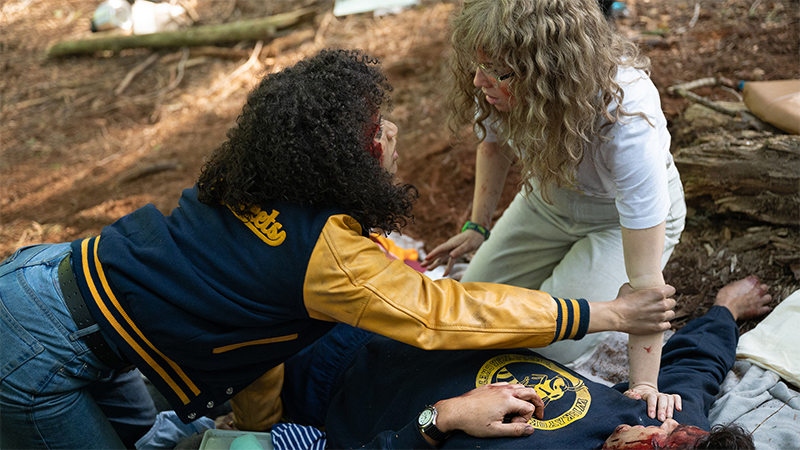 Queer horror directed by Karyn Kusama? Yellowjackets had me in a CHOKEHOLD the minute it began. The pilot is just so confident in its style and story. A collage of freaky, stripped-down horror and time-jumping slow-burn drama, it's an immersive, enchanting feast. It checks a lot of the same boxes for me as the brilliant, underrated Dare Me, exploring the violence of girlhood and the ritualism of team sports. The show is still in the midst of its first season, but regardless of where things go, this pilot is a knockout. — Kayla Kumari Upadhyaya
I can't remember the last time a pilot gripped me like this. Maybe it's Karyn Kusama's direction, maybe it's the similarities to Lost — aka the original pilot to grip me so much I decided to make a TV show my entire life — maybe it's just gay cannibal soccer girls starring many of my 90s faves. We're only four episodes in so it's possible my new favorite show won't live up to its promise, but for now I am enjoying the ride! A good pilot makes you want to keep watching the show. A great pilot makes you want to make the show a major component of your Twitter presence. I'm @draw_gregory if you're curious where I'm at with this one. — Drew Gregory
---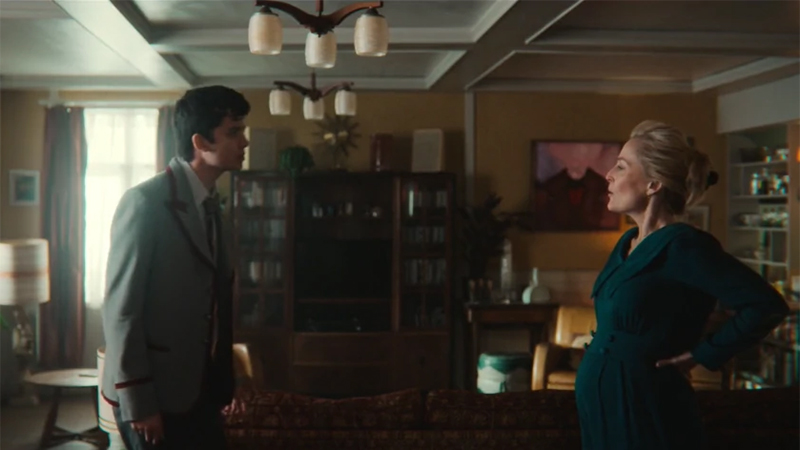 As far as I'm concerned, season three of Sex Education consisted of eight perfect episodes. But among all those gems, the sixth is somehow even better. This is the episode that gives us a glimpse into Lily as a child while in the present she starts to lose herself due to Hope's increased emotional violence. We also see the effects of that on Cal — with an especially pointed scene where Hope compares the two non-binary students. And, most importantly, this is the Eric in Nigeria episode! These three threads result in an episode where queer characters find themselves at various stages of owning — and exploring — their true selves. It's painful and beautiful and everything I love about this show. — Drew Gregory
---
Sort Of 105: "Sort Of a Party"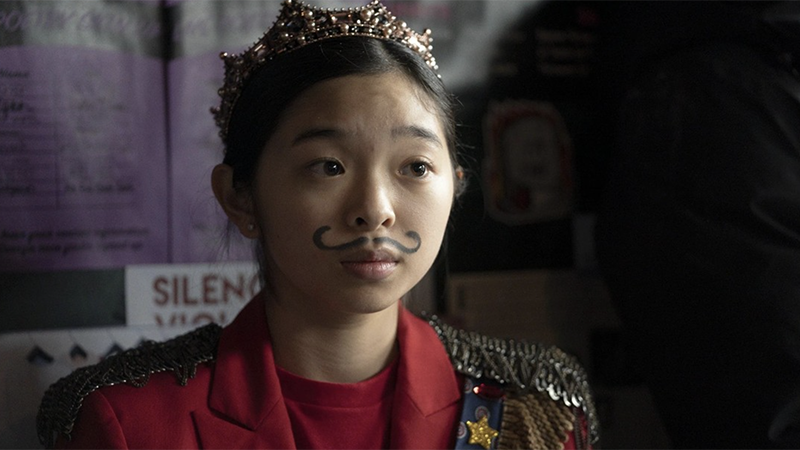 While the first episodes are a bit too concerned with plot mechanics, this is when Sort Of became one of my new favorite shows. As someone who doesn't easily express my emotions, I really appreciate the willingness to have a protagonist who can sometimes appear cold. It's through the child they're nannying that they're able to understand their own emotions leading to a melancholy and cathartic end. I love the emphasis here on queer family even for a child who isn't identifying as anything yet. It's so exciting when a promising show clicks and this episode clicks and then some. — Drew Gregory
---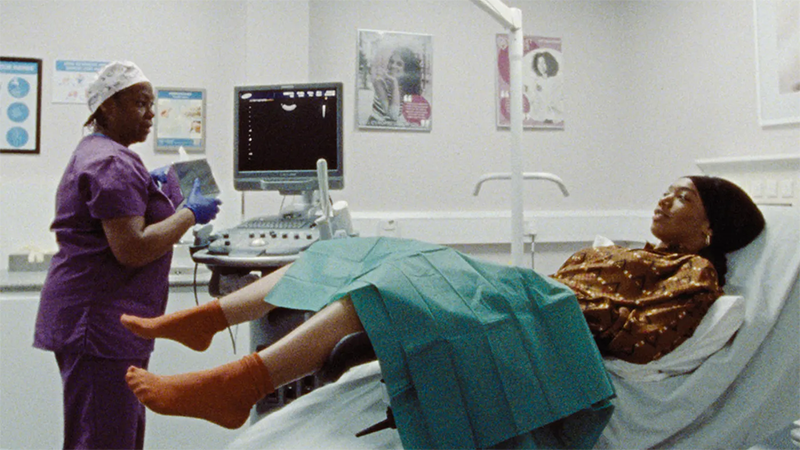 Can I be honest? I'd begun to wonder if "Thanksgiving," the 2017 Master of None episode that earned Lena Waithe her Emmy, would be the last time that she made something I truly loved. Sure, there were parts of The Chi, Boomerang and Twenties that I liked but they were often eclipsed by the things I didn't. I wondered if "Thanksgiving" was that one moment where we'd caught lightning in a bottle and we'd never be able to achieve it again. But then lightning struck, again.
"Chapter 4" isn't just the highlight of Moments in Love, it might be the highlight of Lena Waithe's career thus far. The self-contained episode takes us inside Alicia's rollercoaster of a pregnancy journey… a journey filled with frustration and despair and, somehow, determination in the face of it all. The writing, the acting and the cinematography aligned beautifully to depict the not often showcased heartache of fertility treatments. It's painful, raw and real… and it's absolutely my favorite thing Lena Waithe has ever written. — Natalie
Can I also be honest? Natalie already said it best. I have nothing to possibly add, but I wanted to also register that this was, hands down, my favorite episode of the year in any genre. It has haunted and stayed with me in the best, most moving, ways. I'm really grateful for it. Ok and for all the rest of it, consider me just co-signing Natalie. — Carmen
---
Pose, Episode 303: "The Trunk"
Since Pose's eleventh episode, Elektra's trunk has been the secret hanging over. The mummified remains of Elektra's client couldn't remain a secret forever — though Dorian Corey's did — and so the audience waited, with bated breath, until Chekhov's gun finally went off. And in Pose's final season, that gun finally went off but not in the way I expected. "The Trunk" was less about the corpse that lay inside — though watching Blanca, Ricky and Papi move the trunk is hilarious — and more about the ghosts that'd lingered around Elektra's trunk for long before we met her. Before it became her client's makeshift sarcophagus, Elektra's trunk kept her safe: first, from her mother's prying and judgmental eyes and then, as she tried to build a home for herself and her children. But by the time she deposits her trunk in a "lake of shit," Elektra no longer needs the safety it once provided: she's built a way out of no way, providing safety and security for herself and her family. — Natalie
---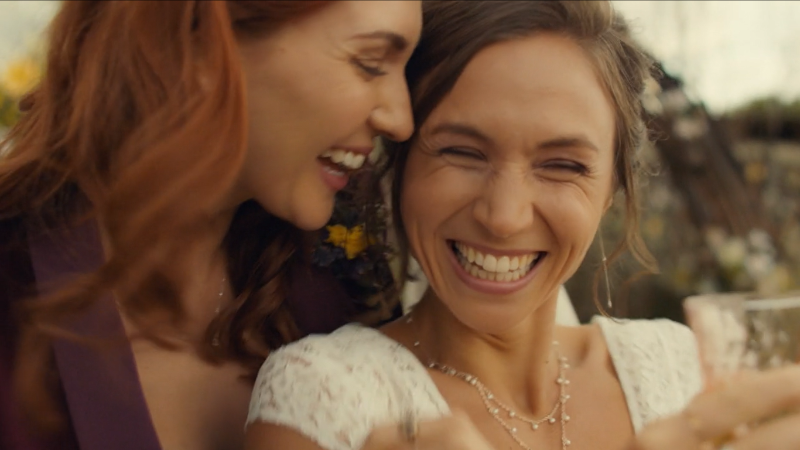 It absolutely broke my heart to say goodbye to this show, but if it had to end, what a way to go. Supernatural shenanigans, found family feels, and a big queer wedding? What else could you want in a finale! Plus it had all the staples of Wynonna Earp, specifically humor and heart, plus little boops to the fandom. Until Wynonna Earp came along, I thought no show would ever give me that made-for-me feeling that Buffy once did, and I've found some of my favorite people through this show, but even without all those personal connections, it was just a very solid, true-to-the-show finale. And so, so gay! The way the TV gods intended. — Valerie Anne
---
I don't write about Wynonna Earp very often because Wynonna Earp is super-fans and I have a hard time remembering the lore and intricacies of the plot the way they do. But the series ended this year, and I want to honor that by talking about my favorite episode, the one where Nicole swears a literal oath the be the Angel Shield, to protect her town and her family and most of all her girl, with her whole entire self for the rest of her life. It's fantasy romance at its absolute best — read the book of your life and see me on every page? come ON! — and it's also Dominique Provost-Chalkley and Kat Barrell at their bests too. What a payoff for four seasons of romance that saw each of them with their own individual growth arcs, over and over, and multiple couple-y arcs as well. Plus writer/showrunner Emily Andras pulled off this piece of mythology without diminishing Waverly's relationship with Wynonna. Being a queer sister and a queer wife is a funny little balancing act, even without the magic and monsters; both of those relationships have shaped and shielded Waverly. And even here at the end, they both matter the absolute most. — Heather
---
Batwoman 213: "I'll Give You A Clue"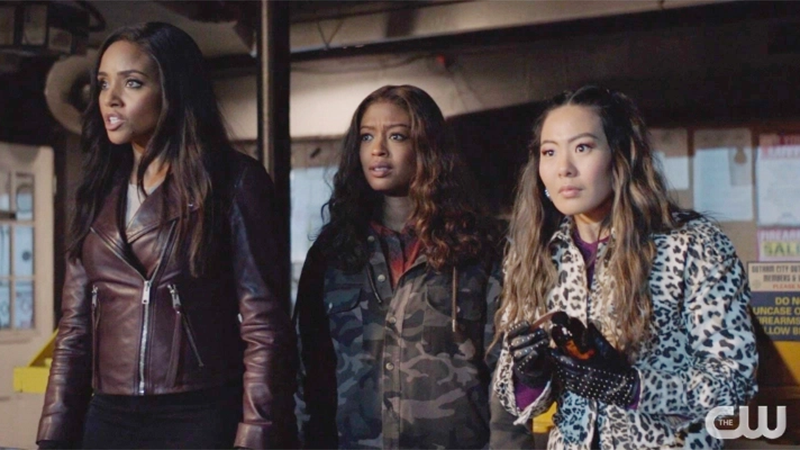 This might not be the best episode of Batwoman, because I swear each episode of Batwoman is better than the last these days, but I think it was my favorite of this year, though it was hard to choose between this one and 306, How Does Your Garden Grow. I ended up going with 213 because I have such a clear vision of Ryan, Sophie, and Mary working together after a season of trying to figure out how to do exactly that. It felt like a turning point in their team dynamic, a dynamic that keeps growing and delighting week after week. — Valerie Anne
---
Batwoman 305: "A Lesson From Professor Pyg"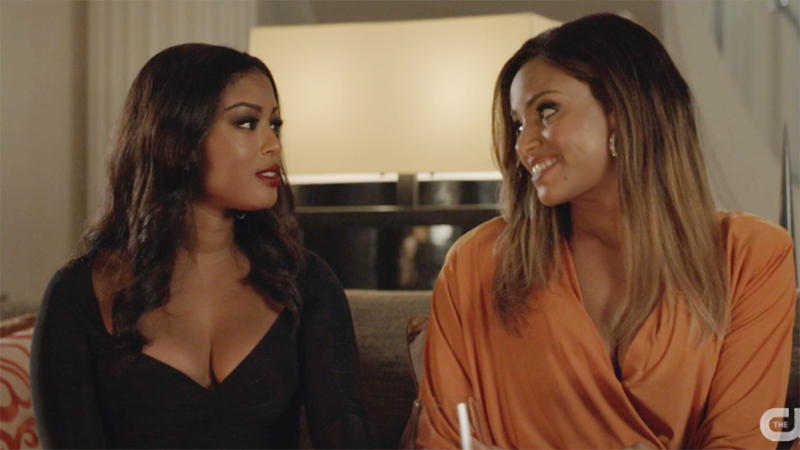 The main way I know TV writers are with me — like with me — is when they start using fan fiction tropes to wink at me. I could have chosen basically any episode of Batwoman for this list. It's been THE show of 2021 for me. But "A Lesson From Professor Pyg" features FAKE DATING between true loves Sophie and Ryan, which gives them both a little bit of insight into their lusty lovey-dovey feelings for each other, and also gives us the chance to see other characters roll their eyes out of their heads because Sophie and Ryan are SO OBTUSE and STUBBORN. ("You're wearing a push-up bra, it's a date.") I love a slow-burn, I love sapphic angst, and I love love. Batwoman is the most fun I had watching TV this year, and this episode is a classic reason why. — Heather
The dinner with Professor Pyg was not the first time the writers of Batwoman left breadcrumbs that established where they are going with Ryan and Sophie. It may not be my favorite Batwoman episode of the year, though it is very close!! My favorite is probably the "Ill Give You a Clue," on the strength of the Girls Night drinking games alone. But I emphatically believe that this s their best, most tightly crafted, fun and suspenseful and swoon worthy episode. It's the one I would point anyone to if I was trying to to sell them on the series.
On top of all of that, I wanted to highlight "A Lesson from Processor Pyg" precisely because, like Heather said, it's fan fiction. This isn't the only time that the Batwoman writers have winked directly at their own nerdy gay base (in Season Two, Sophie tells her younger sister that she and Ryan will never happen — "not even an enemies to lovers maybe"), but to have an entire episode dedicated to the Fake Dating trope is a gift. Genre television fandoms are full of AO3 archives brimming with fics (Wildmoore is currently sitting with more than 110+, and Ryan and Sophie haven't even shared a kiss yet), video edits, role plays, and illustrations. It's a major part of what makes loving sci-fi in particular so much fun. Usually writers aren't willing to join their fans in the sandbox, but the Batwoman writers room is taking a different approach. They are telling Ryan and Sophie's story by speaking its audience's own language. Batwoman is dark and campy and silly all at once, but it's not afraid to be romantic, it's not afraid to embrace the joys of being a nerd. I think that's pretty special. — Carmen
---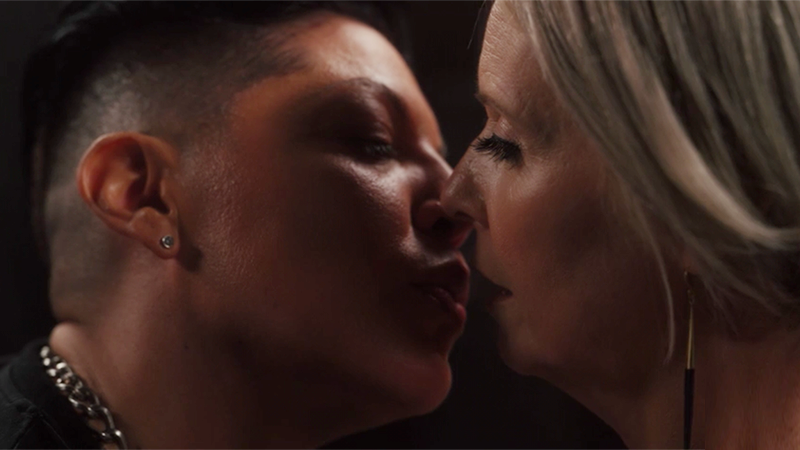 The original Sex and the City was absolutely terrible when it came to LGBTQ rep; And Just Like That promised to be to be better at it. "When In Rome" is proof that the series is serious about that. Not only does it feature three stories we hardly ever see on TV — tween Rose coming out as trans, non-binary comedian Che Diaz crushing their own comedy show and accidentally then purposely seducing Miranda, and Miranda's middle age realization that she's not straight — it also paints the cis white gay male voice of the show as completely out of touch with the queer experience of 2021. It's sweet, it's sexy, it's authentic, and it blows my mind that a Sex and the City spin-off could be trying to push the envelope this way. Everyone's talking about this dang show, it's the main thing in the cultural zeitgeist at the moment. And it is very, very queer. — Heather
---
The Owl House 208: "Knock, Knock, Knockin' on Hooty's Door"
When I was 12 years old, my best friend reached out one day on the bus and threaded our fingers together and held my hand. It lasted maybe three nanoseconds — but the bolt of emotional lightning that ripped through me is something I will never, ever forget. I never felt that way holding a boy's hand. I thought, "Oh my god, I'm having a heart attack!" But what I actually was having was a crush on another girl. Amity and Luz's relationship makes me feel those feelings of young queerness all over again, especially in "Knock, Knock, Knockin' on Hooty's Door" when they finally both admit they have feelings for each other. The way it happens — Hooty sending them through a truly horrifying Tunnel of Love in the basement — is one of the funniest things to happen on TV this year. I crack up even just thinking about it. And at the end of the day, surrounded by the kind of chaos and destruction only a hysterical magical house can unleash, they blush like watermelons and hold hands. They can't make eye contact yet, but they will. One day. — Heather
---
Fantasy Island 107: "The Romance and the Bromance"
Oh is it more fan fiction? Yep! It sure is! Fantasy Island is a silly little network TV diversion with a surprising amount of gayness, and "The Romance and the Bromance" is just one big Regency Era romance novel crunched into a 42-minute episode. Isabel can't get her head out of her books, so Elena sends her into the past to meet her favorite author, R.S. Coldwater, who turns out to be Rachel Coldwater writing under her husband's name. They fall for each other, do some secret trysts by the light of the fire, completely annihilate a homophobic and sexist publisher — and, best of all, they live Happily Ever After. It's just the antidote to the endless nightmare stories of this year. — Heather
---
This is actually not the Very Special Themed LGBT episode from the most recent season of Saved by the Bell (and yes, I realize that usually calling something a Very Special LGBT Themed episode would be a dig, but with Saved by the Bell, which defined the genre of corny after school specials for so long — lest we never forget "I'm So Excited! I'M SO SCARED!" — I think we can let this one slide).
"Let the Games Begin!" is the Season Two finale, and Bayside must take down the losers at Valley in a battle of school spirit (because, of course). Aisha, reboot's take on AC Slater as the school jock — quarterback of the football team (yes) and promising young wrestle, has been dating Chloe, the president of the LGBTQ Student Club, for a while now. It's been a lot of very adorable butterfly nerves and also nerding out and just the right amount of emotional punch. But Aisha hasn't told her best friend Daisy (the reboot's Zach Morris) and it's caused some distance between them. That is until now, when Daisy and Aisha make up, and Aisha promptly comes out to Daisy's love and giddy affirmation. Then after winning her wrestling match Aisha runs into the stands, takes Chloe up into her arms, and kisses her for the entire school to see.
There's something about a bisexual jock in a Bayside letterman's jacket getting the girl that has stayed with me. It's sweet, perfectly written in its over-the-top comedy, and has every bit of the swoony teen magic that made Zach and Kelly icons to begin with.
I think no one ever expected Saved by the Bell to be on any Best of The Year lists, including me, the person who's writing this! But you know what? This year was long and it's ending on an exhausting note with another wave of the pandemic on the rise. We deserve joy. This was JOY. Maybe I'll try being serious again next year. — Carmen