Welcome back to Boobs on Your Tube, just one of the many places on the internet you'll find Heather Hogan flipping out about Jenny Schecter still being alive. Speaking of, there's an all-new episode of To L and Back for you this week. Also, Carmen reviewed the brilliant, hilarious A Black Lady Sketch Show and Nel recapped a really heartwarming episode of Pose.
Reminders from the TV Team: 
+ I'm back from EH Con and as promised, I have something to report: there was a very cute panel called The Newlywed Game and it was WayHaught vs Jettri (Jeremy and Robin) and it was very fun and sweet. And let's just say, the answer for "what's Nicole's favorite thing to eat" was epic. The con is transcribing the panels before uploading so it might be a minute before they go up but I'll be sure to link you in Boob Tube when they do. I was also on a panel about LGBTQ+ representation that I'll also link eventually, if you want it. — Valerie Anne
+ Speaking of Wynonna Earp, Emily Andras is developing a new show and the title alone (Axeholes!) is amazing, but the concept of comic-con nerds ending up in their show's universe is literally a dream come true. And it's Andras, so you KNOW it's gonna be gay. — Valerie Anne
---
Claws 310: "Finna"
Two weeks ago, their clothes still stained in blood, Melba and Desna paid their debt to Benedict and the Chinese mob. When Benedict dismissed the death of her husband, Melba lashed out and Desna's forced to restrain her. Once Melba's out of sight, Benedict makes it plain: Melba has to go. He explains,"grief makes people unpredictable and we can't afford unpredictable." Turns out, he should've taken his own advice.
Determined to ingratiate herself to her new boss, Desna offers up her connection to Henry Zayas — Ann's brother and the newly crowned frontrunner for governor — as a reason that Benedict should spare her life and keep her on his payroll. With the new connection to Florida's power brokers, Benedict's plan to open three casinos across the state is still viable, so he agrees to the partnership. Despite having promised the casino to Joe, Benedict also acquiesces to Desna's demand that she and her crew be left to run the casino.
Back at the salon, Desna tries to persuade her crew that this time they'll truly level up, but no one's convinced. Ann returns to the salon as a way to distract herself from the grief and she barely has time to fold the towels before Desna asks for a favor. She explains Benedict's offer — the casino, in exchange for access to Ann's brother — and Ann is, understandably, apoplectic. I'm not sure why Desna thought this would go any other way but she persists and, though she considers it for a moment, ultimately, Ann refuses to drag her brother into this mess.
After discovering that Ann's been talking to the police, Benedict orders Desna to fix the situation and she once again begs Ann to talk to her brother to avert more blood shed. Eventually, Ann gives in, setting up a meeting between Henry and Benedict. But ultimately that just turns out to be a ruse: once Ann's got Benedict alone, sans phone and guards, she and Benedict's disgruntled "partner," Joe, lock him inside and set the entire casino ablaze. Benedict was right: grief really does make people unpredictable.
When Desna shows up to survey the damage, Ann takes credit for the fire and Benedict's death, to her boss' dismay. Ann notes that she only did what Desna couldn't — or wouldn't — do because things had gotten out of hand. She adds, "you wanted to have it all, hope it was worth it."
It feels a bit meta for Claws' third season to end this way. Things have gotten out of hand and the show's ratings (and its lack of renewal) reflect that…hopefully, by burning it all down, Claws gets a chance to start again and reconnect with the things that made the show worth watching in the first place.
---
Lori's hosting a mixer at Purifoy Pharmaceuticals when she spots another woman checking her out. She beelines over to her and asks the stranger if she sees anything she likes. The mystery girl says they both do — her and her boyfriend — and invite Lori to leave with them. Now, let's be clear, Lori Purifoy is, to quote one Atlanta legend, "fine as all outdoors" but having two attractive strangers dropping a threesome in your lap, seconds after meeting them? Yeah, that's a little too good to be true. But Lori's too much of an egotist to stop and question the moment and, instead, heads to bed with her new playmates. I guess we now know why that bisexual mood lighting follows Lori everywhere.
Later Lori gets a text message from Carly to stop at her at her parents' house but — surprise! — it's not from Carly at all, it's from Carly's mother, Stephanie. She invites Lori to stay for a drink and in walk the other two-thirds of Lori's threesome to deliver them. It was all a set-up. Tired of waiting for her daughter's relationship with Lori to implode, Stephanie took it upon herself to move things along. While Lori contends that she and Carly were never exclusive, Stephanie knows that her daughter will see it differently. Lori will just deny the cheating allegations — who's Carly going to believe, her or two prostitutes — but then, of course, Stephanie admits that she has video of the torrid affair. She gives Lori an ultimatum: break up with Carly or she'll leak the sex tape.
When Carly gets out of class the next day, Lori's waiting by her car. She does as Stephanie's instructed — belittling her relationship with Carly in the process — but eventually, she just tells the truth: she had a threesome with some randoms she met at the mixer. Lori defends herself by saying that they hadn't really defined their situationship but Carly calls bullshit: they were a couple. Lori concedes the point, admitting that she screwed up but warns Carly about her treacherous mother. Lori explains that Stephanie hired people to seduce her and while it's enough to inflame Carly's anger at her mother, it doesn't save their relationship.
Later, Carly joins her family for a dinner in memory of her grandmother, Thelma Lancaster. As soap opera dinner parties are wont to do, everything quickly goes awry and Stephanie's fingerprints are all over it. After watching her mother's actions compel everyone to leave the the party abruptly, Carly realizes that everything Lori's told her about her mother is true…and she follows everyone else out.
---
Why Women Kill 101: "Murder Means Never Having to Say You're Sorry"
Why Women Kill is the story of three women who live in the same house, decades apart. Beth Ann Stanton (Ginnifer Goodwin) is a homemaker who lives in the Pasadena home with her husband, Rob, in the 1960s. By 1984, the house is occupied by Simone Grove (Lucy Liu), a thrice married socialite, and her husband, Karl. And then, in modern day, the home is being redesigned by high-powered attorney, Taylor Harding (Kirby Howell-Baptiste), and her screenwriter husband, Eli. From the opening title sequence, it's clear that the men are not long for this world but the who, what, when, how and why of it all is a mystery….a mystery that unfolds a bit more in every new episode.
When we meet Taylor, she's inquiring about a change in the blueprints for the remodel: she wanted a new window on the side of the building, while the contractor added the new window to the back. The contractor's dismissive and assures her that she'll like what he's doing. Unsatisfied, Taylor persists. The contractor responds that Taylor doesn't understand his language so she'll just have to trust him, adding a "sweetie" at the end to make himself even more insufferable.
"I may not understand construction, but I do understand contracts, especially the one you signed, which clearly states that I don't have to pay you unless the work is completed to my satisfaction," Taylor explains. "And that means, for the purpose of this, and all future conversations, my dick is bigger than yours. Am I speaking your language now…?"
Okay, Taylor, we are going to get along just fine.
Later, after a long day of work, Taylor comes home to her husband and before they can order dinner, her friend, Jade (Alexandra Daddario), calls. As Taylor collects her jacket and keys, we discover that Taylor and Eli have an open marriage — at her urging, not his — and Jade is one of Taylor's "hook-ups." Their open marriage has rules, including "don't bring hookups into the house" and "don't become emotionally involved," both of which Taylor violates when she rescues Jade from her stalker ex-boyfriend. Eli's mad at first but Jade walks in and, suddenly, all is forgiven…and the fact that Jade spends her time cooking and cleaning helps him ignore the blurring lines.
At first, Taylor and Eli are the model of good communication in a poly-amorous relationship but the longer Jade stays, the more Eli's attraction to her grows and he doesn't bother to share that with his wife. He swears he's just being a good guy when he volunteers to let Jade stay at their house for as long as she needs. Because, of course, he does.
---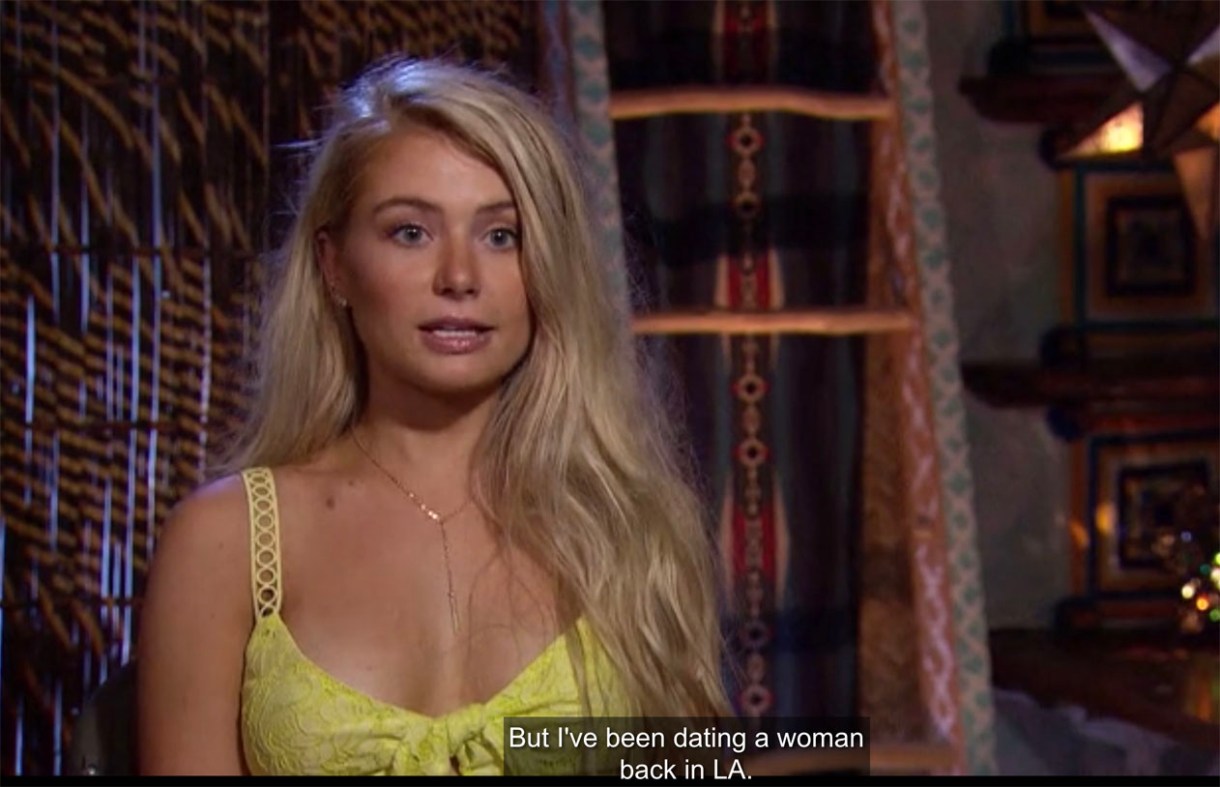 While Demi's initial introduction to Bachelor in Paradise included a staged conversation with the previous bachelorette, giving Demi an opportunity to come out as sexually fluid and explain that she's been "casually dating a woman in LA," the majority of this season's Paradise has been dominated by love triangles, miscommunications, and heterosexual nonsense. But this week, Demi's sexuality and struggles became a more central storyline. In camera confessionals and conversations with friends, she admitted that she came to Paradise hoping to take space from her growing relationship, worried that she's been too "in it" with this woman to have clarity around what she truly wants. Through tears, Demi explained that she only recently came out to her parents, and that she's tired of keeping up a shield and "hiding all the layers of herself from the world."
Since arriving on the show, Demi's been partnered with Derek, a John Krasinski lookalike that's been clear and consistent about his attraction to her. While she initially avoided telling him about her existing relationship, on Tuesday Demi shared everything, beginning an honest and respectful conversation about their connection. And though Derek and Demi agreed to continue getting to know each other, the teasers for next week indicate that more drama is ahead.
As ridiculous as this show often is, I was surprised and even moved by the authenticity and respect that Demi's storyline has included. Previews have hyped Demi's sexuality and confusion for drama, but seeing her honestly express her fears over rejection, openly explain what she wants, and receive nothing but generosity and warmth from her fellow cast members was a huge relief. It's a beautiful and genuine series of moments from a show that typically emphasizes drama, snark, and disrespect, and made watching 8 full hours of BiP worth it. (Mostly.)
---
BH90210 102: "The Pitch"
So, Gabrielle Carteris (if you were a '90s teen, probably know her as Adrea Zuckerman, but it's fine) is definitely still processing her big gay make out with an overly zealous 90210 fan named Betty McRae (if you're anything like me, you remember from the 1940s, it's still fine). Gabrielle is processing it so much that she actually turns to her friend Jason Priestly for advice!
To his very bare minimum middle aged white man low bar standards, he reacts very calmly when his best friend of 30 years tells him that not only did she kiss a woman the weekend they were all in Vegas, she's had romantic feelings for women for quite some time. Still Jason asks, why now? Why this woman? What made this time different?
Gabrielle looks down at her infant granddaughter sitting in her little baby carrier on their LA patio. She sums it quite simply, she wants her granddaughter to be her most authentic self. She can't do that if her grandmother is a hypocrite. And that means that Gabrielle still has a lot to work through ahead of her! Which is how she comes up with a laughably brilliant idea! What if in the 90210 reboot, its Andrea Zuckerman who is working through all her big gay feelings and late in life coming out? Get it? The story within the story! TA-DA!
Tori Spelling – who's become the makeshift producer of this entire delightful train wreck, but that's a different story for a different day – agrees to Gabrielle's terms. After all, a little extra diversity and sizzle never hurt a reboot, amirite?
The episode ends with Gabrielle enjoying a glass of wine with her husband on the couch. It's been a long few days, but at least the reboot is officially underway. The problem is that now she realizes she just can't "actwp_postsher feelings through Andrea. She has to face her own truth. She turns around in his arms and starts to cry, that cry you cry when you're growing and you're afraid your growth is going to hurt someone you love. Andrea's coming out, and so is she.