I'm super excited about this week's recipe 'cause it's inspired by and especially for our very own beloved Managing Editor Rachel Kincaid! It's her birthday today and I believe every Leo deserves to be spoiled and adored during their season. How better to do that than with a personalized cake recipe and birthday shout out!? Also, how lucky for us that Leo season and stone fruit season are one in the same. But first things first, let's talk about the birthday babe.
If there are people who demand attention and people who command attention, Rachel is definitely the latter. She leads by example as evidenced by her gorgeous and insightful writing –1089 articles and counting – on this site we call home. Taking her advice on how to navigate plant ownership in a depressive state, how to date,  and how to leave when things aren't good has been the right move and changed me for the better every single time. She curates a mean playlist, gives Incredible vacation vibes, and has real-life mermaid hair capable of mesmerizing anyone who happens to be nearby when she casually flips it with a smile. Readers beware. Also, she wrote this. I promise you don't need an explanation, just read it. Then when you're done you'll be hot and bothered enough to be ready to make this cake.
When I asked for suggestions of what to make, Rachel said her favorite overall flavor is honey. Swoon. Weirdly enough I'd been itching to make a honey based cake for a few weeks and already had a few ideas written down. It was meant to be! I decided there had to be plums involved because every single one I've had lately has been the perfect plum. I can't get enough! Specifically small plums cause they're slightly more sour and almost as cute as Rachel was as a child.
I also can't think of a seasonal summer fruit that would star better in a caramelized honey flavored cake than sweet-tart plums that soften in the oven and become deep, silky, jammy wells of flavor. The tartness of the ribbons of plum skins also plays up the flavors of the honey batter. All followed up with a slight touch of cinnamon to bring in a nice warmth.
It's finished off with a honey and lemon juice glaze, poured on while still warm and allowed to soak into the cake for maximum honey enjoyment. When I took my first bite of this still slightly warm from the oven and sticky with glaze it made my knees a little weak. I've made three of these now and that hasn't stopped happening. This cake also gets better with age which I think is a perfect attribute for a birthday cake. I'm so glad Rachel was born, cause now we can all eat this and think of her. What a gift!
---
Ingredients:
10 small or 5 large plums and/or pluots, halved and pitted (about 16oz)
1 stick (1/2 cup/113g) unsalted butter, softened
3/4 cup honey
2 large eggs, room temperature
1 1/2 cups (180g) all purpose flour
1 1/2 tsp baking powder
1/2 tsp baking soda
1/2 tsp kosher salt
1/8 tsp ground cinnamon
1 teaspoon fresh lemon juice
1. Preheat oven to 325° F. Butter a 9 inch springform pan and set aside. You can also use a standard cake pan but in that case i'd also suggest lining with parchment paper leaving a few inches of overhang on two sides so that you can easily lift the cake from the pan.
2. In a medium bowl sift together the flour, baking powder, baking soda, salt, and cinnamon. Set aside.
3. in a large bowl using a hand or stand mixer, whip the butter and 1/2 cup of the honey together until smooth. Next add in the eggs one at a time and once incorporated add the reserved dry ingredients to the bowl and mix just until there are no dry spots of flour left.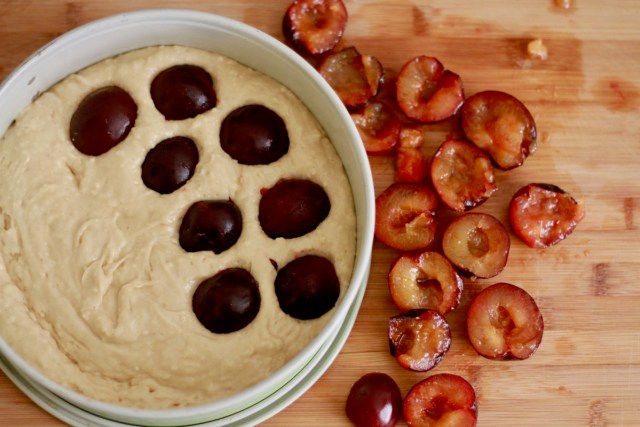 4. Pour the batter into your prepared baking pan, then lightly press all of the plum halves into the batter. I really enjoy this step. There's something really satisfying about the way the batter gives under the weight of the plums being nestled into it that just does things for me.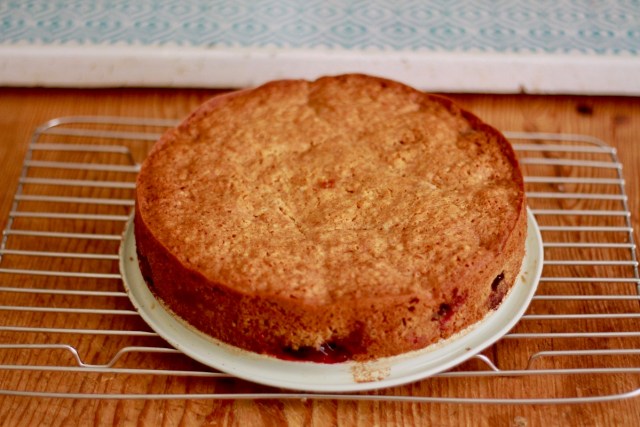 5. Place in the oven and bake for 40-50 minutes or until a cake tester comes out free of batter. Because the sugar in this cake comes solely from honey, it will brown much more deeply than you're likely used to in the oven. Don't panic and take the cake out before the middle has set! After removing from the oven, allow the cake to cool in it's pan for 10-15 minutes before removing and transferring to a wire cooling rack.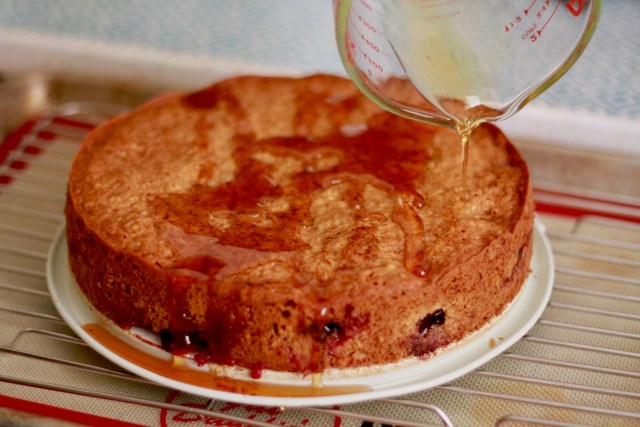 6. While the cake is cooling, whisk together the remaining 1/4 cup of honey in a small saucepan and heat for a minute or two just until the honey thins out and absorbs the lemon juice. This can also be done in the microwave (about 60 seconds). Pour the glaze over the cake while it's still warm. Placing a lined sheet pan underneath to catch honey drips would be a good move here.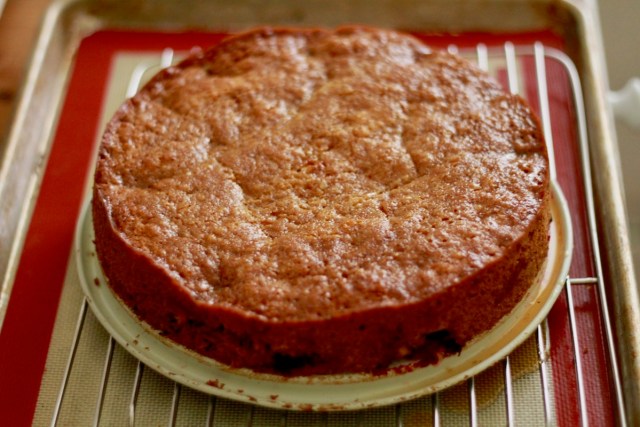 7. After pouring the glaze, use a kitchen brush to make sure the entire top of the cake is shining with honey glaze and allow to continue cooling. Cutting the cake while it's still hot WILL make it fall apart so please wait at least an hour before trying!
8. No more waiting! Cut into that gorgeous plum filled cake.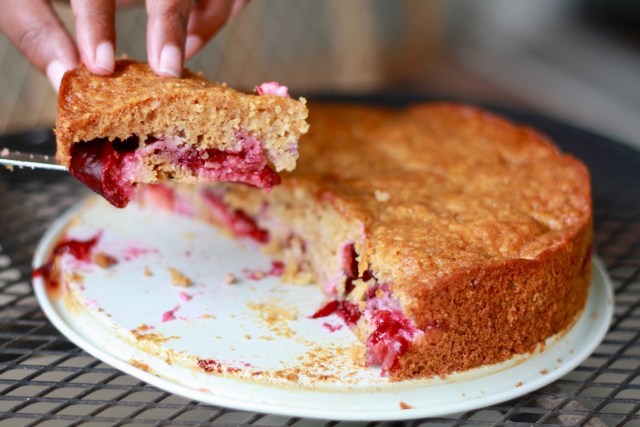 9. I love it slightly warm exactly as it is.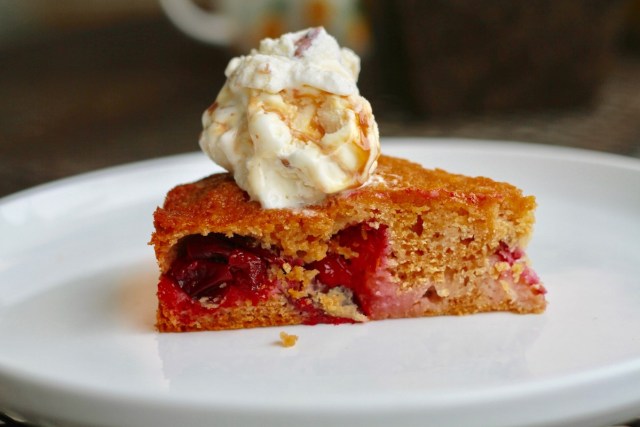 10. Adding a little ice cream never ever hurts though.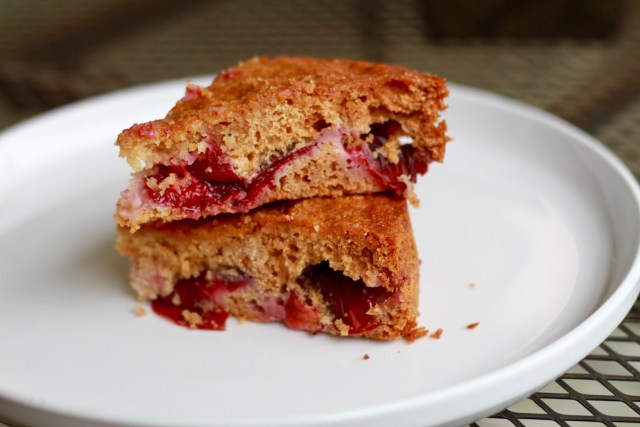 11. Good thing you can have it both ways!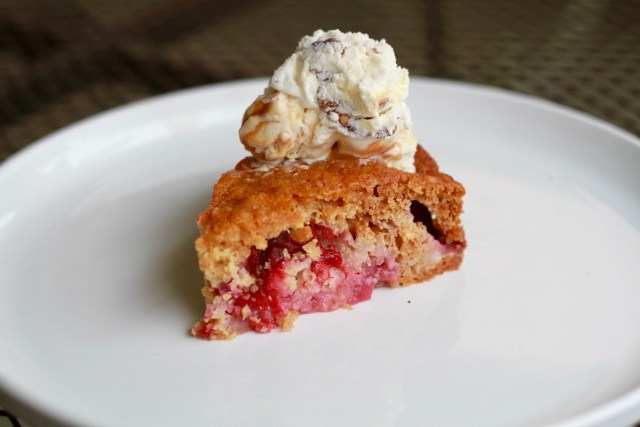 12. Happy eating, and Happy Birthday Rachel!