Feature image by 814stops.tumblr.com.
---
This month is Anal August, one of those totally arbitrary designations that I love because they're a great excuse to talk about something people often feel uncomfortable with (I see you, Masturbation May).
Anal sex can be awesome. According to The Ultimate Lesbian Sex Survey, open to all "lady-types who sleep with lady-types," about 20% of respondents have given or received some sort of anal action — including external play, rimming, penetration, and play with strap-ons or butt plugs — within the past year. (This is broadly comparable to another study: 20% of women in their 20s and 30s reported anal in the past year in 2010.) If you're not having anal already, it's a great way to explore your or a partner's sexual response and try something new.
In the introduction to The Ultimate Guide to Anal Sex for Women, sex educator and anal enthusiast Tristan Taormino writes:
"Yes, I admit it — I love anal sex. The first time someone put a finger in my butt, I thought I'd died and gone to heaven. I think I almost went crazy from the pleasure. The sensations I experienced were so intense that I felt high from the experience, and I couldn't wait to do it again. The first time I put my finger in someone else's butt, the results were just as fabulous — I felt entrusted with my partner's deepest vulnerabilities, in awe of the ecstatic pleasure I could give. Then came more fingers, tongues, vibrators, small dildos, bigger dildos, butt plugs, cocks, bigger butt plugs, even an entire small hand. Each time I could take a little more and give a little more, I felt more sexually alive and powerful. As I incorporated anal eroticism into my sex life, my sex life became better and better. The sex got hotter, my partners more adventurous, my orgasms fierce and explosive. The physical sensations were undeniably some of the best I'd ever felt in my life. I confess too that beyond the deep body gratification, the naughtiness of it all really turned me on."
If you're just starting out, the most important things to remember are to go slow, communicate and use a buttload of lube. Also: RELAX. (You can also check out Autostraddle's anal sex 101 if you want a little more guidance.) If you're using a toy, make sure it's a safe one, with a base flared at least an inch wider than the widest part of the toy and body-safe, easily sterilized materials (or, put a condom on it). Below are a few awesome toys to get you started. If you're more experienced, please consider the comments your personal Njoy fan club.
Anal Sex Toys For Anyone
A Smaller, Lighter Butt Plug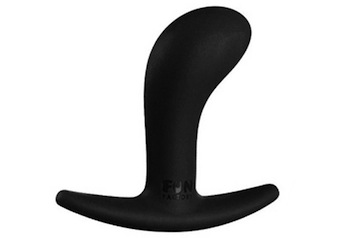 The Bootie by Fun Factory is a lightweight matte silicone butt plug with a low profile (1.2″ in diameter) and gentle curve that makes it unintimidating to insert and comfortable to wear. It helps that its base is also long and thin, and can wedge between your butt cheeks while still being safe. (Read Autostraddle's review.)
A Bigger, Heavier Butt Plug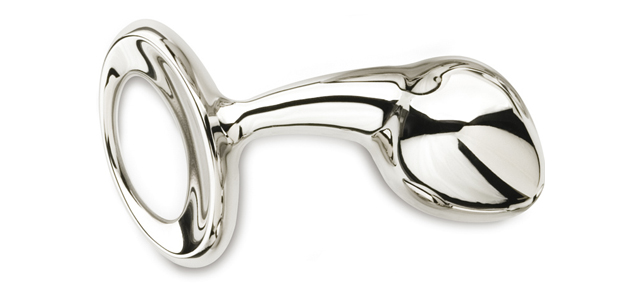 The metal Njoy Pure Plug comes in three sizes, ranging from just a little smaller than the Bootie to much larger: 1″, 1.25″ and 1.5″ in diameter. Each size is solid stainless steel and weighty, and you can use the rings at the base for easier handling or in bondage play. (Read Autostraddle's review.) Now there's an even more intense version, the Njoy Pure Plug 2.0.
A Vibrating Butt Plug

The Stronic Zwei is part of Fun Factory's line of pulsators — toys that move back and forth instead of vibrating. If you prefer a thrusting sensation to a vibrating one, or want something that feels different than touching a powerful vibrator to the base of your butt plug, the Zwei is an excellent option. It's also great in vaginas. (Read Autostraddle's review of another Stronic.)
Anal Beads

Flexi Felix anal beads are an easy to clean, safe option compared to the piles of poorly strung anal beads out there. (Beads should be attached by and encased with silicone, and if you stretch them out they should not break.) Beads can be more or less intense depending on how many you insert, making them versatile for all experience levels. Plus, these ones look like a caterpillar.
A Smaller Anal-Safe Dildo

The Charm Silicone Dildo, at either 5.75″ by 1″ or 7″ by 1.25″, is a small, flexible yet firm dildo that's perfect if you like the feeling of having something in your butt but don't like feeling especially full. Regrettably, it only comes in pink, but different sex shops should have similar toys in different colors if you visit in person.
A Bigger Anal-Safe Dildo

Though it's a little bigger, about 6.5″ by 1.5″, the Mustang is made of soft, flesh-like VixSkin with a solid core that means it'll go where it's pointed, gently. Like other VixSkin toys, it feels slightly smaller than similarly sized toys made of firmer materials. The base is large and firm enough to be safe, but if you're worried, use it in a harness. (Read Autostraddle's review.)
Extras
Lube is absolutely essential for any penetrative anal activity. A few favorites include Sliquid's Sassy Booty Formula and Babelube. Aim for a thicker lube and remember not to mix silicone lube and silicone toys.
If you find yourself unable to keep up with just how much lube anal requires, or you're using a matte or sticky silicone toy that seems to devour it, lube shooters are great for single-use lube delivery.
Nitrile gloves (in a sexier-than-weird-off-white black) and latex-free dental dams can help keep your anal sex safer and make clean up easier, too.
Finally, check out Taormino's The Ultimate Guide to Anal Sex for Women. The relevant sections of Mira Bellwether's Fucking Trans Women and Allison Moon's Girl Sex 101 are also excellent.