BUTCH PLEASE is all about a butch and her adventures in queer masculinity, with dabblings in such topics as gender roles, boy briefs, and aftershave.
Header by Rory Midhani
---
Naming is powerful stuff. It's an older magic, a potent magic. Give something a name and you are bound to it forever, with a red string tied between your heart and its finger. Names are the threads of intimacy, the words that usher us in and out of life. Nicknames pull us into friendships and bedrooms. They mark us as Other or align us with a clique. Many queer narratives invoke the rite of naming, because the act of naming yourself is also the act of re-birthing yourself, reclaiming yourself, peeling off the used husks of yourself and saying "This sticky part here, this is who I am". Some of us cut away names like old bandages, or see the mirror image of families we've lost in names that are too tarnished to reflect. For some, the new name can say "I do not belong to the ones who hurt me or abandoned me. I belong to myself". Or the name is a new word that is not weighed down by generations of color-coded baggage. This name removes its bearer from a history of gendered association. This name is all the bearer's own. Some of us may have a single name, or many names, or names that they can only speak in safe spaces. They are all important, and they are all our very own.
My first name was Hudson. My parents grew up in a small town along the northern Hudson River, near enough to the source that you could wade across in the summer and only get your ankles wet. I was raised along the same river, and soaked my calves in the same bend that my parents sat in as kids. The river there is many things: A force that gives and takes life, the source of simultaneous progress and limitation. It is wild and dangerous in the spring, but a welcome friend in the summer. It is limitless in all the ways I wish my own existence could be limitless, but still the determiner of boundaries, the decisive blue line that winds its way down the map, growing stronger as its path evolves. I look at the ebb and flow of my own life, my own identities and their constant desire to change and adapt, and I wonder if I did not take the river with me when I left.
According to my mother's sonograms, there was no doubt I was a boy. Nurses and old wives alike said that my minuscule body had all the telltale signs. They knew it from the way I was carried, the rate of my growth, my mother's cravings and my fierce little kicks. Most importantly, my boyhood was confirmed with the doctor's absolute conviction of my tiny penis. I have seen it on the ultrasounds that my mother still keeps in her top dresser drawer, the phantom piece of me that did not find its way outside of the womb. I pray that this lost little penis rests in peace, wherever it may be.
This medical confirmation was enough for my parents. They would give me the name Hudson, for the river they'd known their whole life, as a reminder of my roots were I to grow up into the kind of man that finds himself in faraway places. They were thinking in blue and green, stocking up on jumpers with rocket ships and animals and bold colors that would complement Hudson's inevitable coloring (as there are no blonds in my family, no blue eyes, and probably never will be). They were preparing themselves for the task of a son, and were often told how good they would be at raising a well-behaved boy, a boy with good manners who honored his elders. Hudson was going to be a handsome kid with his father's looks and his mother's convictions. He was going to hold doors and be a conscious citizen and have deep feelings for the women he loved and respected. They'd call him "Hud" for short, the kind of no-frills nickname befitting of a boy who knew his way around the woods. They loved him already. He would be the perfect son.
After 13 hours of labor in a heatwave, they did not get a son, or at least not in the package they'd intended. They got me. Or, they had always had me, and loved me, and been preparing for me, but the simple fact of my unexpected genitalia meant they could not call me their son, or Hudson. "It's a girl" was as much a revelation as it was the label on the balloons being inflated in the hospital lobby. After panicked deliberation, my parents named me Kate. They both had grandmothers named Catherine, the saint who was martyred on a spiked wheel. My mother felt that Kate was the stronger and tougher version of that name. She said it reminded her of the women who worked in the lumber camps, keeping up with the lumberjacks and holding their own.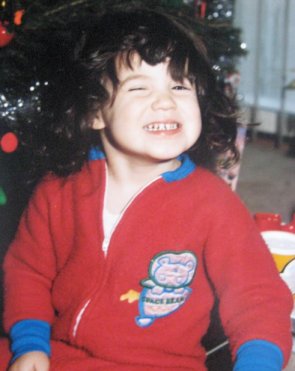 So, I've been called Kate for 23 years. I really do like this name, and the associations with it. It's short and to the point, but it is not short for anything else, like most of the other Kates and Katies I have known over the years. It stands for itself, and by itself. It means "pure, clear, clean." I remind myself of this over and over again when I feel broken, toxic, a thing stained by circumstances beyond my control. I don't think of the name's meaning as "innocence," or the kind of purity that we have come to associate with patriarchal virginity. I think of my name as a pure essence, clean from toxins. The purest drink is also the strongest. And if I am anything, I am intense; my feelings always stab through me with absolute clarity, I am always throwing myself from one extreme to another. Kate really does seem like an appropriate name for my kind of existence, and I am grateful to my parents for that. The thread that my name ties to their hearts is one that is hardier than most.
By now, you know that I'm also called Kade. I named myself Kade. I didn't want to stray to far from Kate and its reassuring power, but I needed to be my own. I needed to belong to myself. Over the years and the many things that have torn me from one direction to the other, my body has become less and less my own.  In the process of reclaiming my body, I was realizing that whatever I was, it was not strictly woman. I was raised as a woman and have had the experience of a woman, or at least a certain kind of woman, but that label was neither comfortable nor without its escapes. At the same time, I knew I wasn't a man, either, at least not all of the time. I was learning the most in my interactions with others. I didn't feel like a woman making love to other women, and I especially didn't feel like a man in the same position. I felt like a combination of the two, or something different from the two. I was, and am, Kade, but Kade is not necessarily male or female. Kade is neither, and yet both.
This is where I've always found such difficulty in describing my gender and my genderqueerness, perhaps because the language of gender is tied up in the binary and the movement between the two that it's difficult even for me, in a body that is actively experiencing fluidity, to explain that I can be both and neither. I've always said that my gender is slippery, and it remains the best way to describe myself. I use masculine and butch when describing my presentation because the terms are, while not free from a gendered sort of association, not technically gendered.
I find it difficult to align my politics because while I call myself queer and know there is a certain queer politics that I often agree with, I still find myself relying on my experiences rather than my identity. I've had the experience of calling myself a lesbian, so I find myself gravitating towards that community, even if I don't identify as a woman who is attracted to other women. I've had the experience of womanhood, especially socialized womanhood, so I gravitate towards spaces for women. I attended a women's college. I'm invested in issues specific to these experiences, but now that my identity does not fall into any of these spaces, at least not firmly or constantly, I'm not sure where I belong. I'm not sure if it's okay for me to be in lesbian spaces, or woman spaces, or any of these spaces, because I don't identify as a woman all of the time.
I love the name Kade, and I love wearing the name, but it remains strange to slip in and out of it. Names, for all of their magic, are still very firm things. I go by Kade, but I also still go by Kate. I'm learning that we are not socially adapted to using more than one name at once, especially when they have two different meanings in terms of gender. It is interesting to note people's reactions to my openness to use both female and gender neutral pronouns depending on the day, to feel comfortable using either of my names. Most people tend to stick to one name or the other when addressing me. I can tell there is a level of awkwardness in these actions, but I'm never sure how to explain that I don't mind either without being afraid of insulting the firmness of someone else's identity. There are so many terms for what I am – genderqueer, genderfluid, agender, pangender, neutrois – but none of them feel quite right. So Kade takes the place of that descriptor, and Kade feels right.
Maybe there will be another name in the future. Maybe someday I will grow out of Kate or Kade and into something new, or something familiar. I know I still have Hudson with me, even if it's not the name I use. I was called Hudson, and maybe I will be called Hudson again, or maybe I only need to carry the river in my heart to carry its name.
---
Special Note: Autostraddle's "First Person" personal essays do not necessarily reflect the ideals of Autostraddle or its editors, nor do any First Person writers intend to speak on behalf of anyone other than themselves. First Person writers are simply speaking honestly from their own hearts.