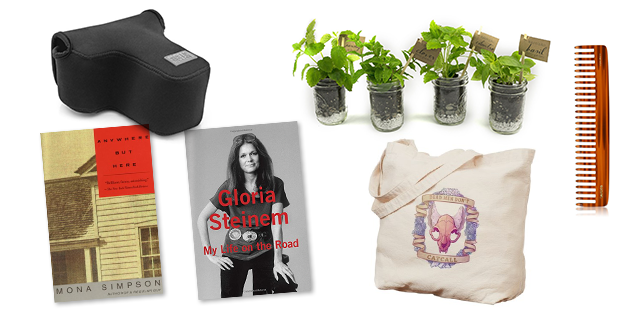 My mom and brother teamed up to get me a fancy schmancy camera for my birthday this year, and it came with a really amazing case that holds everything I could possibly ever need for my camera. But sometimes, you don't need to bring your charger and an extra lens and the USB cords and also manuals for your accessories and camera body with you to the beach. Sometimes, you just wanna throw your camera into your backpack and live your best life without worrying you're destroying one of the most valuable things you own. A flex case like this one makes that possible, and it fits the body of my DSLR with pretty much any lens attached. HALLELU.
I spoiled myself earlier this year by living with someone who had an herb garden outside. I vowed to myself that I would bring the tradition with me when I moved, but I'm struggling to even figure out which grocery store to go to on the regular so it's become a lot to ask of myself to figure out where to buy the best herbs and gardening supplies. Instead, I'm gonna hope someone buys me everything I need to have a cute, hip, windowsill herb garden instead.
I've been pining over real people combs for years, and I think it's about time I upgraded and finally got one.
Books About Traveling Written By Women
Since my big adventure, I've had two distinct desires: to spend every single day driving 75 MPH toward nothing, and to read about other people doing the same thing. Traveling is such a big, awesome experience, and there's been so many books written about adventures and exploration and finding yourself on the open road. But unfortunately, pretty much all those books are by dudes. I've already read Wild and The Beautifully Worthless and Snowflake/Different Streets and I'm hungry for so much more. This month, I'm begging for My Life on the Road and Anywhere But Here.
I put this in last year's Rebel Girls gift guide because I love tote bags and hate men, but nobody bought it. This year, I am reinvigorated with desire for it because after crossing the wild west there's a part of you that wishes you were a cowgirl, like forever.
---
I started working out seriously for the first time in my adult life back in July and have been using the same sports bra — which I've been using since elementary school, and which I'm pretty sure was my mom's from before she had kids (I am 27) — every single day. It has started to always feel damp, even after I run it through the dryer, which I only do if I'm feeling flush with quarters. I'm hoping a more recent model (maybe two) would let me trash the old one and dry out a little faster.
Though I actually do own one modern pair of pants to run in, I own only that one pair, and sometimes things get pretty gross (see above re: quarters). These have pockets and a gradient and everything.
I've been really into reading about Los Angeles since moving to Los Angeles. This was Emily Books's pick for November, and it was described as "Imagine a Joan Didion who likes food and drugs and rock and roll and fun, or a Weetzie Bat a couple of decades early: that's Eve Babitz." Sold. (There are also about a hundred other books I want to read and tons I don't even know about yet but "library card" isn't a very good item for a gift guide.)
You can never have enough lube.
---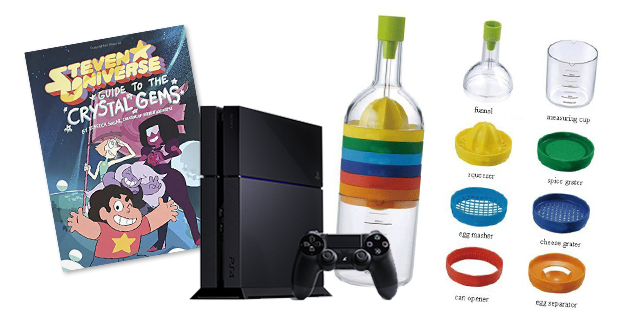 Steven Universe Stuff
I love Cartoon Network's all-ages super inclusive and diverse cartoon Steven Universe. It has better queer representation than maybe any other show on TV. And it's a super fun, really beautiful all-ages show with deep, rich characterization. It's incredible. This Guide to the Crystal Gems book is the perfect source of information for any fan who wants to know more about how the universe of the show works. There are also some really terrific T-Shirts, whether you want to dress as Steven himself, a Cookie Cat fan or the biggest Mr. Universe fan on the planet, Rose Quartz. Finally, you can add a Crystal Gem touch to your home decor with this stylish square throw pillow case.
Over the past year I've been getting more and more into cooking and baking, and I find that I always have more fun if my tools are fun. And how fun is this! I really like the simple design of it, the bright colors and the way it saves a bunch of space in the kitchen. Plus, it's super functional. I mean, it's got a funnel, measuring cup, juice squeezer, spice grater, egg masher, cheese grater, can opener and egg separator. Just imagine all the cool things you could make with this!
I'm allowed to ask for one big ticket item, right? When my brother and I lived together, we shared a Playstation 3, and it was great. I could play all the gay rpgs I wanted, everything from Skyrim, Dragon Age: Inquisition, Fallout: New Vegas. I had tons of fun going on quests, exploring the map and deciding which npc I wanted to romance. But when my brother moved to Chicago, they took the Playstation with them (they payed more money for it than I did). I really miss being able to play video games, so now I'd like to get a new one. Plus, in the upcoming Fallout 4 you get an unkillable dog companion that follows you around, so you know I want to play that.
---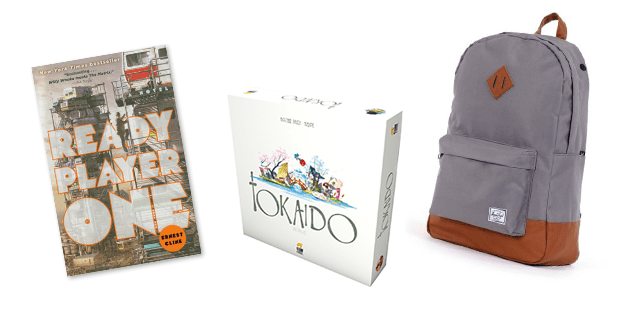 When one is in graduate school, reading for pleasure time becomes scarce and precious. That's because we read a book a week — amazing books, too! This semester alone I'll have read something by Joyce Johnson, Virginia Woolf, James Baldwin… really, no slouch on the book list. And on top of all that, we're writing our own books. Oh, y'all can bet I'm gonna spend Christmas break reading things I actually choose myself. I'll be starting with Ready Player One, and then I am only limited by my word devouring speed.
Have I mentioned that I play D&D once a week? And I've been enjoying boardgame nights with the same group of people whenever our DM can't play. I've also been playing on Boardgame Arena (with some of you queers, even). All of this maintains my sanity during school. Last year, I wasn't very good about having a hobby outside of writing. This year, I'm doing better. Bolstering my game collection is helping. I actually can't decide what's on my list this year, the above mentioned Tokaido or Betrayal (which I had the privilege of playing with some A-Campers and our very own Whitney Pow) or Dominion (how do I still not have Dominion?). Opinions, please! Which should go on my Christmas list?
For my birthday two years ago, my mother got me a beautiful leather messenger bag. I use it for everything. But in keeping with my efforts to travel lighter around the city I live in, I would like something much lighter and with a better weight distribution for my average day. The leather bag will always be around for when I have to look like the fully-functional adult I am, but to head to the graduate library? Definitely the Herschel backpack in the window of my local independent bookstore that I've been eyeing. A Grid-It wouldn't go amiss for keeping all my technology and accompanying wires organized.
---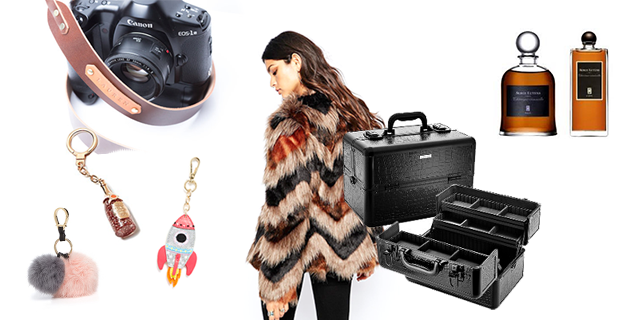 I found these affordable, custom leather camera straps on Etsy and immediately wanted to upgrade mine that says SMIZE. The shop is called Viveo and they have a whopping 64 options in varying leathers, widths and heft for a perfect match for you and your camera. From dainty and thin for lighter cameras to versions that look like they could have been custom-made at Mr. S, there's something for all the shutterbugs out there.
It is rare the femme who would turn down a ridiculously chic faux fur, and this one's awesome tonal variations and longer-than-usual bits of fluff turned me into a heart-eyes emoji instantly. I know I said I wanted a cape, but can't I just have this or this or this instead?!
There is perfume and then there is perfume, and I can tell you that it doesn't get more decadent than a bell jar full of Serge Lutens. The next best thing is a tall, lovely bottle of one, for half the price and a whole lot easier to come by. My pick is the elegant Tubéreuse Criminelle, with notes of tuberose, jasmine, orange blossom, hyacinth, nutmeg, clove, styrax, musk and vanilla, from the exclusive range. It reminds me of my wedding day!
To be honest, I didn't get the fuss of bag charms until receiving one as a gift. It came on a sleek tote with buttery raspberry leather on one side, and a luxe pale pink on the other, with a little puffball of merlot-colored fur that I've constantly fondled ever since. The true charm of these little guys is how totally 80s they are — they have that collect 'em all, trade with your gal pals vibe, and would make excellent stocking stuffers.
Confession: I've been storing my makeup in the bathroom. In my defense I need the light, I need to use the sink, I need to spread out and settle in and go to town! But I know it's a big beauty no-no, so a super-organized, roomy train case like this could be the solution to making sure I have what I need at my fingertips without exposing my precious stash to the bright lights, damp humidity and high heat often found in the one room of the house I can count on for the best makeup application.
---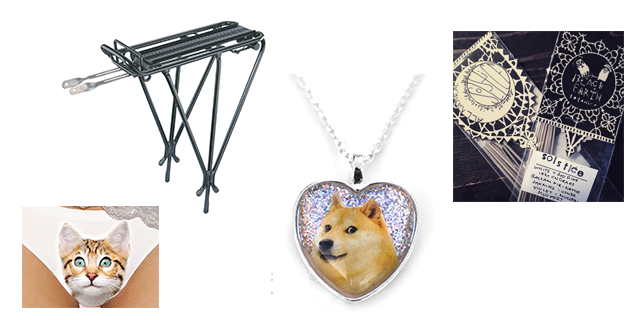 I know, I know, but I was really inspired by Crystal's Working On It column and felt sort of obligated to start taking vaguely better care of myself. Among other things, I've started biking around the city instead of taking the train, and I hate every second of it but I can also (begrudgingly) acknowledge that it's good for me. I don't huff and puff and sweat and wobble when I get home like I used to, and slightly inclined hills no longer seem impossible. Anyway, I need this bike rack because I want to use my bike for things like grocery shopping and beach trips in the summer. In my fantasies I could strap a box of wine to the back and pedal off towards adventure.
Find me an occasion that calls for fancy jewelry and I will find you ten reasons why this doge necklace is 100% appropriate — such glamour, wow. If doge isn't your style, perhaps I can interest you in this pizza slice best friend necklace.
I'd feel weird if I didn't tell you that Black Earth Botanica is run by my best friend, but I feel less weird about shilling for her because I've bought a ton of this stuff and it's all amazing. She grows most of the herbs herself and develops her recipes based on the astrological calendar. Black Earth Botanica makes tinctures, incense and anointing oils that make my office smell like the spiritual realm. I will never have enough.
If anybody ever sleeps with me ever again, I really want to leave them with a lasting impression.
---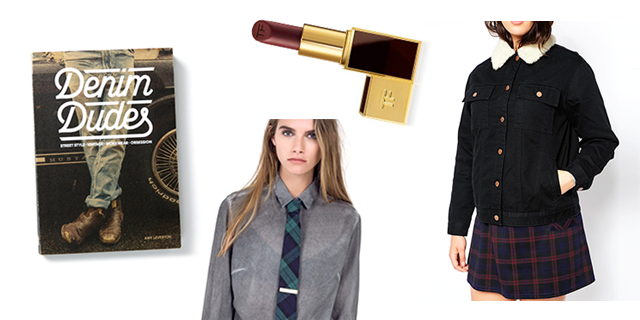 I picked up this tome in a bookstore about a year ago, and I should have bought it then! My denim obsession is a growing creature, and this book combines the beauty of denim with the individuality of personal style. With macro shots of pairs that have been broken in over years, and a wealth of style inspiration, I want to get my hands on this! I need new ways to wear my jeans.
This item is definitely just a fantasy for me since it's hella expensive. But in a dream world, I'm wearing a slick custom suit and this gorgeous Black Dhalia Tom Ford lipstick to every holiday party. A deep, deep red to look sultry and festive, all winter long!
Tie clips are surprisingly uncommon, and this one is sleek and dandy. I'm dreamin' of being an especially handsome tombabe this round of Holiday soirees, and I think this lil' clip brings a bit of shine without being gaudy. What better to go with my fancy shmancy lipstick than a slick tie clip?
After an unfortunate curry incident with my old favourite jean jacket (RIP Topman dream), I've been on the market for something to replace it. This lil' topper from ASOS looks cozy enough to be an outer layer on dry days here on the West Coast and also go with everything in my closet!
---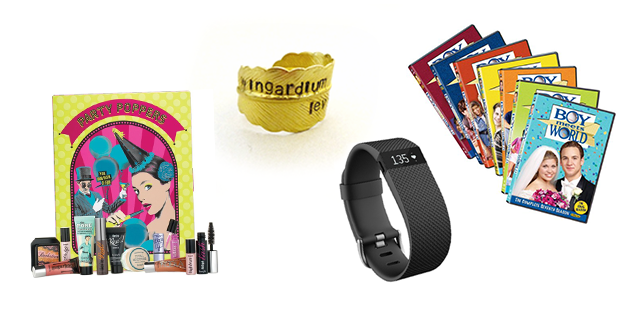 I love Benefit Comestics so much! This kit is a great way to try a bunch of products I haven't already and see what full size products I will add to my normal routine. I'm also a huge sucker for advent calendars.
I don't really care about fitness, but I want to track my heart rate at all times and see what kind of terrible sleep I am getting!
I am always looking for lowkey ways to signal to the world that I am a huge Harry Potter dork, and I think this classy, yet adorable ring is perfect for this.
Boy Meets World is one of my favorite shows of all time and it breaks my heart that it isn't on any streaming sites and I have no way to watch "And Then There Was Shawn" whenever I want! This box set will solve 30% of my problems in life, is what I am saying.
Pages: 1 2 3See entire article on one page