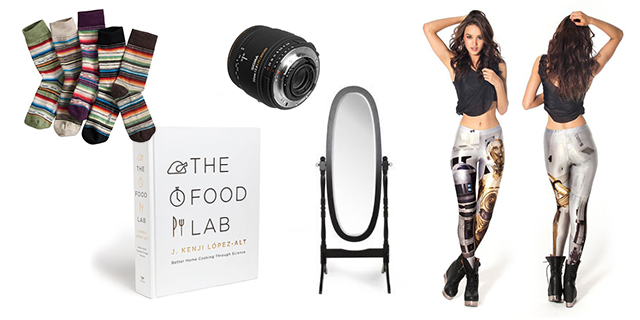 You may think I'm boring for wanting socks, but may I remind you that Dumbledore also requested socks for Christmas? And these socks are amazing. They're super cushiony and non-sweaty and they generally make my feet feel like royalty. They're also $30 and I just can't bring myself to buy more than one pair at a time. Which makes them the perfect gift!
I feel really interested in cooking and food photography lately. This lens is what Deb from Smitten Kitchen uses, and her photos are always gorgeous! I would love it if I could play around with a macro lens.
Related: food science books are just fascinating to me. I have a couple good reference books already, but not this one. It just came out this year and I have been coveting it since I read the review in Wired.
I don't have a full length mirror in my life anymore. Which is fine 95% of the time, but occasionally, I need to see all of myself at once. I like this mirror because I've never had a mirror on a stand before! Only attached to walls or doors. Standalone mirrors feel fancy and old-timey to me, and I have the perfect spot for this in my room.
Annnnd this is one of those reasons that I need a full length mirror. God. I would look so hot in these leggings. Why would I not want R2 and Threepio splashed across my thighs?
---
I don't know how I made it this far in life without a Magic Wand, especially considering I have been traveling around the country as a sex educator for the past five years. I think I just haven't been willing to put the money into it because honestly a $20 pocket rocket knockoff will do the job for me. But it's time. I'm a grown-ass woman and I deserve a grown-up vibrator. Plus it's rechargeable so I don't have to frantically steal batteries from the TV remote anymore.
I got a travel size of this lip stain last year and fell in love. It's a deep, blood red and the color payout is va-va-voom gorgeous. It doesn't last forever compared to other lip stains, but it also doesn't get flaky and, most importantly, it doesn't dry out my lips. I HATE DRY LIPS.
Flannel isn't really my thing. Even as a legit teen of the 90's. The feminine detail on these sexy panties is making me change my mind. Cozy sexy cool.
This is seriously the best movie. I cried over and over. I know it's a kid's flick, but if this didn't move you to tears, you are a monster. I'm sorry. It's true.
I usually read books on my Kindle, but this book seems worthy of a hard copy. It would be a fine addition to the stack of weird and hilarious books I keep in the bathroom for guests embarking on a long stay. Is that offensive to Mallory? It's a compliment, really, I swear. I take the bathroom experience very seriously.
---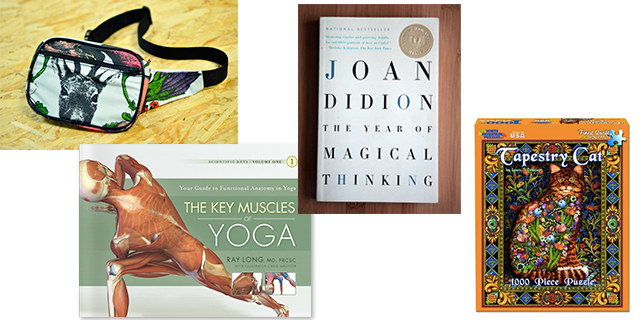 I don't even care how overwhelmingly hipster-ish this is; I desperately want a fanny pack. Carrying a purse makes my back hurt, and sometimes I wear pants that are just too tight to carry everything I need for whatever I'm doing in my pockets and/or bra. A fanny pack is the clear solution, correct? But my number one concern when looking for a fanny pack was will it look bizzarre with flannel and then I FOUND AN ETSY MODEL WEARING THIS FANNY PACK WHILE ALSO WEARING A FLANNEL SHIRT and it's perfect. Please someone buy this for me. Please.
It's absurd that I haven't read this yet.
Jigsaw puzzles are the best and I can't deal with how perfect this cat is. I would like to spend many hours over several consecutive days assembling this cat in my living room.
Yoga Books
I've been doing a lot of yoga to work on chronic pain I've been experiencing, and it's made me really interested in anatomy and how the body moves and holds itself. I always get kind of paralyzed when I look up information about bodies and health, because I never know who to trust, BUT I have decided I am going to take the plunge and ask for these books. Yoga Anatomy seems basic and not too woo-y and it comes highly recommended. The Key Muscles of Yoga: Scientific Keys, Volume I seems more connected to a specific person's practice and it was recommended to me by a teacher I really trust. Together, these books feel like a good place for me to start learning more about my body and how to name how it works and feels.
---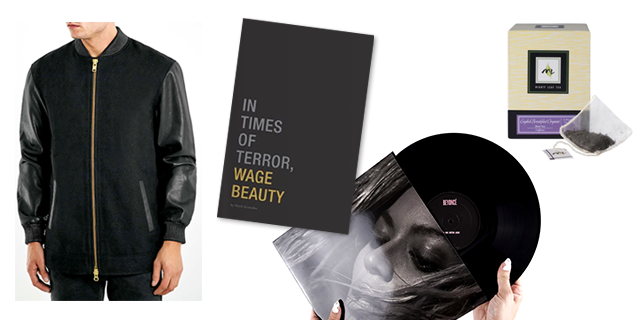 This year I have to survive an entire winter for the first time in three years. I wish I could have this beautiful jacket to do so in. The details like mixed texture and gold accents are lovely, and it would match with literally anything.
This little book is what all inspirational texts should be. Beautiful designed, full of radical wisdom and no fluff. A friend recommended it a few months ago and I've wanted to get my hands on it ever sense.
I'm about to have access to my record player again, and what better way to celebrate than with some new LPs? First on my list is Beyoncé's 2014 self-titled masterpiece. I'm very ready to vogue around my parents' house while this baby spins.
I love to experience wild and lovely teas of all kinds, but at 7 a.m. I require a utilitarian approach. That's where this giant box of English Breakfast tea comes in to keep me awake for at least three months.
---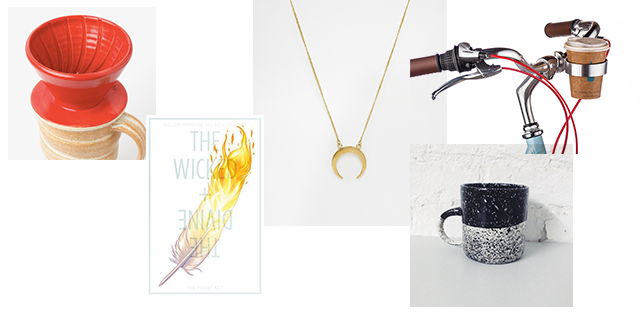 I'm not sure when or why drip coffee became such a hot trend since it's like, the cheapest, simplest and most portable way to make nice fresh coffee, but since it has there are all these fancy (and lovely) dripper cones around. This handmade ceramic one is totally gorgeous. I won't be taking it on any camping trips but it would look lovely in my kitchen next to the coffee pot and grinder.
I pretty much own every set of brass earrings created by the wonderful fair-trade jewellery store Made, so it's time to move on to necklaces! This long-chained crescent moon is witchy enough to be part of my 'yes I'm a tarot reader' get-up, but elegant and dangly enough to go with almost everything else I own.
Y'know, I genuinely believed I had invented this and have spent many mornings thinking about how this afternoon I'm going to make a prototype from, like, a bent coat hanger and then proceed to become a millionaire with my awesome invention. Well guess what, some hipster got there before me. And I'm glad, because I never did make that prototype and in the meantime have had many unfortunate spillages. No more! I shall have my coffee and ride my bike!
I got into reading this amazing comic earlier this year and now I want All Of The Books. It's about a pantheon of reincarnated gods who are like pop idols to their mortal fans (and basically I fancy all of them) and a teenager named Laura who gets caught up in their It's filled with clever mythological references that go right over my head, and bad language and wicked deeds and sarcasm and extremely cool outifts and beautiful acts of heroism.
I'm one of those awful people who hates it when people use my mug and will go on the rampage around the whole building if mine vanishes at work. The problem is, my mugs are totally non-descript, but this hand-thrown cup is special enough that my studio-mates should know to leave well alone.
---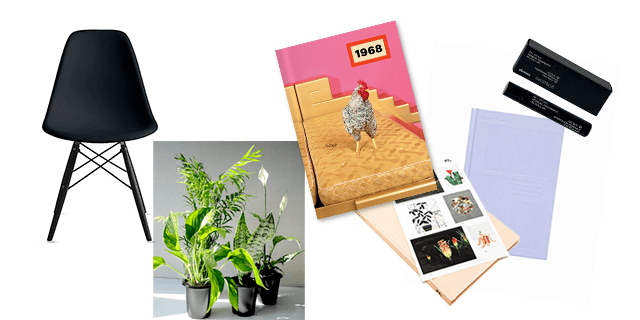 Okay, big-ticket item, but: the Eames Lounger has been on my bucket list of "Things I'll Own When I Know I've Made It" for a long time. Recently, I was stalking a fellow designer's blog and found an all-black "murdered-out" version and was suddenly overcome by a powerful need. Unfortunately, the Herman Miller site has less-punk versions, but I did find I could make a badass, all-black version of another favorite of mine, their Molded Dowel-leg Chair.
Looking around, you may have noticed recently a resurgence in the bright patterns and weirdo shapes of postmodernist Italian design like the Memphis Group (see: Nathalie Du Pasquier's collection for American Apparel). If you're a fan, you can now go straight to the source: one of my favorite alt art-photography magazines, Toilet Paper recently put out this insane, saturated rundown of some of the weirder parts of Italian design in the late-60s. It's both education and a total head trip, making it exactly my favorite type of thing.
Full disclosure: I haven't actually smelled this yet. But! I have been thinking a lot lately about having a signature scent. After all, it's one of the most evocative forms of memory retrieval, and I never want to be forgotten. Recently, one of my favorite ladies/writers Rachel Syme seriously endorsed it on twitter, the place where I get all of my best recommendations. So. I can't wait to smell good, girl.
I love plants. Like, obsessively. If you find a photo of a home with beautiful plants in it, I will invariably pin that ish. Recently, I found out that not only are they beautiful and make you feel like more of a real human being with an inviting home, but also, they can improve the air quality in your home! Who knew? Maybe it's snake oil, but at least it's also completely lovely. Plus, they're an excuse to buy a million adorable planters.
Speaking of my love of plants, Strange Plants is a great little collection of art about plants, made by assorted artists. There are currently two editions and they're both charming as hell. The best things about these books? They come with a page of stickers for customizing your book jacket, laptop cover, and life!
---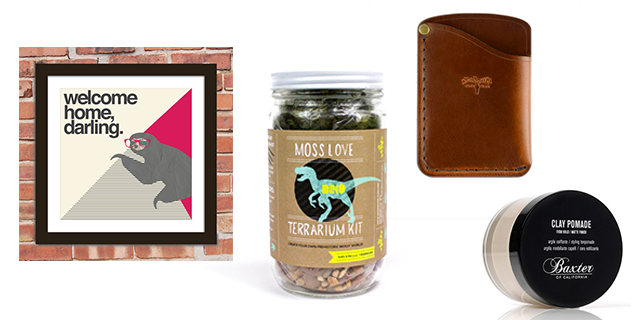 Sloths are just cool critters, right? Add that to a poster that is basically just weird and silly and you have exactly what I need for my apartment. There is nothing I want more than this simple greeting from a sloth, "welcome home, darling." I mean, if I had this in my apartment I just don't even know what would happen. It would be the best day ever. I would never have to find another weird poster again.
You know when you really want to purchase something but you're not sure. So you keep going back and back to take another look because it is beautiful and you want it, but your mind is like not today, human, not today. That is what it is like with this wallet. I want to try to not carry a purse and this seems like the most logical solution. I want a wallet that is easy on the eyes and also does what it is supposed to do.
I have a confession to make, I think I'm getting a little too into my hair. On a scale of 1 to Justin Bieber I am reaching and dipping into the Bieber arena. I am still searching for the best pomade for my straight as an arrow and fine hair. I have read about this pomade and it is really something I want. Yes, I check reviews on pomades. It's like checking the weather for me.
First off, this kit has a dinosaur on it and IN IT. I don't want to write anymore because that already should of sold you on why I need this in my life but I will. Second, terrariums are just cute and I want to live inside this one for a moment. I would like to say I'm a tender queer so I would love to make this and then give it to someone in my life.
---
Karly, Intern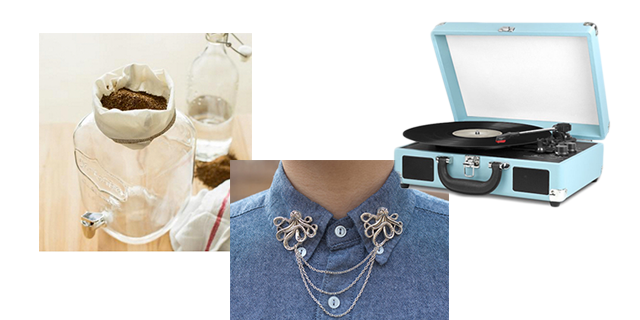 Have you heard the Good Word about cold brew coffee? I tried it and now I'm addicted. I've been brewing it in like 4 mason jars but they are not gallon size like this one! Also I've been Macgyvering filters, so it would be awesome to have one specifically for that. A kit!
My record player broke recently and it was a cheap one that didn't sound great in headphones or speakers. Also it looked terrible. Look how cute this one is.
An online friend posted a picture of her deer antlers collar clip and I've been coveting one just like it since. The octopus is one of my favorite animals and I'd probably wear this every day.
---
It's so pretty and practical and it goes with everything. And you can tell my mom that it's better for my back or something.
For real though I carry around cameras all day and don't use cases because I'm really good at being organized and if they were tied to me with this nice leather harness that's made for quick shooting my life would be so much better.
PLEASE SOMEONE SEND ME A MONTHLY COOKIE BOX DO I EVEN NEED TO EXPLAIN WHY. Just imagine waking up one day to a box of cookies on your doorstep. Guys. We live in a world where cookies can show up on your door step. All kinds of cookies. Cookies for me, cookies for you, cookies will bring about world peace just watch.
To enjoy with my cookies. And to be honest this will be gone in a week so if you hear of a Groundwork subscription coffee service that would be great.
So I look great when I eat cookies and drink coffee in my underwear.
---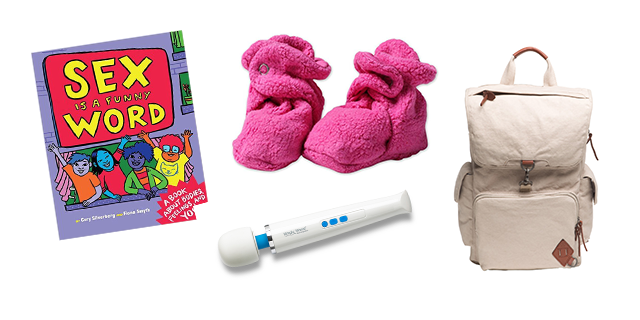 It's finally getting cold in San Francisco, and Tiny needs something to keep those little toes warm! Turns out socks are no match for squiggly newborn feet, so I want a pair of these to strap on. Size 12 months please because girly's feet are huge!
Okay, so it's not really relevant for Tiny just yet, but in the meantime I want this book to show to all my parent friends (and kid friends, if their parents will let me!). A book for kids about sex that talks about gender and feelings and justice and consent and all sorts of bodies and joy?! Yes! Cory Silverberg's What Makes a Baby is one of the best most gender inclusive books of all time, and I'm so happy this author is tackling sex, and I want this book on our shelves pronto.
I'm out and about wearing Tiny and wandering the city most days, and I need a diaper bag that can keep up! I've been looking all over the place for a backpack I can use that has enough pockets to organize everything within easy reach, is style-y enough that it doesn't ruin my outfit, and is supportive enough that I can carry it and the baby comfortably. I finally found this perfect specimen, so please buy it for me.
Simone and I just exploded our second Hitachi Magic Wand (oops!), but I'm a die-hard believer and was about to purchase another one anyway. THEN I SAW THIS INCREDIBLE INNOVATION. A rechargeable Magic Wand that doesn't require being tethered to an outlet but can also be used plugged in so as not to kill the moment in case someone forgot to recharge it?! Yes oh yes.
Pages: 1 2 3See entire article on one page