feature image via shutterstock
What's a credit score? Do you have one? What makes it good or bad? What happened to that one guy who played those dumb songs about not having good credit in those commercials? Some, but not all, of those questions can be answered here.
This morning at 11 am I did not have any cooked chickpeas or even soaked chickpeas and now, at 2 pm, I do have cooked chickpeas. Related, here's a bunch of ways to cook a pot of beans.
In one of the earliest installments of this column, we talked about how to clean your coffeemaker. Revisiting the theme of "things you didn't even know you could clean," here's how to clean your dishwasher! It will make your dishes cleaner and help you avoid that weird cloudiness on supposedly clean glasses.
This is an infographic on how to pick locks. Why did Business Insider grace us with an infographic about this? Your guess is as good as mine.
Stef has helpfully passed along this guide to keeping a water bear (or tardigrade) as a pet.
Sometimes, we all feel like shit, and can't really figure out why or how to fix it. Here's an interactive website that guides you through troubleshooting why you feel like shit and trying some things to make it better.
You have leftover scraps of food in your kitchen! Here's what to do with them!
Maybe you also have items that have rusted! Here's what to do with them!
I usually travel a lot for the holidays, and rationally or not, it usually makes me nervous about my laptop (I never leave my apartment, so really anything that involves being outside my home for extended stretches of time seems threatening). What if someone accidentally punts my carryon and it breaks or something? This Thanksgiving, my panic about this motivated me to renew my subscription to a cloud service that automatically backs up my whole computer, so that if the moron next to me on the plane spills their $12 glass of airplane wine on my keyboard I won't lose the 1500 pictures of my cats I have on here. Anyways, here's your official reminder that you should be backing up your computer, too! We've published this guide to cloud backups specifically, and there are at least two other parts of the series that you should be able to find linked there too.
Are you in the US and shipping things that you would like to have arrive somewhere by December 25th? The USPS has handy guide on when things should be in the mail by.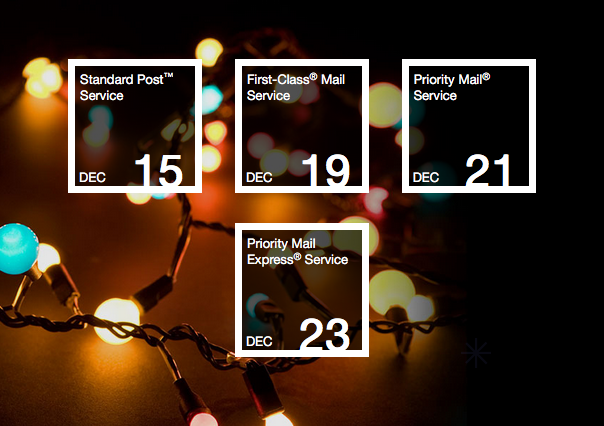 Here's a wikihow article on how to pretend to be a mermaid. I don't know, seemed like you might be into it.
Did you know that (according to my high school best friend's mom, who took some kind of class on tea) the caffeination of your tea occurs in the first 30 seconds of steeping? Logically, then, if you want semi-decaf tea, you could steep your tea for 30 seconds, dump the water, and then pour a second cup and have a decaf cuppa. Fact or fiction? Debunk me in the comments!