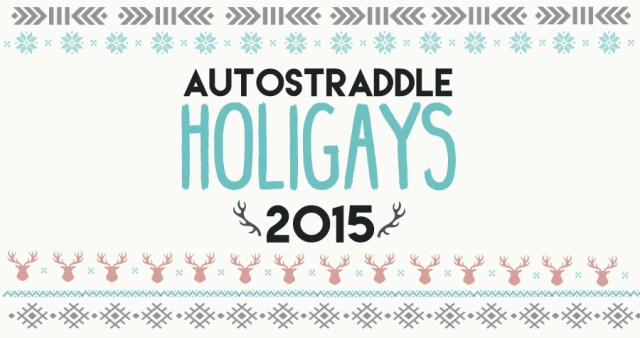 It's such a special time of year: a time of gifting and receiving, making lists and checking them twice, and also practicing how to curl ribbon over and over again in the middle of the night. In the spirit of the season, Team Autostraddle has come together to tell you all about the stuff we really, really want this year, mostly because we're operating under the assumption that included in our own ramblings will be stuff your loved ones and favorite barista would probably like this year and also some stuff you forgot to put on your own wish list. (This is actually guaranteed if you or someone you love wants a FitBit, takes photos with an actual camera, or reads books.)
---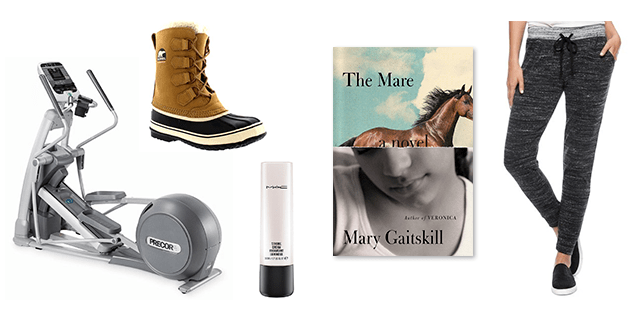 So we're moving to the country and there won't be any gyms nearby, plus we'll probably be snowed in for most of the next two months. That means it's finally time for me to take the plunge and create what every gym rat dreams of: A HOME GYM. Unfortunately, this shit is expensive. Maybe I should try craigslist.
Do you read Hard Lacquer? I do. I read Hard Lacquer and I want to do everything Aja tells me to do so I can put my best face forward while hanging out alone in my room.
This is for when I'm snowed in but still need to see if my check came in the mail! I MEAN FOR WHEN I'M SHOVELING THE DRIVEWAY AND ENJOYING THE OUTDOORS.
Mary Gaitskill is my favorite author and this is her new book, obviously I need it.
These go with the book.
---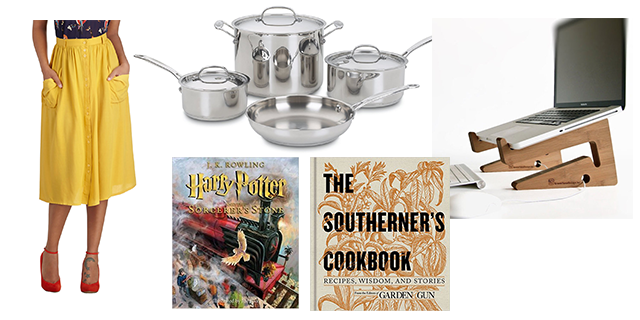 I put off reading the Harry Potter series for a million years because I thought it was silly kid's stuff. BOY WAS I WRONG. So now I'm reading it and I'm currently stuck on Goblet of Fire because I'm so sad about [SPOILER] that I can't bring myself to keep reading! So anyway, as a newly minted Harry Potter book fan, I really, really want this illustrated edition of the first book because a) it's so pretty!! and b) that's really it, it's just SO. PRETTY.
Look, I'm an adult person living in a small house with several other people — at least three — and they often need me to cook food for them, which I'm happy to do. From now on I'd like to do that cooking in some nice, uncoated, stainless steel pots. I deserve this life! Oh and while we're at it—
There's a whole section on gravy. Just all the kinds of gravy! I need this cookbook.
Y'all it has pockets! I don't need to tell you how important a pocket is, much less TWO of them! This skirt will look so perfect paired with a weird band t-shirt and some cute boots. I am ready for this skirt.
I have his multi-step plan for creating a Real Office for myself, and I've already secured a cushy rolly chair and a wee tiny desk. I even have a gorgeous little aloe plant named Bethesda who keeps me company! Next up is this laptop stand, a wireless keyboard, and a trackpad. Whee!
---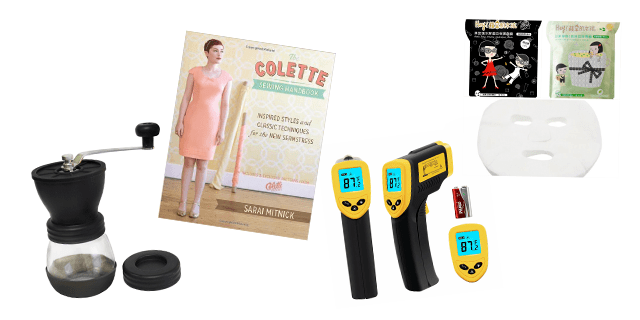 I feel like I've asked for this for Christmas for a thousand years since the beginning of time. It's juuuust past the ratio of price vs. necessity that I feel like I can buy it for myself, yet I've also totally convinced myself that it's the last barrier to my coffee being totally amazing all the time. Is that a silly fantasy? The only way to find out is if I finally get this burr grinder.
After reading Jasika's amazing article on making your own clothes, I was like YEAH, I CAN DO THAT. Except I can really only do it like spiritually or emotionally at this point, because I don't know very much about sewing. But after I read this book I bet I'm gonna know a lot more!
Alton Brown uses one of these all the time on Good Eats and I'm always jealous but also assumed that it was way expensive. Reader, it is not! It is pretty affordable and an easy way to measure the temperature of stuff that needs to be in a specific degree range, like candy or yogurt (although if you cook meat you'll probably still need a traditional meat thermometer, sorry). According to the reviews, a surprising number of people get a lot of satisfaction just pointing it at parts of their house and finding out how cold their windowsill is, so there's that too.
All of the Sheet Masks
I'm pretty into sheet masks (well, all face masks) lately, and they're gonna be extra important once winter is in full swing and my skin gets super dry. I'm really lusting after these Pinkgo Girl masks, one for hydrating and one for brightening (that second one looks like LACE it's bananas). Also though I'd take somebody buying me these creepy-looking "blank" sheet masks so I can just soak them in whatever product I want and thereby become the radiant ageless goddess I was meant to be.
---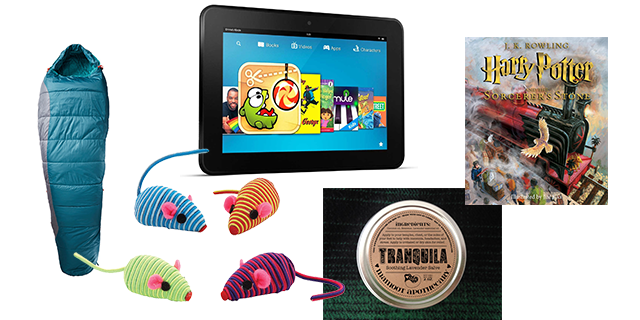 Laura made me some lip balm at camp that changed my life and now I want all of the apothecary supplies she makes to be on my nightstand so I can feel awesome forever.
Duh.
I'm very excited to get back into camping in my adult life, and plan to do it a lot when spring and summer roles around (and once I figure out how to get to New York's state parks from public transportation). A good sleeping bag is a good start.
My girlfriend gave me her Kindle PaperWhite and I am so thankful for it and I love it. I would never spend money on a thing like this for myself, but if I had one I could read my comics on it too.
I don't know if you've heard, but I'm basically running a cat rescue organization out of my apartment.
---
AUTHOR'S NOTE: If I were being super real about what I want for the holidays, I would say I want a rice cooker and a Smart TV but there are so many kinds out there I don't know which one I want. Let me know which ones I should want!
Laneia let me play with her Instax when we were at the senior editor retreat and I fell in love. This camera is so much fun! I just wanted to experiment and try different lighting and snap away. But I wanted to respect Laneia's things so I only took a few pictures like a normal adult. I want one so I can go wild! (That means I also need a giant pack of film to go along with it.) This one is a tad upgrade from the regular Instax and I just really like this body and how retro-y it looks.
My girlfriend and I bought a million succulents to spruce up the apartment — ok, it was only six put it feels like a little army of tiny pokey plants. I love them and they're so cute just sitting there in their plastic black pots. But they could probably unlock an unfathomable amount of adorableness if they were in cute planters. I was planning to make planters out of odd things I found at a thrift store but that trip hasn't come to fruition. I'd be happy with just one of these little guys.
I went to Half-Price Books on a mission to find an adult coloring book because I'm up on all the ~trends~. My choices were limited and I didn't feel any calming feelings just thinking of coloring oceans, sugar skulls, tattoos or buildings. But I really loved Johanna Basford's illustrations the most and looked her up online to find out she has an Enchanted Forest coloring book! I can't color any other blank outlines if it isn't Johanna's Enchanted Forest, goddammit.
I was so inspired by Lydia's post on enamel pins that I browsed the ones she recommended and found this awesome Frida pin. I think it would look good on a denim jacket for sure!
---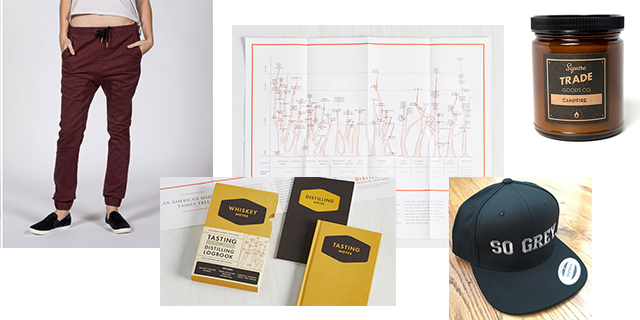 The bottoms/pants in Wildfang's collection are always on point. I'm still feeling the whole jogger thing (or anything with a drop-crotch) right now, so I've had my eyes on these pants for awhile and if someone would just buy them for me I can finally take my eyes elsewhere thank you.
Okay so one of my favorite things about camping (which I do a total of once maybe a year) is having my clothes and hair smell like campfire. Campfire is my favorite smell in the whole world and the fact that someone had the idea to make it a candle that I could have in my home means that someone probably has one billion dollars.
I can't have a gift list without something whiskey-related on it. Okay, first, that goddamn poster combines whiskey and infographics together so beautifully, it's so perfect. The tasting notebook is 144 pages, which totally beats the one I currently have which is like 20 pages and much smaller in size. This is just really good-looking stuff!
The the gift of personal styling! I've tried Stitch Fix, and it's not for me and Trunk Club probably wouldn't work because I don't fit into mens sizes. Greyscale Goods takes care of that middle/grey (get it?) area that I fall into stylistically. Also, you're supporting a small queer-owned business! I'll take a snapback too please.
---
After a long absence from the kitchen, my number one culinary dream is to learn how to make noodles out of vegetables. This requires a thing called a spiralizer and the Paderno version comes recommended.
I just moved to Chicago where temperatures reach a level of freezing fucking cold that my Australian body doesn't quite know how to deal with. My survival plan is to hunker down in my apartment and not emerge until April. For sustenance, I plan to use the Crock Pot we were recently gifted. This recipe book will probably help.
Pages: 1 2 3See entire article on one page