Welcome to Hard Lacquer, your new source for beauty news and reviews at Autostraddle. The world of cosmetics is a vast and shimmering sea filled with mermaids and wonders and ships in the night; but in its fetching waters as on land, we suffer a certain invisibility compounded by the narrow social canon of femininity.
Hard Lacquer turns the tide, providing a lush cosmetic isle for beauty-seeking queers who want a bay to call their own. Each post in the series will kick off with a short roundup of the latest in beauty, followed by a deeper dive into a few special products.
---
WALK WALK FASHION BABY
+ So much incredible transgender model news! An in-depth look at models Isis King, Geena Rocero and Andreja Pejic, plus the NYC-based transgender modeling agency that's taking off in a big, wonderful way. Let's all learn more about Allex!
+ I've often wondered if I'm missing anything in the beauty aisle at Whole Foods. Aside from my semi regular purchases of Weleda Skin Food, I mostly avoid it (though I do have a stack of Mineral Fusion products I need to review soon). Here's a Best Of featuring 21 products you might want to toss in your cart the next time you're loading up on superfoods. Plus essential drugstore products for short hair!
+ Itching to go back to the salon? I've been in the chair twice in the past week, and my tresses have been restored to their impossibly shiny, healthy, brunette glory. Here's an easy, neat trick for knowing whether or not your hair can take another visit.
+ Whether or not you're a J. Crew fan (I'm obsessed with their catalog beauty), this Jenna Lyons essay for Lenny is lovely.
+ Bobby pins will never cease to amaze me. Here's a super cute no-slip braid tutorial that requires just a single bobby pin!
+ HIGH FEMME ALERT! YSL is trying to murder all our bank accounts dead with their bloody Kiss & Love Limited Edition Holiday Collection. *grabby femme hands* I WANT IT ALL.
+ Bless their hearts, this beauty editor team sifted through the massive new repository of H&M Beauty so you don't have to. Check out the standouts here.
---
STARFACE
Glow. Gloss. Luminous. Radiant. Lit from within. Lighting up the room, even!
We've all heard things like this a million times to describe healthy, cared-for complexions. I don't know a single soul who would turn down good skin, whatever their gender expression. If we haven't got it, or it's a bit of a work in progress (as is the case for most of us) we really just want to know how to make it look better. Nobody's asking for miracles here; people generally hope to look their best or highlight the things they like about themselves, and it doesn't matter if you're an old pro or a product-averse tomboy who needs a little help, the solution is a simple one.
This is the perfect time of year to talk about highlighters.
Even though November's been pretty gentle on us so far, we're beginning to feel the effects of fewer hours spent in daylight, perpetually overheated buildings and drier air overall on our skin. That supple glow that warmer temps and higher humidity gave us naturally during warmer months is drying up fast, even though most of us haven't even had the chance to plunk ourselves down in front of a roaring fire yet. (Spoiler alert: Everything that feels good in winter wreaks havoc on your skin. Except maybe heated mattress pads? I'll have to look into that.)
Pumping moisture back in via humidifiers, resisting the temptation of scorching hot showers when it's freezing out, and diligently slathering ourselves in oils and lotions for months on end is great and all, but sometimes you just need a hand.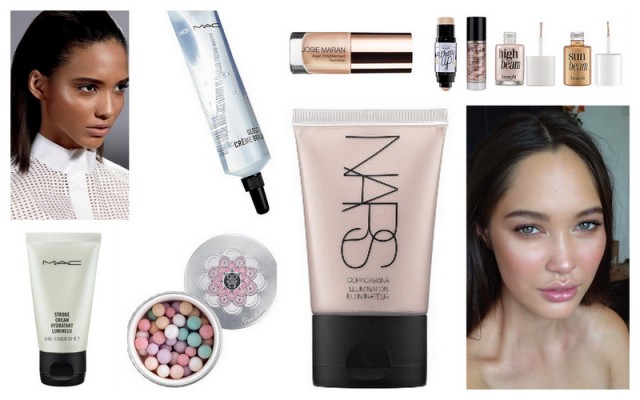 Whether you call it a highlight, luminizer, illuminator or strobe, these products (and their co-captains) provide an easy, agender boost to good-looking skin that we can all get behind.
THE HYPE
Bottom line: "Strobing" isn't new. It's highlighting, and if you're a full-on contour queen, you already know what's up. The prevalence of intensive contouring has been pretty overwhelming and like any trend, its popularity has begun to wane. Contouring takes an almost mechanical, paint-by-numbers approach to playing with light and shadow on the face, so what's left if you take out the shadow and darkness?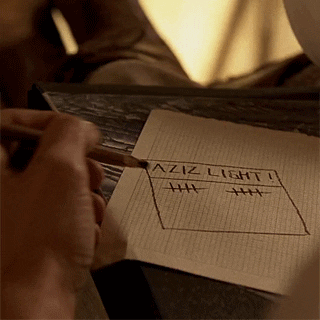 Exactly. Look, I'm not here to tell you that contouring is "over." Contouring has its purpose, it's certainly had a moment and will inevitably be back as does everything else in our tiresomely cyclical consumerist culture, and bronzer will certainly remain welcome on my vanity. Nor am I saying that strobing is a must (though I do find it to be a refreshing shift). I'm sure there are some who won't find it to their liking or feel it doesn't suit them and DO YOU, I say. Always.
I'm here to show you how and why you might use highlight, provide a few product recs, give you some tips and tricks for mastering it, and deliver on that promise for Advanced Highlighting: Mixology for Your Makeup. So, what the heck is strobing or highlighting or luminizing or whatever the heck it's called?
Let's start with the super extreme editorial examples:
Fine, these are pretty intense. Don't be alarmed! I think they look amazing and wonderfully minimalist in a big glossy gloopy magazine way, but can you imagine showing up at work or even to a chill party looking like this? People would be concerned, friends. It is basically guaranteed that someone will hold you down while another person uses an entire roll of paper towels to blot you down, while you whimper "It's supposed to look this way, I swear." Those are not our life goals.
Perhaps something a bit more like this, yes?
Yes, yes, yes! It does something to lift and brighten the entire face, it draws sharp focus to the eyes, and by accentuating the highest planes as if through a melody of light, everything else flutters in to sing the harmony and give things some color. It's undeniably fetching. Face catnip, is what it is. If you're on board, we'll keep going.
THE PREP
You will likely want to have some or all of the following on hand, depending on your usual routine:
+ moisturizer and/or a lovely facial oil
+ face mist, toner or essence water that you can pat into skin
+ serum or other skin treatment
+ your choice of makeup (TM, BB/CC, foundation, concealer)
+ something to highlight with, of course, but we'll get into product specifics below
The way you apply the other products in your skincare arsenal matters, especially in the winter. You should be applying moisturizers to damp skin, which goes for face and body. Some folks keep their lotions or body oils right in the shower so they can seal in as much moisture as possible, and doing the same for your face can work wonders. After cleansing, using a face mist, toner or essence water can prep skin, balance pH and pamper with good-for-you ingredients. Working in your moisturizer and/or facial oil after that locks in the moisture, and helps plump up the skin. Some folks even recommend a good spritz in between layers, but I haven't tried that one just yet — I'll let you know.
Serum is totally optional, but make sure to follow instructions and adjust accordingly if it's to be used on dry vs. damp skin — you may have to give things a minute to absorb before moving on to the next step. And in case you hadn't put 2 + 2 together, this is a good idea whether or not you're strobing, and I trust at least one of those products includes SPF (if not, layer up, my friends).
All prepped, hooray! Now you have three options:
1. Foundation, then highlight.
2. Highlight, then foundation. (Option: Then MOAR highlight.)
3. MacGyver Mode: Blend highlight or luminizer into either your moisturizer or makeup!
One thing you'll notice in these photos is that skin is the star of the show here. When strobing, the rest of the face is pretty low-key, save a soft flick of eyeliner or an ultra-stained lip, and nothing is very distracting. Bold brows and glossy lashes are good, a bit of creamy color in the cheeks is good, but keep the rest understated.
MOC folks who don't typically "do" makeup can stop at strobing and brows, or add clear or black mascara to lashes or a hint of liner if you're feeling cheeky. You can always add a bit of highlight or sheen to any look, of course, but if you're going big, dialing back the rest is a good rule of thumb.
This is probably as far as I'd take it (bonus: before or after w/ a powder highlight, double bonus: look at those incredible grey locks!). You will have to use your own judgment and experiment and play with different combinations to see what works best for you and your products, but I can promise you two things: You can always build up to more sheen and you can always mellow it out if you've overdone it. As far as test-driving something new goes, this is pretty low-risk. Let's go over the myriad products you have to choose from before we jump into application.
PRODUCT 101
Sephora shows a whopping 95 products in the "luminizer" category, split across eight subcategories under two groups: Liquid/Cream vs. Powder. You'll find balms, creams, gels, liquids and pencils on one end, with loose and pressed powders on the other. Typically, oily skins may prefer powder products but not necessarily, and dry skins will likely steer clear of them rather than risk accentuating dry patches.
What luminizers shouldn't do is make you look sweaty or greasy or like a disco ball, which is to say you want a very, very fine shimmer or sheen instead of anything that reads as glittery or sparkly. Should you adhere to shimmer over sparkle, I think you'll find powders in general to be a bit more subtle and beginner-friendly, though you will benefit from having a nice fluffy brush in your possession. If you just want a hint of moonlight to kiss your face all over, powder might be the way to go. If you want to look like you bathed in the milk of moon and starlight mixed together, the payoff might be higher with creams and liquids. Maybe you'll want one of each, I don't know your life!
In terms of color, you certainly don't want to fight your skin tone, but most luminizers aim to be a) sheer and b) crowd-pleasers. You'll find your standard golds and pinks and rose golds and silvers or champagnes all the way to bronzes and red-based hues for deeper tones, so bear that in mind if the product you're after offers multiple shades. We'll get into how to lighten or deepen more neutral shades in a bit (because it's just really not that serious and super easy to tweak on your own), but for now, here's a loose guide for color that might be helpful:
Another thing: I have yet to hit pan on a freaking highlighter, hand to god. (In fact I'm probably breaking my own rules by hoarding so many, but the majority of them have very hygienic packaging). I think most of us are happy enough to get out of the front door on a regular basis not looking a fright, so chances are whatever you buy will last you a good long while since it's something you use sparingly and infrequently. I can't stress enough that this is a product that should be fun and playful, not something you have to agonize over.
Most of the ones I'm reviewing here are from my own personal collection, but some amazing folks put together Best Drugstore Highlighter Guides here and here, so bookmark those for later! I'll rate each on a shimmer scale of 1 to 5, 1 being a maddeningly subtle-but-alluring glow and 5 being, like, the product version of Rihanna's Diamonds.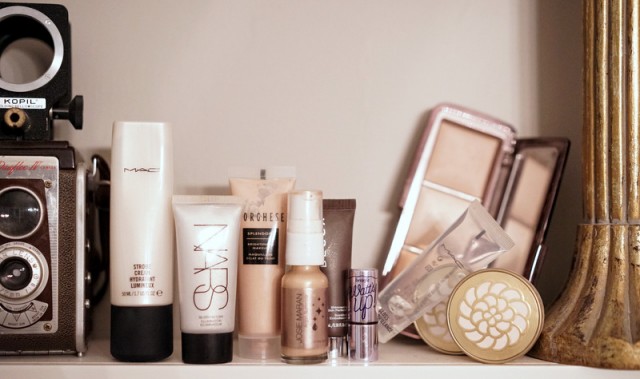 L to R, beginning with MAC Strobe Cream, $33: Technically "a moisturizer that boosts the look of dull skin and luminizes with iridescent particles," but definitely popular as a product to mix in with your foundation or TM or what have you. I use it every which way! Paula's Choice gives it a whopping four stars, saying it's "a well-formulated moisturizer brimming with the essential elements normal to dry skin needs to look and feel its best." Shimmer scale: 1
NARS x Andy Warhol Illuminator in Silver Factory, $9: This was a generously sized mini in a Limited Edition gift set, and it's like someone crushed a bunch of mirrors and diamonds into the finest next-to-nothing dust and then mixed it in with mercury and white gold. Beautiful. Far more elegant than you'd think. If you're looking for something similar, they have four permanent shades that mirror their ubiquitous The Multiples (all-in-one, cream-to-powder, multipurpose makeup sticks that are also an excellent choice for highlighting) — like Orgasm and Copacabana (my first ever Multiple and highlight product!) Shimmer scale: 5+
Borghese Splendore Brightening Makeup, $30: This is super similar to MAC Strobe Cream in that a ton of folks use it mixed in with their moisturizer, foundation, TMs, BB/CC creams, etc. It's got quite a dusty rose hue so I'm not sure who would wear it alone, but its formula lends itself well to mixing. Shimmer scale: 1.5
Josie Maran Argan Enlightenment Illuminizer, $26: A "concentrated radiance liquid for the face, with high-performance crystals that are infused with multicolored luster pigments to capture and reflect light." The pump drives me bananas and the texture's a bit tricky to work with on its own, but it sings when mixed with more emollient base products, and a little goes a very long, terribly pretty rose gold way. Not sure how different my discontinued version is from the new one, but I'm sure they've only improved the formula since. Shimmer scale: 3.5
Becca Shimmering Skin Perfector in Opal, $41: Billed as a "grown-up highlighter" with a 4-star mark from PC and then some at other sites, this is an absolute cult favorite for subtle luminosity. You get a ton of product for your money, and it's incredibly versatile; you really can wear it alone, under makeup, mixed in with makeup, over makeup. It's soft and lovely, and in addition to the universal nude of the Opal shade, there are four others. They've expanded the range to include versions in poured and pressed powders as well. Shimmer scale: 2.5
Benefit Watt's Up, $30: A champagne cream-to-powder highlighter, delivers ever-so-slightly more noticeable shimmer than MAC or Becca. While the application couldn't be easier, you'd probably get more mileage, both in terms of wear and versatility, from one of their "Beam" liquid highlighters. I love the bronzy Sunbeam myself, but there's also the peachy Moonbeam and pinky High Beam. Shimmer scale: 2
Guerlain Meteorites, $62: Stupid expensive, fancy as fuck, these smell like old money and fresh violets piled high on the graves of your sworn enemies, and they looked like mega crushed diamonds in shades of ghostly pearl (Blanc de Perle), pale pink (Clair), medium (Medium) and a deep rosy-violet (Doré). I use Medium (it used to be called Beige Chic, I think) as a super luxe all-over finishing powder and have mixed Clair and Doré together for a soft and lovely pink flush. Mine came in a trio of minis at a duty-free, they're quite messy but it's fun to swirl your brush over them (you WILL lose a pearl or two in the process, and it WILL send you scrambling to look for it), and I'd err on the side of using them only for evenings or risk sparkling like a Cullen in daylight. Still I hold them to my bosom like I'm Little Edie or something, because I like fancy stuff. Nobody needs these, no one. Shimmer scale: 3 at night/5+ in daylight. 
Hourglass Ambient Lighting Palette, $58: Speaking of stocking stuffers, this palette is the bee's knees. I've taken it on every vacation and road trip I've been on for a year, haven't come close to making a dent and should probably use it more often. I usually swirl them all together and give myself a very light dusting for all-over radiance, but I've been tinkering with using them individually as well. Dim Light has almost no shimmer and is a neutral peach beige well-suited as an overall finishing powder, while the golden beige of Radiance Light is good in lieu of bronzer or as a highlight for olive and tan complexions. The middle shade, Incandescent Light, is exclusive to this palette and is a lovely traditional highlight. It's expensive but really is a 3-in-1. Shimmer scale: Varies, Dim = >1, Radiance/Incandescent = 2.5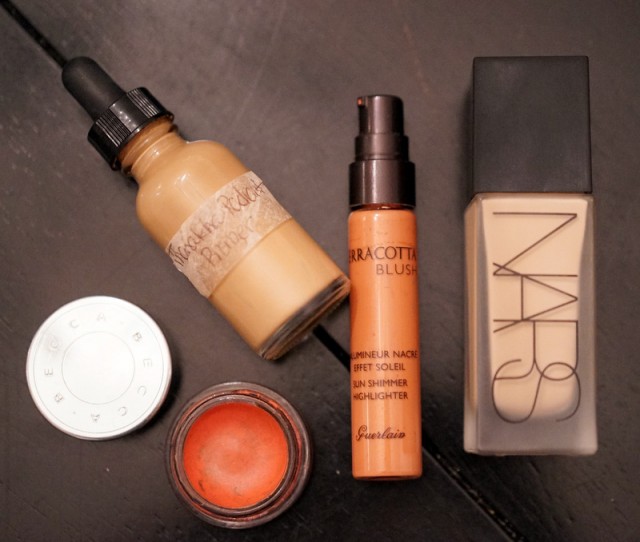 Alternatively, you can try products with some pigment in them! The Becca pot is a timesaving Beach Tint Shimmer Soufflé in Papaya/Topaz that delivers a rich pop of color with a shot of gold shimmer, and other shades include a goldy nude, raspberry, two corals and a bubblegum pink. They work beautifully on lips as well. This Terracotta Blush Sun Shimmer Highlighter in Spicy Coral from Guerlain is a gorgeous sheer liquid that warms up cheeks naturally and imparts a subtle bronze glow (NARS Illuminator in Super Orgasm might be a good alternative).
Finally, Volition's Thanakha Radiant Bronzer is one of the raddest products to land on my desk in awhile. The consistency is amazingly light and it absorbs quickly into skin, leaving behind a soft warm glow that's a dream base for the rest of your makeup. It's also perfect for strobing or as an easy bronzer, but the way I use it the most is adding a drop or two into my foundation, like this NARS All Day Luminous Weightless in Vallauris, or moisturizer! Mine is a prototype but it'll be in production soon, and a steal at $24 for 1 oz. — you can help hurry things along (and maybe you'll see my name on one of their products someday) by voting here.
Let's Get It On
Basic Strobing
Remember when I said it was easy? That's because it is. You've got your product, you've prepped the skin, you're ready to roll. In terms of technique, Byrdie says "the idea is to accentuate the high points on your face — the places where the light should catch. The outcome is the illusion of high cheekbones and strong features, with a glowing finish that makes your skin look radiant. Simply tap your favorite illuminating highlighter on the tops of your cheekbones, the inner brow bone above your brow, the outer brow bone below the tapered end of your brow, the inner corners of your eyes, the bridge of your nose, your Cupid's bow, and the apple of your chin."
That video is super cute and fun and quick, but if you want an at-a-glance guide, The Beauty Department always delivers!
With this approach, you can use just about any sort of highlighter, and in a pinch, some folks mix loose pigment or eyeshadow to DIY their own (at their own risk, of course). Powders may not be as long-wearing as liquid versions, so I recommend setting them with a face mist or setting spray to lock it in. It'll intensify the strobing effect, too! Creams and liquids will really cling to the skin beautifully, but they're a little less buildable since the whole vibe of strobing or highlighting is a natural, sheer glow. You really want to avoid the look of product piled on and just lying or sitting there on top of the skin. Blend, blend, blend, either with your fingers, a brush or a complexion sponge.
Shout out to this girl's GIFs, they're great and she looks effortlessly strobed at the end. See? Easy!
Layer Cake
If you're leaning towards a product like MAC, Becca, Borghese or Volition, you can play it safe and put it on straight over your moisturizer, under your makeup. This way the glow will be subdued and show through the veil of whatever you intend to put over it. A good way to get into it if you're not too sure about full-on strobing, and if you like what you see, you can always go back over your makeup and crank up the lights.
Another method is adding a tiny drop or two to your moisturizer, or right into your foundation or TM/BB/CC creams, for a really soft overall sheen. The reason I started blending Thanakha Radiant Bronzer into my NARS foundation was because the coverage was way too heavy for me — after some experimentation, I realized that a drop each of NARS, Thanakha and Strobe Cream or another moisturizer or face oil was the perfect custom coverage for me! Sheer, glowing, flawless.
Obviously, you can't really do this with powder versions, which is why a liquid is nice for versatility and trying out a bunch of different things. This is a good for non-makeup wearers to experiment with adding a little to their daily moisturizer; classic strobing might not feel like a good fit, but by integrating just a hint into an everyday product, you might find that you love the effect!
Another way to layer or mix it up is by going back over your cream strobing with a little powder. We do this all the time for locking in a strong red lip, and the principle is the same here — mix strobing cream into your moisturizer or foundation, add it to the high planes, set it with a highlighting powder and a spritz. Let's take a look at my (awkwardly outstretched) highlighter arm party to see what all these things look like on human skin parts:
Same order as above from L to R, beginning with MAC Strobe Cream ($33), NARS x Andy Warhol Illuminator in Silver Factory ($9), Borghese Splendore Brightening Makeup ($30), Josie Maran Argan Enlightenment Illuminizer ($26), Becca Shimmering Skin Perfector in Opal ($41), Benefit Watt's Up ($30), MAC Gloss Creme Brilliance (which is clear and which you can barely see, it's just shiny clear goop).
Nothing but a CC loaded with SPF, loads of highlight (seriously, I think I mixed the Josie Maran with Borghese, Volition and Benefit), and Becca sheered out on lips and cheeks for color, plus a swipe of Clinique High Impact mascara. I really loved blending them all out and seeing how crazily they shifted in the light. This could be your face!
A few more tips/reminders:
Warm up your product! Use your fingers or just let it sit on your skin for a little bit before you work it in.
Just can't get enough bounce in your skin? Try a Korean Bounce Cream. I like Belif, which smells like Sprite.
Don't forget a hydrating face mist! No Evian! I love Lush Eau Roma, but am on the hunt for something new when I run out! Look at these cutie pies!
That was a lot to cover, but I hope you're feeling inspired to give this a shot. It's a gorgeous beauty trend that should stick around awhile, I hope, and I'm sure loads of us will keep strobing come hell or high water. Let me know if you have any questions or are wondering how to make a product in your makeup drawer work for you, and let me know what you'd like to read about next time, sugarmuffins!