First; some announcements!
1. Crystal needs an Australian music writer! We're calling for music enthusiasts from Sydney who would like to help with concert and album reviews and interviews. Experience isn't essential – we're mostly interested in your writing skills and confidence to do interviews. This isn't a paid gig. We're seeking students and budding writers who are motivated by the chance to develop a portfolio. And free stuff.
2. We're working on a sort of "welcome to the redesign" letter to tell you what's changing here, how awesome Tess & Alex are, what still needs to be done, and address any issues you have with the site. If you do encounter any kinks, email alex[at]autostraddle.com.
3. Thank you to everyone who's contributed to our fall fundraising drive! You still have six more days to help us support this place!
4. We're in Los Angeles right now, which means we can do a little Advice Column Vlog for you. So, if you have any questions for Riese & Haviland's advice column, email us asap at yourmom[at] autostraddle.com!
Here's how that goes, btw. You give us questions, we try to answer kinda:

I Hope they Serve Beer in Tucker Max's Hell Award goes to Sapphicsass on "We Inexplicably Continue to Care About Tina Kennard's Whereabouts": "I want to dip Tucker Max in a vat of Kibbles n' Bits and bacon grease and drop him in a cage of starving rabid dobermans."
Lesbian Identification of Crazy People Award to Bren & bcw in response to When Hollywood & Late-Night TV Tackle Health Care, "Funny, or Die?" Becomes an Actual Question: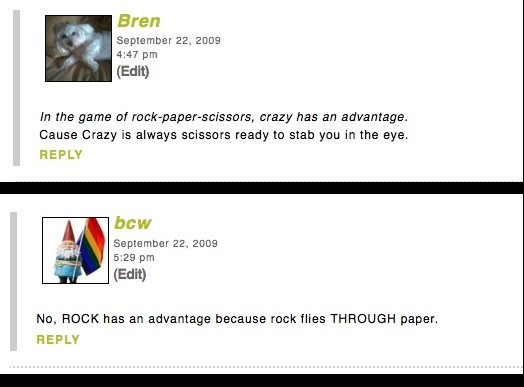 Inappropriate but True Award to Mindy on Lesbian Music Prodigy Helen Goddard Jailed for Teacher-Student Affair, Using "Fuzzy Handcuffs": "I'd let her teach me a thing or two …"
Foresight Award goes to Ryan on : Lesbians Have Secret Sex Lives and Alternative Lifestyle Haircuts:"Wow. After reading this, I'm pretty sure I will one day start a band called "The Authority on All Things Vagtastic". And I'm a gay guy……"
---
Before you go!
It takes funding to keep this publication by and for queer women and trans people of all genders running every day. And A+ members keep the majority of our site free for everyone.
Still, 99.9% of our readers are not members.
A+ membership starts at just $4/month.
If you're able to, will you join A+ and keep Autostraddle here and working for everyone?
Join A+