WOMEN IN ENTERTAINMENT: Variety's Women's Impact Report '09 is a pretty special special feature. Jezebel breaks it all down for you ("It seems Mad Men's January Jones has taken Tracy Jordan's advice to "live every week like it's Shark Week" to heart,") and here's the gay parts:
Jane Lynch: "Funny femme makes 'em laugh with classic lines" – It's hard to explain the genius of Jane Lynch without quoting from what might be her ultimate performance, as children's counselor Gayle Sweeny in the 2008 film "Role Models."
Listeners, Charts go gaga for Lady Gaga:But perhaps more importantly, she displays a new-media cunning that hinges on a seeming contradiction — attaining an aura of mystery through relentless overexposure.
MSNBC's Rachel Maddow Emerged as a Rising Star: One of the biggest winners of last year's presidential election wasn't even running for office.
POWER OF WOMEN LUNCHING: Variety even hosted a Power of Women Luncheon to accompany the aforementioned feminine fiesta. Here's how that went, with captions!
THAT'S GAY: Your coming out better live up to these teevee examples of coming out or you're wasting an opportunity for glitter and joy:
TOOL ACADEMY: Tool Academy is now casting gays & lesbians for its next season: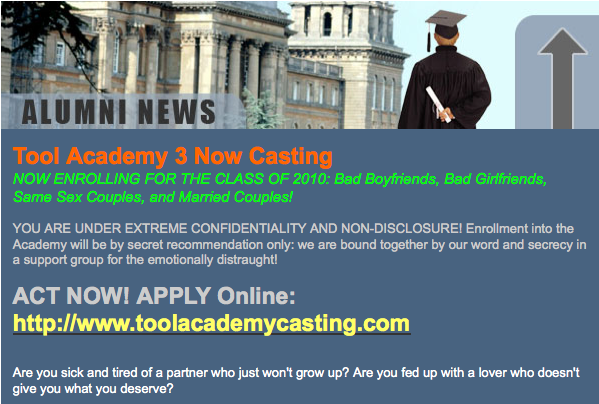 REAL WORLD: The girl who kissed a girl on The Real World Cancun actually has a girlfriend now, therefore proving that all that gratuitous girl-on-girl action can actually lead to girl-on-girl romance! You can follow their love affair on twitter as an anidote to SamRo & LiLo. BTW, Samantha Ronson is going to be on 90210. I don't know where I read that though.
ELLREW: While I don't think I necessarily agree with the premise of the question: NOW asks: If Drew Barrymore and Ellen Page are such a public item, why wouldn't Barrymore put any dykes in her directorial debut and TIFF entry Whip It? It's an interesting article, that also goes into so much lesbian and queer content at TIFF where you'd least expect it.
SCENESTER: LA Scene 2009: Mia Kirshner's book party, Elizabeth Keener & girlfriend Jamie Lauren and Susan Miller's new play. (@afterellen)
LESBIAN SEX IN THE CITY: I Got Cast as a Lipstick Lesbian in Sex and the City and lived to tell the tale: "I spent 14 hours of the longest day of my life as an extra on Sex and the City 2 this week. And then, instead of going back for the second day (and the five nights I was supposed to do in October), I quit." (@thedailybeast)
SKINS: From Autostraddle Arts & Entertainment, Skins Recap, just the Lesbian Parts: The Ballad of Naomi & Emily Part One Crystal recaps Skins. (@autostraddle)