Once upon a time (October 9th-13th, to be specific) in a land far far atop a mountain two hours outside of sunny Los Angeles, approximately 275 queer humans gathered for four days and four nights of revelry, carnivalia, intellectual stimulation, dance parties and deep sea bonding. They called it A-Camp 4.0, and it was beautiful! This is the second of four fantastic recaps which serve to ease our collective separation anxiety, give you a behind-the-scenes look at how your A-Camp soysage is made, enable us to wax nostalgic over times gone by and provide prospective campers with a brilliant glimpse into the A-Camp Experience.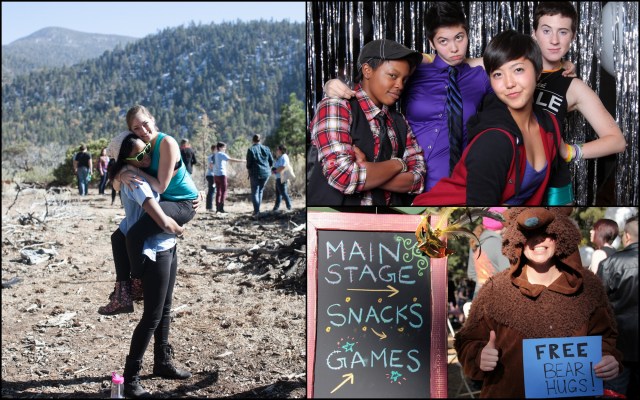 A-Camp was the genesis of an idea Riese had at 3AM in July 2010: the concept was to take the spirit of the website into three glorious dimensions by renting a summer camp in the off-season and jam-packing a long weekend with panels, workshops, discussions, crafts, sports, entertainment, parties and so much more! We gave the idea a spin with an abbreviated, smaller edition of A-Camp in April 2012, followed by full-size full-length camps in September 2012 and May 2013, all hosted by everybody's favorite dynamic duo, Julie Goldman and Brandy Howard. Which brings us to October 2013, the Little Camp That Could!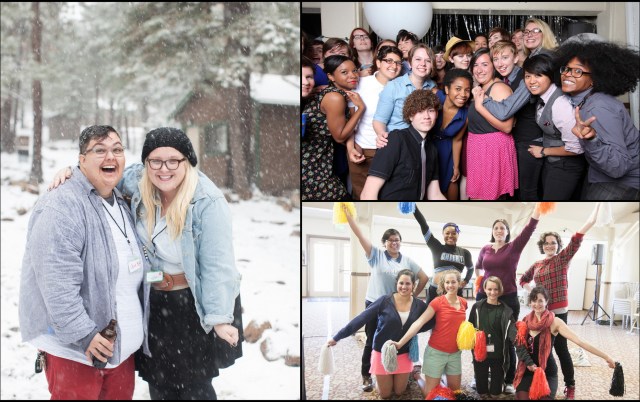 This fall's camp was unforgettable and fucking awesome. Our amazing team was complemented by talented Special Guests including comedienne DeAnne Smith, new media superstar Hannah Hart, Me & My Bois collaborators Lex Kennedy and Emotions the P.O.E.T., rock star Somer Bingham and songstress and actress Haviland Stillwell. Our camp staff included Autostraddle.com team members, A-Camp Tumblr Inventress Emily Gigler and Autostraddle Calendar Girls Miss October 2014 Kai, Miss February 2014 Chloe and Miss June 2013 Dani.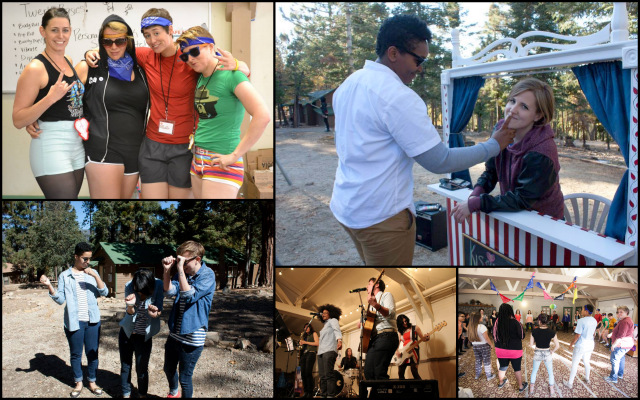 WELCOME TO DAY TWO OF OUR JOURNEY TOGETHER!
---
A-Camp October 2013 Recamp #2: Day Two
Thursday, October 10th: Day Two of A-Camp
Robin, A-Camp Co-Director & Photographer: The morning was so incredibly beautiful. The sun beat down on tree branches weighed down by heaps of wet snow dripping steadily to the ground. By afternoon, camp was almost dry! It felt like a magical and cozy winter wonderland!
Megan, Program Support Coordinator: The first breakfast with campers is my favorite. There's an energy and anticipation, and everyone is so excited for what's about to happen, even if they don't really know to expect.
Thursday Morning

Activities: Party of Ones: Introvert Feelings Atrium (Riese & Crystal) // Make a Thing: Merit Badges (Hansen) // Pure Poetry Challenge (Carmen & Kai) // Rage Against the Machine (Taylor, Bren & Cee)
But I'm a Cheerleader for Real (Kai) // Crazy/Beautiful Panel & Discussion (Riese, Taylor, Dani & Donna) // First Person Feelings: A Writing Workshop (Rachel) // Nailed It!: DIY Nail Polish & Makeup (Hansen, Mey & Kaylah) // Music Trivia (Stef, Crystal, Cara & Lane)
Crystal, Heartthrobs Counselor & HR Director/Writer: Being introverted at A-Camp is sorta my thing, so I was really excited about Party of One: Introvert Feelings Atrium.
Riese, Runaways Counselor & Editor-in-Chief/CEO: We've done introvert meet-ups before, but I felt like we needed to shake it up this time with an activity that talked about something I have in common with seriously like 50% of the campers – BEING A WEIRDO INTROVERT.
Crystal: So many campers showed up! More than we had anticipated. We played a game based on what kind of introverts we are, which involved stepping back and forward to indicate the accuracy of statements such as "I keep my cell on silent because the noise sends me into a hot panic." Riese and I (mostly Riese) dealt out some advice about fears and so did a lot of new and returning campers, I learned a lot.
Hansen, Hearthrobs Counselor & DIY/Food Editor: I am always really humbled by the incredible things campers make at camp and Make A Thing: Merit Badges was no different. People are so creative! Lanie made me a Snow Camp badge that I wore the whole camp with pride. There were so many people making badges that we ran out of supplies and everyone pitched in (Anna even went and grabbed her own sewing needles for us!) and it was just delightful.
Carmen, Holograms Counselor & Contributing Editor: My Pure Poetry Challenge introduced me to an entirely new poetry crew, but the ending was just the same: sex, sex, sex, bears.
Emily, Rockford Peaches Counselor: I stopped by Kai's Cheerleading Workshop because Kai's so much fun and I dig KPop and I told her I'd swing by. If there was a superlative for least likely to be a cheerleader I'd be it. But then before I knew it my head was up in the rafters while I white-knuckled some pompoms and trusted the shit out of the campers holding me up. It was awesome. Kai's an amazing coach, and when she tells you to put your ass up, you do it.
Robin: I don't get to attend many activities at camp, but I was able to catch part of Kai's workshop and was amazed at what these campers learned how to do! I took photos and video of their performance! I was so impressed by our new staff member Kai who taught these campers lifts and an A-Camp themed cheer!
Yvonne, Stormtroopers Counselor & Associate Editor: The greatest moment at A-Camp for me was definitely that workshop. Kai, Autostraddle's October calendar girl, told me that I should come to her workshop. I've never had a dance or cheer lesson in my life, not even as a kid, and I'm not a peppy person so this was definitely out of my comfort zone. But I decided to go try something different. I do not regret going because it was so much fun! We learned a cheer routine, some stunting and the official A-Camp cheer. Kai was a great teacher and her pep was definitely contagious. By the end of it I was cheering and moving those pompoms so hard!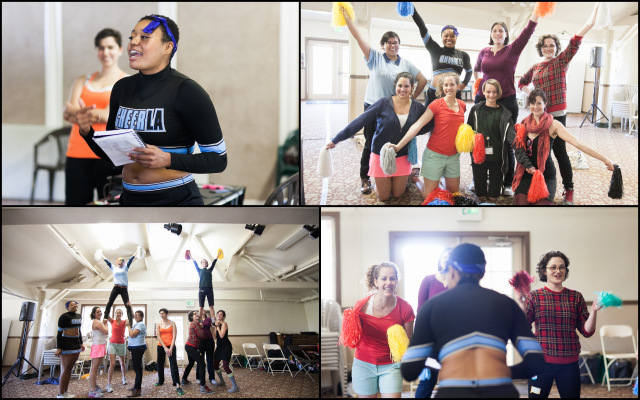 DeAnne Smith, A-Camp Talent & Writer: The Crazy/Beautiful Panel was Crazy Beautiful. It was really wonderful to hear everyone talking about their experiences, and how they've learned to cope with their beautifully complicated minds and body chemistries.
Riese: We've had lots of requests to do mental health related stuff at camp, but it's a tall order because it's so easy to fuck up. Taylor and I talk about mental health stuff a lot because we're both crazy, and she had a proposal for a panel/discussion this time that sounded do-able. We recruited fellow crazies Dani RDS, Somer and Donna — it was extra-awesome to have Donna there because she has a master's degree in therapeutic interventions. A-Camp's Director of Feelings Sarah Evan was still on the road when we got started, but she popped in at the end!
Donna, The Gossip Counselor: Meeting Sarah Evan was a total delight. Something about her made me want to spill all my darkest secrets immediately. She rolled up to camp and jumped right in the Crazy/Beautiful panel. As soon as she opened her mouth she spewed therapeutic gems, and I thought, "I have to hang out with this human. "
DeAnne Smith, The Talent:In lesser hands, this type of panel could have gone sobbingly, uncomfortably, horribly awry, but this panel was a perfect balance of vulnerability, education, practical advice, de-stigmatization (is that a word?) and humor.
Riese: Although it wasn't our intent, I think having Crazy/Beautiful on the first day set a tone of like, "FYI, you are totally not alone, you are amongst friends who get you, you can trust us, so take a deep breath and HAVE SOME KICKASS FUN!" Personally I feel like the sense of outsiderness I felt being crazy in a sane world overshadowed any possibility of discovering my queerness until I was fully medicated and therapized at the age of 23. So I think it's a really important and unique discussion to have with a group of assorted crazy-ass homos.
Rachel, Girltrash! Counselor & Senior Editor: My first workshop of camp was the Mini Writing Workshop on Personal Writing that I've done every camp. Traditionally, this workshop has been attended by 5-8 people; this time, it was attended by TWENTY-THREE, which was insane and made me nervous that people had only attended because they thought it was something else, possibly a workshop wherein we would learn how to spin texts from our exes into gold, and that I would inevitably disappoint them.
Laneia, Runaways Counselor & Executive Editor: I was working on my piece for that night's Staff Reading on the other side of  Eagle Annex, where Rachel was holding her writing workshop. I overheard a couple of the exercises and prompts and it made me want Rachel to be my personal writing workshop teacher. It was so good and perfect.
Rachel: I think it seemed generally well received, however, and I am super grateful to everyone who attended! Thanks for restoring my faith that sometimes people might be interested in talking with me about writing even when they aren't required to by a university.
Stef, The Gossip Counselor & Music Editor: This Music Trivia was a little different – we swapped out Somer for Cara, and had the additional help of Lane and Sophia. Crystal acted as the scorekeeper, and I took over tossing candy out to teams who got the answers right.
Crystal: Everyone answered questions about Riot Grrrl and Hip-Hop and Former Disney Child Stars.
Stef: Crystal never told me, but candy-tossing turns out to be the worst job in all of music trivia, mainly because of guilt. I beamed several members of the purple and orange teams in the head with Tim Tams multiple times, and felt terrible every time. Near the end, I was just walking over to each team and solemnly handing them Toblerones.
Crystal: I didn't tell her that it was the worst because I didn't want to do it myself. Sorry Stef.
Stef: Despite my poor aim, the competition was pretty heated, and in the end the Orange team won – and their MVP received a pack of feminist musician playing cards, our first ever actual prize.
Sophia, Holograms Counselor: I felt a bit aimless in the morning but I knew there would be candy at Music Trivia and although Cara, Lane, Crystal and Stef seemed like they had it down I thought perhaps my help was needed and perhaps I might be rewarded for being so generous with my time.
---
Next: Thursday Afternoon brings love and light into our lives!
Pages: 1 2 3See entire article on one page