Hey snowflakes, it's cold in New York this time of year! I moved to Boston a couple of months ago but I was actually just visiting NYC this past weekend, and I was around yesterday for the first snowfall of the season. Now I'm back in Boston and I've gotta be honest, I wish I wasn't. Why? Because Mary Lambert is visiting the Big Apple this weekend, and you all know how deeply I love Mary Lambert.
Mary will be performing two intimate shows on Saturday, Nov. 16 to help keep you warm in the wintery weather, and I've decided that if I can't attend, well then, one of you beautiful Straddlers should. For free! That's right: We're giving away two tickets to see Mary Lambert perform in New York City this weekend! Like I said, Mary is performing two shows this weekend, so just to be super clear, this giveaway is for two tickets to her 10pm show on Saturday, Nov. 16 at SubCulture (45 Bleecker St., downstairs). Now before I die of envy, let me explain to you how you can enter this giveaway.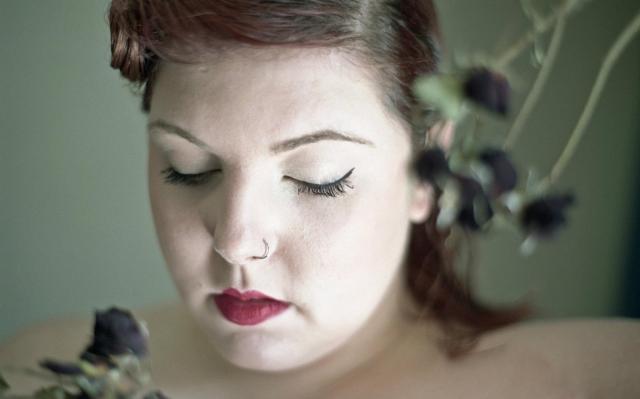 In order to enter this contest, you need a Twitter account. Here's what you're gonna do.
1. Hop on over to Twitter.
2. RT this tweet:
NYC! Win 2 tix from us to see @marylambertsing at @SubCulture_NYC this Sat 11/16 by RTing this tweet http://t.co/WcUULf66Xd #shekeepsmewarm

— autostraddle (@autostraddle) November 13, 2013
3. We'll pick a winner at random and announce it on Friday, Nov. 15 at 8pm EST (on Twitter and in an update to this post!). The winner can pick up the tickets at the box office of SubCulture, the venue where Mary is performing.
UPDATE: CONGRATS CAMILLE! ENJOY THE SHOW!
congrats to @cberedjick, you are the winner of our @marylambertsing ticket giveaway! plz let us know that you can def make the show tmrw!

— autostraddle (@autostraddle) November 16, 2013
Please only enter this contest if you are definitely free to attend the show at 10pm on Saturday, Nov. 16. 
I feel like this is all pretty self-explanatory, but if you have any questions, let me know in the comments!
---
Mary is performing at 7:30pm and 10pm on Saturday, Nov. 16 at SubCulture (45 Bleecker St., downstairs). If you'd like to attend the show but don't feel like entering the contest, would rather go to the earlier show, or want to be 1000% sure you get tickets before they sell out (I don't blame you!), head over to SubCulture's site to purchase tickets for $15-$20. And if you want more Mary (and who doesn't?!) be sure to check out our previous coverage and her website.
Good luck, NYC babes. I miss you and I'm envious of your lives!