Welcome to the second of four fantastic recaps of our experience at A-Camp 3.0, which took place 2.5 hours outside of Los Angeles at Alpine Meadows Camp atop a mountain in Angelus Oaks, California, from May 23rd-27th, 2013. These recamps serve to ease our collective separation anxiety, enable us to wax nostalgic over times gone by and provide prospective campers with a brilliant glimpse into the A-Camp Experience.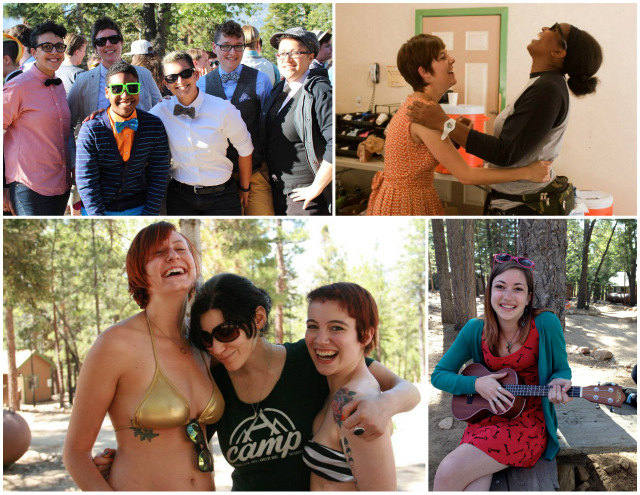 A-Camp was the genesis of an idea Riese had at 3AM in July 2010: the concept was to take the spirit of the website into three glorious dimensions and create an affordable vacation for queers for whom other lesbian-marketed vacations aren't a perfect fit.  In April 2012, we did it for the first time— along with 160 campers and 35 staff members, we rented out a summer camp in its off-season and enjoyed a transformative weekend of fun, friendship, panels, workshops, classes, sports, entertainment, events and so forth. It was probably the most awesome experience of our life and we knew from there it would only get bigger and better — and it did, in September 2012!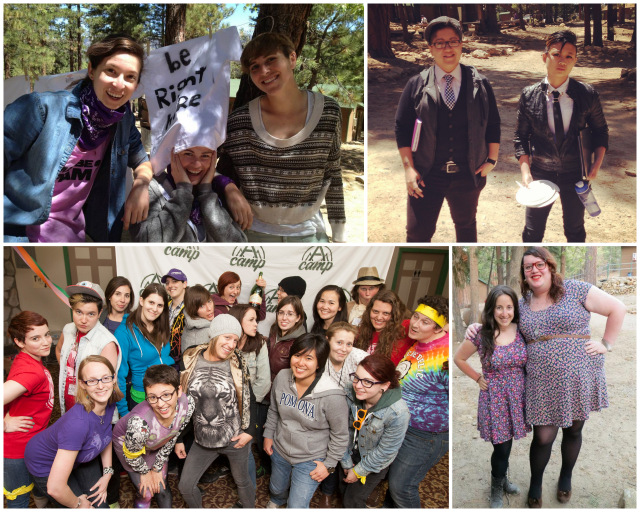 Which brings us to May 2013, when our largest-ever group of campers arrived on the mountain, and were greeted by dedicated counselors and treated to four days of kickass programming. Swagger 101! Comedy Improv! Yoga! DIY Body Scrubs! Hop-Hop Dance! Kink Panel! Know Your Whiskey Tasting! Recess Games! Drag King Workshop! Femme Luncheon! Lilith Fair! Julie Goldman & Brandy Howard! DeAnne Smith! Somer Bingham! The cast of Unicorn Plan-It! Calendar Girls! Team Autostraddle! Most importantly: EACH OTHER! And So. Much. More.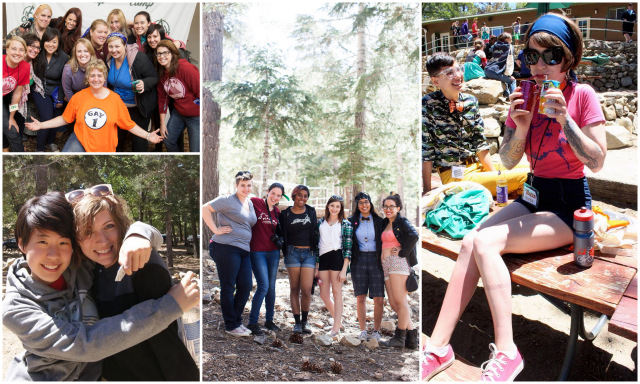 In the past, these recamps have been exhaustive recollections of every minute of A-Camp, but this time we're tightening it up a bit. See, A-Camp is whatever you want it to be — and it's something different for everybody. You all have your own stories in your hearts and brains and cameras and in the notebook paper pieces in your back pockets and this is our story of what goes on behind-the-scenes and also in the front of our brains to make this whole she-bang come together with relative grace. Are you ready? I don't think you're ready. (Also, we miss you!)
---
A-Camp May 2013 Recamp #2: Day Two
Friday, May 24th: Day Two of A-Camp
Our first full day of A-Camp was jam-packed with Big Panels and concluded with an Evening of Feelings-Related Entertainment.
Friday Morning
Block A: The Truth About Cats & Dogs (Mary & Jill) // Gay Movie Trivia (Brittani, Kate & Carly) // What Makes Queer Family Queer? Panel (Laneia, Carrie, Riese, Whitney, Somer & Robin) // T-Shirt Cutting/Stenciling (Carmen & Medd) // The Care and Keeping of Plants (Kristen & Cara)
Block B: DIY Projects: Car Repair (Jill) // Introvert Meetup (Crystal & Whitney) // Non-Monogamy Discussion (Daniela, Jen F, Stef, Kay M) // Comedy Improv Workshop (Brittani) // Bloody Hell: A Menstruation Feelings Atrium (Laneia, Rachel, Lizz, Ali)
Cee, Technical Director & Golden Girls Counselor: I woke up at 6am Friday morning and dragged Jill over to see the trash can and look for bear prints.
Kristen, Contributing Editor & Scissor Sisters Counselor: I kept waking up at 6.30 even though official things didn't happen until 8.30. But I met a bunch of weirdos with equally fucked up sleeping patterns and fresh brewed coffee to boot. So while everyone else was working off their hangovers I met up with the Breakfast Club and traded gummy Vitamin B12 for paper cups of French press coffee. I'd like to thank Melisa, Meredith, Stephany, Naomi, Crystal and everyone else for introducing me to Trader Joe's Cookie Butter, TimTams and 4,000 Femme and Not-So-Femme Feelings.
Gabby, Writer & Foxfire Counselor: I was so so sick! I was burning up with fever and feeling like I was going to faint! Holy crap, could I please just take a moment to thank Megan for everything she said/did on the mountain and in the way she had my back and giving me Tylenol and Gatorade and hugs? Literally, every time we bumped into each other, Megan asked me if I was ok, if I needed help, handed me some type of hydration, huggation – literally she even sat with me for a moment when I felt dizzy and wanted to cry.
Mary, Calendar Girl & Little Rascals Counselor: Leading The Truth About Cats and Dogs discussion with Jill is always a highlight. Listening to her talk about anything makes me feel like all is right in the world.
Cara, Contributing Editor & Bombshells Counselor: The Care and Keeping Of Plants was the only workshop I helped lead and I was SO NERVOUS about it. Luckily A-Campers are so smart and awesome that every activity ends up a crowdsourced cabinet of wonders. The picnic tables were soon as smorgasbord of glitter paint, artful twigs, homemade seed envelopes, and really great advice about keeping green things alive in the New Mexico desert.
Crystal, Music Editor & Toros Counselor: The Introvert Meet-Ups are always a really chill time. Whitney and I broke everyone into two groups and we sat around getting to know each other via a series of conversation-starter style questions about our hopes and dreams and worst first dates. It was really great to see all the campers hanging out together once the event was over, that was the best part.
Sophia, Inferno Counselor: I learned a lot from Jill's Car Repair I mean, I don't know how to drive but I did really enjoy watching that butch action in in the sunshine, just gotta say.
Stef, Contributor & Bombshells Counselor: I asked to be on the Non-Monogamy Panel this camp 'cause I actually have a ton of experience despite not really identifying as a polyamorous person, and I've never really talked about it in public before. It was really cool to sit on a panel with four super knowledgeable babes and share our experiences. Like so many activities at camp, we talked a lot about communication. Communication! You should do it.
Daniela, Intern & Starjammers Counselor:  Stef and I sat along with three campers and told a chunk of camp about our experiences, knowledge and understanding of relationships outside of monogamy -we each had an approach that illustrated just how different non-monogamy is for each person. I loved hearing experiences from the audience and being there to validate one another over the challenges we face as people in non-monogamous set-ups. More than anything though, I really liked how the take away was you do you because you're doing it well as long as it feels right.
Brittani, Contributing Editor & Hellcats Counselor: Going into the Improv Workshop, I was afraid people would be hesitant to participate and everyone would get shy and then there would be no workshop, it would just be me standing in the ampitheater by myself laughing nervously. I was especially worried because improv games can be very similar to ice breakers and I HATE ice breakers. I suspect I'm not the only one that holds this opinion so when everyone was on board and didn't look like they wanted to kick me in the shins, it was a huge load off. I got a lot of good laughs as the hilarious campers talked about their pet peeves, smacked each other with imaginary frying pans, and argued about fixie bikes.
Rachel, Senior Editor & Slayers Counselor: The period panel (Bloody Hell: A Menstruation Feelings Atrium) was something that we had talked about as camp approached, but I think I had sort of always thought "nah, we can't actually do that. No one else wants to just talk about bleeding for an hour, do they?"
Riese, Editor-in-Chief & Runaways Counselor: Personally, I did not want to talk about bleeding for an hour. It is a constant source of tension between my sister wife Laneia and I that she always wants to talk about periods and I never do. Except when I want to complain about cramps.
Rachel: BUT APPARENTLY PEOPLE DID. The group that attended this workshop was so incredible – I learned new things about reusable pads and PCOS and our weirdo bodies, and everyone was super hilarious while doing so.
Ali, Contributing Editor & Outlaws Counselor: We really had no idea what to expect, since all of us individually could talk about our period feelings for an hour apiece, and then we had to condense our collective feelings into an hour.
Rachel: Liz and I performed some Very Educational roleplaying about how you can talk to your partner about period sex, which we had practiced extensively. Also a male campgrounds employee may have walked in while I was explicitly propositioning Liz for [hypothetical] period sex, which I sort of regret, but also maybe he learned something!
Ali:  Liz taught me all about Leptin and hormones and such and I got to draw a Diva cup on a large piece of poster paper. Basically my life was complete after I drew the cup for a room full of queers.
Riese: This was the first camp where I wasn't scrambling to plan for my next activity every free minute I got, so on my off-blocks I could go to other people's things! DeAnne Smith & I hit up the Non-Monogamy Discussion and then I ducked out to catch some of Bloody Hell. Non-Monogamy and Periods are two things I generally fail at but wish I was cooler about, but isn't that what camp is all about? EXPANDING YOUR MIND? Whenever I had free time to go to other activities I would sit there and think, "damn this is a really good camp."
---
Next: Quinoa. Just kidding! Um, the rest of the day. That's what's next, duh!
Friday Afternoon
Block C: Nerdcraft (Whitney, Taylor, Carrie, Ali, Meredydd) // Gender Panel (Carly, Kate, Julia, Marni, Mey, Kristen, Gabby, Katrina) // Speed Dating (DeAnne Smith) // Autostrivia Jeopardy (Riese, Alex & Haviland) // Autostraddle Stock Photos (Robin, Vanessa & Medd)
Block D: Make a Thing (Hansen) // Women of Color Panel (Gabby, Whitney, Katrina, Carmen, Mey, Brittani, Daniela) // Erotica Writing (Ali & Riese) // Drama Therapy (Julia) // Mind the Generation Gap (Meredydd, Cee, Somer, Jess R)
Carrie, Community Managerette & Tiger Beat Counselor: Whitney had the wonderful (and queer as hell) idea to have campers create geeky art projects like origami bow ties, space invaders cards and pixel-inspired Perler bead sprites.
Meredydd, Business Advisor & Golden Girls Counselor: For some reason Whitney was really nervous that campers wouldn't like the crafts at Nerdcraft. I knew that they were going to be amazing as soon as I saw the perler bead sprites. And they were amazing!
Carrie: I now have more Perler bead art than my 12 year old self could ever dream of and it really made me rethink the notion that bow ties aren't for me. Whitney changed hearts and minds, as always. Taylor also provided some kickass music for the occasion — Legend of Zelda remix, anyone?
Lizz, Contributing Editor & Starjammers Counselor: Nerdcraft was such a blast. I had so much fun. It had been such an up up up crazy weekend that I really needed a moment to just hang out with some other nerds, listen to the theme from Legend of Zelda and make goofy little perler bead Nintendo sprites.
Taylor, Contributor & Vipers Counselor: Props to Whitney for somehow tricking a room full of otherwise raucous queers into quietly fusing perler beads into nostalgic shapes as we listened to string quartet renditions of The Legend of Zelda theme song. None of us wanted it to end. Nerdcraft should run concurrent to 100% of A-Camp from now on. No, A-Camp should just be perler beads. I said it.
Julia, Calendar Girl/Contributor & Blackhearts Counselor: It's not often that I get to be outside in expansive wilderness and I think it is really essential to my mental health. I did a brief hike in between workshops and was amazed by the surrounding land to the camp. We stopped at the overlook on the short loop and yelled out into the valley, which ate up the sound. On the way back toward camp, while having a great heart to heart with one of my campers a deer slowly walked across the path in front of us just to remind me that I really wasn't in New York City anymore.
Gabby: The gender panel got off to a rough start. a bunch of us had crazy things going on and like I said, I was feverish and dizzy but the feelings had to go on.
Mey, Contributor & Slayers Counselor: The Gender Panel was my first exposure to the amazing panels at A-Camp and it started with me getting the worst bloody nose of my life. However, if you're going to get a bloody nose, let me tell you, A-Camp is the best place on earth to do it. None of my other bloody noses ever came with compliments on my eye makeup or cute queer ladies taking care of me. But that's all beside the point. The really good part started when the bloody nose ended.
Marni, Contributor & A-Camp Co-Director: This time around, rather than being a panelist on the gender panel, I was the moderator.
Gabby: I want to always be on everything Marni's doing. I even want to be her Vanna White at next camp's Butchin It Up workshop. Just throw a sparkly dress on my ass and watch me hand Marni a piece of dry wall (is that something you can hand to someone?).
Marni: The gender panel always feels a little weird because a panel format positions the panelists as "experts," and gender is something that everybody experiences and is sort of an "expert" in, in their own way. So rather than having the panel take on the format of "us talking at you," we decided to make it more actively participatory. We had a set of discussion topics that we'd discussed beforehand, and after each question was posed to the panelists, we gave the audience a chance to chime in and ask questions or add to the discussion. It created a really great dynamic in the room that felt less top-down and more organic. Everybody – the panelists and the audience members – had great insights to share, and it was a great experience.
Kate, Contributing Editor & Tiger Beat Counselor: I didn't know what to expect with the gender panel because I think about gender pretty much 24/7 365 days a year, and I write a column about being butch, so I came to this with a 747's worth of baggage. I also continue to feel a little weird being up in front of people with a microphone to talk about something big and nebulous and important like gender when my credentials are simply my identity and this highly personal column I write. I kept wanting to do a Mean Girls tiara-breaking gesture to indicate that we are all authorities on gender, and also to break the ice since being in front of a large group of people makes my brain feel like that vegan Jello we had for dessert one night. It's also ridiculously hard to talk about something as huge as gender in an hour and a half, so I wasn't sure how everything would play out.
Mey:Even though I missed the beginning of this panel, it still blew me away. I don't have a lot of normal venues where I can talk about how society's expectations for my gender scare me or how I use my gender for self care, so this panel was extremely therapeutic for me. I loved having other people understand what I mean when I talk about how scary it is not being able to use the right restroom or why I don't feel safe going certain places alone. It was incredible having other people understand how selfies (and I don't mean touching yourself, although that's good too) can make a bad day into a good one, or how practicing new makeup techniques can calm your heart. This was something I hadn't really ever had face-to-face before. It was awesome having other femmes and trans people talk to me about how much the gender panel resonated with them. This was a hell of a way for me to kick off my A-Camp experience.
Kate: The audience was amazing. I loved hearing everyone's perspective, even if it sometimes made me cry. A lot of things at A Camp made me cry, but that's okay. Crying is healthy and clears the sinuses.
Gabby: I cried at the gender panel cuz life is scary and so is sharing feelings that never get said out loud. I have to give mad love to the campers who gave me hugs and words of encouragement afterwards. Also, the Foxfire group hug that happened afterwards gave me the strength to hustle it to the next panel.
Crystal: On Friday afternoon I was technically on 'rover' duty however I was super jet-lagged, so I sat under some trees and put on some welcoming music in hope that people would rove on over to me. DeAnne came over to ask my expert advice on stand up comedy and then at some point Marni came over and fed us gummy vitamins. Most of my favorite moments from camp were like this, chilling out under trees with music and campers.
Hansen, Contributing Editor & Scissor Sisters Counselor: The campers who came to the Make A Thing workshops made the cutest things of all time. It was surprising/humbling/amazing to meet people who actually read the things I write at 9pm in my pajamas eating Cheez-Its. One camper, Bri, even gave me the most adorable mountain brooch. Seeing campers helping one another learn to sew and laugh about their merit badge illustrations (Direct quotation from camper Sonia: "This is what a cat looks like, I'm a vet, you can trust me.") and let me sew up their torn shirt sleeves made my heart grow ten sizes, Grinch-style. Basically Autostraddle and Make A Thing readers are the best people of all time and connecting avatars with faces made all of the times I'm super frustrated with my crafts worth it.
Katrina, Writer & Foxfire Counselor: The Queer Women of Color Panel is really challenging every time, and I think it's that challenge that makes it worth doing.
Daniela: Gabby and Carmen worked so hard to make the Queer Women of Color panel a total success. They shook up the structure and gave everyone an activity that made it easier for all of us to share in on the challenges of creating a community that is ruled by intersectionality.
Gabby: We tried something different. We looked into the 1977 National Women's Conference and how the term WOC came out of that. We tried to tackle so many things and I think we did ok.
Katrina: When we talk about race, we're talking about a lot of things, but sometimes when we're dealing with race, we're not talking at all. Many of our experiences as queer people of color are marked by silence, the kind of silence that we've all become used to. This was our third Women of Color panel, and the first one where we all really got to talk to each other. We set out to answer some questions, and I'm not quite sure if we got all the way there.
Brittani: Though it was pretty easy to top my last appearance when I started things off with "Hi, my name is Brittani and I'm black" and continued to have an allergy attack that started five minutes before I had to be on stage, this panel was a lot of fun.
Gabby: I liked when the discussion, fueled especially by comments from Rachel Walker, turned to ways to make real progressive change and racial discussions happen in our every day lives.
Brittani:  I like when panels are a mix of testimonials, discussion, and advice and I think we moved towards that perfect balance this camp. Per the usual, campers and panel members continued to be thoughtful, inspiring, and supportive and I feel like I fulfilled my primary duty which was to break emotional tension with laughter.
Gabby: One other thing that was super important in regards to race discussions making people who say racist things (intentionally or unintentionally) uncomfortable was when Daniela said "You lost your right to be comfortable when you made me uncomfortable". BAM.
Daniela: Every person in that panel shone with their anecdotes and badass comebacks but I was the most blown away by the campers and just how willing they were to put themselves out there and share their stories with us.
Katrina: There's a lot of weight and experience to weed through before you can even begin to suggest how we might fight racism in our everyday lives. But some things did happen for sure. We shared our experiences, understood each others' frustrations and fears, shared our joys, and I think at the very least came to see that we weren't alone.
Julia: I was really nervous to do the Drama Therapy workshop and five minutes before it started nobody showed up. I had feelings of panic develop. I would have to explain that nobody showed up and I was a huge nerd for thinking that anyone would. But slowly people showed up until we had the perfect group of amazing humans. We did some activities, learned some things about each other, created some awesome tableaux and some amusing and thoughtful theatre. I was really pleased that it happened and amazed by what we created together.
Riese: I was actually not nervous about Erotica Writing because Ali and I had that shit on lock. Ali had it on padlock, actually, and she was the perfect co-leader because even though I've been published in nine erotica anthologies and one really gross misogynistic porn magazine, it's been five or so years since I actively wrote erotica — and very few of what I wrote was queer. But Ali is in that totally lezzed-out movin'-on-up stage of her career and is also really good at outlines. We did some writing exercises and y'all read your amazing hit out loud and it was super fun. YAY SEX
Meredydd: I was a little worried that the Mind the Generation Gap panel wouldn't work the way I had planned – it really needed participation from campers of all age groups. After Cee and Somer and Jess and I discussed it though I knew we would have lots to talk about. As it turns out, campers from 19-over 30 came and contributed a lot to the discussion. We learned that our experiences and challenges are more similar than they are different and that we need to find ways to connect across age groups – particularly with our queer elders.
Cee: I took a lot home from the Mind the Generation Gap panel. I saw how much the internet has affected our culture, and realized that may be the reason behind some of the cultural shifts I've noticed in the past decade. Speaking with so many smart people and hearing opinions and thoughts really helped me solidify some of these ideas.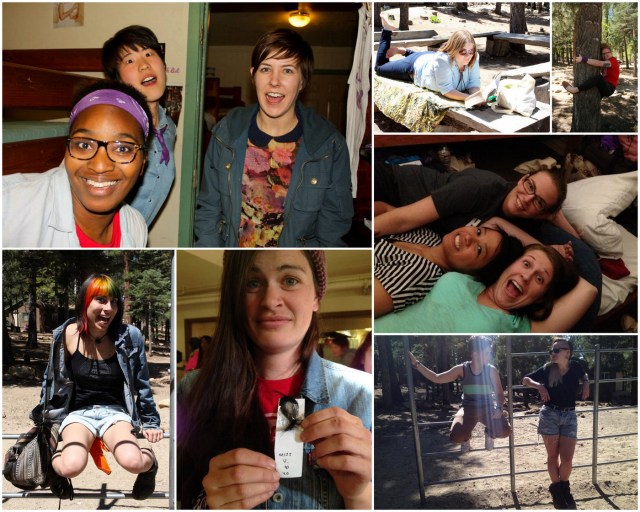 Taylor: I don't recall camp altitude affecting me with quite the same gusto before. O altitude! This camp, altitude became my go-to excuse for everything from repeatedly falling *up* the trail between my cabin and Wolf Lodge to why I was allowed to begin enthusiastically drinking coffee and smoking cigarettes again. Altitude halved our collective alcohol tolerance and halved it again, saving us millions of dollars. Altitude found me curled in a ball in the bottom bunk for two days trying to fashion my new A-Camp sweatshirt into the shape of my childhood teddy bear. Altitude had me cramming human hair into egg cartons duct-taped to a wall while having *the best time*. Who needs substances to impair your judgment or induce mania when you are 7400 feet above sea level? Nobody!
Next: NIGHT DESCENDS UPON US
---
Friday Night Lights
Fister Spit 
In which Riese, Laneia, Rachel, Gabby, Kate, Hansen, Cara, Ali, Vanessa, Whitney, Lizz and Carmen read things from their hearts
Rachel: I always have like eighteen different emotions about the Staff Reading, ranging from I'm Pretty Sure The Thing I Picked To Read Is Boring and Dumb to I'm So Excited to Hear Everyone Else to Oh God I'm Going to Cry I Hate Crying in Public back to I'm So Excited to Hear Everyone Else, which is the most important part. This time was no different. I'm so in awe of the writers that we have on our team, and it's worth crying in public to hear them. On the internet, we usually get to see a very specific side of someone, or maybe two or three specific sides, and I feel so lucky to get to see tiny pieces of tender vulnerability when people read their personal work. All of these humans are so incredible.
Ali: You guys. Whitney. WHITNEY. Whitney. The Whitney Effect: when Whitney speaks, the entire room bursts into tears. I mean, I admit, Whitney is my lesbro. She is the shirt to my pants. But even if I weren't so fond of Whitney as a human, I still would have melted into the ground at her spectacular reading. A beautiful, moving, sad and wonderful piece about her family and her wedding.
Ali: And OMG, Vanessa! "I wanted to lick her hip bones." Ugh, and Cara's piece made my brain happy. And also everyone's piece. Everyone's piece! Everyone's. Piece. You guys.
Vanessa: I've never read my work in public before. I write a lot and I talk a lot but I've never spoken my written words out loud in front of a (terrifyingly huge!) group of humans before. But you guys let me. And you supported me. And some of you told me I made you cry! And some of you said you understood me, and you knew my story, and you felt like my story was your story too. I felt really safe reading to the A-Camp audience, and I am forever grateful for that feeling.
Riese: True story – once upon a time it was A-Camp April 2012 and I thought I'd be capable of conducting mini one-on-one writing tutorials with campers which I quickly realized was literally impossible with my schedule and I only managed to actually meet with one of the people who'd paid $10 for this honor (and I was only able to even do that 'cause I bowed out of a panel I was supposed to be on) and her name was Vanessa Friedman and she wrote a story about the first girl she fell in love with and we talked about it forever and how to revise it and then it was May and Vanessa read that revised piece of loveliness for all of you, and the whole entire world came full circle!!
Mey: The Staff Reading reminded me why I feel so honored to be a part of the Autostraddle team. Every single person who read at this is so talented and has such an amazing voice and I'm so happy I got to hear from them. I had to constantly be wiping my eye makeup from my cheeks, whether it was from laughing at Lizz's and Ali's stories, or crying at Whitney's, or being able to relate to so many of the others. This gave me such a deeper appreciation and love for everyone on the Staff. I can't believe I get to hang out with these people and call them friends. Usually, I don't get to hear stories like this, and when I do, it's only one or two at a time. But here we got to listen to more than a dozen of them, all of them amazing, all of them refreshing and all of them powerful.
Ali: The whole team is so ridiculously talented, I can't even. This was one of those times where I wondered what I was doing here, among all these amazing humans reading their work. And I had such tremendous fun reading "So I Was Fisting My Girlfriend." You guys, disclosure time, I fucking love readings, both those I participate in and those I listen to. Readings are my jam.
Riese: Me too! Last camp I found out that the fact that I've been doing readings semi-regularly since I was 16 years old was not actually a common experience amongst other faux-writers my age? I almost wanna say that Gabby was the only one besides me in September who'd ever done a reading before but I'm not sure. Anyhow they're all naturals and I really loved Laneia's piece.
Julia: Being there and listening to everyone pour out their funny, heartfelt, revealing stories made me remember why I started reading Autostraddle and what it means to me. It is a place that is driven and consumed by people with giant brains that are fueled by massive complicated hearts. The stories that people read were so beautifully written and filled with so many feelings that were familiar, insightful, hilarious and tragic. I may have cried a little.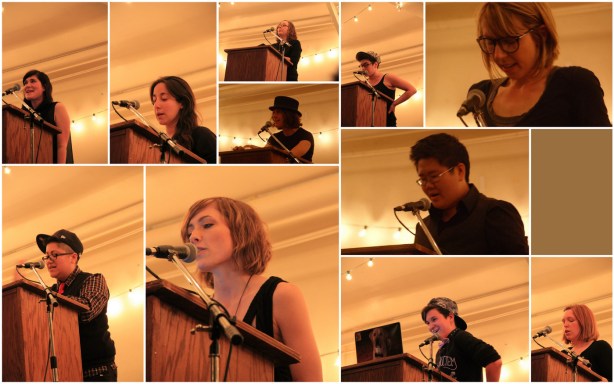 Stef: During the Staff Reading, I sat directly outside Eagle on a bench, peering through the window with Megan and camper Leslie from Tiger Beat. I beamed at everybody like a proud stage mom and thought magical thoughts about how amazing all of our writers are. I started crying during Vanessa's beautiful piece and throughout the rest of the reading, I only got worse. Riese's piece in particular hit me at a very sensitive time and absolutely floored me, and I want to thank Leslie for taking such good care of me while I was hysterically sobbing like a weirdo.
Riese: I read a draft of a blog post from my old personal blog, Autowin, and before starting I was like, "this a thing I wrote about leaving New York. Some of the people in this room are in this story! Surprise!" and I found out after the reading that that particular announcement struck fear in the hearts of all the stars of my 2005-2008 stories (Haviland, Alex, Carly, Stef) and even some of their girlfriends! But I only said nice things.
Stef: I'm also super glad Riese told a room full of readers that I offer hummus to my friends when they're sad, because hummus is delicious and it's totally true. When her piece was over, I had to play music immediately afterwards and I was drunk, hyper emotional and had mascara running down my face like a crazy person! ALRIGHT.
---
Lilith Flair
10-Midnight: Lilith Flair (hosted by DeAnne Smith) – Somer Bingham, Haviland Stillwell, Marni, Julia, Stef, Alex, Ashley, Whitney, Cara
Riese: Okay you guys LILITH FLAIR. Lilith Flair was basically like, What Dreams of Riese May Come. Plus I got to sit on the floor with so many Runaway-hearts and Blackhearts. The only thing that could've made it better would've been if we were all sitting on the grass eating hummus at Pine Knob.
Marni: Driving back to San Francisco after last camp, Riese told me that her vision for the next camp was to have "an evening of lesbian folk rock music," featuring all of A-Camp's musically-inclined staff and guests, of which there are many. Needless to say, the title needed work (certain A-Camp staff – ahem, Robin Roemer – were not huge fans of the genre, to say the least), but the idea seemed solid.
Riese: I decided to take an Evening of Lesbian Folk-Rock music to the next level by making it Lilith Fair. Because LITTLE KNOWN FACT Lilith Fair, which took place in '98, '99, and 2010, was not just white girls with guitars and feelings! By opening it up to include covers by anybody who'd ever performed at Lilith Fair, we were able to diversify the setlist and showcase everybody's special talents.
Marni: Fast forward eight months and it was all my dreams come true – there's nothing better than jamming onstage with friends, especially when those friends have mad chops. In true A-Camp fashion, we had about 0.5 rehearsals before the show, and it all came together magically.
Rachel: The concept behind Lilith Flair is something that I've had actual dreams about, so obviously I was super fangirled out, maybe even more than I was at actual Lilith Fair (which I went to when I was 11 with my mom and got a tote bag from). I genuinely want all of these performances on an album.
Mey: When I was growing up, I remember having a lot (and I mean A LOT) of feelings regarding The Indigo Girls, Fiona Apple, Sarah McLachlan, and especially Melissa Etheridge. This was long before I had come out as trans or queer, and my male friends didn't really share my interest in these ladies with their choppy haircuts and denim and acoustic guitars and pianos. So even though my musical tastes have evolved quite a bit, it was amazing seeing a room full of people clapping and cheering and singing along to music that I thought I was alone in caring about.
Katrina: I was honestly worried about Lilith Flair being too campy for camp (sorry I doubted you, Riese), especially since I, like many of you, was born in the 90's and had no actual firsthand experience of the Lilith Fair, but the second Hav and her band launched into (Jill Sobule's) "I Kissed A Girl," it was over. Lilith Flair was the shit.
Riese: "I Kissed a Girl" brought me back to 2006 when Hav sang it with Jill Sobule on the Rosie cruise I was on as Hav's guest. Other highlights included, most notably, Marni covering "Nothing Compares 2 U" by Sinead O'Connor which sounded even better on stage than it did on our couch!
Taylor: Lilith Fair was the most delicate dance of irony and unfettered joy that I've ever experienced. We laughed, we cried, we all had unfamiliar feelings for Marni in our pants.
Katrina: Shoutout to Cara (aka Hat Benatar) – I knew we had to be friends the second I found myself screaming along to the chorus of "We Belong" like a tearful, crazed fangirl. I didn't know I had these feelings before. Now I'll never forget.
Stef: I was most excited to play drums on a sped-up punk cover of Sarah McLachlan's "Adia" with Somer, since it seemed like a hilarious way to pull off a Lilith Fair classic.
Taylor: If you've never heard a rock-n-roll rendition of Sarah Mclachlan's "Adia" then you haven't lived. I mean it.
Mey: All the songs from Whitney's amazingly emotional version of "Nineteen" to Cara (as Hat Benatar) and her sing-along choruses on "We Belong" to all the swagger of "Get Ur Freak On" and "Doo-Wop (That Thing)" to my personal favorite, Haviland Stillwell belting out "I Want to Come Over," brought me into a place of total community and made me feel so much more comfortable for the rest of camp. I knew that I could make references and jokes here that I couldn't make in my straight- and male-dominated circles back home. It made me feel like these were people I could relate to more than anyone in any other community I had been a part of.
Stef: Missy Elliott's "Get Ur Freak On" translated hilariously to acoustic guitar and box drum, and Katrina, Ashley and I had a lot of fun with it.
Katrina: Shoutout to Stef for being so multi-talented and for being the lady version of that super-hot bourgon swilling bassist that everyone always wants to bang. Also thanks for playing that Tegan and Sara song with me even though you hate them.
Carly: Lilith Flair, specifically the "Doo Wop" performance, will forever be etched in my brain as one of the happiest moments on my life. One of my favorite songs, performed by some of my favorite people, in a hilarious hot mess of a performance that still contained the talent, skill and joy that was pervasive throughout all of the performances. Totally amazing.
Marni: A favourite moment of mine was doing Lauryn Hill with Brittani and having Gabby add her scratchy, voiceless flow to the verses.
Rachel: It was fucking incredible, even though Gabby had bronchitis and her throat was literally falling out, and the song even had a surprise special appearance by Katrina via the actual literal grace of God.
Katrina: Shoutout to Gabby and Brittani – I don't know all the words to "Doo Wop (That Thing)" either. Shout out to Lauryn Hill – YO FREE LAURYN HILL!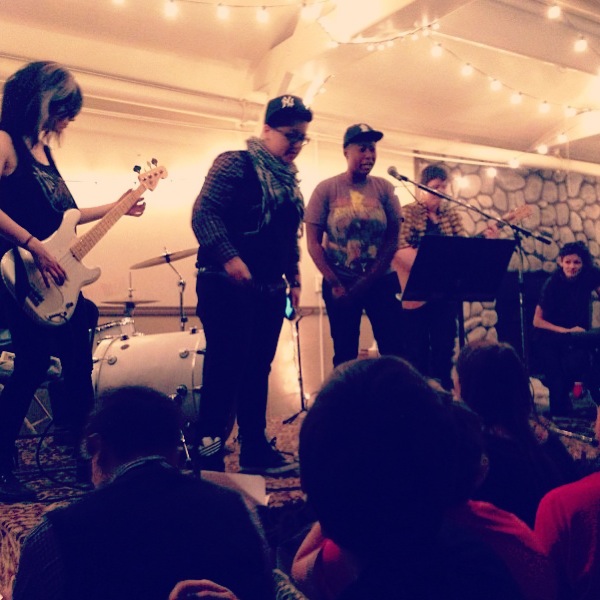 Rachel: If you have ever had even the mildest of crushes on an Autostraddle staff member, you are going to be fucking floored. I have seen the light, and it is Lilith Flair.
Riese: Also also! Julia did "Paper Bag" and Stef did "Not An Addict," two songs which reminded me of my early-to-mid-20s when I was a self-destructive hot mess, and by that I mean reminded me of when I was really cool and felt alive/was too shaky to hold.
DeAnne: Holy shit. How incredible were all the "Lilith Flair" performances? I can't stop thinking about that show. (They were actually really good, right? I don't just think this because of all the bourbon Stef was giving me, do I?) The whole night felt magical, from everyone singing along with Cara's "We Belong Together" to Haviland flat-out transforming into Melissa Etheridge on "I Want To Come Over" to Marni slaying us all with "Nothing Compares 2 U." NOTHING COMPARES 2 THAT NIGHT. Except maybe the other nights, but still.
Stef: If you told me a few months ago that I would have one of the greatest times of my life playing bass on a Melissa Etheridge song for Haviland, I probably wouldn't have believed you. My non-camp friends have chuckled at me a little bit when I showed them the video, but guys, that song's a rocker.
Hansen: The Fister Spit/Lilith Flair night was so much fun. It's one thing to connect with Autostraddle readers through articles, but it's another to be like "Hey, look what else I do besides tell you about which state won marriage equality this week." Reading my own personal work was terrifying, but it made me so proud to be counted among the staff members at that reading and then later at Lilith Flair. Everyone was incredible.
Cara: I will admit that I'm generally skeptical about the lesbian musical canon, but I'm beginning to see the light. I still won't say I'm a Melissa Ethridge fan. But am I a Haviland Stillwell As Melissa Ethridge fan? Yup. Baby steps. I WANNA COME OVER.
Robin: This night was so much fun. Not only was I grateful to have a minute to sit back and listen to some very talented musicians, but it really brought me back to high school which was both nostalgic and a little terrifying (in a good way).
Riese: The show ended as all Lilith Fairs end, with a group performance of "The Water is Wide." It was a magical night. I will now treat you to the playlist of all the songs performed that fine evening:
I Kissed a Girl – Jill Sobule (Haviland Stillwell)
Adia – Sarah McLachlan (Somer Bingham)
We Belong – Pat Benatar (Cara)
Doo Wop (That Thing) – Lauryn Hill (Brittani, Marni, Gabby, Katrina, Stef, Alex)
Nineteen – Tegan & Sara (Whitney)
Not an Addict – K's Choice (Stef)
Superstar / Get Ur Freak On *- Tegan & Sara / Missy Elliot (Katrina & Stef)
I Want to Come Over – Melissa Etheridge (Haviland Stillwell)
Paper Bag – Fiona Apple (Julia Osen-Averill)
Police and the Private – Metric (Somer Bingham)
Nothing Compares to You – Sinead O'Connor (Marni)
Closer to Fine  – Indigo Girls (Marni & Haviland)
Water Is Wide – Jewel, Indigo Girls, Sarah McLachlan (Everybody)
*for everybody's sake, the playlist includes just "Get Ur Freak On" because you know.
---
After that the humans scattered into the night, over to Klub Deer, to their cabins to have feelings, or into the woods to bang their ankles on rocks. Or whatever it is you people do after dark. We'll talk more about Klub Deer in the next recamp, but let's end this recamp with a little bit of charm from Somer Bingham.
Overheard at A-Camp
By: Intern Somer Bingham
There were so many stray lines overheard as I was late & running to a panel or hanging up my campaign posters — I had to start writing them down. And if you're just dying to know the context for what was said, see below.
Lines: 
1. It's kinda competitive. Because…you know. DYKES.
2. It's like being flogged with a mop.
3. I'm gonna support the SHIT outta you.
4. That accent… it's a panty-dropper, essentially.
5. I don't wanna think about how many fingers have been in there, though…
6. A little more fisting. A little less love.
7. Is this box taken by anyone?
Context:
1. Jill Houk's response when I asked about playing basketball at recess and was concerned about getting crushed.
2. Um, I have no idea what the context was. But it is an awesome statement.
3. Whitney said this during the Queer Families panel when talking about wanting to support her future son or daughter.
4. This was overheard while I was traipsing around on the outskirts of camp – Daniela's name came up in conversation.
5. Someone offered me an opened and partially used container of Nutella. I politely declined.
6. I don't remember the context of this either, but…make your own.
7. We were packing. Someone wanted a box.
---
A-Camp October 2013 will take place October 9th-13th and registration will open soon!
Pages: 1 2 3See entire article on one page