Welcome to the second of four fantastic recaps of our experience at A-Camp 3.0, which took place 2.5 hours outside of Los Angeles at Alpine Meadows Camp atop a mountain in Angelus Oaks, California, from May 23rd-27th, 2013. These recamps serve to ease our collective separation anxiety, enable us to wax nostalgic over times gone by and provide prospective campers with a brilliant glimpse into the A-Camp Experience.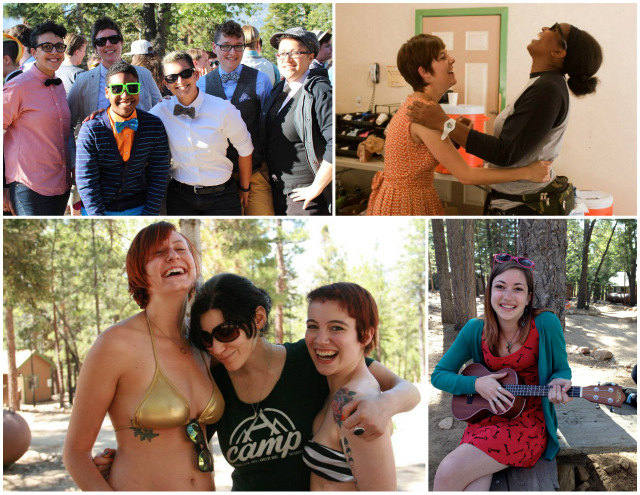 A-Camp was the genesis of an idea Riese had at 3AM in July 2010: the concept was to take the spirit of the website into three glorious dimensions and create an affordable vacation for queers for whom other lesbian-marketed vacations aren't a perfect fit.  In April 2012, we did it for the first time— along with 160 campers and 35 staff members, we rented out a summer camp in its off-season and enjoyed a transformative weekend of fun, friendship, panels, workshops, classes, sports, entertainment, events and so forth. It was probably the most awesome experience of our life and we knew from there it would only get bigger and better — and it did, in September 2012!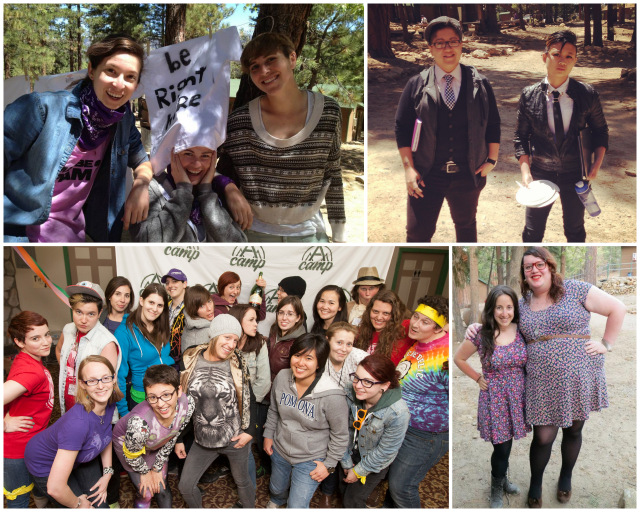 Which brings us to May 2013, when our largest-ever group of campers arrived on the mountain, and were greeted by dedicated counselors and treated to four days of kickass programming. Swagger 101! Comedy Improv! Yoga! DIY Body Scrubs! Hop-Hop Dance! Kink Panel! Know Your Whiskey Tasting! Recess Games! Drag King Workshop! Femme Luncheon! Lilith Fair! Julie Goldman & Brandy Howard! DeAnne Smith! Somer Bingham! The cast of Unicorn Plan-It! Calendar Girls! Team Autostraddle! Most importantly: EACH OTHER! And So. Much. More.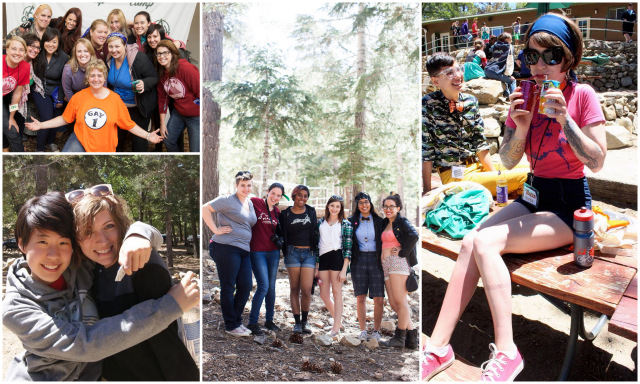 In the past, these recamps have been exhaustive recollections of every minute of A-Camp, but this time we're tightening it up a bit. See, A-Camp is whatever you want it to be — and it's something different for everybody. You all have your own stories in your hearts and brains and cameras and in the notebook paper pieces in your back pockets and this is our story of what goes on behind-the-scenes and also in the front of our brains to make this whole she-bang come together with relative grace. Are you ready? I don't think you're ready. (Also, we miss you!)
---
A-Camp May 2013 Recamp #2: Day Two
Friday, May 24th: Day Two of A-Camp
Our first full day of A-Camp was jam-packed with Big Panels and concluded with an Evening of Feelings-Related Entertainment.
Friday Morning
Block A: The Truth About Cats & Dogs (Mary & Jill) // Gay Movie Trivia (Brittani, Kate & Carly) // What Makes Queer Family Queer? Panel (Laneia, Carrie, Riese, Whitney, Somer & Robin) // T-Shirt Cutting/Stenciling (Carmen & Medd) // The Care and Keeping of Plants (Kristen & Cara)
Block B: DIY Projects: Car Repair (Jill) // Introvert Meetup (Crystal & Whitney) // Non-Monogamy Discussion (Daniela, Jen F, Stef, Kay M) // Comedy Improv Workshop (Brittani) // Bloody Hell: A Menstruation Feelings Atrium (Laneia, Rachel, Lizz, Ali)
Cee, Technical Director & Golden Girls Counselor: I woke up at 6am Friday morning and dragged Jill over to see the trash can and look for bear prints.
Kristen, Contributing Editor & Scissor Sisters Counselor: I kept waking up at 6.30 even though official things didn't happen until 8.30. But I met a bunch of weirdos with equally fucked up sleeping patterns and fresh brewed coffee to boot. So while everyone else was working off their hangovers I met up with the Breakfast Club and traded gummy Vitamin B12 for paper cups of French press coffee. I'd like to thank Melisa, Meredith, Stephany, Naomi, Crystal and everyone else for introducing me to Trader Joe's Cookie Butter, TimTams and 4,000 Femme and Not-So-Femme Feelings.
Gabby, Writer & Foxfire Counselor: I was so so sick! I was burning up with fever and feeling like I was going to faint! Holy crap, could I please just take a moment to thank Megan for everything she said/did on the mountain and in the way she had my back and giving me Tylenol and Gatorade and hugs? Literally, every time we bumped into each other, Megan asked me if I was ok, if I needed help, handed me some type of hydration, huggation – literally she even sat with me for a moment when I felt dizzy and wanted to cry.
Mary, Calendar Girl & Little Rascals Counselor: Leading The Truth About Cats and Dogs discussion with Jill is always a highlight. Listening to her talk about anything makes me feel like all is right in the world.
Cara, Contributing Editor & Bombshells Counselor: The Care and Keeping Of Plants was the only workshop I helped lead and I was SO NERVOUS about it. Luckily A-Campers are so smart and awesome that every activity ends up a crowdsourced cabinet of wonders. The picnic tables were soon as smorgasbord of glitter paint, artful twigs, homemade seed envelopes, and really great advice about keeping green things alive in the New Mexico desert.
Crystal, Music Editor & Toros Counselor: The Introvert Meet-Ups are always a really chill time. Whitney and I broke everyone into two groups and we sat around getting to know each other via a series of conversation-starter style questions about our hopes and dreams and worst first dates. It was really great to see all the campers hanging out together once the event was over, that was the best part.
Sophia, Inferno Counselor: I learned a lot from Jill's Car Repair I mean, I don't know how to drive but I did really enjoy watching that butch action in in the sunshine, just gotta say.
Stef, Contributor & Bombshells Counselor: I asked to be on the Non-Monogamy Panel this camp 'cause I actually have a ton of experience despite not really identifying as a polyamorous person, and I've never really talked about it in public before. It was really cool to sit on a panel with four super knowledgeable babes and share our experiences. Like so many activities at camp, we talked a lot about communication. Communication! You should do it.
Daniela, Intern & Starjammers Counselor:  Stef and I sat along with three campers and told a chunk of camp about our experiences, knowledge and understanding of relationships outside of monogamy -we each had an approach that illustrated just how different non-monogamy is for each person. I loved hearing experiences from the audience and being there to validate one another over the challenges we face as people in non-monogamous set-ups. More than anything though, I really liked how the take away was you do you because you're doing it well as long as it feels right.
Brittani, Contributing Editor & Hellcats Counselor: Going into the Improv Workshop, I was afraid people would be hesitant to participate and everyone would get shy and then there would be no workshop, it would just be me standing in the ampitheater by myself laughing nervously. I was especially worried because improv games can be very similar to ice breakers and I HATE ice breakers. I suspect I'm not the only one that holds this opinion so when everyone was on board and didn't look like they wanted to kick me in the shins, it was a huge load off. I got a lot of good laughs as the hilarious campers talked about their pet peeves, smacked each other with imaginary frying pans, and argued about fixie bikes.
Rachel, Senior Editor & Slayers Counselor: The period panel (Bloody Hell: A Menstruation Feelings Atrium) was something that we had talked about as camp approached, but I think I had sort of always thought "nah, we can't actually do that. No one else wants to just talk about bleeding for an hour, do they?"
Riese, Editor-in-Chief & Runaways Counselor: Personally, I did not want to talk about bleeding for an hour. It is a constant source of tension between my sister wife Laneia and I that she always wants to talk about periods and I never do. Except when I want to complain about cramps.
Rachel: BUT APPARENTLY PEOPLE DID. The group that attended this workshop was so incredible – I learned new things about reusable pads and PCOS and our weirdo bodies, and everyone was super hilarious while doing so.
Ali, Contributing Editor & Outlaws Counselor: We really had no idea what to expect, since all of us individually could talk about our period feelings for an hour apiece, and then we had to condense our collective feelings into an hour.
Rachel: Liz and I performed some Very Educational roleplaying about how you can talk to your partner about period sex, which we had practiced extensively. Also a male campgrounds employee may have walked in while I was explicitly propositioning Liz for [hypothetical] period sex, which I sort of regret, but also maybe he learned something!
Ali:  Liz taught me all about Leptin and hormones and such and I got to draw a Diva cup on a large piece of poster paper. Basically my life was complete after I drew the cup for a room full of queers.
Riese: This was the first camp where I wasn't scrambling to plan for my next activity every free minute I got, so on my off-blocks I could go to other people's things! DeAnne Smith & I hit up the Non-Monogamy Discussion and then I ducked out to catch some of Bloody Hell. Non-Monogamy and Periods are two things I generally fail at but wish I was cooler about, but isn't that what camp is all about? EXPANDING YOUR MIND? Whenever I had free time to go to other activities I would sit there and think, "damn this is a really good camp."
---
Next: Quinoa. Just kidding! Um, the rest of the day. That's what's next, duh!
Pages: 1 2 3See entire article on one page