Friday Afternoon
Block C: Nerdcraft (Whitney, Taylor, Carrie, Ali, Meredydd) // Gender Panel (Carly, Kate, Julia, Marni, Mey, Kristen, Gabby, Katrina) // Speed Dating (DeAnne Smith) // Autostrivia Jeopardy (Riese, Alex & Haviland) // Autostraddle Stock Photos (Robin, Vanessa & Medd)
Block D: Make a Thing (Hansen) // Women of Color Panel (Gabby, Whitney, Katrina, Carmen, Mey, Brittani, Daniela) // Erotica Writing (Ali & Riese) // Drama Therapy (Julia) // Mind the Generation Gap (Meredydd, Cee, Somer, Jess R)
Carrie, Community Managerette & Tiger Beat Counselor: Whitney had the wonderful (and queer as hell) idea to have campers create geeky art projects like origami bow ties, space invaders cards and pixel-inspired Perler bead sprites.
Meredydd, Business Advisor & Golden Girls Counselor: For some reason Whitney was really nervous that campers wouldn't like the crafts at Nerdcraft. I knew that they were going to be amazing as soon as I saw the perler bead sprites. And they were amazing!
Carrie: I now have more Perler bead art than my 12 year old self could ever dream of and it really made me rethink the notion that bow ties aren't for me. Whitney changed hearts and minds, as always. Taylor also provided some kickass music for the occasion — Legend of Zelda remix, anyone?
Lizz, Contributing Editor & Starjammers Counselor: Nerdcraft was such a blast. I had so much fun. It had been such an up up up crazy weekend that I really needed a moment to just hang out with some other nerds, listen to the theme from Legend of Zelda and make goofy little perler bead Nintendo sprites.
Taylor, Contributor & Vipers Counselor: Props to Whitney for somehow tricking a room full of otherwise raucous queers into quietly fusing perler beads into nostalgic shapes as we listened to string quartet renditions of The Legend of Zelda theme song. None of us wanted it to end. Nerdcraft should run concurrent to 100% of A-Camp from now on. No, A-Camp should just be perler beads. I said it.
Julia, Calendar Girl/Contributor & Blackhearts Counselor: It's not often that I get to be outside in expansive wilderness and I think it is really essential to my mental health. I did a brief hike in between workshops and was amazed by the surrounding land to the camp. We stopped at the overlook on the short loop and yelled out into the valley, which ate up the sound. On the way back toward camp, while having a great heart to heart with one of my campers a deer slowly walked across the path in front of us just to remind me that I really wasn't in New York City anymore.
Gabby: The gender panel got off to a rough start. a bunch of us had crazy things going on and like I said, I was feverish and dizzy but the feelings had to go on.
Mey, Contributor & Slayers Counselor: The Gender Panel was my first exposure to the amazing panels at A-Camp and it started with me getting the worst bloody nose of my life. However, if you're going to get a bloody nose, let me tell you, A-Camp is the best place on earth to do it. None of my other bloody noses ever came with compliments on my eye makeup or cute queer ladies taking care of me. But that's all beside the point. The really good part started when the bloody nose ended.
Marni, Contributor & A-Camp Co-Director: This time around, rather than being a panelist on the gender panel, I was the moderator.
Gabby: I want to always be on everything Marni's doing. I even want to be her Vanna White at next camp's Butchin It Up workshop. Just throw a sparkly dress on my ass and watch me hand Marni a piece of dry wall (is that something you can hand to someone?).
Marni: The gender panel always feels a little weird because a panel format positions the panelists as "experts," and gender is something that everybody experiences and is sort of an "expert" in, in their own way. So rather than having the panel take on the format of "us talking at you," we decided to make it more actively participatory. We had a set of discussion topics that we'd discussed beforehand, and after each question was posed to the panelists, we gave the audience a chance to chime in and ask questions or add to the discussion. It created a really great dynamic in the room that felt less top-down and more organic. Everybody – the panelists and the audience members – had great insights to share, and it was a great experience.
Kate, Contributing Editor & Tiger Beat Counselor: I didn't know what to expect with the gender panel because I think about gender pretty much 24/7 365 days a year, and I write a column about being butch, so I came to this with a 747's worth of baggage. I also continue to feel a little weird being up in front of people with a microphone to talk about something big and nebulous and important like gender when my credentials are simply my identity and this highly personal column I write. I kept wanting to do a Mean Girls tiara-breaking gesture to indicate that we are all authorities on gender, and also to break the ice since being in front of a large group of people makes my brain feel like that vegan Jello we had for dessert one night. It's also ridiculously hard to talk about something as huge as gender in an hour and a half, so I wasn't sure how everything would play out.
Mey:Even though I missed the beginning of this panel, it still blew me away. I don't have a lot of normal venues where I can talk about how society's expectations for my gender scare me or how I use my gender for self care, so this panel was extremely therapeutic for me. I loved having other people understand what I mean when I talk about how scary it is not being able to use the right restroom or why I don't feel safe going certain places alone. It was incredible having other people understand how selfies (and I don't mean touching yourself, although that's good too) can make a bad day into a good one, or how practicing new makeup techniques can calm your heart. This was something I hadn't really ever had face-to-face before. It was awesome having other femmes and trans people talk to me about how much the gender panel resonated with them. This was a hell of a way for me to kick off my A-Camp experience.
Kate: The audience was amazing. I loved hearing everyone's perspective, even if it sometimes made me cry. A lot of things at A Camp made me cry, but that's okay. Crying is healthy and clears the sinuses.
Gabby: I cried at the gender panel cuz life is scary and so is sharing feelings that never get said out loud. I have to give mad love to the campers who gave me hugs and words of encouragement afterwards. Also, the Foxfire group hug that happened afterwards gave me the strength to hustle it to the next panel.
Crystal: On Friday afternoon I was technically on 'rover' duty however I was super jet-lagged, so I sat under some trees and put on some welcoming music in hope that people would rove on over to me. DeAnne came over to ask my expert advice on stand up comedy and then at some point Marni came over and fed us gummy vitamins. Most of my favorite moments from camp were like this, chilling out under trees with music and campers.
Hansen, Contributing Editor & Scissor Sisters Counselor: The campers who came to the Make A Thing workshops made the cutest things of all time. It was surprising/humbling/amazing to meet people who actually read the things I write at 9pm in my pajamas eating Cheez-Its. One camper, Bri, even gave me the most adorable mountain brooch. Seeing campers helping one another learn to sew and laugh about their merit badge illustrations (Direct quotation from camper Sonia: "This is what a cat looks like, I'm a vet, you can trust me.") and let me sew up their torn shirt sleeves made my heart grow ten sizes, Grinch-style. Basically Autostraddle and Make A Thing readers are the best people of all time and connecting avatars with faces made all of the times I'm super frustrated with my crafts worth it.
Katrina, Writer & Foxfire Counselor: The Queer Women of Color Panel is really challenging every time, and I think it's that challenge that makes it worth doing.
Daniela: Gabby and Carmen worked so hard to make the Queer Women of Color panel a total success. They shook up the structure and gave everyone an activity that made it easier for all of us to share in on the challenges of creating a community that is ruled by intersectionality.
Gabby: We tried something different. We looked into the 1977 National Women's Conference and how the term WOC came out of that. We tried to tackle so many things and I think we did ok.
Katrina: When we talk about race, we're talking about a lot of things, but sometimes when we're dealing with race, we're not talking at all. Many of our experiences as queer people of color are marked by silence, the kind of silence that we've all become used to. This was our third Women of Color panel, and the first one where we all really got to talk to each other. We set out to answer some questions, and I'm not quite sure if we got all the way there.
Brittani: Though it was pretty easy to top my last appearance when I started things off with "Hi, my name is Brittani and I'm black" and continued to have an allergy attack that started five minutes before I had to be on stage, this panel was a lot of fun.
Gabby: I liked when the discussion, fueled especially by comments from Rachel Walker, turned to ways to make real progressive change and racial discussions happen in our every day lives.
Brittani:  I like when panels are a mix of testimonials, discussion, and advice and I think we moved towards that perfect balance this camp. Per the usual, campers and panel members continued to be thoughtful, inspiring, and supportive and I feel like I fulfilled my primary duty which was to break emotional tension with laughter.
Gabby: One other thing that was super important in regards to race discussions making people who say racist things (intentionally or unintentionally) uncomfortable was when Daniela said "You lost your right to be comfortable when you made me uncomfortable". BAM.
Daniela: Every person in that panel shone with their anecdotes and badass comebacks but I was the most blown away by the campers and just how willing they were to put themselves out there and share their stories with us.
Katrina: There's a lot of weight and experience to weed through before you can even begin to suggest how we might fight racism in our everyday lives. But some things did happen for sure. We shared our experiences, understood each others' frustrations and fears, shared our joys, and I think at the very least came to see that we weren't alone.
Julia: I was really nervous to do the Drama Therapy workshop and five minutes before it started nobody showed up. I had feelings of panic develop. I would have to explain that nobody showed up and I was a huge nerd for thinking that anyone would. But slowly people showed up until we had the perfect group of amazing humans. We did some activities, learned some things about each other, created some awesome tableaux and some amusing and thoughtful theatre. I was really pleased that it happened and amazed by what we created together.
Riese: I was actually not nervous about Erotica Writing because Ali and I had that shit on lock. Ali had it on padlock, actually, and she was the perfect co-leader because even though I've been published in nine erotica anthologies and one really gross misogynistic porn magazine, it's been five or so years since I actively wrote erotica — and very few of what I wrote was queer. But Ali is in that totally lezzed-out movin'-on-up stage of her career and is also really good at outlines. We did some writing exercises and y'all read your amazing hit out loud and it was super fun. YAY SEX
Meredydd: I was a little worried that the Mind the Generation Gap panel wouldn't work the way I had planned – it really needed participation from campers of all age groups. After Cee and Somer and Jess and I discussed it though I knew we would have lots to talk about. As it turns out, campers from 19-over 30 came and contributed a lot to the discussion. We learned that our experiences and challenges are more similar than they are different and that we need to find ways to connect across age groups – particularly with our queer elders.
Cee: I took a lot home from the Mind the Generation Gap panel. I saw how much the internet has affected our culture, and realized that may be the reason behind some of the cultural shifts I've noticed in the past decade. Speaking with so many smart people and hearing opinions and thoughts really helped me solidify some of these ideas.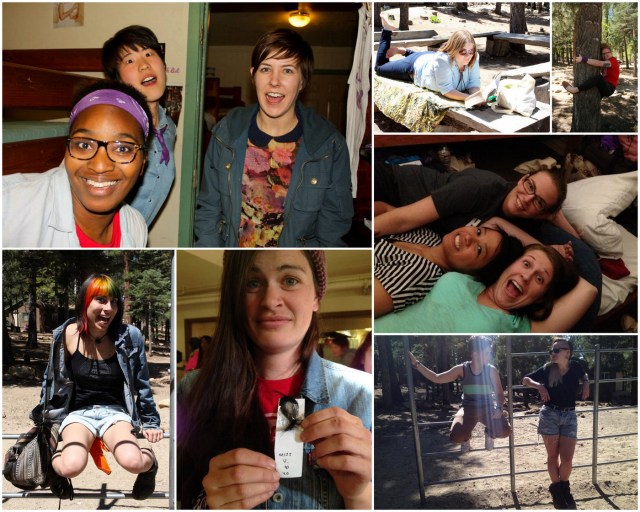 Taylor: I don't recall camp altitude affecting me with quite the same gusto before. O altitude! This camp, altitude became my go-to excuse for everything from repeatedly falling *up* the trail between my cabin and Wolf Lodge to why I was allowed to begin enthusiastically drinking coffee and smoking cigarettes again. Altitude halved our collective alcohol tolerance and halved it again, saving us millions of dollars. Altitude found me curled in a ball in the bottom bunk for two days trying to fashion my new A-Camp sweatshirt into the shape of my childhood teddy bear. Altitude had me cramming human hair into egg cartons duct-taped to a wall while having *the best time*. Who needs substances to impair your judgment or induce mania when you are 7400 feet above sea level? Nobody!
Next: NIGHT DESCENDS UPON US
---
Pages: 1 2 3See entire article on one page