Welcome to Crystal's Track Stop, where every week (or so) I bring you a selection of the raddest tracks from my record collection and also from the internet. 
Header by Rory Midhani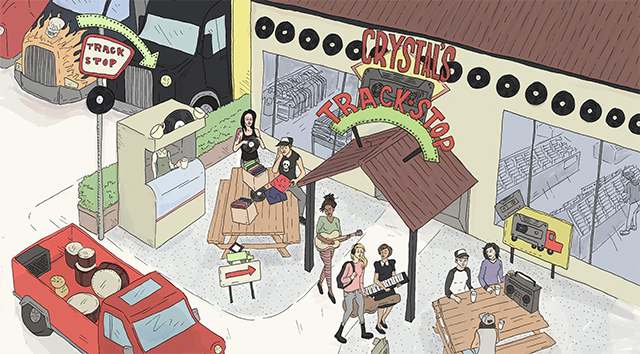 ---
"Sex Tourettes" – Abbe May
So I haven't listened to the new Kanye or the new Austra or any new albums whatsoever because I'm yet to drag my ears away from Kiss My Apocalypse, the most recent record from Australian electro slash 'doom pop' artist Abbe May. Abbe May fascinates me; she's strong and strange and everything she does has this smack of seduction and empowerment. Her latest single, "Sex Tourettes," is kinda dark and weird and so naturally I'm right into it.
https://www.youtube.com/watch?v=_TPutu0CcGg
"The Only One" – Holly Miranda
At a show in New York earlier this month, Holly Miranda performed a bunch of new tracks from her forthcoming album and NYCTaper.com recorded them and put them on the internet (with permission!). As a Holly Miranda tragic, this is hands down the most exciting musical thing to happen to me so far this year. I may or may not have teared up during "Mark My Words". Okay I did. Her music is just so fucking beautiful.
Check out "The Only One" below and head on over to NYCTaper.com where you can download the entire set.
[soundcloud url="http://api.soundcloud.com/tracks/95809907″ width="100%" height="166″ iframe="true" /]
"Heaven In Stereo" – Shilpa Ray and Her Happy Hookers
At A-Camp Somer broadened my musical horizons by playing a track from Shilpa Ray, whose music I'd never heard before and fell in love with. I don't believe it was this particular track but this is the one I feel like playing today. It's from the 2011 album Teenage and Torture.
"Other I" – Saint Le Roq
Last week Carly tipped me off to this rad new track and vid by Saint Le Roq, a queer LA-based DJ duo comprising musician-producers Anon (Anna Sitko) and Kim Anh. Check it.
"The Sailor" – Jess McAvoy
So, this song is a) a few years old, and b) something that I've already linked on this website, back in March when we interviewed Jess McAvoy for Almost Famous. I'm posting it again because real talk, not many of you read Almost Famous. Jess has a dream to record and release a new acoustic album, titled The Women, and needs to raise some funds, and I feel like once you hear her dynamite voice and witness the gender-bending awesomeness in this music video you might be inclined to throw a few dollars her way, if you can.  
There are only a couple days left on the fundraising campaign, you can read all about her plans and donate here.
"Do It Again" – Camera Obscura
Last month Hansen told me that she's been listening to Camera Obscura's new single over and over again, so I've been doing a bit of that too. It's impossible to feel sad around this song, it's a piece of pure joy from their new record, Desire Lines.
---
Want to tell me about a great track you've heard? Shoot me the link via @trackstop or crystal at autostraddle dot com (please write "track stop" in the subject line).