Once upon a time (May 21-26th, to be specific) in a land far far atop a mountain two hours outside of sunny Los Angeles, approximately 300 queer humans gathered for four days and four nights of revelry, renaissance, intellectual stimulation, dance parties and deep sea bonding. They called it A-Camp 5.0, and it was beautiful! This is the first of three fantastic recaps which serve to ease our collective separation anxiety, give you a behind-the-scenes look at how your A-Camp soysage is made, enable us to wax nostalgic over times gone by and provide prospective campers with a brilliant glimpse into the A-Camp Experience.
A-Camp was the genesis of an idea Riese had at 3AM in July 2010: the concept was to take the spirit of the website into three glorious dimensions by renting a summer camp in the off-season and jam-packing a long weekend with panels, workshops, discussions, crafts, sports, entertainment, parties and so much more! We gave the idea a spin with an abbreviated, smaller edition of A-Camp in April 2012, followed by full-size full-length camps in September 2012, May 2013 and October 2013.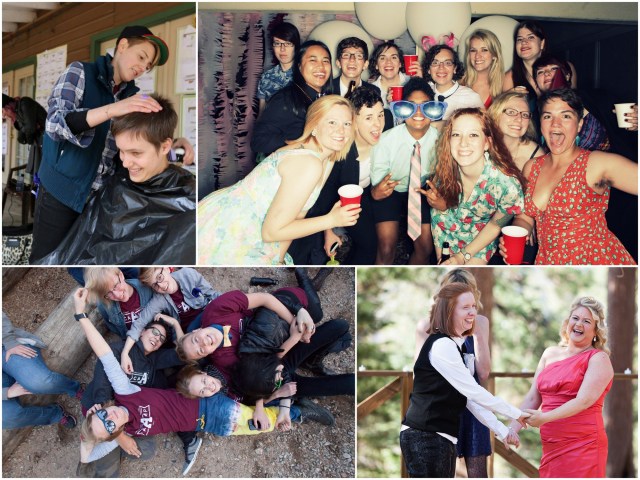 This camp was our longest camp yet, and it still wasn't enough time to spend with you weirdos. We were pleased to provide a resplendently fresh roster of special guests for you last spring like comedian Elicia Sanchez and musician/heartthrob Mal Blum. We were also blessed by the presence of new media superstar Hannah Hart, Little Horribles creator Amy York-Rubin, femme icon Aja of Fit For a Femme and home design expert AB Chao.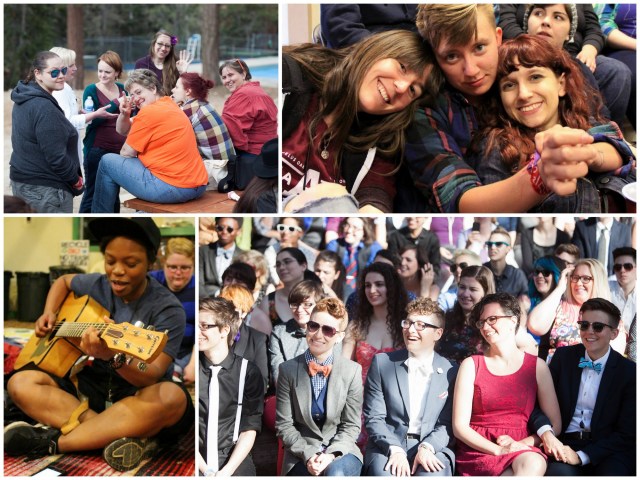 ---
Camp Prep:
Robin, Photographer and A-Camp Co-Director: I think we should start recording our A-Camp planning meetings. We come up with some pretty random and interesting ideas, some of them make it through to the schedule and some of them don't. For instance, this year I suggested a Renaissance Faire for camp and then suddenly we were having one.
Riese, CEO/Editor-in-Chief and Runaways Counselor: Everybody seemed really surprised that I'd been to like ten thousand Ren Faires. WE CONTAIN MULTITUDES.
Robin: It's really rewarding to see your ideas come to fruition, even when not everyone is on board at first. Its also so much fun to work with a team that is so supportive of each other's ideas!
Riese: We really wanted to do everything different this time — with five days, we had more room to try out new things and we just generally preferred ideas for Brand New Things over repeating things we'd done before.
Robin: One of the new things we did was to have only four teams or "houses." Because we only had four teams, we were able to designate spots in camp to set up flags and create a feeling of being in a team village.
Riese: Also Robin and Marni were really serious about wanting to open up pranking opportunities.
Marni, A-Camp Co-Director: Four camps in, Robin and I were bemoaning the lack of pranks in a real way. Robin comes from a background of real honest-to-god pranking camp culture and our attempts at cultivating that at A-Camp hadn't really landed. We wanted to create an environment where cabins would feel unified by the common goal of asserting their collective identity in a good-natured way on the humans around them. We decided to slash the number of color teams in half, group cabins in larger numbers and create symbols around which the cabin groups — or houses — could rally. Luckily we had the gifted and indispensable Rory on hand to meet this request.
Marni: Our vision was that each cabin/house would have a flag bearing a crest/coat of arms that would represent each cabin symbolically.
Robin: Marni and Laneia worked very hard on the concept of the flag and how they would look.
Laneia, Executive Editor and Runaways Counselor: Marni asked if I had a sewing machine and if so, could I make some flags, to which I replied YES and SURE I MEAN HOW HARD CAN IT BE..? 
Marni: We sent Rory the cabin names and asked him to create a crest that would include a unique symbol representing each cabin in the house, and wow did he deliver. Not only did he create stunning and impeccably detailed crests, he was amazingly responsive to the print company's feedback about little changes that would make them more stencil-friendly. The result was four unbelievable stencils in ABS that we'd later use to create flags for each house. Rory is the most amazing, you guys.
Robin: He was even more sweet and talented than I could possibly imagine a human could be!
Robin: Marni and I also created a fifth, secret team: The Clear House, hoping to jumpstart pranks. This involved going on Amazon to find as many clear items as possible and thinking up challenges for the other houses. The campers ended up not only stepping up to the challenges we presented but pulling some pretty amazing pranks on their own, but we'll talk about that later.
Riese: Last camp we were short on supplies for a few of the craft activities, so this time we went completely overboard.
Robin: My house was the shipping headquarters of camp this year so I was having three, four, sometimes five boxes delivered to my house each day for a month leading up to camp. I got to know my neighborhood UPS, FedEx and USPS delivery team really well. I wondered if they thought I had a serious craft supply hoarding problem.
Riese: I personally spent about two months gathering magazines for the QTPOC Speakeasy's Zine-Making workshop, the Chingona Chats and Crafts as well as our own, getting 'zines from our favorite distro Pioneers Press. But other workshop leaders had so many special needs this time! Thirty billion pounds of rice! 25 hand mirrors! One liter of blue fruit punch!
Robin: Each time a box would arrive I would get so excited to open it and see what was inside. More scissors! Bondage ropes! Granola bars! It was like Christmas morning every day. The nights leading up to camp consisted of me in the living room, surrounded by boxes, laptop open on 10 different spreadsheets in google docs, stringing pieces of red, yellow, blue and green fabric onto twine.
Riese: I was looking forward to this camp like nothing else — it had been a really rough few months leading up to camp and I was so excited to see my friends and make new friends and MAKE 'ZINES. On Sunday morning I packed up the rental SUV with a trillion boxes and my outfits, including a lot of large pieces of wood, and set off into the horizon. Driving to Los Angeles alone meant I lost precious name-and-cabin-facts-memorization time enabled by the passenger seat, but I made up for it the next day. As per every time I go to Los Angeles, I spend the last two hours of my drive frantically google-mapping the nearest Target. I don't know, I just always forget something I need at Target.
Sophia, Cat Power Counselor: I arrived a day early and crashed at Stef's place along with Liz and Cara because SLUMBER PARTY and Carmen San Diego bitches going up a mountain. We managed to both listlessly and stressfully wander Stef's neigbourhood while having a close call with the Church of Scientology.
Riese: In a strange twist of fate, Robin got rear-ended like two days before camp? This would've been a disaster situation if we hadn't been resourceful lesbians who realized we now had the opportunity to rent a mini-van largely on her car insurance's dime, which we packed to the brim for our epic drive up the mountain, which was interrupted by ongoing updates regarding whether or not this one team member who had ignored all our emails for months was actually showing up. (Spoiler alert: nope.) Marni flew in late Sunday night and Robin and I picked her up at the airport. In less than 24 hours, we'd be back home on the mountain!
---
Pre-Pre Camp: Monday, May 19th
Carmen Rios, Straddleverse/Feminism Editor & Gladiators Counselor: A few days before A-Camp, I realized that my emotional state spiraling out of control may have been related to a lack of In-N-Out Burger in my life. I'd sent Kaylah a bizarre and emotional email about it, but she never responded. Brittani, of course, showed up with my exact order at the airport. That's because Brittani, like In-N-Out veggie burgers and grilled cheeses with fries all animal style and a chocolate shake, always completes my life.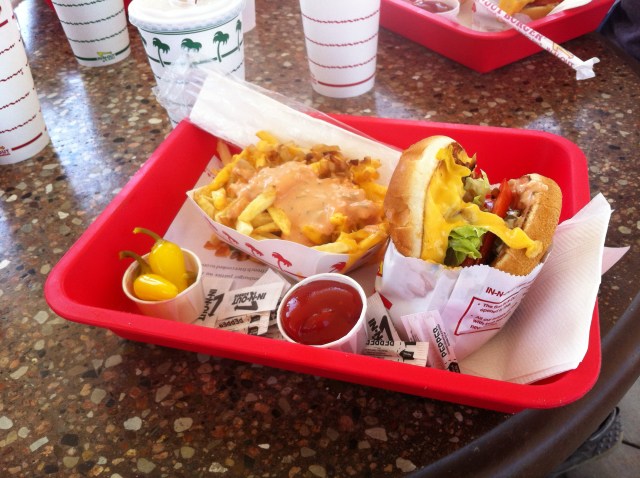 Sarah Hansen, Heartthrobs Counselor: I don't know why I do this to myself, but I am always the first or second to arrive at LAX. I was second to Carmen this time, who offered me some cookies. This became a thing, the offering of cookies.
Carmen: As the human in charge of getting staff on to the staff shuttle and up the mountain, I'd ended up spending a majority of my day completing my exercises in The Desire Map and trying to hand out free cookies.
Hansen: Carmen was the best helicopter mom, she literally called me ten seconds after my plane landed, asking where I was.
Whitney Pow, Foxes Counselor: When I got off the plane at LAX, the first thing I did was grab a $12 fish taco, which was a financial and gastronomic decision I immediately regretted (and also possibly an elaborate euphemism). The way LAX and its terminals are laid out is like this giant horseshoe of death, where I always find myself landing at a terminal that is the farthest away I could ever possibly be from the Queer Terminal where I am meeting staff for pre-camp. Always. Is there an A-Camp theorem for this? Like some kind of A-Campian Theorem in which the place you need to be in LAX is always the farthest terminal from your current position?
Carolyn Yates, NSFW Editor & Bloody Valentines Counselor: Every time I arrive in terminal 6 at LAX, it feels like coming home.
Whitney: When I found the A-Camp Staff Queers, Carmen asked me immediately if I wanted a cookie, and I said yes and I ate it and it was so M&M-y and crunchy and delicious. And so many hugs were had. The waiting-for-the-bus-up-the-mountain Pre-Camp is always a huge festival of the biggest hugs. There were so many people I hadn't seen in so long since I missed A-Camp 4.0, so the last time I found myself in these tens of queer arms was a long while ago. Every time someone arrived, everyone stood up for hugs. It was beautiful.
Ali Osworth, Geekery Editor & Foxes Counselor: I got to fly to camp sitting next to Gabby Rivera. That in and of itself is amazing because Gabby is an amazing human. But what was truly majestic was that we were flying Virgin America and Gabby had never seen their updated safety video. Watching Gabby watch the Virgin safety dance was the perfect opener to a wonderful week. It was full of wonder and amazement, laughter and joy and also full of all those amazing facial expressions Gabby makes.
Gabby Rivera, Speakeasy Editor & Mockingjays Counselor: Seeing everyone gets me super emotional, like I can't believe it's happening again and I get to be surrounded by all these loving, exceptional, and badass humanoids. Like thank you universe for giving us some peace and allowing me to share space with Carmen, her hair, and her laugh/shoulder bounce.
Crystal, HR Director & The Con Counselor: Kip and I discovered that the LAX food court no longer exists and so for sustenance we ate a bunch of chocolate pop tarts that had freshly smashed up in my check-in luggage. Or possibly it was just me. I definitely offered them around though.
Whitney: One of my favorite parts of the long, long wait for the bus up the mountain was geeking out with Cee about bow ties! True fact about myself: I don't know how to tie a bow tie, or really a tie for that matter. My A-Camp resolution to my cabin this year (GO FOXES) was to learn to accessorize for the next A-Camp, which will include not only getting suspenders and a fancy tie clip but also buying a bowtie for myself and learning how to tie it. Cee showed me her tie-crafting materials for her Bow Tie Workshop at A-Camp, and all the really sweet matching pocket squares and ties she had made. And then, she gave me a quick run-through of how to tie a bow tie. I believe Hansen has an Instagram photo documenting this occasion, in which I learned how to tie a tie from the best.
Cee Webster, Tech Director & Thunderbirds Counselor: I really look forward to meeting everyone at terminal 6 and then the bus ride up the mountain. Everyone is so cute and excited to see each other. It's like a chosen-family reunion.
Hansen: We got a lot of Starbucks, then headed out.
Carolyn: I was terrified on the bus ride up the mountain, not liking windy roads to begin with and feeling like we were all going to die when the bus motor gave out, sending us sliding backwards through the guardrail and over a cliff, which it did not, thankfully.
Hansen: Crystal and I like to sit together on the shuttle to review stats on our campers (last year we made flashcards but this year we just quizzed each other with facts we could remember from their intro emails, like "Who lives on a houseboat in Alaska?" "Who goes by the name Bearnicorn?" TRICK QUESTION SAME PERSON.)
Crystal: Sitting in the back of the bus and quizzing Hansen on details about our campers is definitely the most enjoyable parts of the journey. Everyone is so interesting!
Emily Gigler, Rhythm Nation Couselor: Roadtripping from Oakland to the mountain with Kaylah was like a queer coming of age movie ending with us charging up the mountain to the sounds of Circle by Lil Ronny.
Kaylah Wilson, Modtern & Rhythm Nation Couselor: Gigler and I rolled into Alpine Meadows bumping our favorite twerk jam and I finally felt like I was home.
Stef Schwartz, Music Editor & Firebrands Counselor: I drove up the mountain in a very fancy rented SUV with Soph, Lizz and Cara. Lizz had so many dildos and I had so much musical equipment that our colossal vehicle was completely packed to the gills. On the way, we stopped at ye olde Rancho Cucamonga Party City for last-minute cabin supplies and I picked up some very important items, including a sign featuring a parrot holding a margarita, some sparkly tinsel flamingos and an ALOHA banner which I cut up and re-imagined to say MAHALO and taped up above Carmen's bed to greet her upon her arrival. We also stopped at Trader Joe's for the semi-annual Gathering of the Hummus.
Stef: I have now driven up the mountain so many times that I don't need directions at all, which is novel. I love driving up the mountain. I will drive that mountain right now. Wanna fight about it?
Riese: I could drive up that thing in a giant white van with nine passengers in the dark.
Soph: Our car of fabulosity reached the campsite before the staff shuttle but we were welcomed with open arms and hearts by Marni and the senior staff. WE WERE HERE ACTUALLY AT ALPINE MEADOWS WAS IT REAL?
Chelsea Steiner, My Bloody Valentines Counselor: As a first time counselor, I was super nervous to meet all the staff in person. When the staff bus pulled up, I had all of those "first day of school" feels. As those beautiful weirdos started flooding into Wolf lodge, it was overwhelming. I think the first person I really talked to was Rory, and I immediately grabbed him and demanded we be friends. I didn't know then that Rory, in addition to being an amazing artist and human, is also a woodland sprite made entirely of magic.
Hansen: When we got to camp finally, there was a boob cake. This was the stuff of legends: queer camp with boob cakes. Rachel wore a cowboy hat with a veil for her Bachelorette Party and it was THE MOST GLORIOUS of sights. Lizz gave Rachel a lap dance to "Closer" and yeah, it was just as amazing as you think it would be.
Chelsey Petty, Editorial Assistant & Blackhearts Counselor : I am a human who always has too many things on my to-do list. So when Stef mentioned they wanted to get Rachel a vegan boob cake for pre-camp, I was like, "I could make that." It turned out, I could not make that. Thus, the boobs looked something like this:
Chelsey: Possibly I will have an upcoming series called "I Cannot Make That" to highlight all my failed attempts at making things. (See also: Mine and Vanessa's dresses for the "Once More With Feeling" Singalong). We can't all be Hansen.
Gabby: Tried my first legal weed brownie, thought I was going to lift off the mountain and land in space or maybe heaven. Couldn't handle my shit. Went to bed hella early.
Riese: That was the night I decided to never consume any kind of marijuana product on the mountain ever again for as long as we all shall live. We were in Wolfe Lodge and Lizz was talking about her vagina and everything felt really strange and far away, like all the Wolfe Lodge Nights Before Camp were sort of blurring into my brain, all starry at the edges. So I just got up and went back to the cabin. Crystal was already asleep and I just laid there alone in the dark feeling completely insane for about two hours.
Gabby: Was happy to be bunking across the way from the famous Brittani and was hella glad to be in a room with my Jewish baby sisters: Lizz & Vanessa. They make sure that feelings happen and that everyone is around to process those feelings. I was sad that Katrina and Laura, my boo, weren't on top of Mount Queermo.
Carmen: Kaylah, Gigler, Skinz (Soph), Daniela and I were put in Cabin 8 this A-Camp, a small (closet-like) cabin on the outskirts of camp (in the suburbs). We named it the Slut Shack and covered it in crop tops. I also hung my MAHALO banner, which Stef was kind enough to make for me, prominently.
Gigler: Slutshack! There once was a charming, cozy little cabin at the edge of the forest where there lived the saltiest, the most turnt, the baddest bitches on staff. #8isGreat
Soph: Soon the rest of cabin 8 alighted and the Slutshack was born. Where the party never stopped. I'm sure children are hearing the ghost of trap to this day. And whoa meeting the wondrous person who is Rory, who could forget?
---
Pre-Camp: Tuesday, May 20th
Welcome to Camp
Crystal: I'd passed out as soon as we got to the mountain, so when I walked into Wolf lodge the next morning I was greeted by the remainder of what someone explained was boob cake. In any other environment I might have had questions.
Kai Keller, Calendar Girl & Panthers Counselor: Pre-camp is the time when I personally feel like a hamster in a maze bumping into lots of walls and also lots of other hamsters who are bumping into walls. I'm always pleasantly surprised when we find our way out the other side which isn't until about an hour after the campers arrive.
Robin: We worked on gift bags, Renaissance decorations and workshop/panel prep all day.
Melinda Gonzalez, Thunderbirds Counselor: Oh, cabin decorations. I spent the week prior to camp scouring the San Gabriel Valley and Inland Empire for a model Thunderbird: like, either the car or airplane. I barely succeeded the day before driving up the mountain. I also got the bright idea of buying balloons, despite the fact that Cee and I are both asthmatic and didn't have the breath to inflate them. But it ended well, because that was how we made friends with Chelsea and Carolyn.
Cee: We made a cabin alliance with Chelsea & Carolyn during cabin prep. We helped each other decorate both cabins and listened to music together. It helped unite our two cabins for the color wars to come.
Mey Rude, Trans Editor & Ghost World Counselor: I think my favorite part of pre-camp is just getting to see all my friends on staff who I otherwise don't get to see very often. Since I live in the middle of Idaho, most of my interactions with them are online, so I'm always super happy to see them in person. Plus, it's super fun meeting new people, like Elicia Sanchez and Aja from Fit for a Femme. Elicia is one of the funniest, most fun-to-talk-to people I've ever met and Aja is pretty much the embodiment of everything I love about femmes. Y'all really should have seen the look on her face when she heard that we were supposed to wear our staff t-shirts as much as we could, messing up her well thought-out outfit schedule.
Rory Midhani, Illustrator & Gladiators Counselor: I was excited to be meeting all the people from the internet and find that people actually talk the way they email. This was cool.
Cara Giaimo, Contributor & Ghost World Counselor: Being assigned to the Ghost World cabin was a great excuse to tap into the secret part of myself that is a haunted house decorator. Mey, Rachel Rice and I spent many happy hours making several species of ghost (silk-and-cotton-ball, paper-and-sharpie, combinations thereof). But the crowning moment occurred when we first inflated the GIANT INFLATABLE PUMPKIN GHOST TRIO that Mey had borrowed from her neighbor in Idaho. It was the most beautiful giant inflatable pumpkin ghost trio I had ever seen, and it quickly set our cabin apart.
Kaylah: I turn everything into a competition even when no one else cares, so I took cabin decorations very seriously. I remember walking to the Rhythm Nation cabin so stoked to put up my cute little music notes until I looked over and saw Mey inflating those ghosts for the Ghost World cabin. My heart was broken, but it looked perfect. You win, Mey! I give up!
Ali: Decorating the cabin is always a favorite moment. Especially when I get to be co-staff with Whitney Pow. Whitney Pow is a magic human and also she is a genius with the cabin decorations. We were cabin staff for The Foxes (RED TEAM!) and Whitney came up with these amazing origami foxes and we got to customize their faces with sharpie and it was just so fun.
Soph: Rachel and I got super distracted with decorating cat power and consolidating our supplies. I'd never bonded over stickers so much with someone before, especially magical cat ones.
Carmen: Working on setting up my cabin with Rory pushed us into a bromance which would last throughout camp and will hopefully last throughout my life. Seriously, how could I not love him? The kid brought vials of glitter with him to the mountain and was just as driven as I was to create massive, greek columns for our cabin – The Gladiators.
Carmen: Side note: Rory is a Woodland Nymph. A sweet, masculine, bold woodland nymph.
Rory: Making decorations with Carmen for our Gladiator's cabin palace was a great warm-up that got me excited about camp starting and getting to welcome our campers.
Stef: Pre-Camp always makes me feel sort of like one of Santa's elves, or at least how this Jewish kid imagines it would feel to be one of Santa's elves. I don't think we ever really feel prepared for camp until it's actually underway, but we arm ourselves with tons of Sharpies and make a lot of outlines and pack a big pile of gift bags and hope for the best.
Hansen: Crystal and I tried to decorate The Con cabin but I really showed that as the DIY editor, I cannot make poofy hanging balls to save my life. Crystal made fun of me a lot and then we realized that decorating The Con with all black made it look like an Over the Hill party or something really depressing, so in the end it kind of fit the whole theme of The Con album, too!
Crystal: I am not crafty like our DIY editor / my co-counsellor Hansen but I am tall enough to hang stuff from the ceiling, so we work well as a cabin decorating team.
Meredydd, Outsiders Counselor: Staff bring so many craft supplies that it's hard to believe they are able to fit any clothes in their luggage. I love seeing the progress throughout the day as the doors of each cabin are decorated. Everyone is so creative and every year the decorations get more complicated. It is really just a matter of time before someone brings a fully developed animatronic display with accompanying laser light show.
Riese: Historically, Laneia and I have spent every free hour of pre-camp in our cabins, ripping pages out of magazines and making mini-collages to plaster on the wall, but this time we did the 'zine-making and the collaging at home so that we'd have more time at pre-camp to hang out with everyone else — I stuffed gift bags with Chelsea, planned panels with the panelists and (just guessing here, can't remember exactly) listened to Lizz talk about her vagina.
Robin: I had planned to take everyone on a short hike to the famous A-Camp overlook, but those plans were thwarted due to a wildfire up in the woods a few weeks back. Instead, we sat in Deer Lodge and passed around a pinecone and each talked about what we were most excited about.
Chelsea: At some point, Carmen and Riese asked me to go to LAX and help coordinate shuttles. When I agreed, Riese looked at both of us like an exasperated mom and said, "guys, try not to do too many drugs tonight." Carmen and I would later debate what "too many" was.
Riese: I wanted to empower them to take their fate into their own hands. That's what we do here, we empower women.
Kai: I spent most of pre-camp getting used to my lungs collapsing from the hìgh altitude and practicing my moves to Bey.
Rory: There was a bear.
Cee: It was neat.
Riese: We also had to practice for our opening night skit. I had fantasies of an extravagant dance number with choreography, but as always nobody wanted to indulge me. Ever. In general, "figuring out how to wow them on night one" has been a consistent challenge. BUT BOI DO WE TRY. Seriously next time I want to hire a professional Opening Night Dance Number Leader so that we can all BRING IT.
---
A-Camp 5.0, Day One: May 21st, 2014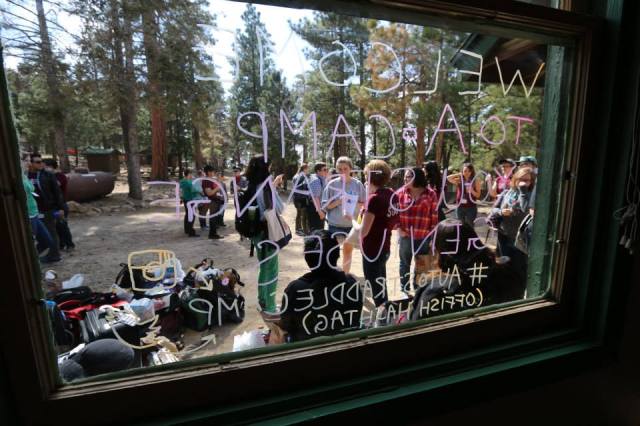 Chelsea: Carmen and I got up at 7:30AM, probably running on four hours of sleep, and made our way down the mountain fueled by coffee and Drake. On this epic road trip, we discover that we are basically sisters from another mister, and it is glorious. #SherylCrow
Carmen: I made her listen to a lot of Sheryl Crow. We ended up spending a majority of the day there, because the Lesbian Gods actually refuse to let the A-Camp shuttles get to camp on time.
Riese: Honestly I think that's the best evidence NOM has that gay people are disliked by G-d.
Stef: Wednesday morning, almost everybody in Cabin 16 woke up super early, but Cara was the first one dressed and ready to greet the day. She declared that she was going out for a run, and took off, only to return just a couple of seconds later, furrowing her brow with concern. "There's like a million coyotes out there," she announced, before pausing thoughtfully and announcing, "I'm going to learn their secrets." Then she disappeared into the morning fog.
Cee: I spent the morning making a flag for Klub Deer. Carly and I projected the deer logo onto a sheet which Alice Motes had picked up for us on the way up the mountain. We then painted it with the help of Carolyn and Meredydd.
Gigler: Kaylah and I hung up the A-Camp bat by the entrance to greet campers, thanks to my friend AJ Sharkstar who also made lots of other cool critters for Rhythm Nation and the 90s Pool party! She's a punk rock feminist street artist who donated her time and talents to make us custom critters. Let's hear it for the Grrrl!
Stef: Before the campers arrived, several staff members were completely enchanted by the presence of several anole lizards just partying out in the sun on some rocks in front of Wolf. I was perhaps the most enthralled, probably because one of the lizards kept doing push-ups and smiling hopefully up at me. Apparently push-ups are the male lizards' preferred method of impressing females. I was pretty impressed, but not enough to give him my phone number.
Chelsea: We got to LAX around 10:30, and we expected that maybe a handful of campers will be there. We walk in and like, 50 campers turn to stare at us. So many adorable excited faces! I get immediately terrified that we'll fuck up and leave some adorable queer stranded at the airport. SPOILER ALERT: we didn't.
Laura Mandanas,  Contributing Editor & Outsiders Counselor: Right before the campers arrived, Rory and Taylor decorated the windows in Wolf. I watched them in awe for a good five minutes.
Robin: The best part about the first day of A-Camp is watching everyone coming down that hill. Since this is our fifth camp, its fun to see that mix of familiar faces, friends greeting each other after not knowing each other for so long and the nervous faces of first time campers.
Crystal: My role during registration is usually to hang out in the car park and greet campers who drive in. It's the best job. I really love being able to see things like first-time campers being dropped off by family, and returning campers arriving with a car full of friends that they've made at previous camps.
Riese: I love the first day of A-Camp — sitting at registration with Laneia, meeting all the new campers, hugging the new Runaways, hugging the old Runaways — it feels like a caffeine-and-Xanax fueled dream.
Laneia: Registration is my FAVORITE! You know, the only time anyone ever licks my face is at A-Camp.
Robin: I love watching new campers arrive because I know within a day they will be adjusted and feel part of our camp family and leave camp with so many more friends! The trick to the first day, especially for first timers, is to keep an open mind and embrace the awkwardness of meeting new people!
Mary Tully, Panthers Counselor: Meeting the new campers on the first day is always so much fun! Kai and I were so excited to finally meet everyone and it was obvious, very quickly, that The Panthers were the best campers at A-Camp.
Soph: There is no feeling like waiting for campers. the best folks you've haven't met. And meeting them is even better! Incomparable camaraderie you know will last.
Crystal: I'd been waiting 5 years for Autostraddle to sell black t-shirts and this was the day that my dream came true. I purchased several, justifying that it was very on theme for The Con cabin.
Chelsea: We started loading campers onto shuttles, but the shuttle company fucked up and sent us the wrong sized bus.
Riese: It never ceases to amaze me that companies charging us $1,200 per bus manage to fuck up every time!
Chelsea: We ended up with five campers and Dani RDS, who bravely volunteered/was forced to wait with us until the final shuttle. Despite telling them to just send a van, they send a massive shuttle bus for five campers. I briefly consider tying the campers to roof of my car and driving them up the mountain. It wouldn't be camp without a struggle bus scenario.
Carmen: When the final shuttle had finally departed the airport, Chelsea and I left with Daniela, the most wonderful addition of all to our staff vehicle, and went to In-N-Out.
Meredydd: Because I was at the merch table all day, I didn't get to see my campers (The Outsiders) till later that afternoon/dinner time. I was so unbelievably excited that everyone fully committed to wearing denim vests. They all looked so good! #hotcabin But The Outsiders didn't just look good – they were all amazing people. Fun, kind, caring, competitive and ready to be absolutely ridiculous about everything.
Laura: Rae climbed up between two bunk beds and started planking… and from that moment on there was near continuous planking by the Outsiders for the next four days. I hear they didn't even stop when they went to bed.
Stef: Every camp, I feel like the campers are sort of desperate to unravel the mysteries of how Riese puts the cabins together and figure out what their commonalities are, why they've been brought here, what greater purpose they were put together to serve. The best the Firebrands could figure was that some of them were medical professionals and all of them were pretty good drinkers.
Riese: (it was the latter)
Brittani Nichols, Comedy/Sports Editor and Firebrands Counselor: Our first time in the dining hall, I noticed the hot chocolate machine was not available for our use. And by not available, I mean they unplugged it and put a sign up. I believe that hot chocolate is a year round beverage and so I found Katie and complained because I've learned that's the only way to get things done in life. It didn't actually work but at some point during the week, the temperature dipped and the hot chocolate machine got turned on and I showed my take on excitement which is completely internal and not obvious to the naked eye.
---
Opening Ceremonies
Marni: I had a grandiose vision of presenting the flags to each house in the opening campfire/ceremony down at Firecircle 1 (which, for those of you who aren't familiar with the A-Camp site, is a big and picturesque campfire amphitheater lit up by strings of lights around its circumference at night), but the weather was so cold that we just couldn't bear to subject the campers, on their first night, to huddling in frigid temperatures. We decided to run the opening campfire in Eagle Lodge, and presented each district with their flags in a manner that I hope was theatrical enough to befit the artistic effort that went into them.
Riese: It makes me SO SAD when we have to do the opening ceremonies inside instead of at the fire circle because IT'S SO MUCH BETTER AT THE FIRE CIRCLE.
Robin: Riese and Marni convinced me to do an opening night sketch which I'm pretty sure didn't really land, but Marni thinks differently. Regardless, it was a good way of showing newcomers that trying things at camp, even if you don't do them perfectly, is a great way of experiencing getting our of your comfort zone in a safe and supportive place.
Marni: She's right, it didn't really land.
Riese: Basically the idea was that the Owl and the Shark were seeing A-Camp for the first time, like walking through and seeing the different types of people and activities there, and I think one of them was actually gay but hadn't like, come out to themselves yet? It was complicated. My part involved writing and drinking.
Crystal: Whitney and I were asked to represent the introvert meet-up activity during the opening ceremony skit. By standing on stage. In front of thousands of people. And doing a 'bit'. I still can't talk about it.
Bren: The skit was the best! I could listen to Robin "Hoo" at people for hours. And Marni makes the most wonderful shark.
Owl: Where you from?
Shark: The ocean.
Classic Shark.
Mary: The puns were just so good. I loved it.
Melinda: I had to wear an animal onesie. Kip was assigned the same part. We kind of ruefully looked at each other in our respective costumes. He said little, wisely handing me a full whiskey flask. I performed my part well enough.
Chelsey: I loved being a cheerleader with Kai, Hansen, Laura and Soph in the opening skit. Mostly because I realized that 2-4-6-8 rhymed with validate.
Stef: So before camp, Cara and I were geeking to each other about our respective goofy crushes while also worrying about how we would survive camp without the sweet dulcet tones of DeAnne Smith and her ukulele. Somehow, this evolved into us writing a romantic duet entitled, "Why Are We So Gay?" We presented it to the team as a potential new song for opening ceremonies, and we were thrilled when the powers that be allowed us to perform it in front of a room of very enthusiastic weirdos. I sort of black out every time I have to perform on that stage in Eagle, but I feel like it went well and people laughed in the right places and now everybody at A-Camp knows about how Cara and I are just a couple of bros in friendlove.
Riese: Honestly the best part of every opening ceremony is just being there in the same room as all the campers. Knowing that we had five whole days ahead of us to fall in love and that so much was in store. I was especially nervous this camp 'cause we were trying so many new things and didn't have Hosts (a role previously occupied by Deanne Smith, and before her, Julie and Brandy), but everybody seemed to jazzed from Day One to HAVE A BUNCH OF FUCKING FUN. I feel like that was the vibe throughout — we're here to let go. 
Cee: Mere and I unveiled our Klub Deer flag during the opening ceremony, sadly right before Carmen got back up the mountain to join us.
Carmen: As fast as we rushed up that mountain, it wasn't fast enough. When I got a text from B about how awesome the Klub Deer flag unveiling had gone at the opening ceremony, my heart broke into various pieces. But eventually, I learned to love again.
---
The Initiation Ceremonies
Carmen: The Gladiator super-secret initiation (JK) quickly turned into a knighting ceremony. I obviously went with Lil C as my Gladiator name, but others got more creative.
Rory: It was like, "I hereby dub thee [Sir][Clarecles]" etc. … knights and gladiators are something different I guess but whatever, we had fun.
Carmen: Also, there may or may not have been a fraternity paddle involved.
Riese: Laneia and I are two of the busiest humans at camp, which's why we didn't assign ourselves a cabin at the first camp — but after our first camp as socially inept weirdos, we decided to start counseling a cabin together to make it easier to meet more campers! To help ease the pain of how packed our schedules were, however, we started putting all the Runaways alums into the same cabin (The Blackhearts) and assigning everybody "bigs" and "littles" to make everybody feel cared for and womb-like while the two of us ran around camp attending to catastrophes and running shit. (While making as much time for our campers as we possibly could outside of that.) The initiation ceremony involves the granting of littles to bigs, amongst other pagan secrets. It did NOT, however, involve an indoor fire cauldron, because those were too expensive. Eventually we'll get to the blood-letting.
Kai: People made fun of me for dragging in a huge piñata that looked like it was barfing gay from all of its orifices, but HA the Panthers know what's up. We started camp by banging in the cabin until the room exploded in rainbows and candy. Jealous?
Crystal: For our cabin initiation, Hansen had this genius idea of asking campers to sketch each other, because our cabin was called the Con and this activity would make them artists. Con Artists. Geddit? They did a really good job of humoring us.
Yvonne Marquez, Associate Editor & The Craft Counselor: Liz Castle and I were co-staff for The Craft Cabin and we had so much fun planning out our cabin initiation. In the spirit of the 1996 cult classic, we created our own "spell" initiation (…most solemnly swear that I will ever abide by the queerhood and friendship of The Craft Cabin…) and marked our campers with a triangle inside a triangle to represent our cabin within the larger Autostraddle community. Look how cool we are!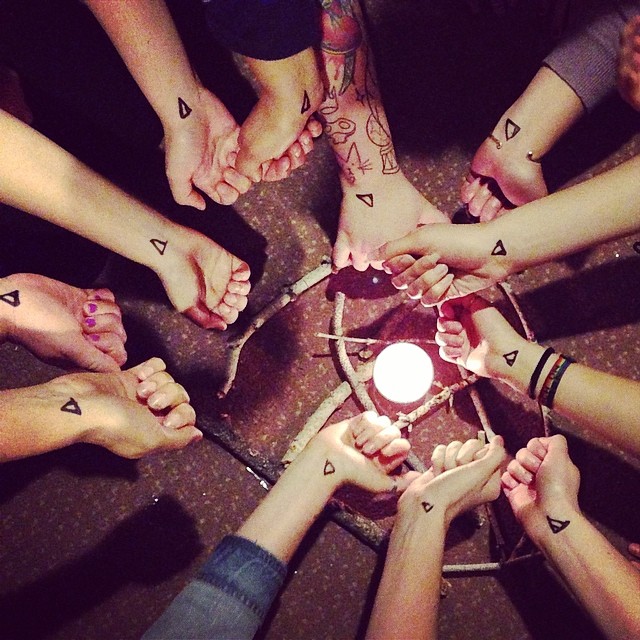 Liz Castle: We had little triangles within larger triangles which was symbolic of each of our individual little queer hearts being a small but integral part of our larger Autostraddle community on the mountain. Also black triangles are super gay which is just fabulous icing on the queer cake.
---
Day Two: Thursday, May 22nd
Carmen: As usual, I woke up at the butt crack of dawn. That morning, like every subsequent morning after it, I woke up, looked over, and realized Kaylah was staring directly at me.
Crystal: I love waking up early and hanging out in Eagle lodge with Ali and other early-risers. You can always count on someone to bring french press coffee and some interesting stories. It's such a chill time.
Cara: One cool thing about being at queer camp is that, for once, a lot of people happen to have the same clothes as me share my unique and well-considered set of aesthetic values. Imagine my excitement when I realized that one of those people was Brittani, who, at breakfast, was wearing an extremely fly outfit comprised entirely of clothes that I had also brought to camp. I immediately changed so that we would match, and followed her around for much of the day. What would you have done?
---
Thursday Morning:
Pre-Breakfast: Sunrise Eagle Cafe (Grace, Crystal and Ali), Unkink Yoga (Dani Orner)
Blocks A & B: Write a F*cking Book (Rachel Rice) // Cheer Camp (Kai) // Songwriting 101 (Mal Blum) // Out of The Office, Into The Streets: Activism (Carmen, Gabby, Liz Castle) // Bow-Tie Making (Cee) // DIY Neck Pillows (Kai) // Castlecraft: Glass Etching (Liz Castle) // Casual Sext (Carolyn) // It's Right In Time: A Coming Out "Later In Life" Discussion Group (Laneia, Riese, AB Chao, Meredydd, Melinda, Dani Orner) // Beyonce's Dance Grooves (Kaylah) // Mountaintop Bisexual* Discussion Group and Hummus Appreciation Society (Stef, Chelsea Steiner, Dani RDS & Rachel Kincaid)
Mey: In the morning, I was sitting in Eagle lodge working on my piece for the staff reading. Luckily, this was also where Mal Blum's Songwriting 101 workshop was being held. I had the pleasure of introducing myself to them earlier that morning, and they're so cool and nice, and that was immediately apparent as they led this group in a quick discussion of the structure of songs. Then, the group actually all stepped up and started writing a song together. This was ridiculously impressive.
Crystal: At some point I stumbled upon Mal Blum leading a group of campers in what appeared to be some sort of crowdsourced adult only Christmas carol. There were a lot of talented folks on the mountain.
Mey: The song they wrote was funny, clever, Christmasy and actually sounded like a real song, which is amazing for something that was crowdsourced over just half an hour. Each camp I'm totally blown away by the talent of the campers who come.
Carmen: I'd opted to host an activism panel at A-Camp this round because I finally felt I'd done it all: on-campus / on-the-ground activism, digital activism, professional advocacy. I rounded up Gabby and Liz Castle, convinced them they belonged there, and rolled with it.
Gabby: Mostly, we just talked with everyone about the good work they do. We asked everyone what activism was to them. We talked about the difference between being on some "white savior shit" and being someone that is listening to the communities they're involved with and acting in accordance to their needs. We shared good practices, best ways to jump start involvement, and created a list of organizations and conferences that people should look into.
Carmen: It was awesome — people were super-willing to jump in and share advice, and we all got the chance to plug our own organizations and their work.
Liz: We talked about different types of activism, some of the struggles activists face, and how to get involved. Turns out a-campers are an incredibly passionate bunch and I left feeling inspired by everyone in the room!
Cee: For the bow-tie workshop I knew that there would be no way we could do a whole bow tie, start to finish within the time block without several sewing machines. So I bought the fabric and pre-cut and interfaced every tie before camp. I figured then we could all sit around and use the time to hand-sew the ties together. Torre agreed to help out by walking around and answering questions. It was really great that she did because so many people showed up! I had enough fabric for 30(? 35? i forget?) ties and we were turning people away at the door 15 mins before the block started!
Cee: Some people finished their ties at the workshop, and more took a needle and thread with them to finish by the dapper meet up and wedding.
Soph: I really enjoyed Casual Sext. I'd never heard anyone talk about their experiences sexting before, and their strategies or just making that aspect of texting seem chill? I don't know but I hadn't thought about it (maybe I live in a hole?)
Meredydd: I knew the "Tardy to the Party" panel was a huge success at last camp and felt the pressure to make it great this time as well — re-branded as Right In Time.
Riese: Last time this panel was a really emotional experience that changed everybody's lives forever. At an earlier, more tender time in our lives, we would've decided to replicate the panel for this camp and inevitably disappointed attendees hoping for emotional catharsis. So we made it different in that a large portion of our time was devoted to talking about how Autostraddle could better serve this specific demographic.
Meredydd: I felt conflicted about being on the panel in the first place — I don't have a dramatic story, I was never married or anything like that and I am not generally big on sharing personal things. But I did come out later. In talking to campers before the panel, I heard from many of them that they also though that "Right In Time" wasn't for them for many of the same reasons. That really made me feel that being on the panel was a good thing, that I could provide a different point of view.
Riese: We had a nice range of experiences represented on the panel. Meredydd, Melinda and I didn't come out 'til after college, which tends to be a big deal since so many queers have their formative queer experiences in college. I also had the added perspective of having a Mom who came out in her 40s. Laneia and AB Chao had both been married and had kids before coming out, and Dani Orner had also been married.
Laneia: These are the kinds of things that make me so grateful to be part of camp. I used to be terrified to tell my story, then embarrassed, and now it's like an honor, because I know as soon as I tell mine, someone else in that room will want to tell theirs, and they do! And I get to bear witness to these brilliant little shouts of truth! Then turning it into an open forum about how we could do more for this part of the community — that was perfect.
Melinda: It was everything I hoped it would be. We live in a culture without memory, particularly of its shortcomings. No one remembers how hard it was to be a queer teen or adult in the 90s or even early 2000s. It was important to discuss that.
Riese: Things have changed so fast for queer people that many younger kids can't comprehend a time when Ellen Degeneres was a warning story of how badly coming out could go rather than an encouraging success story like it is now.
Mere: The panel itself was amazing. Everyone on it was so open and candid about their experiences and their feelings and the campers who shared their stories were inspiring. It was really a privilege to be in such great company. A few weeks after camp at a meet up, a camper who was there told me that she really valued my sharing on that panel and that made me feel like stepping out of my comfort zone in a safe place like camp is absolutely worth it.
Carmen: Glass Etching was happening in the same lodge as my prior activism panel, which convinced me to stay. That, and Brittani's presence. I ended up begging someone to draw me a Klub Deer stencil and then nervously applying it. It all worked out, but I legitimately felt anxiety the entire time. I am not emotionally prepared to do arts-and-crafts.
Kaylah: On a drunken night of pole dancing and sexily lip syncing to Partition (on repeat) I got the idea for Beyonce's Dance Grooves. I had no real expectations for the workshop so I just learned a bunch of official choreography and hoped a couple of campers showed up. Oh my gosh, y'all!! The turnout was amazing.
Cara: Sometime on Thursday, I was drawn to Eagle by a force I couldn't name. It turned out to be Beyonce's Dance Grooves, which Kaylah was leading under the tent right outside. Sophia and I watched in awe through the window for a really long time.
Marni: Robin and I don't always get the chance to participate in the actual activities at camp, which I regret every time, so this camp I was really intent on digging in to the amazing programming that our staff offers. The first opportunity I had was Kaylah's dance class. It was so much fun to let go and just have a blast with everyone. I am still doing these moves to this day!
Robin: Beyonce's Dance Grooves combined two of my favorite things, Beyonce and camp staffer extraordinaire Kaylah.
Kaylah: Having Marni and Robin there made my heart explode. Everyone was so fucking fierce and FLAWLESS that it brought me to tears.
Cara: Everyone was so magnetic and enthusiastic and learned so quickly, it encouraged me to break out my own Dance Grooves (unlearnable) much more frequently than I might have otherwise.
Kaylah: After the workshop I had to sit down since I was so lightheaded from screeching lyrics while we danced. "Blah, blah, FLAWLESS. Something, Something, FLAWLESS"
Stef: The Mountaintop Bisexual Discussion Group and Hummus Appreciation Society remained true to its name, and did involve a huge selection of delicious hummii.
Rachel Kincaid, Managing Editor & Cat Power Counselor: I love the bisexuals (and pansexuals and multisexuals and sexually fluid people, forever and ever, amen) of A-Camp so dearly. Their brains and words are so good and smart. I think this was the most exciting and challenging workshop we've done yet; by breaking into smaller, intimate groups, I feel like we were able to get deeper into a lot of complicated and nuanced parts of our community's experiences.
Stef: We discussed issues we were tired of hearing about and things we'd rather hear discussed regarding our sexual identities.
Rachel: We talked about bisexuality and nonbinary gender, the intersection of gender presentation and bisexual identity, challenges in accessing physical and mental health, and so much more. I learned so much, and am so grateful to everyone who came! I can't wait until next time!
Stef: I walked away really inspired by the stories I heard. I'm really glad we held this activity on the first day, so campers who didn't identify strictly as homosexual knew that they weren't alone in our little woodland community of weirdos.
Chelsea: I also got to wear all the bisexual jewelry and accessories my boyfriend has got me over the years. I looked like a bisexual superhero.
Rory: The bi one with the long name and the dips was totally bangin' and it was great to hear how others experience their pan/bi/omni-sexuality and also trying to come up with solutions for visibility and what-word-could-we-use-to-describe-our-sexuality and stuff like that. And there was hummus. Which I appreciated.
Chelsea: I remember before Camp 2.0 that I almost didn't come to camp because I didn't feel like I was "gay enough" which is obviously ridiculous. Throughout the rest of the weekend, campers would come up to me and ask if they were gay enough, and I'd hug them and tell them they were gayer than a pocketful of rainbows. I WILL VALIDATE YOUR QUEERNESS EVERY DAY ALL THE TIME HOLLA AT ME.
---
Thursday Afternoon:
Comics With The Lumberjanes Team (Grace & Shannon) // Name That Tune: Music Trivia (Crystal, Stef & Mal Blum) // POC Speakeasy: Politicking and Zine-Making (Gabby, Kai, Carmen, Yvonne, Brittani, Mey, Whitney, Kaylah, Laura, Dani, Elicia, Aja and Carolyn W.) // Queer Safer Sex #1 (Lizz Rubin) // Free Tully: Life As A Dolphin Trainer (Mary Tully) // Let's Talk About Sex (Ali & Dani) // Party Of Ones: An Introvert Feelings Atrium (Riese, Crystal & Whitney) // Chingona Chats and Crafts: Sacred Queer Heart Shrines (Yvonne, Elicia Sanchez, Mey & Gabby) // Brittani on the Mountain (Brittani) // Mindfulness & Meditation (Liz Castle)
Robin: Later in the day it was too cold for me to run Pool Games, so I was able to drop into Grace and Shannon's Lumberjanes Workshop. I loved hearing about the creative process of creating a comic book and hearing the impact they were having by creating a female-driven series.
Carolyn: Ogling Shannon Watters in a Lumberjanes hat was definitely a top-five moment for me.
Stef: Crystal and I have done some version of Music Trivia at every A-Camp, and we keep changing up the format to keep things fresh. This time, we brought in a Quickfire Round, which really upped the ante for all teams involved, and had the pleasure of Mal Blum's charming company as we read through questions. This was my first time hanging with Mal, and gosh, what an absolute doll. The dynamic of Music Trivia changes depending on our guest stars, and Mal was a super welcome addition to the team.
Lizz Rubin, Writer & Mockingjays Counselor: My absolute favorite part of A-Camp this year was my safer sex workshops! Is that too self absorbed? That's not why, I swear! I just love talking to all you beautiful queer folks about healthy sex, safer sex, better sex, all the sex. This year was particularly great because I held two sessions.
Bren: If you have never sat in a room and listened to Ali and Lizz talk about sex I highly recommend it.
Lizz: The first was an all around workshop about healthier sex. I say "healthier" sex and not safer sex because I really try to focus not just on STI prevention but also on proper care and management of sex toys and personal hygiene to reduce stuff like yeast infections, bacterial vaginosis and UTIs. We even talked about things like emotionally safer sex. Yeah, we went there.
Bren: Lizz even brought prizes to give away! Prizes included a paddle with "XO" on it what would leave nice hugs and kisses in places, all of the lube and a lube shooter, you know, the usual. All you had to do to win was ask a question out loud with your words. I really wanted some of that lube for the wedding night, but under this high pressure satiation the only question I could think of was "Can I have some lube for my wedding night?"
Gabby: A-Camp this year was on some new shit. One of the best parts about this past camp was our QPOC-only space called The Speakeasy. It gave us a space to see each other and build community without the prying eyes of well-intentioned non-QPOC.
Carmen: It was amazing, if not only because I got to hear Robin make an announcement asking all of the white people to leave Eagle. I mean, c'mon, that's once in a lifetime. Right?
Gabby: We were about 35 people strong: Non-binary folx, femmes, fly bois, GNC peeps, all POC, all beautiful, connected, holding each down while lifting each other up. We talked about what we wanted more of on Autostraddle. We talked about our varied lived experiences and what our connections were to each of our intersectionalities.
Mey: The POC-only space made it so much more comfortable and laid-back and open. It was also a little shocking hearing how many people had never been in a POC-only space before, but I'm really glad that we were able to facilitate this kind of space for them. Although it was technically a speakeasy, you didn't have to drink, but the amazing Aja brought out champagne and cups for everyone who wanted it and we had a great time.
Gabby: Aja breathed life into every section of the room just by being open, generous, and dedicated to us creating family in the space. Carolyn Wysinger was the most welcoming human on the planet — her energy is so bright and warm, like a literal slice of fucking pie. I feel like it added such a home-like atmosphere to the whole vibe. But, also, Brotha Carolyn spoke with such sharp clarity on all the heavy issues we laid out in the circle.
Whitney: I don't think I've ever been in an exclusively QPOC space before, but being able to chill and talk with other QPOCs about life, about family, about language and music and fashion was just so good for my soul. I got to chat a lot with Aja (Fit for a Femme), who is a great human being and a wonderful friend. Her fashion sense is impeccable, and she has such a big heart.
Gabby: I wanna give a quick shoutout to all the non-QPOC humans who were caught in the rain that day, ran to the door where the speakeasy was being held, read our signs about us having a closed-space, and respectfully, ran to another building. Thank you for having the courtesy to not ignore the sign, to not slam open the door, and just run through our space like as if we weren't there. For those who respected our space, we thank you, we love you, we see you.
Whitney: For me, the Speakeasy was about talking, crying, sharing, laughing and feeling all the feelings. The company was great, and getting to know other QPOC campers was just so good. I hope that we'll have this space again at the next A-Camp, and I hope that I'll be able to find more spaces like this in my own everyday life, too.
Gabby: All the beautiful humans that helped facilitate this space, you're my family forever, and to all the brave campers that came through, thank you from the bottom of my brown heart for sharing your stories, fears, tears, SWV tracks, isolation, endless laughter. Please tell us how we can do better next time.
Kaylah: Singing 90s R&B at the Speakeasy made my day.
Mey: The POC Speakeasy and Yvonne's Chingona Chats and Crafts: Sacred Queer Heart Shrines workshop were two of my all-time favorite A-Camp activities ever. I wish we had thought of these activities sooner, because they were desperately needed and they were, to put it plainly, flat-out amazing.
Yvonne: I created and led my very own workshop for the first time and I couldn't believe how awesome everything turned out. It seriously was one of the most magical moments I've had at A-Camp. Mey, Elicia and Gabby helped me lead the activity and we made mini shrines out of Altoid tins and talked about our experiences as queer Latin@s. I thought nobody would come to the workshop, but no, several wonderful humans showed up!
Mey: Yvonne really knocked it out of the park coming up with this activity. I mean, how can you not have fun talking to a bunch of your fellow queer Latin@s while making a miniature shrine to Sylvia Rivera? Plus, I got to hang out with the other Latin@s on staff and get to know them better, which is always a plus.
Yvonne: It was super low key and we sat in a giant circle and introduced ourselves and shared a little of our background. It was amazing to hear about so many diverse experiences and backgrounds within the group. We chatted about the feud between Puerto Ricans and Dominicans, about how we can't be Latin@ enough for some people, about colorism in our communities, about how our families deal with our queerness and everything in between. We did this while making these cute little shrines with badass movers and shakers in them. I had such a great time just hanging out with everyone, I didn't want it to end.
Mey: We had a really nice overlap of the two activities, so a lot of us got to keep on talking and getting to know each other for the whole afternoon.
Carmen: When I accidentally stumbled into Free Tully, I figured it would make sense to stick around and ask Mary Tully questions about my often unruly dog. Turns out Mary is The Best, and was completely willing to coach me through Eli's habit of being too talkative. (Like mother, like son.)
Stef: Mary told us all about her experiences working with animals from puppies to dolphins, and gave a lot of attendees advice regarding how to correct behavioural issues with their animals. The primary thing I learned from this activity is that Mary approaches every single situation in her life as though she were training an animal, rewarding other people's positive behavior and intentionally ignoring negative behavior. Mary thinks she can control all of us with her mind. Mary is probably correct.
Whitney: It is the absolute best to work with Riese and Crystal to put together The Introvert Meet-up. Riese and Crystal are some of my favorite people, and being able to bond with them and talk about the different things we do to navigate certain high-stress or high-social situations was really, really good.
Riese: Honestly one of the most fascinating parts of the Introvert Meet-up is seeing which campers show up! There's usually at least ten people who I'm surprised to learn identify as Introverts. Afterwards my camper Hana said it was really wonderful and that made my day. Also she pointed out this weird thing I do with my hair when I'm nervous that she does too. CAUGHT IN THE ACT.
Crystal: The Introvert Meet-up seems somehow gets even better each time. Being an introvert at A-Camp can have its challenges and so I enjoy being able to share some of the coping strategies that I've picked up over the past few camps. Although a lot of the best advice came from the returning campers in attendance.
Whitney: I love you, you introverts, you.
---
Snow Camp, Part II:
Marni: Then it snowed again.
Marni: I used to be the director of a Children's Camp and the only thing that messed with my flow was the weather. It stresses me out! And after the last camp — when it hella snowed on the first night and I had to ferry campers from a crippled bus up to the site — I was a bit traumatized. So needless to say, when it started hailing/snowing/raining on the first day I was not impressed.
Mary: Um — it snowed. In May. That was unexpected.
Chelsey: I was so elated that it was snowing that I forgave it for being such a wet snow that it completely soaked through my clothes and backpack as I darted back and forth between panels and workshops to deliver things.
Chelsea: IT HAILED and I got lost and sought refuge in the Thunderbirds cabin. They gave me shelter and whiskey, and let me join their Cards Against Humanity game. They basically adopted me and I fell in love.
Marni: At one point I was standing in the dining hall looking outside, watching the snow and hail coating the site, and some Outsiders campers at a table nearby were like "Are you okay?" I was not okay. I needed it to stop. Mercifully, the worst of it only came down during activities and it let up during transition times. That said, I will never trust the weather at Alpine again not ever, nope.
Bren: Thursday afternoon it rained and it was gross and messy. But then, THEN, it magically turned to snow and it was beautiful. I mean it was no Snow Camp, but there was definite frolicking.
---
A Thursday Night Prolouge
Yvonne: On the first full day of camp, I found out that my aunt (who was also my godmother and was close with) had unexpectedly passed away. It was heartbreaking and just so sad to hear about this news in such a happy place. I couldn't bear going out to the happy A-Camp world so I stayed in my cabin that morning with my cabin mate and A-Camp special talent guest, Elicia. Let me tell y'all, Elicia is the most hilarious human I've ever met, and it's like she isn't putting on an act, she's just being herself. She told me stories about her life: her secret girlfriend in middle school, life on the reservation, her exes, her Latino dad and her former sister-in-law. She made me laugh the entire morning. Given the circumstances, Elicia inadvertently consoled me, and it was everything I needed at the moment.
Riese: Having to fly Yvonne home was The Saddest on so many levels, including but not limited to her not having the chance to fully flourish in the onesie we'd bought her to prove to the world that Yvonne Marquez is the #1 Critter. I'm telling you this now because it's going to come up very soon and I want you to be prepared.
---
Thursday Night
Cafe Deer // Newbie Campfire // A-Camp Variety Hour
I. Cafe Deer

Laura: After dinner, Cafe Deer opened up. There were board games, girl scout cookies, and lots of cute and talented humans passing around an acoustic guitar.
Marni: A-Campers are a talented bunch, so creating an open mic/cafe situation seemed like it could be a great vehicle for talented campers to showcase their abilities. Cafe Deer was conceived as a way to create a low-key, unintimidating environment for people to casually grab a guitar or spit some poetry without worrying about being in front of 300 people. We put some blankets on the floor and put up some twinkle lights and it was lovely.
Laura: The vibe was both super chill and ultra cozy — like, if you and your closest friends' friends flooded the signup sheet for open mic night at the coolest off-campus coffee shop. And zero creepers or mansplainers showed up, all the conversations you overheard were fascinating, and nobody cared that you only knew like 45% of the lyrics during the singalong. Cafe Deer was the best. Also there was a stripper pole set up in the middle of the room, and everyone was too focused on Twister and the guitar circle to pay any attention to it.
---
II. Newbie Campfire
Marni: We had secretly placed individual invitations in each first-time camper's gift bag for a special campfire happening at the same time — the Newbie Fire, as we affectionately called it — so that first-timers could come together and meet each other and have a special moment of their own apart from the regular programming. It was sweet and it was special and I'm glad we did it.
Hansen: The First Time Camper Firecircle Meetup thing went about how you'd expect: somehow I convinced Cara to put Burt's Bees chapstick on her eyelids, and she ran around yelling, "Hi, my name is Cara, I use both pronouns, and I'm fucking beezin'." Cara won the Firecircle Meetup, is what I'm saying.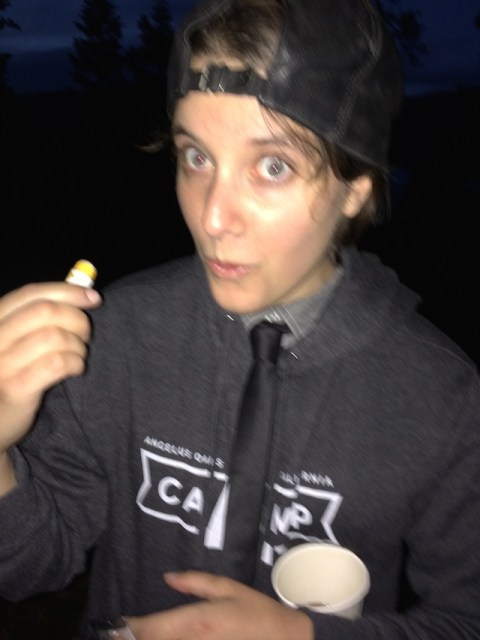 Crystal: The newbie campfire was a really chill way to meet lots of interesting and friendly people. My favourite part was walking around the fire circle and hearing accents from all over the world.
---
The Variety Show
Starring: Comedian Bren Christolear, Comedian Brittani Nichols, Kai & The Cheer Camp, Kaylah & The Beyonce Dance Grooves Team, Comedian Elicia Sanchez, Musician Mal Blum and so many A-Campers!

Robin: Hannah Hart hosted our Variety Show this year and did an amazing job of keeping us laughing and engaged. We had a chance to feature some very talented campers and staff as well as our two special guests, Elicia Sanchez and Mal Blum.
Mary: Hannah Hart killed it as our host of this years show. Snaps for Hannah.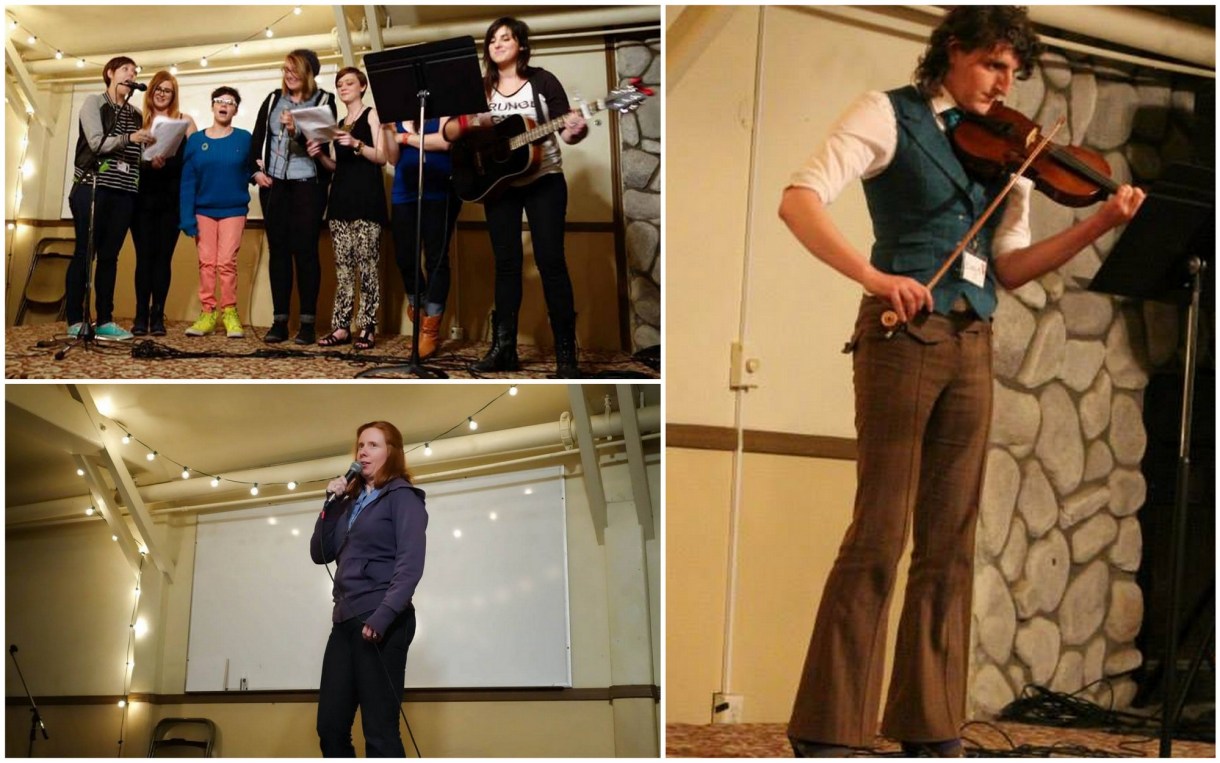 Mary: I always love when the campers perform their various talents. It's really easy to kind of get lost in the crowd at A-Camp and often staff takes the spotlight. I'm always just humbled and so impressed with the things our campers do OUTSIDE of camp. Y'all can sing! Play instruments! Y'all are funny. Really really funny. And the dancing. And cheering.
Bren: Brittani brought down the house talking about horrible people.
Riese: I'd sort of imagined the Variety Show would be like Coffee Haus, a thing we did at Interlochen, the arts boarding school I went to, so it was especially meta that an Interlochen alum, Joy, blessed us all with her mad cello skills.
Mary: I never know what is going to happen at that show and I am always blown away by all of the talent. So much talent.
Bren: There are so many talented campers and staff!
Robin: Elicia is such a lovely, wonderful person. She blew me away with her stand-up set. She was so incredibly funny.
Gabby: Elicia's set about being a straight up Dungeons & Dragons type of nerd had me cackle wheezing louder than everyone else.
Robin: I can't believe how lucky we were to have such a solid group of special talent this year.
Bren: The crazy talented campers who played music and sang were awesome.
Laneia: Also worth mentioning: everyone looks so freaking luminous and beautiful in this lighting! Nice work, lighting team/everyone.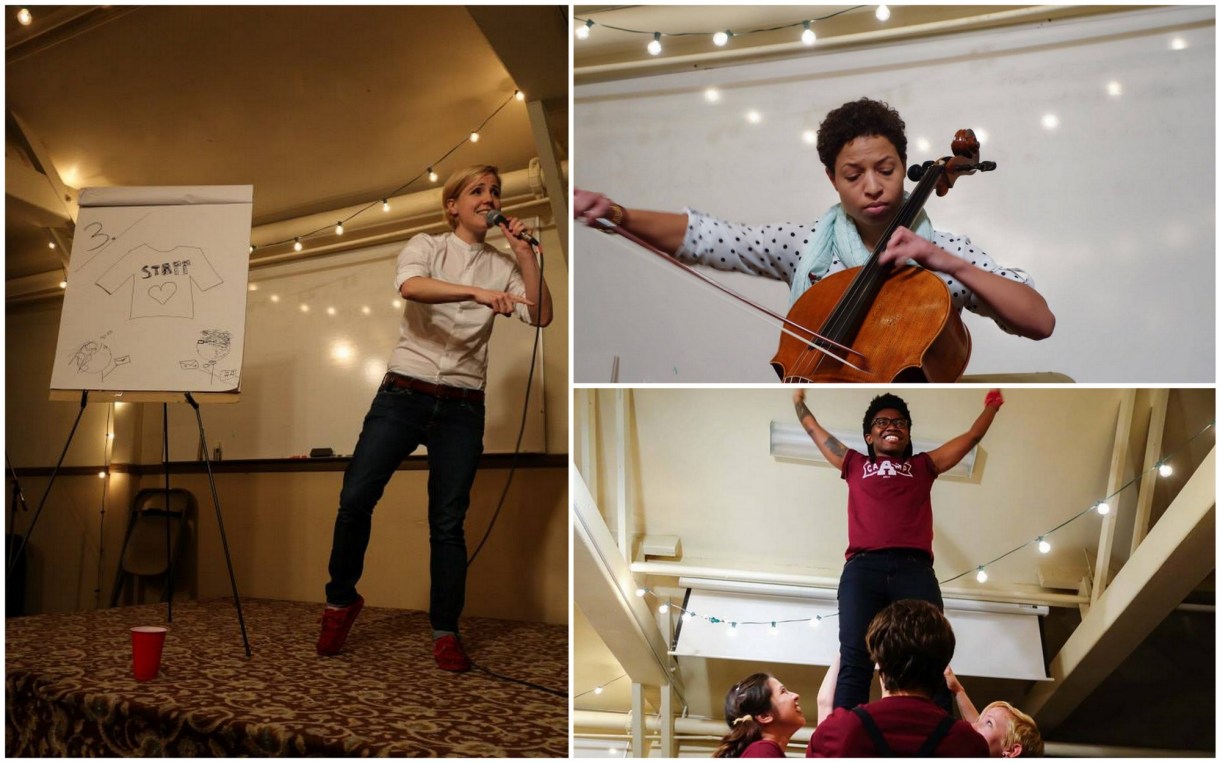 Kaylah: On December 25th 2013, I sent Kai and Gigler a message, begging them to learn a dance that we could do together. They said yes, not knowing what they were getting into. That's when I heard we were having a variety show…
Gigler: We slayed this shit and I don't care if I did it perfect or not cause it was hella fun and scary and I was so high and I almost toppled over in those heels but if I had we all woulda laughed it off together, and for 5 minutes I wasn't agonizing over how bony or sickly I looked, I was just having fun with my friends. Thank you camp and all props to Cupcake for being the mastermind and shining star of this production.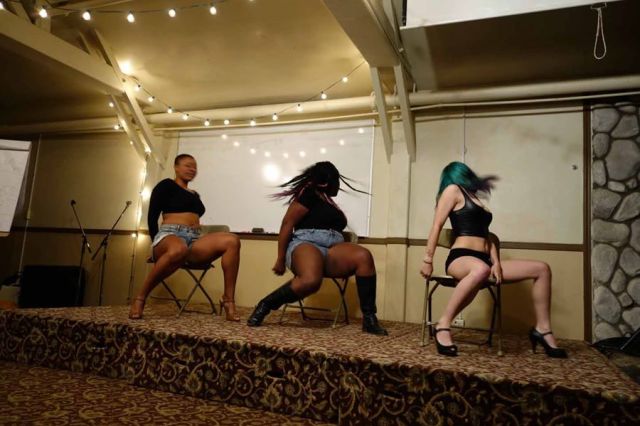 Kaylah: Performing at the variety show was a highlight for me because it caused me so much temporary anxiety. Luckily Elicia made me laugh "backstage" when I really wanted to cry or run away or worse, put more clothes on. It was a blast when the A-Camp Twerk Team and the Beyonce's Dance Groovers came together at the end. We were FLAWLESS!!!!
Bren: The dance troupe just tore up the stage AND the entire surrounding area. Just when you thought it couldn't get any better Marni joined them and nailed it!
Gigler: Marni doing that Beyonce dance gave me liiiiiife.
Kai: It was everything. The comedy, the stunning musicians and vocalists. Straddlers, there is so much talent among us. We should start, like, a traveling talent show. Or someone else can come up with a better idea. Most of us could probably be hired as backup dancers for the Queen. Since we basically know all her moves thanks to the one-and-only Kaylah.
Robin: Mal surprised me! Their music is so melodic and beautiful and yet some of their songs had me rolling on the ground they were so funny. Mal was such a joy to have at camp!
Riese: Mal's set was HILARIOUS.
Lizz: I had to admit I didn't know that Mal was like a heartthrob musician person prior to camp. Anyways so during the middle of the talent show after Mal had performed like 5 songs I leaned over to one of the campers and was like "Wow, they can really sing!" I thought Mal was just a random camper with some serious skills.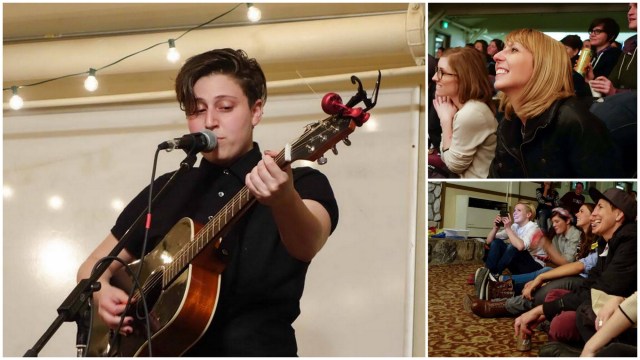 ---
Thursday Night Epilogue
Yvonne: Despite being really sad, I couldn't leave without wearing the panda onesie that I was supposed to wear for the animal onesie scavenger hunt taking place at the RenGAYssance Faire. I wore it to the Variety Show where we were all packed into Eagle Lodge and it was fucking hot in the onesie because body heat but I didn't care. I was on this mountain with a bunch of queers and they were smiling, dancing, laughing and singing. Rachel wore Riese's koala onesie so I wasn't alone and there we were standing in the back together watching the Variety Show. Then afterwards, I went to Club Deer in my onesie which was also fucking hot because dancing and SWEAT. I later stood outside the entrance in my onesie and it was so much better. In spite of all the DEATH AND SADNESS on my mind, I thought man, "This is the life and it's beautiful."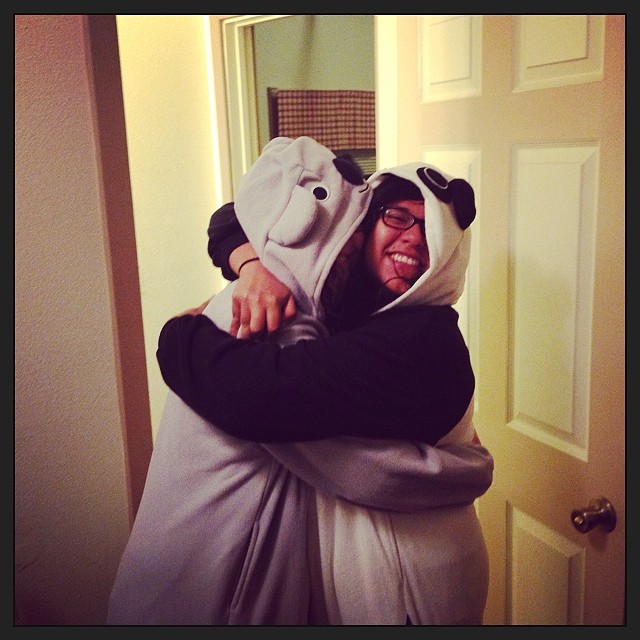 ---
Late Night: KLUB DEER
Carmen: The opening night of Klub Deer is always the most amazing night of Klub Deer. It was packed, and my Twerk Team was in full gear. Bottle service went to one of my own Gladiators that night for being the first to dance the pole.
Gigler: Skimpy clothes, nasty beats, queers on the pole, my slutshack sisters dancing with me by the fireplace. There's no place like home.
Riese: As we all know, I've never spent more than a few minutes at Klub Deer and even then, it was super late. The first night of camp, Taylor and I hid underneath Meredydd's DJ table and I witnessed, at long last, the "makeout rave" that had been promised to me. YOU ARE ALL WILD ANIMALS.
Carmen: After Klub Deer, Kaylah and Rory's false relationship became troubled. They got into a fight in Eagle (after Soph and I got into one outside in the smoker's circle) and tried to out-cry each other, but both of them feel nothing and struggled to produce tears. Eventually, they both resorted to just putting lemonade in their eyes and rolling around on the floor. And y'know what? Nobody in Eagle even looked over at us. Later this Camp, Kaylah would pen him a love note to get him back.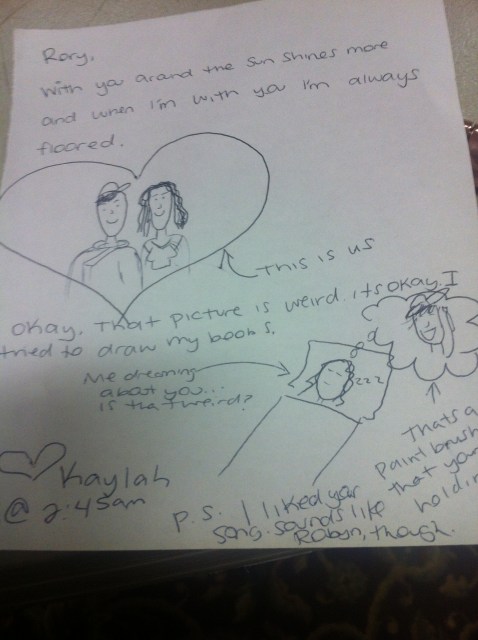 Rory: Highlight: the turbulent theatrical romance I shared with Kaylah.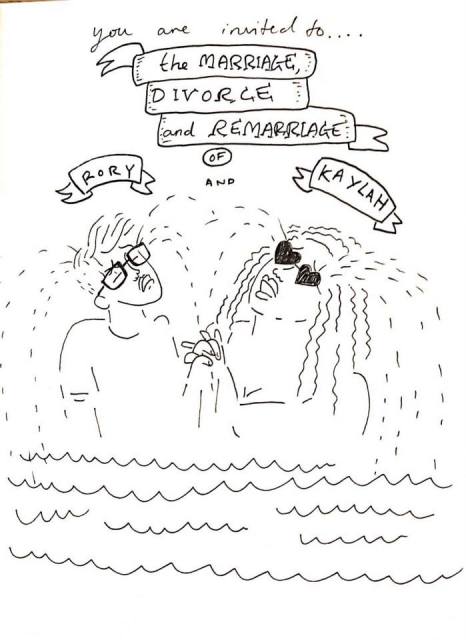 Thursday Night Pranking
Robin: Even though the Clear House can't claim credit for pranks this year, it was really very thrilling to run through the woods with Marni, decorating trees with plastic wrap and dodging flashlights. The whole experience of Rainbow Wars was put in place to allow us to play and be kids again.
Marni: On the first night, Robin and I were out in the blue house district wrapping Syran wrap around trees to task them with the Clear House's first mission, which was to create a song or poem about bear safety and perform it publicly for the whole camp at some point. While we were mid-Syran we heard some campers coming out of the cabin nearby and I stage-whispered "Abort! Abort!" to Robin and we both scurried away, skulking behind cabins and making our way back to camp in the shadows. It was awesome. The best was that the blue house totally accepted the challenge and performed an awesome bear safety haiku the next day in the dining hall.
Liz Castle: I love how pranking caught on this camp! The Craft managed to get Ghost World's enormous inflatable ghost on the roof of their cabin which I thought was pretty epic. But in return our cabin was 'ghosted' —while we were at dinner they taped dozens of adorable paper ghosts to EVERYTHING in the cabin!
---
Well, that's all for the first recamp! Stay tuned to hear magical tales from the rest of our magical week! A-Camp 6.0 will take place May 30th – June 4th, 2015, and registration will open on January 27th, 2015.

Pages: 1 2 3 4 5See entire article on one page