I didn't think I was saying anything particularly interesting when I told the rest of the Autostraddle family in Slack that I loved Bruce Springsteen. In fact, liking Bruce and others like him is something I try not to bring up around other queermos because, really, I'm convinced that the amount of time I spent at summer camp in New Jersey as a child illegally charging my friends for gel pen tattoos somehow damaged the portion of my brain that allows me to disavow music by men altogether. Instead, I've tried to hide my deep love for things like Bruce Springsteen all year, every year until July 4, when I'm allowed to embrace them all in the name of hipster irony and also drink in the street.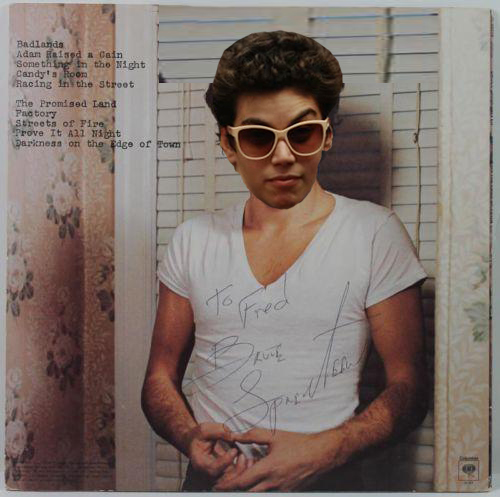 But although probably everyone else on staff is way ahead of me on disavowing men altogether, it did turn out I wasn't alone! Before I had a chance to delete my confession, I found out that Carolyn was our Springsteen-Expert-in-Residence and that folks from other states, counties, and countries loved my true-blue, New Jersey heart and the Boss in equal measure. Obviously, I decided we needed to talk about those feelings because talking about feelings is a healthy way to go about life. And thus, this playlist!
These are our favorite Bruce Springsteen songs and the stories of how and why we love them. Tune in and drop out and you just may find yourself on the Turnpike. (JK. That would be awful.)
---
Carolyn: This song sounds like beginnings and hope and hopelessness and having no fucks to give and also being able to drive somewhere really, really quickly. I do not drive but that does not stop me from loving this song. Sometimes you do a thing and you are just doing that thing and dying slowly, even when you like that thing, and sometimes you "come home from work and wash up / Then go racin' in the street."
Carmen: "I got a bad desire?" This is lesbian subtext in action. When you combine the lyrics of this song, which center around wanting someone so bad that it actually makes you crazy with guilt and fear, with the music video of Bruce driving around feeling emotions blankly for a woman he'll never be brave enough to pursue, you pretty much have every queer chick's coming out story in a bottle. Right?
Carolyn: I am not sure whether I want to be Candy or fuck her, which is gayest emotion possible. (This version is the best.)
Carolyn: This song, and the album named after it, is dark and kind of creepy and wonderful.
Julia, Podcast Editor: This song (and the album, but this song specifically) is all about being weird and marginal and finally just saying, fuck it, that's what I am. It's a song about going to the dark places in yourself and looking at them straight on, accepting that they're a part of you as much as the parts you're less afraid of. I also used to think it was one hell of a breakup song — and it is ("Well, if she wants to see me/You can tell her that I'm easily found"). But way, way, way more importantly, it's a song about coming into your own skin — and, like dozens of other Springsteen songs, that can be read very easily as coming into a queer skin.
Mey: This is maybe my favorite song by any artist of all time. It's like, the ultimate ballad of a struggling femme/butch couple. Lines like "Put your makeup on and fix your hair up pretty and meet me tonight in Atlantic City" and "Put on your stockings, baby, 'cause the night's getting cold" are sung with such haunting, industrial romanticism and gritty work ethic that they literally give me shivers. Once, on Kate's tumblr, someone sent an ask saying that every time they hear the song they think of Kate and Aimee, because it's totally about them, or maybe I made up that someone sent that ask and that's just what I think about the song.
Carmen: This song is gratifying because you can play it at your family's super-conservative family members' "GO 'MURRICAH" events and they'll have no idea that Bruce Springsteen and all your friends and chosen family hate everything they believe in.
Audrey: I found Born In The USA on tape for a dollar and never looked back. I loved pulling into my high school parking lot with the title track blaring out the windows of my gold '98 Cadillac Deville. The song said to me "No matter what happens, no matter how frustrated or scared you are, you are ALIVE!" Today, while I watch the grief and rage of my country simmer from 2,000 miles away, this message is important to me as ever.
Carmen: I am both tired and bored with myself and have a strong desire to change my clothes, my hair, my face at all times. I consider this the queer human condition.
Carolyn: This is the best song for feeling lonely, or hopeful, or going out to sleep with someone for whom you have no and do not want any feelings, or for dancing around in your kitchen in a state of undress with or without company. It is a song for trying or a song for not trying any more, at least not this second. It is a song to make out to or to emphatically not make out to.
Stef: I just really like thinking about a young, bright-eyed Courtney Cox (looking very gay in her sleeveless white t-shirt) being pulled out of the audience to shuffle adorably along with Bruce. We have all been Courtney Cox in this moment, or yearned to be.
Maddie: My dad, the other Bruce from New Jersey, used to listen to a local radio show every Wednesday called "The Boss Hour," which is EXACTLY what it sounds like. Being subject to this made me rebelliously indifferent to the Boss as a child, but now that I am the ripe old age of 23, I have Boss Hour nostalgia, particularly attached to this song.
Alley: This anthem of feeling stuck in your working class little town in New Jersey really reminds me of my family, as well as the family of my first long term girlfriend I had in college and after. My senior year I even used it in a severely melodramatic digital art piece that I made in an interactive 3-part series called "Family Album." Plus he's just so young and handsome in this early album. I always love an early album…
Stef: I never really cared about Bruce Springsteen even though I was born and raised in Jersey, and then one drunk night I danced with a cute human being to this song and everything changed. I found out later that Bruce initially wrote this song for the Ramones, which makes zero sense to me. It does lend itself to a lot of extraneous whoa-oh-oh-ohs when you sing along, which is always a nice bonus.
Carmen: Living in New Jersey will forever be remembered as my glory days. I don't know if I'll ever go back to suburban / exurban / small town life and barbecue pits and slow strolling traffic and walking downtown after class with my friends to get pizza, and that seems a lot less sad if I memorialize it this way.
Raquel: First, YOU CANNOT BE UNHAPPY TO THIS SONG.
For a long time, this was the only Bruce Springsteen song I knew, filtered to me somehow from a friend and squirming its way onto the list of 27 carefully-chosen songs I placed on my sad little 2006 mp3 player. I listened to it incessantly during my senior year in high school on our school trip to Europe (among other things, it was accompanied on the playlist by "White Room" by Cream and Led Zeppelin's "Black Dog," so yeah — I'm a dad). I have memories of listening to this song on the boat we took to England when I first spotted the white cliffs of Dover. (Very un-American?! Oops.) It was both so wrong and so right. I once spurned the Boss, assuming he was the guy your relatives think he is when you put on "Born in the U.S.A." I'm happy to have been wrong, and I'm also happy I gave an exception to this fantastic cover. It's joyful, rollicking, and Bruce is just adorable in the video. When life gets you down I challenge you to put this on, jump on the bed, and shake your fist at pharaoh's army.
Audrey: It's so easy to hear this as a song about oral sex that I'm going to declare it so. "Well you let out one of your bored sighs, well lately when I look into your eyes, I'm going down, down, down, down." GOOD RESPONSE BRUCE. If your lady's bored, just start giving her head. Obviously. Bonus points for random bops and boops at the end.
Maddie: My dad's favorite. Also falls under the I-like-it-now-because-nostalgia category. Maybe I need to develop my own damn taste for Springsteen.
Carmen: The intro scene to this movie makes me cry, and a large part of that is that this song as well as the impending tragedy of that film makes me cry.
https://www.youtube.com/watch?v=m2zLI11lO3s
Raquel: From the first line, echoing over the insistent rhythmic guitar, this song gives me chills. You can hear his pick clicking against the taut strings. It just keeps building. I am not recommending murdering to this song but if I were scoring a movie, this would be a great song to set murder to, a calculated, revenge-served-cold kind of murder. Maybe it's the rageful exhaustion of carving out a space for oneself as a quiet, queer child of immigrants; maybe it's my religious upbringing full of hellfire and pillars of salt; maybe it's because I'm a scorpio; but at any rate, I'm drawn to this song, to its implications of deep-seated pain and secret deeds. The line "maybe you've got a kid, maybe you've got a pretty wife; the only thing that I got's been bothering me my whole life" perfectly encapsulates for me the queer experience, the complicated, angry mess that comes from seeing yourself in opposition to what's considered "normal." It's a song for midnight on the highway, driving away from someone who has wronged you. Sometimes you need a song that fills your ribs with echoes, your eyes with the wild glint of chaos. Sometimes you need to sing along to something that makes you feel dangerous rather than downtrodden. Sometimes you need some wild desperate howling in your life.
Julia: "Mister, I ain't a boy, no I'm a man / and I believe in a promised land." I think I developed a lot of gender confusion via listening to Bruce (and Led Zeppelin, and all the other dad-rock you might latch onto as a young dyke), or at least listening to this stuff brought that a little closer to the surface for me. You want to be strong, you want to be heard, you want to be better, you want to not feel like you're yelling at a wall all the time. I listened to this song a lot in high school and in college and I felt that way. I feel more ambivalent about it now, thinking that you need to be dudely, hard-edged and tough, to find your promised land. This song is still really important to me, though. I think we all want to tell somebody that we're not what they thought we were.
Carolyn: I read this song as super butch/femme and will entertain no arguments to the contrary. It's the kind of song that makes you want to run away with someone worth running away with. Also love this: "So you're scared and you're thinking / That maybe we ain't that young anymore / Show a little faith, there's magic in the night / You ain't a beauty, but hey you're alright / Oh, and that's alright with me."
Carmen: I mean, this is my theme song, and fuck the haters. I hope Geneva listens to this playlist, hears this song, and thinks, "Oh my God I'm in love with a Jersey girl." Also, I totally owned Jersey Girl merchandise when it was a thing and I will take that pride to the grave.