Snow Camp, Part II:
Marni: Then it snowed again.
Marni: I used to be the director of a Children's Camp and the only thing that messed with my flow was the weather. It stresses me out! And after the last camp — when it hella snowed on the first night and I had to ferry campers from a crippled bus up to the site — I was a bit traumatized. So needless to say, when it started hailing/snowing/raining on the first day I was not impressed.
Mary: Um — it snowed. In May. That was unexpected.
Chelsey: I was so elated that it was snowing that I forgave it for being such a wet snow that it completely soaked through my clothes and backpack as I darted back and forth between panels and workshops to deliver things.
Chelsea: IT HAILED and I got lost and sought refuge in the Thunderbirds cabin. They gave me shelter and whiskey, and let me join their Cards Against Humanity game. They basically adopted me and I fell in love.
Marni: At one point I was standing in the dining hall looking outside, watching the snow and hail coating the site, and some Outsiders campers at a table nearby were like "Are you okay?" I was not okay. I needed it to stop. Mercifully, the worst of it only came down during activities and it let up during transition times. That said, I will never trust the weather at Alpine again not ever, nope.
Bren: Thursday afternoon it rained and it was gross and messy. But then, THEN, it magically turned to snow and it was beautiful. I mean it was no Snow Camp, but there was definite frolicking.
---
A Thursday Night Prolouge
Yvonne: On the first full day of camp, I found out that my aunt (who was also my godmother and was close with) had unexpectedly passed away. It was heartbreaking and just so sad to hear about this news in such a happy place. I couldn't bear going out to the happy A-Camp world so I stayed in my cabin that morning with my cabin mate and A-Camp special talent guest, Elicia. Let me tell y'all, Elicia is the most hilarious human I've ever met, and it's like she isn't putting on an act, she's just being herself. She told me stories about her life: her secret girlfriend in middle school, life on the reservation, her exes, her Latino dad and her former sister-in-law. She made me laugh the entire morning. Given the circumstances, Elicia inadvertently consoled me, and it was everything I needed at the moment.
Riese: Having to fly Yvonne home was The Saddest on so many levels, including but not limited to her not having the chance to fully flourish in the onesie we'd bought her to prove to the world that Yvonne Marquez is the #1 Critter. I'm telling you this now because it's going to come up very soon and I want you to be prepared.
---
Thursday Night
Cafe Deer // Newbie Campfire // A-Camp Variety Hour
I. Cafe Deer

Laura: After dinner, Cafe Deer opened up. There were board games, girl scout cookies, and lots of cute and talented humans passing around an acoustic guitar.
Marni: A-Campers are a talented bunch, so creating an open mic/cafe situation seemed like it could be a great vehicle for talented campers to showcase their abilities. Cafe Deer was conceived as a way to create a low-key, unintimidating environment for people to casually grab a guitar or spit some poetry without worrying about being in front of 300 people. We put some blankets on the floor and put up some twinkle lights and it was lovely.
Laura: The vibe was both super chill and ultra cozy — like, if you and your closest friends' friends flooded the signup sheet for open mic night at the coolest off-campus coffee shop. And zero creepers or mansplainers showed up, all the conversations you overheard were fascinating, and nobody cared that you only knew like 45% of the lyrics during the singalong. Cafe Deer was the best. Also there was a stripper pole set up in the middle of the room, and everyone was too focused on Twister and the guitar circle to pay any attention to it.
---
II. Newbie Campfire
Marni: We had secretly placed individual invitations in each first-time camper's gift bag for a special campfire happening at the same time — the Newbie Fire, as we affectionately called it — so that first-timers could come together and meet each other and have a special moment of their own apart from the regular programming. It was sweet and it was special and I'm glad we did it.
Hansen: The First Time Camper Firecircle Meetup thing went about how you'd expect: somehow I convinced Cara to put Burt's Bees chapstick on her eyelids, and she ran around yelling, "Hi, my name is Cara, I use both pronouns, and I'm fucking beezin'." Cara won the Firecircle Meetup, is what I'm saying.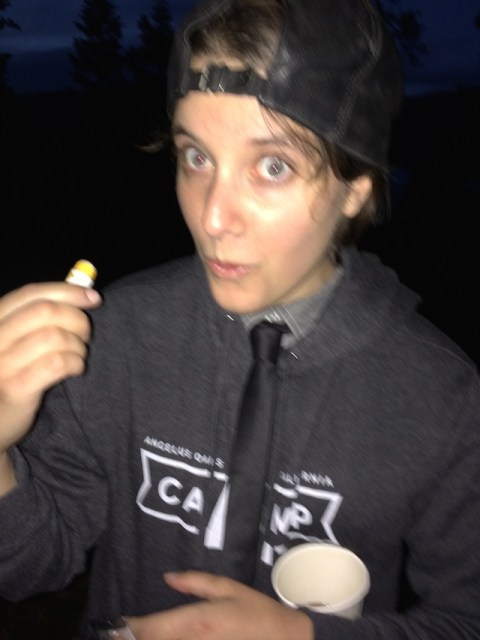 Crystal: The newbie campfire was a really chill way to meet lots of interesting and friendly people. My favourite part was walking around the fire circle and hearing accents from all over the world.
---
The Variety Show
Starring: Comedian Bren Christolear, Comedian Brittani Nichols, Kai & The Cheer Camp, Kaylah & The Beyonce Dance Grooves Team, Comedian Elicia Sanchez, Musician Mal Blum and so many A-Campers!

Robin: Hannah Hart hosted our Variety Show this year and did an amazing job of keeping us laughing and engaged. We had a chance to feature some very talented campers and staff as well as our two special guests, Elicia Sanchez and Mal Blum.
Mary: Hannah Hart killed it as our host of this years show. Snaps for Hannah.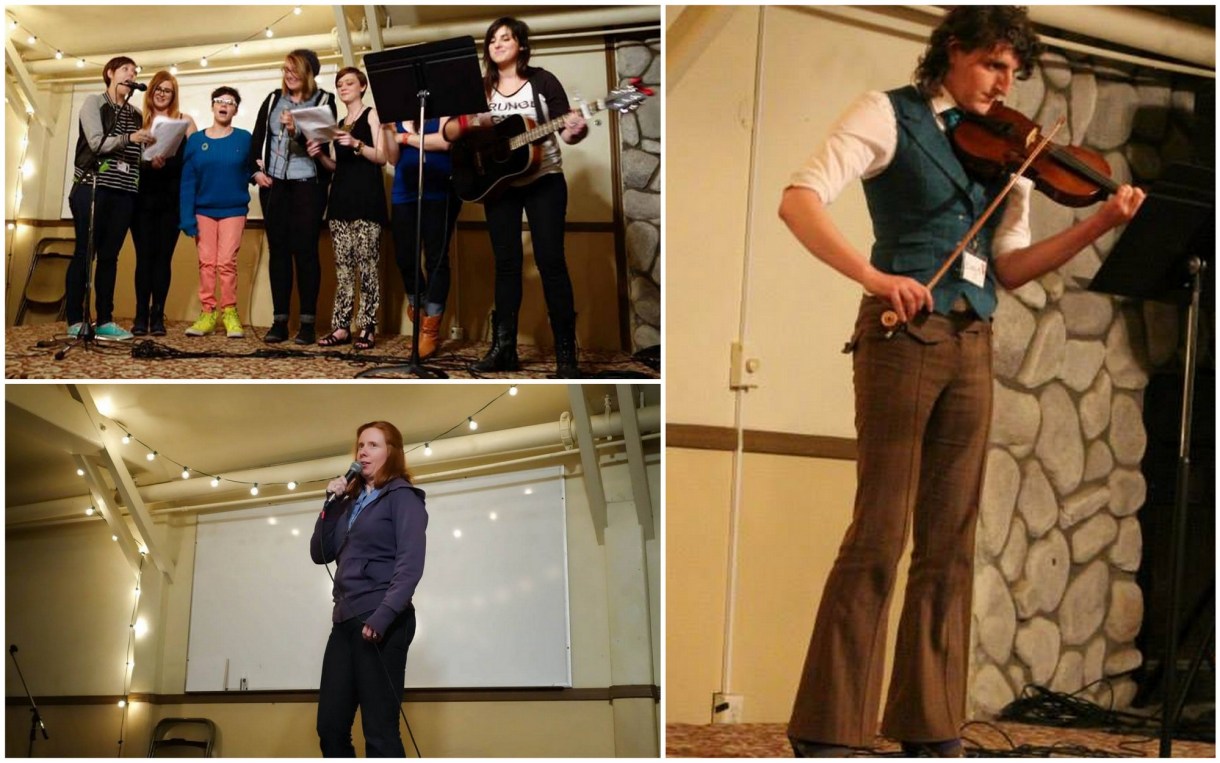 Mary: I always love when the campers perform their various talents. It's really easy to kind of get lost in the crowd at A-Camp and often staff takes the spotlight. I'm always just humbled and so impressed with the things our campers do OUTSIDE of camp. Y'all can sing! Play instruments! Y'all are funny. Really really funny. And the dancing. And cheering.
Bren: Brittani brought down the house talking about horrible people.
Riese: I'd sort of imagined the Variety Show would be like Coffee Haus, a thing we did at Interlochen, the arts boarding school I went to, so it was especially meta that an Interlochen alum, Joy, blessed us all with her mad cello skills.
Mary: I never know what is going to happen at that show and I am always blown away by all of the talent. So much talent.
Bren: There are so many talented campers and staff!
Robin: Elicia is such a lovely, wonderful person. She blew me away with her stand-up set. She was so incredibly funny.
Gabby: Elicia's set about being a straight up Dungeons & Dragons type of nerd had me cackle wheezing louder than everyone else.
Robin: I can't believe how lucky we were to have such a solid group of special talent this year.
Bren: The crazy talented campers who played music and sang were awesome.
Laneia: Also worth mentioning: everyone looks so freaking luminous and beautiful in this lighting! Nice work, lighting team/everyone.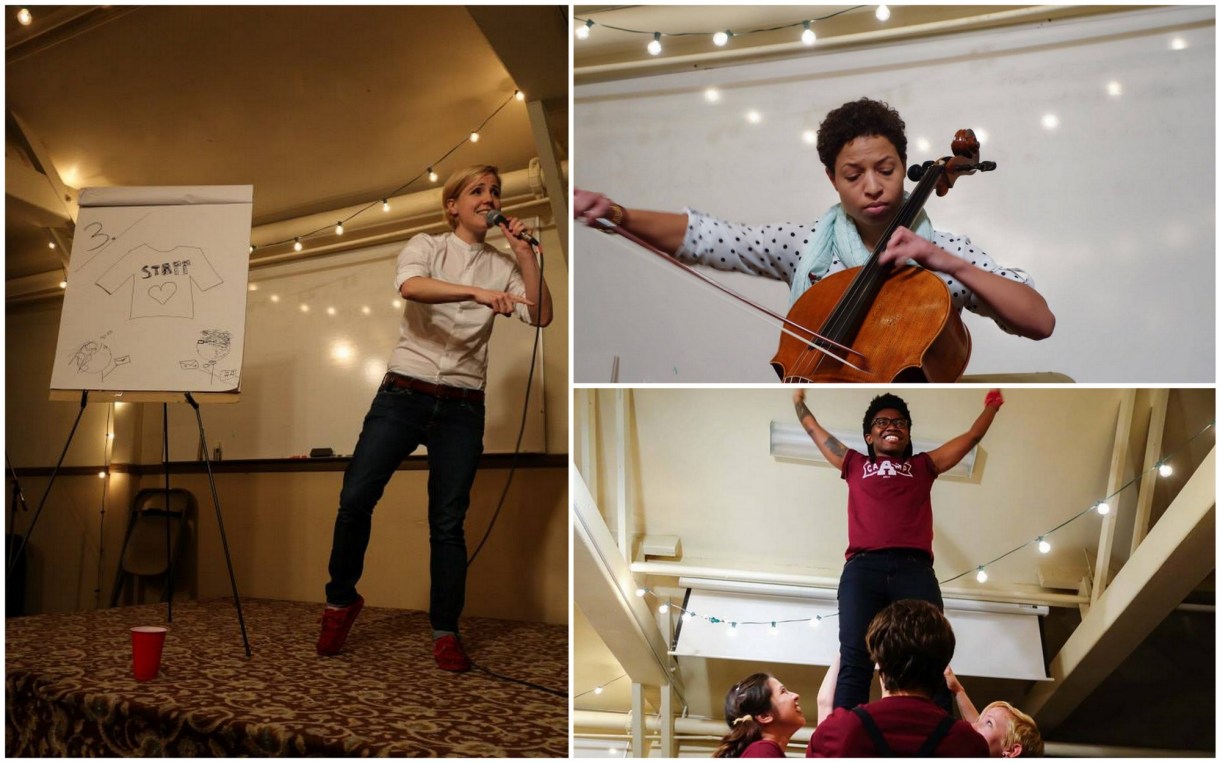 Kaylah: On December 25th 2013, I sent Kai and Gigler a message, begging them to learn a dance that we could do together. They said yes, not knowing what they were getting into. That's when I heard we were having a variety show…
Gigler: We slayed this shit and I don't care if I did it perfect or not cause it was hella fun and scary and I was so high and I almost toppled over in those heels but if I had we all woulda laughed it off together, and for 5 minutes I wasn't agonizing over how bony or sickly I looked, I was just having fun with my friends. Thank you camp and all props to Cupcake for being the mastermind and shining star of this production.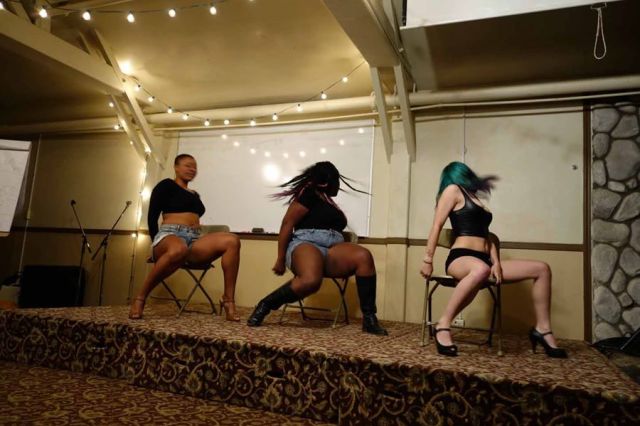 Kaylah: Performing at the variety show was a highlight for me because it caused me so much temporary anxiety. Luckily Elicia made me laugh "backstage" when I really wanted to cry or run away or worse, put more clothes on. It was a blast when the A-Camp Twerk Team and the Beyonce's Dance Groovers came together at the end. We were FLAWLESS!!!!
Bren: The dance troupe just tore up the stage AND the entire surrounding area. Just when you thought it couldn't get any better Marni joined them and nailed it!
Gigler: Marni doing that Beyonce dance gave me liiiiiife.
Kai: It was everything. The comedy, the stunning musicians and vocalists. Straddlers, there is so much talent among us. We should start, like, a traveling talent show. Or someone else can come up with a better idea. Most of us could probably be hired as backup dancers for the Queen. Since we basically know all her moves thanks to the one-and-only Kaylah.
Robin: Mal surprised me! Their music is so melodic and beautiful and yet some of their songs had me rolling on the ground they were so funny. Mal was such a joy to have at camp!
Riese: Mal's set was HILARIOUS.
Lizz: I had to admit I didn't know that Mal was like a heartthrob musician person prior to camp. Anyways so during the middle of the talent show after Mal had performed like 5 songs I leaned over to one of the campers and was like "Wow, they can really sing!" I thought Mal was just a random camper with some serious skills.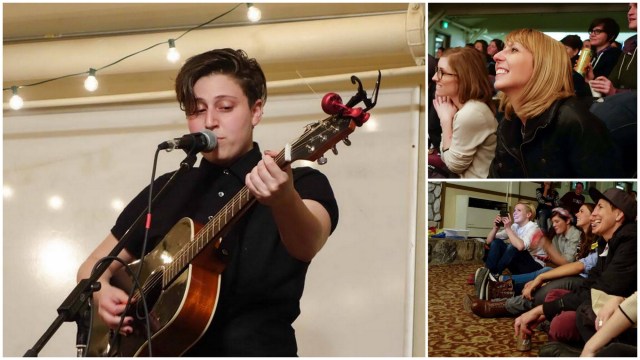 ---
Thursday Night Epilogue
Yvonne: Despite being really sad, I couldn't leave without wearing the panda onesie that I was supposed to wear for the animal onesie scavenger hunt taking place at the RenGAYssance Faire. I wore it to the Variety Show where we were all packed into Eagle Lodge and it was fucking hot in the onesie because body heat but I didn't care. I was on this mountain with a bunch of queers and they were smiling, dancing, laughing and singing. Rachel wore Riese's koala onesie so I wasn't alone and there we were standing in the back together watching the Variety Show. Then afterwards, I went to Club Deer in my onesie which was also fucking hot because dancing and SWEAT. I later stood outside the entrance in my onesie and it was so much better. In spite of all the DEATH AND SADNESS on my mind, I thought man, "This is the life and it's beautiful."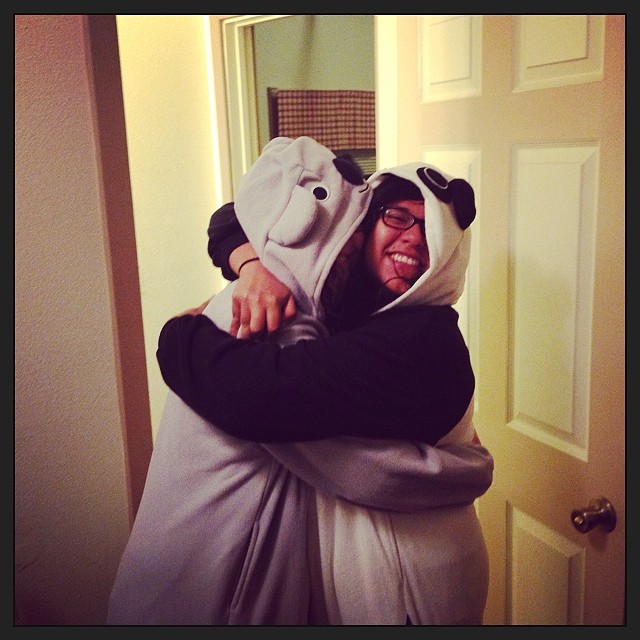 ---
Late Night: KLUB DEER
Carmen: The opening night of Klub Deer is always the most amazing night of Klub Deer. It was packed, and my Twerk Team was in full gear. Bottle service went to one of my own Gladiators that night for being the first to dance the pole.
Gigler: Skimpy clothes, nasty beats, queers on the pole, my slutshack sisters dancing with me by the fireplace. There's no place like home.
Riese: As we all know, I've never spent more than a few minutes at Klub Deer and even then, it was super late. The first night of camp, Taylor and I hid underneath Meredydd's DJ table and I witnessed, at long last, the "makeout rave" that had been promised to me. YOU ARE ALL WILD ANIMALS.
Carmen: After Klub Deer, Kaylah and Rory's false relationship became troubled. They got into a fight in Eagle (after Soph and I got into one outside in the smoker's circle) and tried to out-cry each other, but both of them feel nothing and struggled to produce tears. Eventually, they both resorted to just putting lemonade in their eyes and rolling around on the floor. And y'know what? Nobody in Eagle even looked over at us. Later this Camp, Kaylah would pen him a love note to get him back.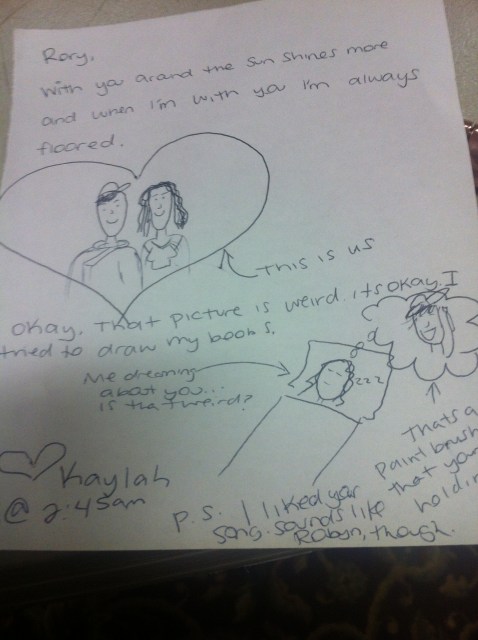 Rory: Highlight: the turbulent theatrical romance I shared with Kaylah.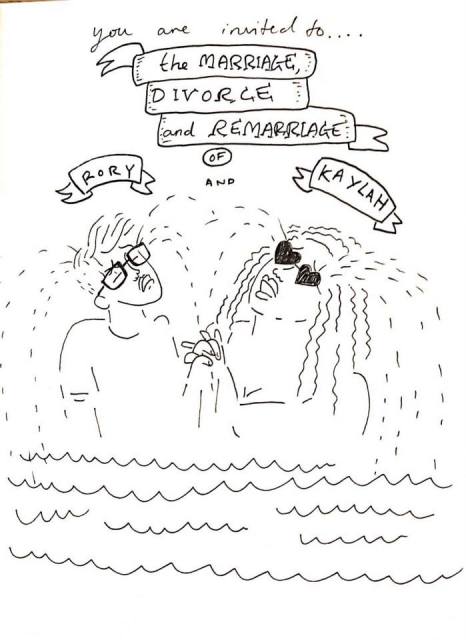 Thursday Night Pranking
Robin: Even though the Clear House can't claim credit for pranks this year, it was really very thrilling to run through the woods with Marni, decorating trees with plastic wrap and dodging flashlights. The whole experience of Rainbow Wars was put in place to allow us to play and be kids again.
Marni: On the first night, Robin and I were out in the blue house district wrapping Syran wrap around trees to task them with the Clear House's first mission, which was to create a song or poem about bear safety and perform it publicly for the whole camp at some point. While we were mid-Syran we heard some campers coming out of the cabin nearby and I stage-whispered "Abort! Abort!" to Robin and we both scurried away, skulking behind cabins and making our way back to camp in the shadows. It was awesome. The best was that the blue house totally accepted the challenge and performed an awesome bear safety haiku the next day in the dining hall.
Liz Castle: I love how pranking caught on this camp! The Craft managed to get Ghost World's enormous inflatable ghost on the roof of their cabin which I thought was pretty epic. But in return our cabin was 'ghosted' —while we were at dinner they taped dozens of adorable paper ghosts to EVERYTHING in the cabin!
---
Well, that's all for the first recamp! Stay tuned to hear magical tales from the rest of our magical week! A-Camp 6.0 will take place May 30th – June 4th, 2015, and registration will open on January 27th, 2015.

Pages: 1 2 3 4 5See entire article on one page