Previously on Pretty Little Liars, Aria almost stabbed Ezra's other fiancée to death because she broke out of the hospital after they broke all her bones after she was resurrected from a jungle kidnapping. Spencer went on a date with the guy investigating her shooting and also investigating the whereabouts of her birth mother (who didn't shoot Spencer, okay, but did kill her twin sister who was Spencer's dad's longtime mistress and the mother of Spencer's half-brother who made out with Spencer's sister and half-cousin who Spencer waltzed with as a ghost). Emily and Paige and Ali scrambled together to form a last second love triangle. Hanna did an operation on a lifesize doll with her own personal face stitched onto its head, and then missed an important business meeting due to that doll trying to murder her boyfriend. And wherever Mona was, it was paradise by virtue of her presence.
There are about fifty million reasons why you shouldn't make the big bad of your perpetual murder mystery a trans woman, and one of those fifty million reasons is you're going to end up misnaming and misgendering her repeatedly as you try to explain her involvement and connections to the other bad guys on the show. And as you misname and misgender her repeatedly, you're going to reinforce the lies that trans women are just men in disguise and trans women are unhinged and it's fine to call them dudes and etc. and so on. Your argument is, I guess, "We have to call her by her birth name and give her the pronouns she was assigned at birth to explain this twisty tangled mystery in a way that satisfies the audience." To which I say, "Hey, guess what, you've had years to figure this out and you should have thought through all the ways to sidestep contributing to a culture that relies on pervasive stereotypes to dehumanize and persecute trans women before you decided to make a trans woman your main villain."
To wit: This this week Hanna and Spencer go on a deep dive to the suburbs looking for Mary Drake and what they find is Pastor Ted. He's harboring Mary Drake on his couch. Why? Well, because he's Charlotte's birth father, of course. One time he was in love with Mary and then Mary got carted away to Radley and she never told him about Charlotte but then Charlotte showed up at church camp with her best friend Lucas Gottesman and Pastor Ted was like, "Hey, she looks like me and Mary Drake smashed together and, like her mother, seems to favor poison as a murder weapon" and that's when he knew. Peter also knew, years before the Liars found out Charlotte existed. It's some really good reveals. I think I would have enjoyed them quite a lot, a gasping amount even, if I hadn't needed to keep pausing the TV to glower at it due to everyone misnaming and misgendering Charlotte the whole time they were talking about her.
Spencer also spends a fair amount of time glowering at her father, who insists that he and Veronica love her and are her real parents and, you know, maybe over the course of her teenage years they made a couple of mistakes in not revealing that Peter sired all of her friends and neighbors and she has a genetic predisposition for Radley-style machinations and so did Peter's other kids who kept traipsing back and forth across the yard walloping everyone with shovels and burying them in Veronica's hydrangea patch. And, yes, that was one small series of perpetual mistakes that did, in fact, lead to Spencer and her friends getting held hostage in an underground lair. But Peter is determined not to make that same mistake twice. He's been out there looking for Mary Darke. He's gonna find her and make sure she never messes with Spencer again. It didn't work out last time he tried it, when Mary sneaked into their house to stare at Spencer from the shadows in the middle of the night, but this time it'll stick, he's sure of it.
Detective Furey is also looking for Mary Drake, and also the murderer(s) of Archer Dunhill. After Spencer takes him as her lover, he awakens to a call that the severed finger he got in the mail the other day is Archer's, so he skedaddles out of Spencer's sun-dapped bed and over to Rosewood High School to menace Alison about her dead husband who pretended to be a psychiatrist, drugged her, strapped her to a bed, and impregnated her. She's like, "Yes, motherfucker, a lot of people probably wanted him dead. He was a fake psychiatrist who tortured his patients." Furey is mostly interested in how much Alison, specifically, wanted him dead, but his accusations are not her main concern today. For today is her day to play The Game!
Ali has decided to go ahead and have an abortion and the show handles that decision and explanation with so much candor and elegance it makes the dumb stuff even dumber. You can do it when you want to, writers. You can write a good fun story and also be responsible. Ali tells Emily that she's decided to terminate her pregnancy and then explains the procedure, which includes taking one pill at the clinic and one pill at home. None of this "ripping babies from the womb in the ninth month" nonsense the President of the United States of America terrorized everyone with in during his campaign. Emily understands and supports Ali fully and offers to drive her to the clinic. Ali graciously and immediately accepts her offer.
Ali's abortion pamphlet peeps its way out of her bag in the teacher's lounge and catches Paige's eyes, which she is lucky to be possession of, to be honest with you; she nearly rolled them right out of her head when she told Emily she was leaving for a job in Iowa and Emily started to beg her to stay but turned her attention to Alison as soon as she walked into the room. Ali catches Paige with the abortion leaflet and yells at her and then takes ten hilarious minutes to gather all her things from the table and storm out.
What A.D. wants Ali to do is go shopping for baby clothes. Easy enough. Register for ten items and then back to babysitting Aria. Ali points the beepy-clicker at any old thing in the baby store, remembering the whole time about being drugged and wheeled through the hospital to get inseminated. When she turns the beepy-clicker in at the register, the lady gives her a little wrapped package for "the donor." You know, the donor. The donor of the egg now fertilized inside Ali's womb. Ali opens up the bag and inside is a brilliant callback: It's a necklace with some beads that spell out EMILY because Ali's baby is Emily's baby. Ali rips herself out of the frame over this news, hollers at the baby store lady to give her the puzzle piece, and ransacks the shop until she finds it attached to a hanging mural.
While Ali is coming to grips with this information, Emily is out and about dragging Paige's heart over broken glass again. First of all she tells Paige it's a bummer she's gonna take that job in Iowa because she thought they'd have a chance again when Paige showed back up in Rosewood. Paige is like, "Yeah me too, obviously; it's literally the only reason I'm here." They go out for pizza and exposit all the things they said and did, all the adventures and had and all donuts they ate, all their big decisions about their majors and first apartments, this romance they shared and life they lived together, with each other, OFF-SCREEN DURING THE TIME JUMP.
What a waste. What an infuriating, maddening waste.
Paige McCullers has always been Pretty Little Liars' favorite rorschach. Your Patronus or your Boggart depending on what was going on in your brain and heart and all the personal experiences you brought with you into her story. A three-episode guest star who grew into redemption personified.
You get the feeling in all these Pretty Little Liars exit interviews and memoirs from the cast that the network and the studio had their hands all over every scene in every script of this TV show. It was about the tweets and the Tumblr gif sets and the Teen Choice surfboards and the NOISE NOISE NOISE NOISE. It's why Ezra's not dead or in jail, why he'll end up riding off into the sunset with Aria. And it's also why the other Liars got cardboard cut out replacement love interests during the time jump, so they could inevitably dump them and be reunited with their most significant love interests on-screen. And why for Emily, it was the opposite.
The criticism of Paige McCullers, even from professional TV critics, to this day, drips with barely masked disdain for the ways she's not feminine enough, not gentle enough, not apologetic enough. The way she doesn't fit the mold of culturally acceptable womanhood. Her hair, her button-downs, her muscle t's. The way she walks and the way she talks. And the only reason those same people have loosened up on Ali is because she was punished, and thoroughly. She didn't apologize for who she was, for what she knew, and so suffered to atone.
This whole time, these whole seven years, I always come back to T.S. Eliot when I think of Paige and Emily and Ali. Always and always in my head:
And would it have been worth it, after all,
After the cups, the marmalade, the tea,
Among the porcelain, among some talk of you and me,
Would it have been worth while,
To have bitten off the matter with a smile,
To have squeezed the universe into a ball
To roll it toward some overwhelming question,
To say: "I am Lazarus, come from the dead,
Come back to tell you all, I shall tell you all"
If one, settling a pillow by her head,
Should say: "That is not what I meant at all;
That is not it, at all."
What a story it could have been if Paige had been given the same care and attention as the male love interests on this show, if she'd grown organically on-screen, and if Alison had been written with consistency and courage. What a story to see Emily choose between her first love and her most significant relationship here in these final episodes, to know that either one would be a radical decision. The queer Dead Blonde Girl, resurrected. Or the self-harming kid in the closet who came out on TV during an epidemic of gay teen suicides in real life, and who lived and lived and lived and loved and got the girl. My heart should have been broken by the beauty of this mess, the glorious breathtaking jumble of impossibility; one of the longest running lesbian characters on television choosing between two complicated, polarizing, unapologetic women. Women who devastated and undid her and helped her and healed her, each in their way, hating themselves and each other and, in loving her, finding themselves made whole.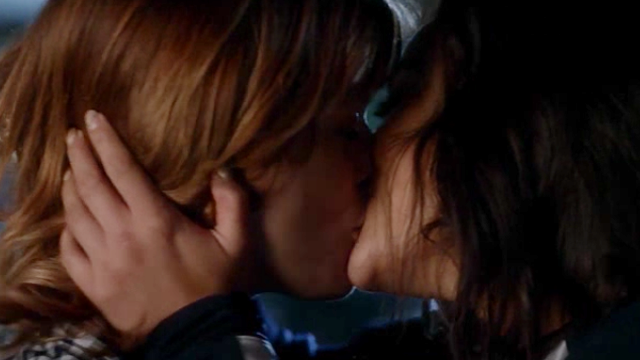 What if Paige and Ali had been given the same mandate as Ezra? What if any ferocious woman anywhere was ever given the same mandate as her dime-a-dozen white male counterpart? It haunts me. (It haunts all of us now, whether we acknowledge it or not.)
Anyway, Paige and Emily decide to race bikes to see if Paige will stay in Rosewood. But Paige is just joking. She's already made up her mind not to go. She pedals and pedals and hops off and smooches Emily on the lips and Emily smooches her back. The camera spins around them and the music tries to feed you a bite of chocolate and call it a meal for your soul.
Emily goes goes home to find out Ali's pregnant with her fertilized egg. This is obviously the first step in the landslide toward Emily and Ali's #ENDGAME but in the meantime Spencer points out that they both have been violated, which is good, because they absolutely have been. Three out of five happily ever afters as a result of a sexual violation isn't really where I was hoping this show would end. Wouldn't it have been something else if this seven-year story about all the ways men take away women's agency and violate their bodies and their boundaries had given Emily and Alison or Emily and Paige the latitude to really choose each other?
Aria meets up with Sydney in the back of some limo. They take the "scenic route" around Rosewood while Sydney makes the case for Aria joining "the winning team." Somebody's feeding her lines in an earpiece, which Aria realizes, but she stays in the car and listens to the pitch anyway. It's better than going back home to find Nicole shuffling around the house in Aria's wedding dress reading Ezra's true crime novels about both of their miserable lives. When Aria finally shows up at Ali's, the Liars yell at her and fill her in on Ali's pregnancy. The Game winds itself up and lands again on Hanna.