Yesterday  we surpassed the $80,000 threshold in our mad dash towards Ultimate Success Via Fundraising, which's super exciting! We're all on the edges of our proverbial seats anticipating a bright new tomorrow, in which Alex will be full-time (starting mid-September), our website will be brand-new and amazing (date TBA), Rachel will be paid more (starting now) and we'll be selling 'You Do You' boyshorts (they're being printed), a NSFW Coloring Book (we're putting it together) and so many other beautiful things!
Let's refresh your $80,000 bonus: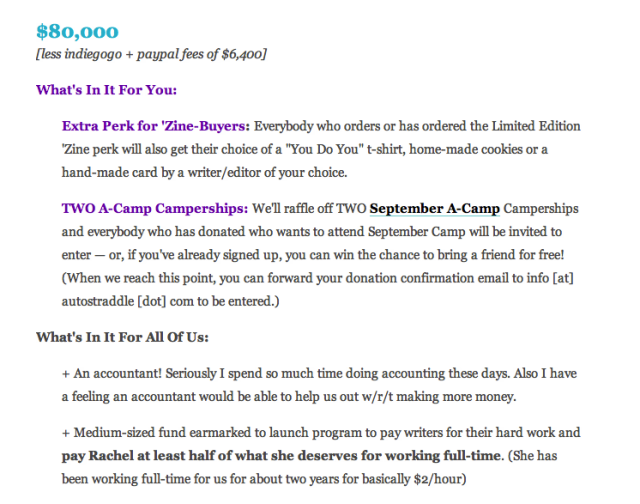 So clearly we've got some business to take care of.
1. We're giving away TWO September A-Camp Camperships!
If you've donated to the campaign and would like to enter to win a campership — forward the email you got confirming your donation to bren [at] autostraddle [dot] com, and write CAMPERSHIP RAFFLE in the subject line. If you're already registered for camp and win a campership, you can give it to a friend but you cannot use it for yourself.  This offer is only for September A-Camp, which happens from September 12th-16th in Angelus Oaks, California.
Because we're on a time crunch for anybody looking to plan a vacation suddenly with three weeks warning, we're going to be drawing and announcing the winners on Saturday. So get on that shit, now!
(If you have donated more than once, yes, you can enter the raffle more than once.)
2. Straddle-Gifs Is Taking Your Requests
Our Dear Loyal Brianna has constructed Straddle Gifs Dot Tumblr Dot Com for your viewing enjoyment and, as promised, will be taking requests for gifs now that we've surpassed 80k. You can request gifs from any videos on the You Tube Channels of riese, Words With Girls, autostraddle and Unicorn Plan-It YouTube pages. You have like 40 Haviland & Riese vlogs, 17 Julie & Brandy In Your Box Office Episodes, Autostraddle's Life Work, etc. Most of our videos are on Riese's channel. You can get lost in a k-hole all day long if you're up for it!
3. 'Zine perks
If you've already purchased a 'zine, you'll get to pick a You Do You t-shirt, home-made cookies or a handmade card — we'll ask you which one you want when we get to the "perks fulfillment" stage in September. If you've not yet purchased a 'zine you really should consider it, because you're gonna get an extra thing!
4. What's Next?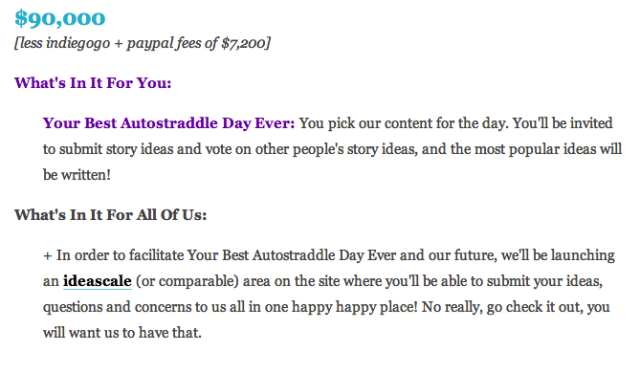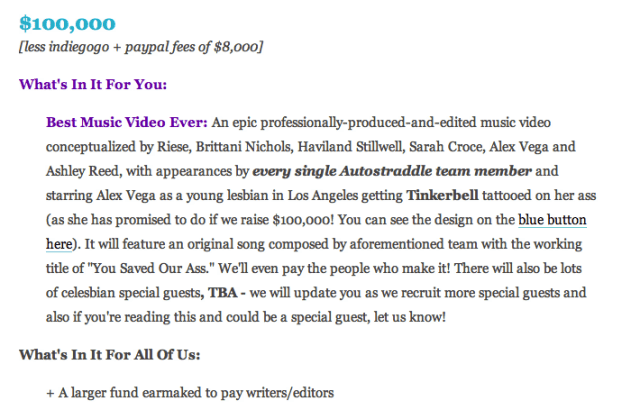 If you haven't already donated, you really should! Lots of people have donated multiple times!