Sara Benincasa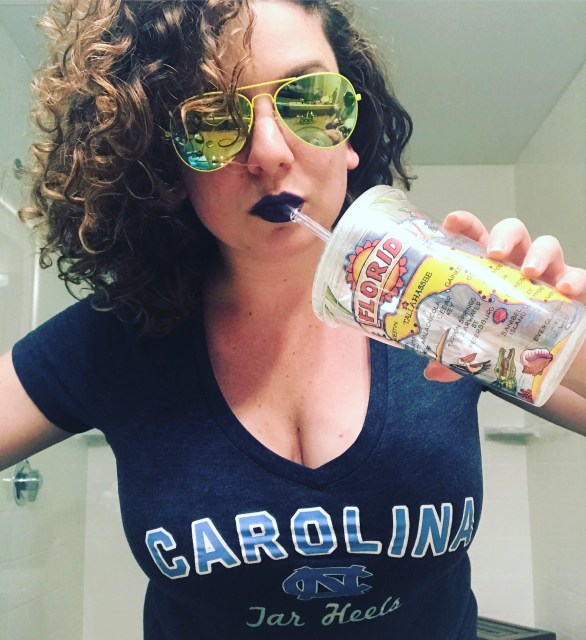 If it wouldn't kill you and you had to choose between never eating and never sleeping, which would you choose and why?
Ooh, this is a tough one for me. See, I work from home when I'm not on the road doing lectures, a book tour, a random acting gig. Right now I'm working hard to finish a screenplay revision before the union possibly goes on strike. I also do copywriting in the nonprofit sphere. And next week I dive into writing my next book. I may email with folks and do phone calls and occasional in-person meetings, but this work mainly happens by myself. And when I need to get out, I go to a restaurant. Sometimes I'll work from there if they've got wifi. Other times I invite friends to visit. But regardless, food means human contact.
Watching a busy restaurant staff is not unlike watching a group dance performance, or a symphony. For it to work, so much has to go right. So many people have to be on top of their tasks. I also have begun learning to cook at home. I was raised on fast food so this is new for me. And I really like it. Sometimes I go to friends' houses and they show me different tricks.
I adore sleep. It used to be the only time I ever quieted my mind. If you'd asked me a year ago I would've said "Never sleep? Fuck no! I'll give up food!" But since I started meditating a few times a week, I'm learning to chill my brain out here and there while awake. That's new to me.
With all that said? Sorry, sleep. Ya gotta go. I'll use the extra time to meditate a bit more, learn archery, take a rock climbing course or six, read some books, have more sex, figure out how to do a roundoff into a split. I have always dreamed of acquiring this skill.
Fuck/Marry/Kill: Shia LeBeouf, a space heater, a roll of duct tape.
Fuck Shia. That sounds deeply intriguing. Marry a roll of duct tape. A truly platonic marriage of convenience. Kill a space heater. I hear those things can explode. That's terrifying. Get away from me. I will build a fire instead.
What's the grossest food you've ever eaten?
Cold meat is fucking disgusting. Get it away from me. I'm aware this makes me a bad Sicilian, but an antipasto platter is my nightmare.
Complete this sentence: I wish I were a little bit…
Taller is the obvious answer. I also wish I were a baller. I also wish I had a girl who looked good and I would indeed call her. Alternate option for the babies who are confused right now: I wish I were a little bit better with saving money.
Dream place to perform?
Carnegie Hall but it's just me chilling and telling stories in between my friends telling stories. The house is packed, the audience is warm and laughs happily and cries at appropriate moments. I make a fuckton of money and go to sleep happily in a very fancy comped hotel room.
Thin crust or deep dish?
Listen, I respect deep dish. I've never had it. I don't go to Chicago for deep dish. I go to Chicago to eat brats and fuck people in sweatpants. At some point somebody yells about sports. Maybe it's during sex. Maybe not. I don't know. Do we talk about how Scottie Pippen was number 33 and that's also the age Christ died and is that significant? This depends on how drunk we are.
In other words: thin crust. Which isn't even thin, unless you're from Chicago and you're like, "Goddamn that's thin!" and everybody else is like "No that's just an average situation, you're from Chicago, everyone is 17 feet tall and your pizza is a bread cake."
If you were a piece of Ikea furniture, which one would you be?
I'd be that red locker they sell, but I'd have more shelves.
How many times a week do you call your mom?
Zero to one times. I text with her almost every day.
Hardwood or carpet?
Hardwood. Carpets get weird stains and retain dust mites that eat you.
Name a celebrity whose feet you'd smell after they just worked out:
I haven't been suicidal in a minute but this question makes me want to kill myself. Thank you, Faith, for helping me uncover new layers of wounding that still need to be healed.
Anything else you want to add?
I am very excited for Pride this year. My main goal is to bring a giant group of women to see the Mandy Moore shark tank movie of death. What a way to honor the magic of bisexuality. It really is always like being in a shark tank in Mexico on a beautiful trip that was supposed to go really well, but you had too many margaritas, forgot to check your privilege, and now this is your life. Also, there's probably a famous person having a panic attack very close by, and now you have to calm her down and explain what a feeling is.
Maybe that's just being bisexual in Los Angeles.
You can find Sara on her website, Twitter, Instagram, Facebook, and Medium. She's also written some pretty great books.
Next page: Cat Davis
Pages: 1 2 3 4 5 6See entire article on one page