The second Queering Immigration Conference is coming up on August 28th-30th in New York City! I will be there, reporting and learning. You can be there too, but even if you can't come, you can still support it by donating to the solidarity travel fund to help get undocumented and formerly detained people there!
Queering Immigration is run by the Queer Detainee Empowerment Project (QDEP), which provides all types of support to queer, trans and otherwise identifying LGBTQI folks coming out of immigration detention. The conference will create space for formerly detained and undocumented people to learn about legal issues, detention and survival strategies, as well as provide education to social workers, other social service providers and allies so they can better understand the lived experiences of undocumented LGBTQI people. Sessions will include workshops on detention, immigration law, case management, health justice and movement building. They will be led by community members, organization leaders, and representatives from government agencies like the New York City Mayor's Office of Immigrant Affairs and the Office of NYC Council Member Daniel Dromm.
"A lot of folks have their own opinions and viewpoints of what immigration looks like," QDEP Executive Director Jamila Hammami told Autostraddle. "I think if they came to this event they'd be able to see what trans and queer migration really looks like."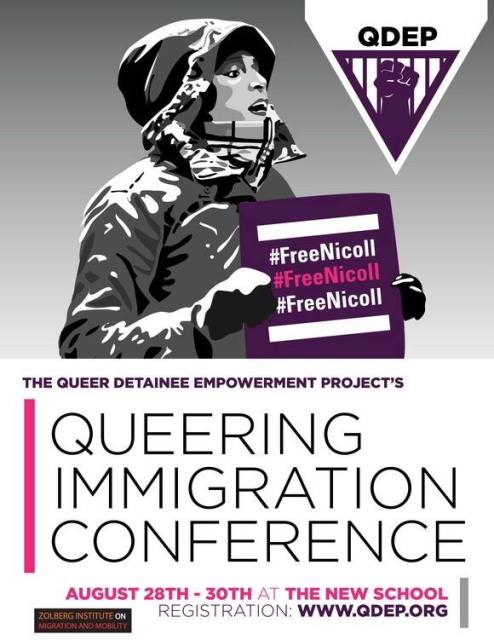 Hammami also says that an important goal of the conference is to make connections between the LGBTQI immigrant rights movement and other movements. "We're working really hard to unite the prison abolition movement and the immigration rights movement together. Black and Pink will be coming this year, and I'm really pumped about that," she said, continuing,
"It's so important to be linking our two movements… they are essentially the same thing: people profit from putting people in prison and from putting people in detention. It's all racist and it's all classist and it's all transphobic and homophobic, so why don't we work together? I'm really pumped to have those discussions with people who have maybe never even thought about that within the immigration movement. It's going to be a very interesting introduction."
Hammami also said the faith community will have a big role the conference:
"At QDEP, we've really included the faith-based community in our work. We're very connected with it, and I know that that's something that's been really difficult for a lot of LGBTQI folks to wrap their head around. But we have several sessions being led by different faith leaders that are LGBTQI identified, themselves, or that are focused on providing services or helping other organizations move into being accepting of trans and queer folks."
The state of things for trans and queer undocumented immigrants in the US has been in the news a lot lately. In the past month, Jennicet Gutierrez called on President Obama to release trans women from detention centers, calling attention to the sexual abuse trans women face when detained in men's detention centers. Shortly after, Immigration and Customs Enforcement (ICE) released a new memo saying that trans women can now be detained in women's facilities.
These are the most recent developments in years of organizing by trans and queer immigrant communities that have been impacted by the violence of the detention and deportation system. This violence, Hammami pointed out, has been identified by the UN High Commissioner on Refugees as an international issue. This conference will bring together people organizing and connected to the queer and trans undocumented community around the US and the world.
I am SO excited to be reporting at this conference, and I hope you will join me there and follow along at the hashtag #QI2!
When: 9AM on August 28th to 4PM on August 30th
Where: The New School in New York City
To register, click HERE. Scholarships and reduced rates are available for impacted community members and students.
If you can't go but you want to support other people in going so that the conference is as amazing as possible and as accessible as possible to the communities most directly impacted by the issues that will be discussed, YOU CAN. Just go to the registration page, scroll down and put your donation in the additional contribution box, or follow the instructions on the page to contact Jamila.