Welcome back, Witches.
Have you ever heard of Witchsona Week? It's basically my favorite week of the year (other than A-Camp week). Back in 2014, Victoria Grace Elliott and Brittney Sabo came up with the idea to have people come up with their "witchsonas" during the week of the first full moon of the year. Ever since then, artists and cartoonists from all around the internet have been coming up with clever and creative witchsonas that show themselves as a type of witch that represents who they are. This combines some of my absolute favorite things, witches, aesthetics and art. I'm going to post and link to some of my favorite witchsonas from this year throughout the beginning of this Witch Hunt. What would your witchsona look like?
All around the internet, witches have been super popular this month. The witchy world of Harry Potter got a little bigger and better as a new and improved Sorting Hat Quiz went up the Pottermore website, which gave quite a few people serious identity crises when they were sorted into a different house than before. Not only that, but J.K. Rowling also released information about four previously unknown schools of witchcraft and wizardry: one in Africa, one in Brazil, one in Japan and one in North America. There's not a lot of information about these new schools, but the stuff that's there is really cool. There was also a new featurette that went into depth into some of the new characters that we're going to meet in Fantastic Beasts and Where to Find Them.
Apart from all that Harry Potter news, the Satanic Temple officially threw itself behind a very different type of witch movie, the upcoming Puritan New England-set The Witch, and are even going to present screenings in Detroit, Los Angeles, New York City and Austin. According to Satanic Temple Spokesperson Jex Blackmore, "The Witch is more than a film; it is a transformative Satanic experience that, in its call to arms, becomes an act of spiritual sabotage and liberation from the oppressive traditions of our forefathers." Sounds fun.
Over at Atlas Obscura, they've reported that researchers with the Gallows Hill Project have determined that the site where accused witches where hanged after the Salem Witch Trials is now located right next to a Walgreens parking lot. The same website also talked about a study that shows there might be a link between climate change and accusations of witchcraft. While the climate change connection is just a theory, this article does have a lot of interesting information about when and why people are persecuted for supposedly being witches. Katy Horan and Taisia Kitaiskaia made a really gorgeous and beautifully written comic about some Literary Witches that you should definitely check out. Finally, if you've caught onto the trend of coloring books for adults, why not give these witchy coloring books by Monica Richards a try?
It's also been a good month for us witches here at Autostraddle. We had our regular (and terrific) articles by Beth and Corina, with Beth delivering another great edition of her tarot column and Corina writing some scary-accurate horoscopes (seriously, mine was magically accurate). I also wrote about Balderdash! Or a Tale of Two Witches, a really wonderful and beautiful webcomic by the aforementioned Victoria G. Elliott. Finally, in one of the absolute best and definitely most hilarious articles we've published in a while, Erin chronicled her attempts at curing her ailments by using classic witchy home remedies. If you'd like to see a picture of an adult lying on the ground with her face in a small hole or a picture of that same adult wearing potatoes on her head, this article is for you.
---
Playlist: For Immersing Yourself in a Healing Ritual Bath and Emerging Ready to Conquer the World
---
Words with Witches
by Rachel
coven (noun) – a gathering or community of witches. They may perform ceremonies together or observe holidays and meaningful days together, like the Sabbats. Folklorist Margaret Murray argued that all witches had to belong to covens of exactly thirteen; in modern times, it is generally recognized that any group three or larger can be a coven, with only two witches being called a "working couple." A coven may be led by a single authority figure, like a High Priest or Priestess in Wicca, or have a more democratic or non-hierarchal leadership. Etymologically, it may be related to the Latin convenire, to meet or convene, or may also be related to the Middle English covin/covine, a band or group.
---
Which book club? Witch Book Club.
If you are curious about how the power of witchiness relates to the Power Systems we talk about in a more political context (aka white supremacist capitalist heteropatriarchy), I highly recommend that you read Caliban and the Witch, a captivating, if also extremely dense, book about how vilifying witchcraft and the women who practiced it (and things interpreted as it) were key tools in creating capitalism in medieval Europe. In short, Siliva Federici explains that witches and women leaders in mid-millennium Europe were turned into enemies of society in order to build and reinforce the social structures necessary for the implementation of capitalist economic systems. In Federici's analysis, it's possible to see how systems of violence, which target women community leaders and women who found creative ways to survive, are replicated through colonialism, and continue to manifest today to maintain the class, gender and race stratifications that uphold white supremacist patriarchal capitalism. Caliban and the Witch reveals a complex system of scaffolding in many intersecting systems of oppression, and it might just give you new ideas for how to tear it down.
You can buy Caliban and the Witch or find a very large PDF here.
---
Witches Who Sing
---
My Favorite Witch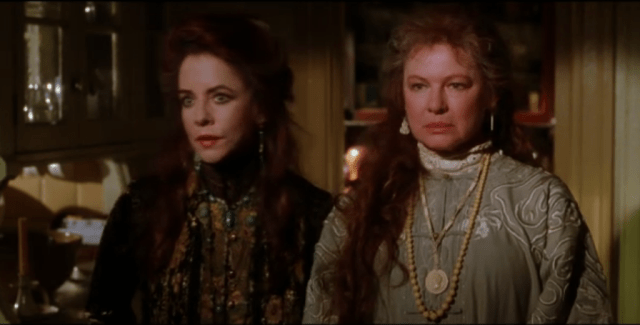 If there's one movie I adore as much now as I did when I was a wee witchling, it's Practical Magic. Despite my efforts as sort of-adult to go back to it with a more cynical perspective on love and the ability of anyone to snap a noose mid-hanging, I fall right back under the Owens sisters' spell, every time. And though I still covet Gillian (Nicole Kidman)'s mermaid-like cascade of auburn hair and Sally (Sandra Bullock)'s ability to light candles with her breath, it's the aunts I desperately want as my real-life companions. Aunt Jet and Aunt Frances, played wickedly by the indelible Dianne West and Stockard Channing, are some of the best subversions of the old crone archetype in modern cinema. They practically exude eternal youth! They eat chocolate cake for breakfast; meddle in the love affairs of everyone — and, as far as I can tell, dance naked under the full moon. They're at once wise and crass, both guardians of a mystical old grimoire and conjurers of midnight margaritas. And of course when they disappear without warning, leaving Gillian and Sally to literally and existentially clean up their own mess, all hell neatly breaks loose. But if there's one lesson they have to teach us, aside from "There's a little witch in every woman," it's that the most powerful magic is wielded by women who join together with a common purpose. Because when they show up, just in the nick of time, to summon an impromptu coven and exorcise the demon of Gillian's abusive lover (aka Dr. Luka from ER), that's exactly what happens.
---
Witch/Craft
Have you ever wanted to wear your favorite crystal, stone, or gem right over your heart? This simpler-than-meet-the-eye wire-wrapping technique lets you make your crystals into beautiful, personal pendants. Best of all, it does no damage to your crystal and releasing it back into it's original state is only a matter of pliers and sharp scissors.
I followed this tutorial by kindly, sheree:
https://www.youtube.com/watch?v=GYsDJg5N7Og
Supplies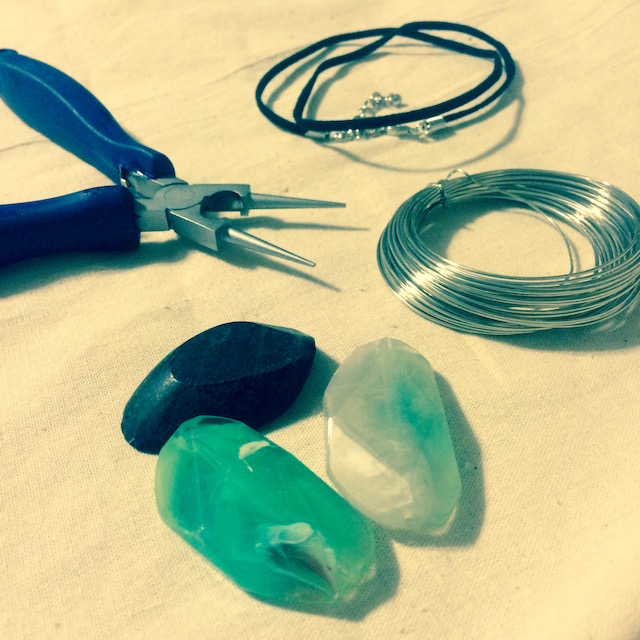 Following the video tutorial, cut two long pieces of wire of the same length. Really long, very long, longer than you think you will need. Longer than the tutorial suggests. Cross them and twist them together, then place your crystal on top (1). Wrap the wire around the stone and twist them together at the top and bottom of the crystal (2). Continue to randomly twist the wires around the stone (3) and, when you are satisfied, work all the wires up to the top of the pendant (4).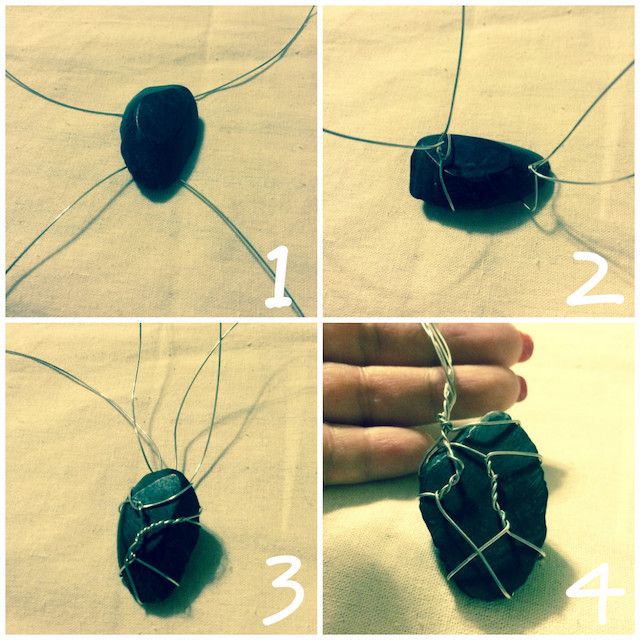 Twist the wires at the top together for about 2 inches length (5). Use pliers to shape the wires wrapped around the stone to add a bit of flair (6). Using the pliers, create a loop at the top and wrap the wire around the base of the loop a couple time (7). Cut off excess wire and either file the ends of tuck them safely into the loop, so they won't poke you when you wear the pendant. That's it (8)!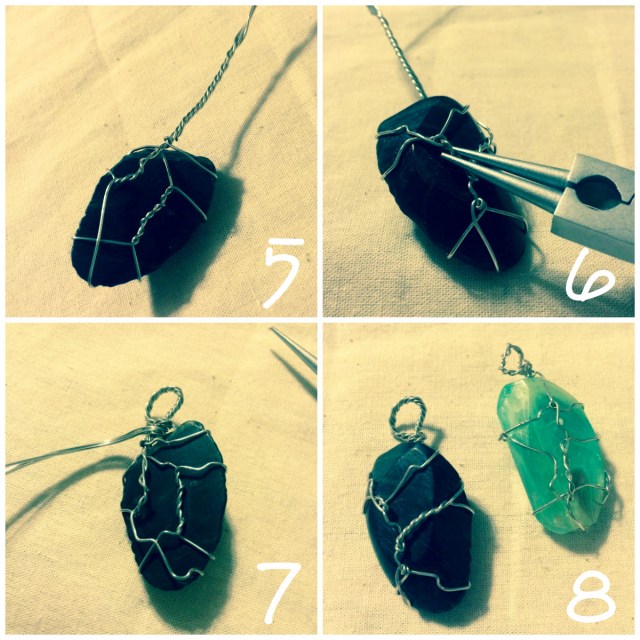 String it up on the cord or chain or ribbon, imbue with magical properties through the method of your choice, and wear it whenever you want to keep your crystal/stone/gem amulet close!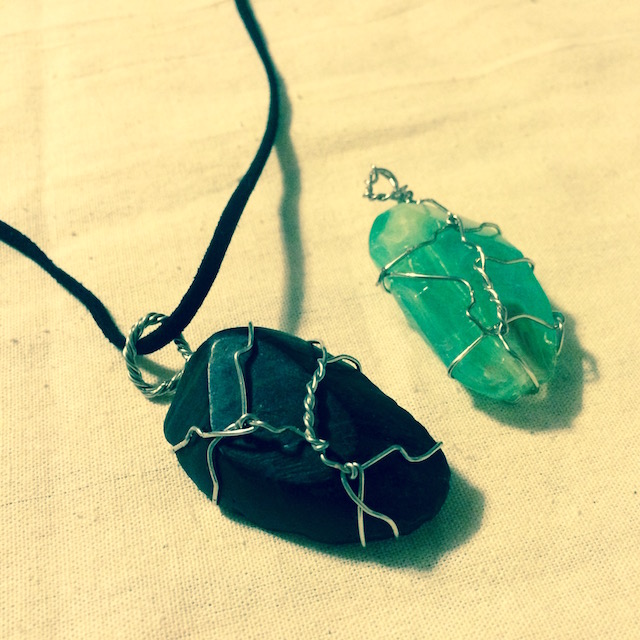 ---
A Brief Personal History of Black Cats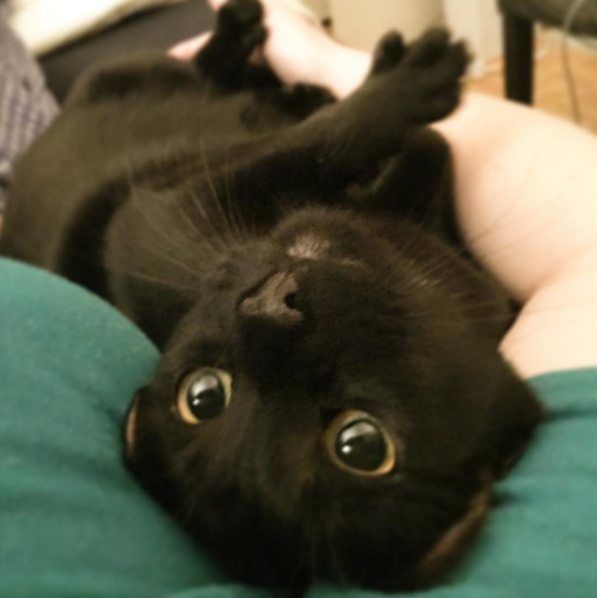 I recently read that black cats are really dark blue, but the way the light reflects off the shape of their cat hairs makes them look black. I don't know if that's true. The article I read didn't explain the actual science behind it, and even if it had, I probably wouldn't have understood it. (I'm hopeless without Bill Nye.) What I do know, though, is that every article you ever read about black cats has a theory about whether they're lucky or unlucky. Like many of the shitty things about the United States of America, the idea that black cats are unlucky came along with the Pilgrims, who convinced themselves that black cats were familiars of witches.
Close your eyes and let me paint you a picture. Wait, no. Open your eyes. You can't read this with your eyes closed. Imagine this: A woman with a pointy hat. And a broom. And a cauldron. And a black cat. It's a witch, right? You're imagining a witch? Actually, no. What you're imagining is an alewife, a medieval woman who brewed beer to keep people alive. Old old old school beer was rich in nutrients, and also one of the only safe ways to consume water. Women brewed it every day; it was the main source of nourishment and hydration for their families. And they sold what they had leftover. Eventually those alewives started brewing more than they needed, and brewing became a lucrative business!
Alewives wore pointy hats so people could find them in the marketplace. They used giant cauldrons to brew their beer. They put a broom outside their houses to signal that they had extra beer to sell to neighbors. And cats? Well, they prized their cats, especially black ones, who were believed to be better at chasing mice away from their precious grains.
"Whoever controls the tap controls the power," the saying went, and of course the church couldn't let the women have the power, so they couldn't let the women control the tap. Thus, a smear campaign was launched against alewives, and the propagandic imagery created to disenfranchise them — familiar images of alewives with their pointy hats and cauldrons, with grotesque deformations or overly sexualized spins — made their way all the way across the ocean to places like Salem, MA.
And independent women and black cats suffered the consequences.
In my experience, black cats signify very good luck! I have two of them: Beth March and Dobby, who started their lives as feral babies on the mean streets of New York and have grown into the most affectionate, gentle, trusting darlings I've ever known. For weeks — after my girlfriend and I trapped them, had them spayed/neutered, and brought them into our home to begin the process of socializing them — they wouldn't let us touch them. They'd barely let us look at them. With time and gentleness and plenty of Gerber No. 2 chicken and gravy baby food, they finally learned to let us love them. It took five months before Dobby let me pick him up off the ground from a standing position, and six months before he actually decided he liked it.
Right this second I'm drinking a beer I brewed myself, while Dobby and Beth March sleep pressed against either side of me. Cotton Mather Cream Ale, is what I named it. Tagline: Ye monsters of the bubbling deep!