Happy spring straddlers, and welcome to the toast post! Since yesterday was the first day of Spring, I almost felt obligated to make this one of those posts where I only talk about seasonally appropriate things and what spring activities I'm looking forward to. BUT it's still cold and the Northeastern US has not yet gotten the memo about the season change so…. toast! Toast is, in my opinion, the perfect meal and more than worthy of an entire blog post devoted to its glory. So versatile. So portable (not to mention an ideal condiment vehicle). So delicious. The inspiration for this ode to toast was a perfect loaf of bread. Last week my work sent me to Coney Island on a mission to procure some sour cherries from the Russian Bazaar. Alas, sour cherries were not in season. Shoulda known. Instead I ate pierogies, and maybe some pickled herring, from the buffet and marveled at all the pretty grainy breads displayed before my hungry eyes. I saw something called a Lithuanian loaf. It was nearly black, heavier than rocks and packed with sunflower seeds. I knew then what I had to do. I purchased the black beauty and took it home for toast experimentation. When it comes to the toast itself, I like my breads dense and grainy. When it comes to the toppings, I like em' weird. Here are a few glorified toast non-recipes that will surely make you reach for something other than cream cheese or butter (but those are good too).
Sriracha Almond Butter Toast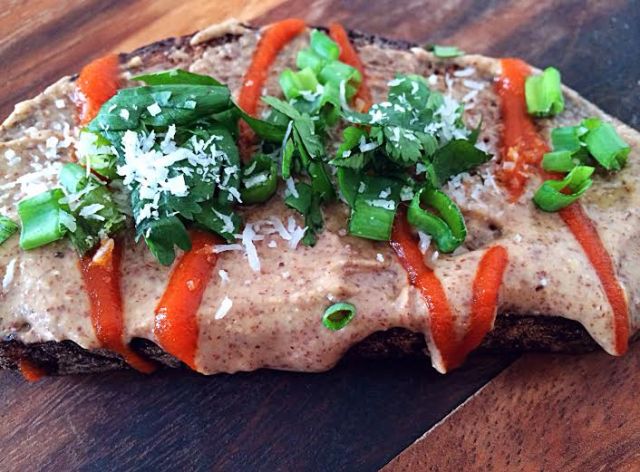 This is my absolute favorite toast situation and flavor combination and I have mentioned it before. Simply slather some almond butter (any nut butter really) on a good piece of toast. Drizzle with hot sauce of your choice (I have since experimented with gochujang and piri piri – both good). Sprinkle with chopped scallions, cilantro and coconut flakes.
A Non Pretentious Avocado Toast

Avocado toast is like a thing now. It's couture toast and cafes in New York like to charge 10 bucks for it. Don't buy theirs. Make your own. Mash avocado on some toast, top with a soft boiled egg and quick pickled onions (sliced thin and soaked in red wine vinegar for like 15 minutes). Sprinkle with red pepper flakes and sea salt.
Cannoli Toast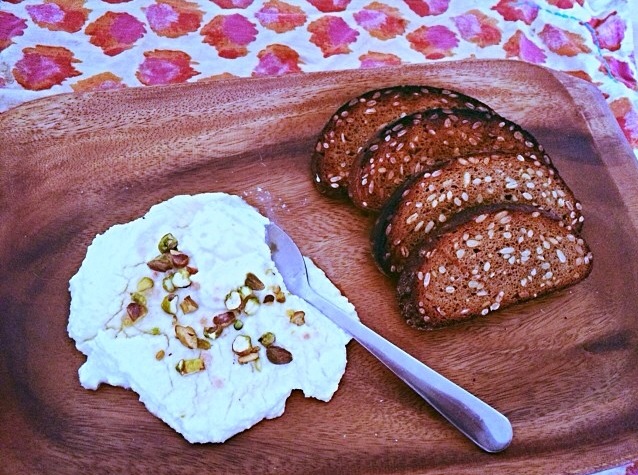 I call this cannoli toast because the topping tastes like a cannoli filing and it's oh so yummy. Weirdly I don't like cannolis but love this toast. I mix 1/2 cup ricotta with 1 teaspoon almond extract and some orange zest and spread on toast. Top with chopped pistachios, honey, and sea salt.
Other things I like to put on toast:
bananas + almond butter + honey + sea salt
ricotta + honey + thyme + maldón salt
mashed avocado + squeeze o' lime + sesame seeds/hemp seeds
butter + white miso + avocado slices
vegemite + melted cheese + sliced cucumber
MORE LINKS FOR TOAST!
Kaya Toast (BEST THING EVER)
Boiled Egg, Seared Asparagus, and Pickled Onion Sandwich (technically not toast but it could be and it's pretty!)
Scandi Toast (aka chic toast)
Maple Cinnamon Toast (simple toast, revolutionary idea)
Avocado Coconut Oil Tartine (aka – aloha toast)
Wanna make your own bread? HERE YA GO!
Sally Lunn Bread
Big Sur Bakery Hide Bread
Tahini Beetroot Black Bread
Crusty No-Knead Bread with Toasted Grains
Happy toasting!
xx
Header by Rory Midhani