Header by Rory Midhani

WELCOME TO WILDER HUNGERS "PUT SOME SAUCE ON IT" EDITION.
I've said it before, but I will say it again. Condiments are my all time favorite food, and I'm somewhat of an avid collector – a condiment connoisseur if you will. I will forever worship ketchup, guacamole is the reason I exist, and don't get me started on sriracha. These are standard. I want to introduce you to some next level condiments because we all know food is nothing but a vehicle for sauce. Okay. Collage time.
1. Mike's Hot Honey
This honey is a little biatch because you can only order it online but I promise you it's SO GOOD drizzled on just about anything that's edible. Drinkable even. I put it in tea once.
2. Cackalacky Spice Sauce
This is my favorite steak sauce in the world, and I can't find it in New York for the life of me. It's made from…wait for it… SWEET POTATOES. You're welcome.
3. Saucy By Nature Polish Kimchee Relish
SUBLIME on a hot dog or in grilled cheese. Don't be scared of the prunes.
4. Noble Tahitian Vanilla Maple Syrup
This is some FANCY syrup. They also make another syrup with bourbon in it, highly recommended. Pancakes. Make you some.
5. Hot & Spicy Peanut Butter
One of my favorite toast toppings is a peanut butter/sliced cucumbers/ red pepper flakes combo. It's not that weird, really. It tasted like spicy peanut noodles but like on bread. This spicy peanut butter lets me cut corners when making that sammy which is reallyyyy important because sprinkling on those pepper flakes is EXHAUSTING.
6. Kozlik Triple Crunch Mustard
I like crunchy peanut butter, and I like crunchy mustard.
7. Rick's Picks Hotties
Not a sauce but still relevant. I always eat the whole jar and then it feels like my tongue is going to fall out of my face.
8. Hey Boo Coconut Jam
With a name like that…
Anddd last but not least, my favorite condiment of all time (not pictured):
Sherry's Chimichurri
Sherry is my mommy and her chimichurri is the reason I grew up big and strong! Slather it on steaks (or veggies, roasted potatoes, tofu, whatever). It would make cement taste good.
Whatcha need:
6 cloves garlic
3 bay leaves
1 jalapeno, chopped and seeded
1 ½ tablespoons of salt
½ cup flat leaf parsley, minced
¼ cup fresh oregano leaves, minced
¼ cup distilled white vinegar
⅓ cup extra virgin olive oil
ONE
With a mortar and pestle (yup,it's about to get indigenous) mash the garlic, salt, bay leaves, and jalapeno into a paste. If you don't have a mortar and pestle use a bowl and something else to mash with. A potato masher? A rock? I don't know, get creative.
TWO
Mix the paste in with the rest of the ingredients. MUNCH.
So besides pondering the greatness of condiments, not much else has happened last week. I started going to yoga, where I realized how grossly inflexible I am. I really enjoyed it though, especially the "corpse pose" which is not unlike how I spend most of my days now that it's freezing out. Oh yea, did I mention it's practically winter now? Disregard my last few posts about the magic of fall because fall is OVER my friends. I'm officially shakin' in my boots and some totally random snow flurry action forced me to buy an unnecessary 50 dollar pair of mittens (but it's okay because they are 100% recycled wool and made in the mitten state which makes them worth it). Speaking of the mitten state, I just got back from Ann Arbor yesterday! I'd never been but my lovely girlfriend was tour guide and practically ate myself to death at Zingerman's, yay! ANYWAY. More on that in next week's post. If you were worried that the only recipe this week is a measly little herby mash – none to fear. I also decided to bake cookies with sriracha in them because, yolo.
(First time writing yolo in a blog post – it felt a little weird but I'm not saying I won't do it again).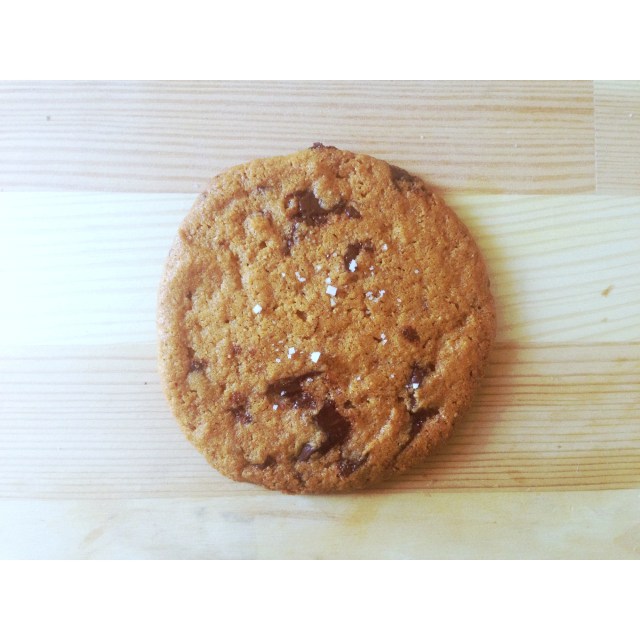 Peanut Butter Chocolate Chunk Cookies with Sriracha and Sea Salt
– no I'm not joking-
1 ½ cups all purpose flour
1 teaspoon baking powder
½ stick unsalted butter – room temp.
1 cup peanut butter
½ cup granulated sugar
½ cup brown sugar
1 teaspoon vanilla extract
2 eggs
sriracha (anywhere from a tablespoon if you're mild to ½ cup if you're me)
sea salt
HEAT: your oven to 350 F.
SIFT: the flour and baking soda together into a bowl.
CREAM: the butter, peanut butter, and sugars in another bowl with an electric mixer until fluffy.
ADD: vanilla, eggs, and sriracha to the butter mixture and mix until smooth.
NOW ADD: the sifted flour mixture little by little on low speed.
TASTE: the batter. Do you need more sriracha? ADD SOME.
STIR: in those chocolate chunks.
SCOOP: big ol' tablespoons of dough on 2 parchment lined cookie sheets and flatten the top a little bit.
SPRINKLE: the tops of the cookies with sea salt
BAKE: for 12-15 minutes or until golden (rotate your pans halfway through)
I made these cookies for my friend Cristina in Chicago who has graciously accepted my offer of doing cookie exchanges with me on the regs. It's a really good idea and you should do it with all your friends. The last picture is obviously not me, but Cristina herself before her taste buds were probably destroyed from excessive sriracha consumption.