We tried very, very hard to leave DC on schedule but it just didn't happen. So instead, we opted to get a little more lost and a little more free. First, we just had to pack up the car.
---
Friday, 9/11
All of my predictions were wrong.
I did not predict that moving would require not one, or two, or three days of packing, but three days and an entire bunch of sunlight on another day. I did not predict that when Soph offered to carry two suitcases onto a plane for me, I would take her up on it and leave all of my clothing upstairs in my old room that didn't belong to me anymore. I did not predict that I would leave one of my favorite floral suitcases on the side of the road, along with another sizable chunk of the things I'd insisted with myself I was going to squeeze into my Spark. I did not predict that I would ship Brittani a sixth emergency box that day I was trying to leave.
And I did not predict that at 4 PM we would finally get on the road and realize that my mattress, which had started out as a tiny little thing in a vacuum-seal bag in the backseat, would begin expanding and have to be shipped at the last minute.
By 6 PM, we had made it exactly thirty miles outside of DC. We found ourselves, in that moment, in a parking lot for a USPS branch that had closed at 5 but stayed open late to help me ship my friend Nancy said mattress, expanded and all.
After the entire hot mess of a day, I also didn't predict that we were ever going to leave.
It literally felt like this was it, like I was stuck, like I was destined to stay exactly where I'd been all along. But then we left, and in the face of all of the challenges things started feeling good. The car felt more spacious, even though it was packed to the brim. The adventure felt imminent.
We were on the way to Los Angeles. That was all that mattered. We we weren't gonna make it to Nashville as we planned. But that was okay, suddenly. I realized then and there that I didn't really have a plan. I didn't have a schedule. I just had a destination, and the rest was up to me.
And so, we drove to Roanoke, Virginia, which was a dot on the map directly en route to Nashville but only about 1/3 of the distance from where we started. We crashed at a Quality Inn, ate bread and slices of fancy cheese for dinner, and watched cable television until we fell asleep. And even though it wasn't anything like I'd expected, it was a pretty good first day on the road after all.
---
Saturday, 9/12
We woke up early the next day, but still checked out about half an hour late because we had to pack up the car again. I am determined to unpack and repack the car throughout this trip because I'm compulsive about my belongings, and so each evening we'll be unpacking it and each morning we'll be loading it up. It's okay, though, because we need exercise.
After we stuffed it to the gills, we were off!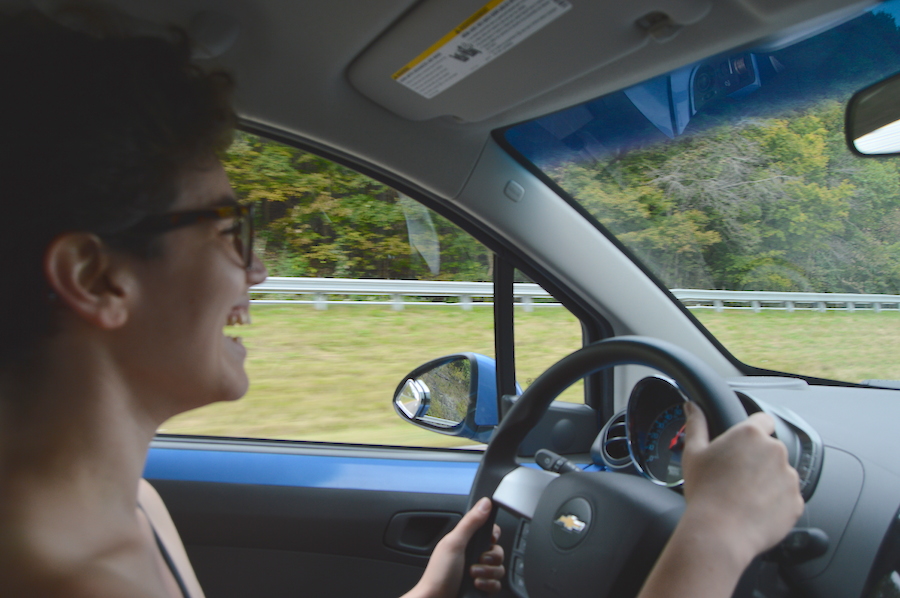 The drive to Nashville should have taken about seven hours, but it took nine, because Geneva and I are always falling into time warps on our road trips. But we failed to notice, because the highways that cross into and through Tennessee are fucking beautiful and we were enjoying every minute of the ride. I'm going on record as saying that I could live right there on the side of the road in Tennessee.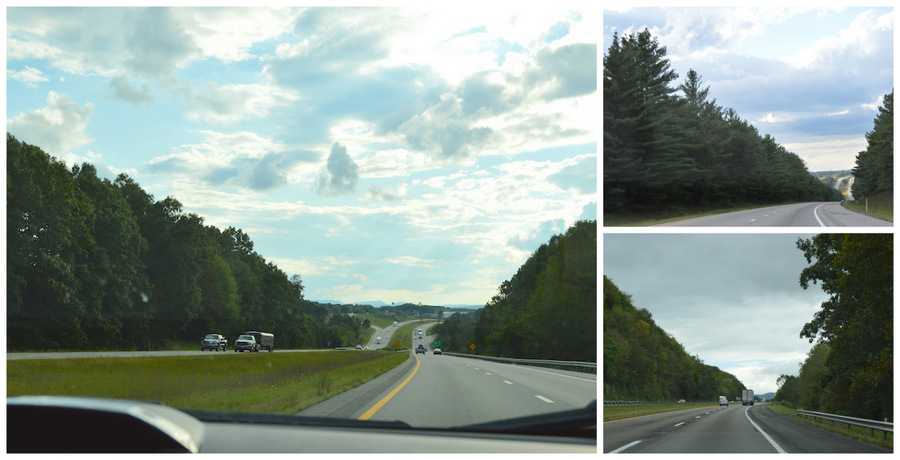 We drove through fields, across tiny bridges, around curves, all while surrounded by lush greenery and all while facing the sun. It was awesome. It was everything. It was right about when I started to feel free, right about when this thing started finally feeling okay. We crossed into Tennessee and suddenly, there really was no turning back. I had sent most of my belongings across the country in boxes or left them on the side of the road. All of my friends had wished me well. I was already worried about getting postcards for my mother.
I was there. After years of thinking about it, it was finally all happening. And it felt right, and it was beautiful. On top of it all, it was so fucking beautiful.
Along the way down I-40, we took our time at rest stops and gas station stores so that we could be as caffeinated and well-stretched as possible. At one point, we even pursued a billboard's promise for the biggest fireworks store in America, but that place was closed. It was worth the trip anyway, just like all the tiny stops along the way will be worth it as we cross the rest of the continent.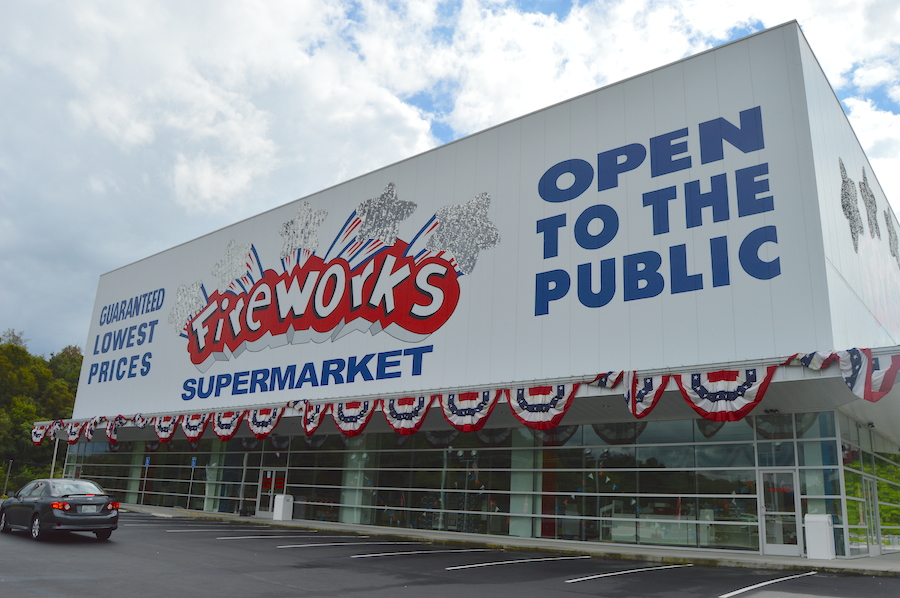 We got into Nashville with high hopes of catching a bus and seeing some live music, and even though it was late we made it work. It was our three-year anniversary, and we spent it at the Back Alley Diner, eating some Southern food while a bunch of white dudes crooned out some country music at the bar.
At the beginning of the trip, all my sights were set on the places we'd be stopping for the night. I wanted to eat them up, see all the tiny parts and local hangouts. But the day we travelled to Nashville, the road and the hotels that line the highways across the country started feeling like home. That night, we headed back to our room at the Days Inn to watch television and cuddle with Eli, surrounded by a sea of all of my stuff. And even though we hadn't even seen Nashville in the sun yet, I loved every stretch of it.
---
Sunday, 9/13
We woke up early the next day so we could pack up and explore Nashville some more before we headed out to Memphis, and our first stop was Puckett's.
Geneva ate at Puckett's during a trip to Nashville for Bonnaroo and couldn't stop raving about it, so I made the executive decision that we would be eating lunch there. We tied Eli to the leg of her chair and sat in the cool summer breeze on their patio, where we split a veggie sampler and I gobbled down a Texas toast grilled cheese with fried green tomatoes inside.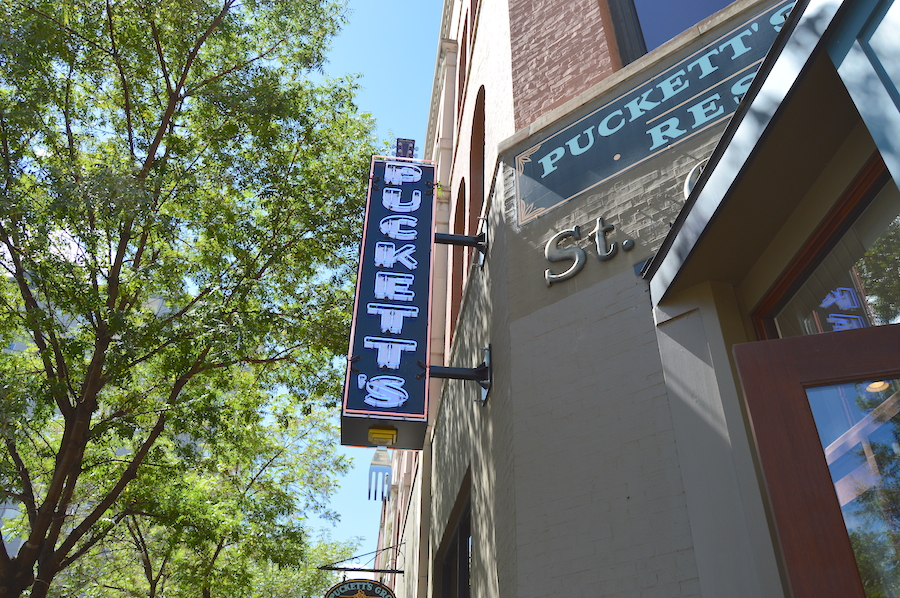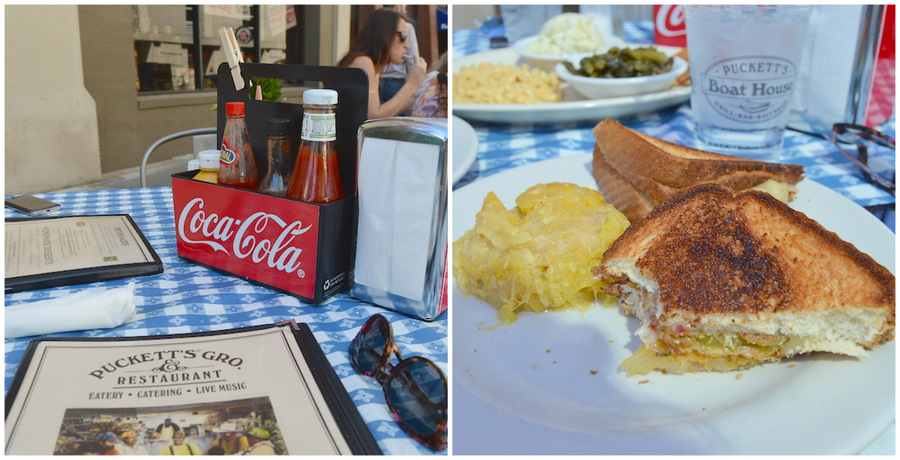 Afterward, we walked around Nashville a bit with the pup and managed to stumble upon some of the coolest sights. We saw horse-drawn carriages walking past a big ol' body of water, passed dancing spot after dancing spot that were all open at 1 PM, and even found Coyote Ugly. We did not buy cowboy boots, to my chagrin, but we did soak up the energy of the city, which was devil-may-care and totally liberating. Nobody in Nashville cares what anyone else is wearing or doing or talking about. Everyone is too busy listening to the music booming on street corners.
I chose to start the trip in Nashville because it seemed like a place I'd like to see, but wouldn't ever have bothered to vacation to independently. Instead, it turned out to be the perfect place to set the tone for the rest of the journey: wandering through crowds looking for the good stuff and enjoying every single step of the way.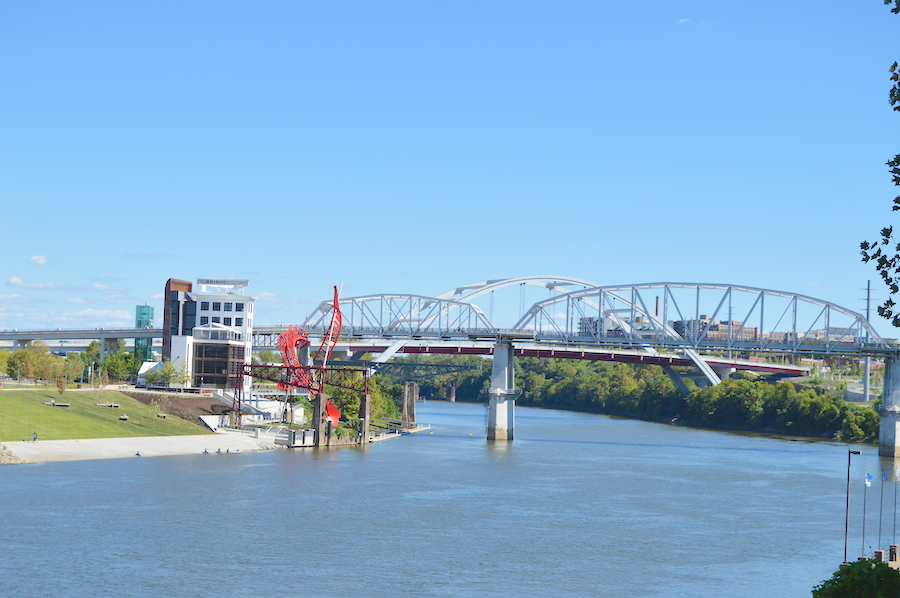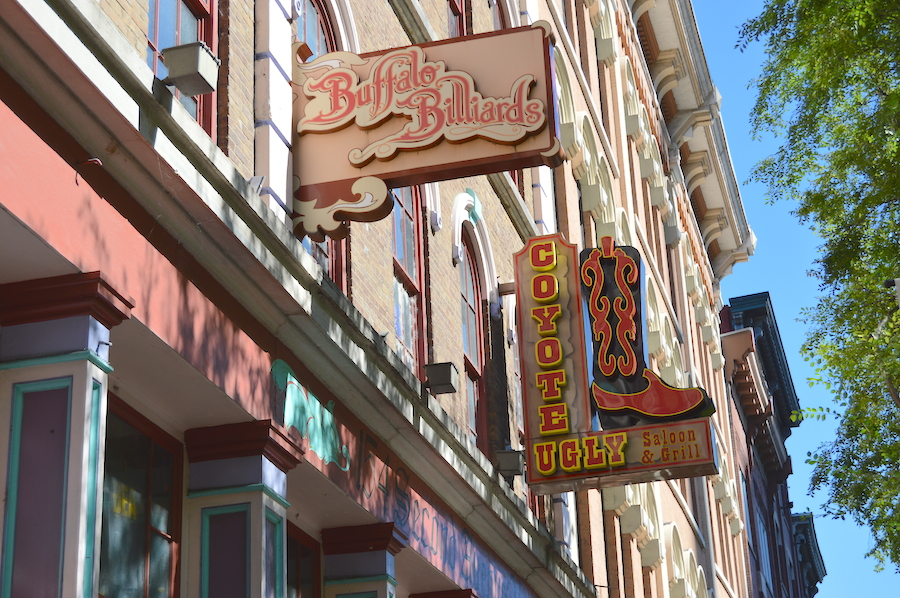 Once our parking meter was up, we headed back from the corners of Church and Gay Street and headed out to Memphis more excited than ever. I was already excited for more Tennessee roads, and we couldn't wait for another of its cities.
Also, the main point of this segue was to drive home the fact that we found the intersections of Church and Gay Street on our trip. Mission We Never Knew We Had: Accomplished.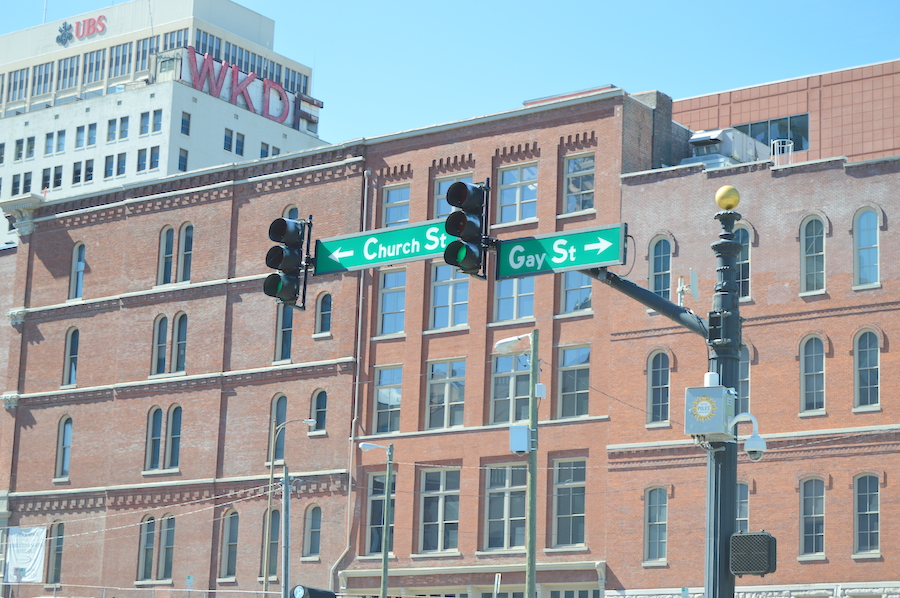 ---
Monday, 9/14
We got a hotel room in Memphis for two nights for one explicit purpose: so we'd have an entire day to go to Graceland. And on Monday, that's exactly what we did. I was excited to see if anyone at Graceland pointed out how much I look like Elvis, and to finally have a reason to put the Elvis XM station on in my car for a solid thirty minutes. (This was, coincidentally, also the channel being piped nonstop into every souvenir shop, gallery, and restaurant at Graceland.)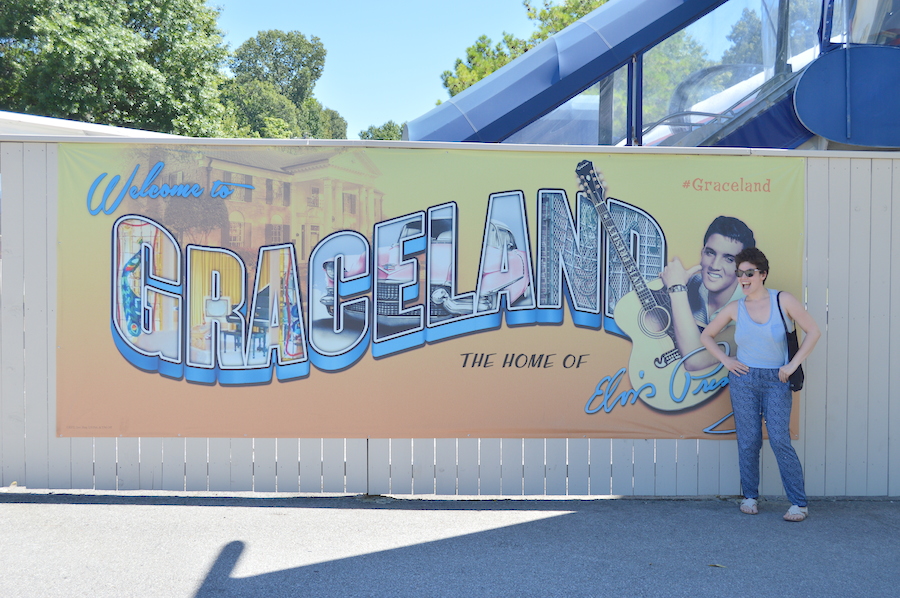 Graceland is a great, big, wide open space smack-dab in the middle of Memphis stuffed with tiny shops full of memorabilia, little galleries and exhibits, fifties-themed eateries, and cheesy opportunities to buy photos of yourself green-screened into Elvis' arms. I skipped over the part where you get weirded out by the idea of a large, theme-park-like monument to one single man and went right to the part where I get into it as soon as we arrived.
We spent the day touring the mansion and grounds, walking through an old-school private plane and jet, admiring Elvis' car collection, and deciding which trinkets to buy. We also sat down for a meal in a fifties diner lined with jukeboxes and black-and-white photos of The King for some veggie burgers, fries, and beer. It was, essentially and ironically, the most amazing date Geneva and I had ever been on, full of Southern charm and retro fun.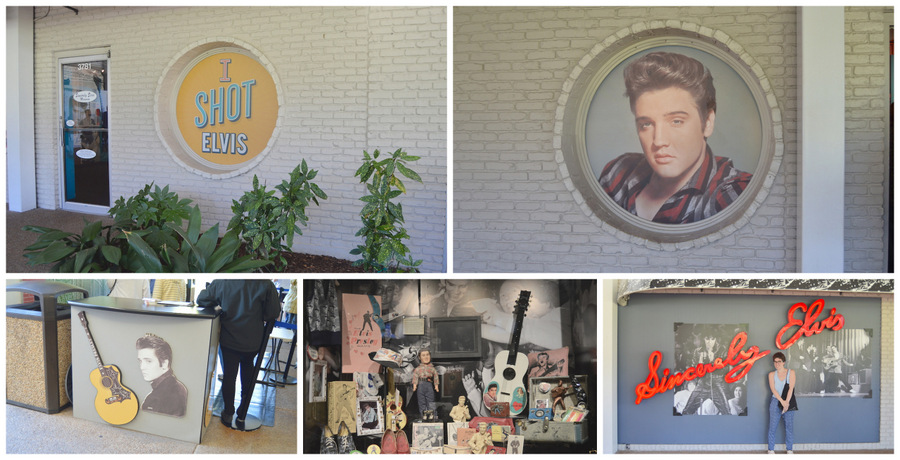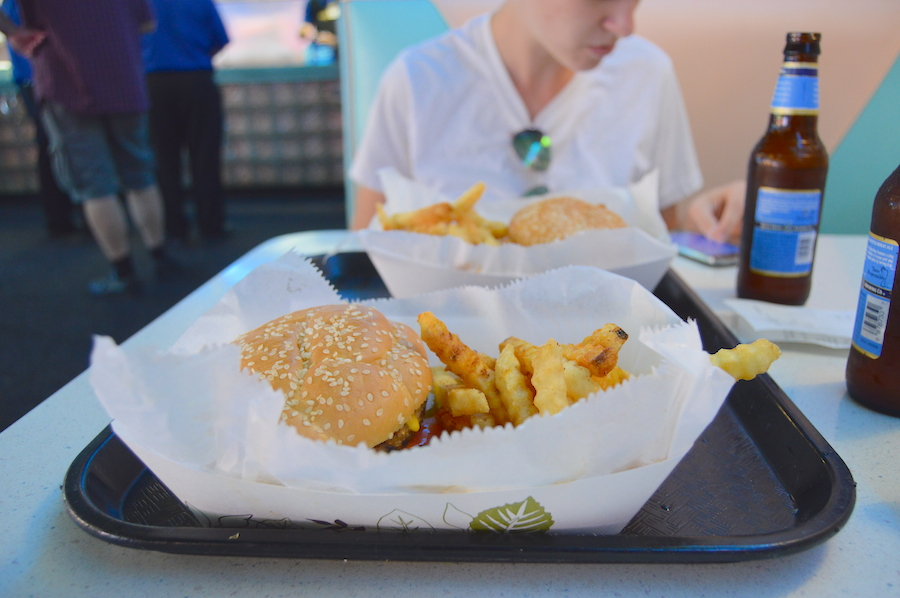 Graceland was everything I had wanted from "the South" all wrapped up into one afternoon. It was gorgeous and spacious and flamboyant and fun. It was decadent and indulgent and over-the-top in all of the best ways possible. And just when I'd forgotten I was looking for signs, one fell into my hand that seemed to scream "you were supposed to make it this far" — my #WildChildWest keychain, which I can only assume Rory Midhani drew himself.
When I left for DC from New Jersey, my mom made me promise that if I wanted to turn around — at any point, in any situation — and come home, I would. That I would not hesitate or feel embarrassed or feel stupid or wait out something awful for the sake of persevering. And this is something I packed up with me, something I wrapped up in my suitcase and jotted down in my brain to think about when it got hard, right between one mantra and another. But there was something about the jaunt to Tennessee — about the endless nature, about the cool breeze, about the slow pace, about the peaceful cities — that quelled the need to contemplate turning around.
Instead, with my keys hanging from a reminder of where I came from and where I'm going, we packed up and left Memphis to go further west. And instead of trying to figure out whether or not I wanted to go home or go forward, I just focused on what we were going to discover next.
---
Wild Child West is a mini-series about this thing I'm doing with my life wherein I quit my job so I could pursue my dreams and fulfill my intentions as written in my copy of The Desire Map in Los Angeles. Alongside road trip diaries and all of my feelings here on Autostraddle, I'm also posting live from the road using the hashtag #WildChildWest on Instagram and Twitter, so.