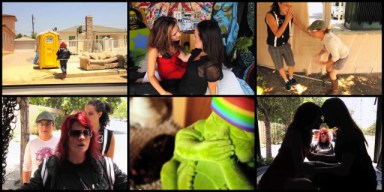 It's the very first day of the month and you know what that means? RENT IS DUE! Unless you own a house or apartment or live in a teepee, in which case today is nothing but joy for you because it is the day Unicorn Plan-It comes out! In case you missed it, you should know that these weirdos were named one of GO! Magazine's Red Hot Entrepreneurs of the Year and that actress Haviland Stillwell is winning a POWER UP Award this year which is a big big big big GIGANTIC deal. Basically what we're witnessing here is the birth of an empire.
UNICORN PLAN-IT is a tight little comedy best described as Modern Family meets Kell on Earth meets "a bunch of hot lesbians in West Hollywood." Has anyone made a show about that last one?
Three co-workers, one crazy boss and one enlightened fairy-tale-haired spiritual healer face the slings and arrows of everyday life as event planners and ladykillers and homosexuals.
"We refer to everyone as Unicorns, because gay people love them, because they are magical and lovely, and also, they are really just lesbian horses. Obvs. Holler. UNICORN PLAN-IT…Get horny."
This show is written, directed, produced and edited by Real Lesbian Females who want to make you laugh, make you proud of who you are and generally make your life better in every way. Who are these real lesbian females? Haviland Stillwell (TV/Broadway actress, recording artist, vlogstar, voice of Yasmin in THE BRATZ!), Sarah Croce (Actress, Miss April, Girl Talk, Fake-Whitney) and Ashley Reed (writer, upcoming film HART'S LOCATION, once recorded a song for you). This episode also features comedian Sherri D. Sutton and actors Catherine Wadkins and Amir Levi.
If you live under the sea or were sitting outside trying to die of heat stroke last month, go catch up with the first three episodes, then whip up a nice salad or a bowl of Doritos, take your socks off and cozy up to your laptop for 10 minutes and 41 seconds of joy.