Today NSFW Sunday is all about you. Sex-positivity, body positivity and all of that hippie shit.
+ I'll Show You Mine: The (relatively) new book I'll Show You Mine, according to the editor Wrenna Robertson, was "conceived as a reaction to the increased anxiety [she has] witnessed in women regarding their genitalia, coupled with the widespread increase in surgical procedures such as labiaplasty." It's a photography book — each 2-page spread features two vagina pictures and the story of the woman who goes with that vagina. (For example, here's Cynthia and her vagina (very NSFW)). Although queer women generally have seen many more up-close vaginas than your average straight women, it's still somewhat shocking to realize, while looking through this book, that you've truly never seen anything like this before. Not ever. You've never seen so many actual vaginas of normal women in a book or any printed matter ever before. All kinds, obviously. Shaved, pierced, bare, transgender, old, young, all shapes/sizes/colors. It's kinda magical and compelling. You should get it.
+ Betty Dodson did some illustrated vulva action for her book Sex For One, which you can see reprinted on Scarleteen.
+ Sex + The Fat Girl: Subjectivity and Self Image: "Using perceived attractiveness (to a partner or potential partner) as a means to maintain your positive self-image is cheating on doing the work necessary to promote self-love."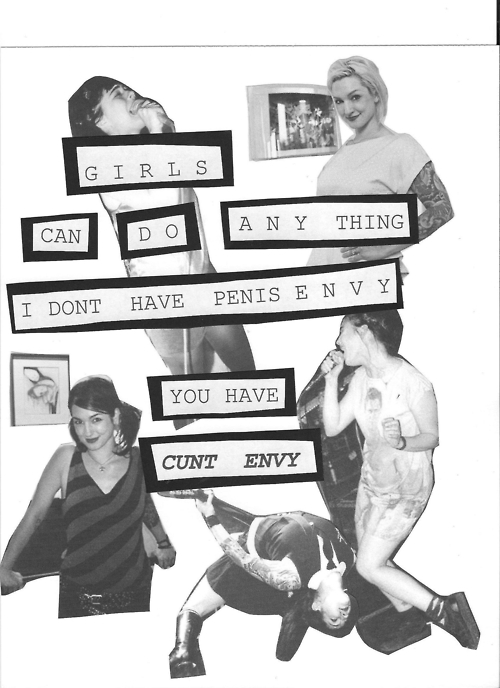 + Lingerie: Awesome or Awkward? "I've tried teddies, fishnets, thongs, push-up bras, camisoles, bustiers and garters, but when it comes right down to it, I love wearing cotton underwear and cotton pajamas. Which are not sexy, I guess, in the traditional sense. But at least I don't feel like a leg of lamb trussed for the oven. Strappy doodads and crotchless panties look painful, and I feel sexy when I'm comfortable."
Pubic Hair. Sorted: "Don't let anyone tell you you're not feminine enough, or sexy enough if you choose to keep your bush. And don't let anyone tell you you're not radical enough, or queer enough if you choose to make it bare."
We've linked to this before but will link to it again: The Normal Breasts Gallery.

Tortilleras Unidas! The Radical Feminist Queer Sex Positive Potential of Reggaeton: "I love this video and it really nails all the radical feminist queer sex positive potential I see in reggaeton music and culture. Because so much of the discourse about reggaeton focuses on how it oppresses women, we often miss how women are engaging with and transforming the genre into a vehicle to address the complexities of sexuality and desire. "
Gender + Body Acceptance: "I'm twenty-four now, and the other day, I looked at my stomach and realized that it's looked the same nearly all of my life. So I asked myself- what exactly is the point of not accepting this?"
Sex Positive Photo Project: "Shilo McCabe is a sex positive feminist photographer documenting the diverse, awesome and inspiring people who are a part of the sex positive community of the San Francisco Bay Area. This project is an ongoing and inclusive exploration of the sex positive movement and culture."
Waking Vixen/Audacia Ray's Speech from SlutWalk: "Like many people who lay claim to the word feminist, I am a white cisgender woman. I am also a sexual assault survivor, and I am a former sex worker, and so I want to complicate a few things for you."
Beauty, Virtue and Vice: "Most of the prints in the exhibit "Beauty, Virtue and Vice: Images of Women in Nineteenth-Century American Prints" were designed simply to please the eye, but they are also useful to historians who would like to understand how nineteenth-century Americans thought about the world in which they lived."
Disclaimer: All of the photographs on NSFW Sundays are taken from various tumblrs and do not belong to us. All are linked and credited to the best of our abilities in hopes of attracting more traffic to the tumblrs and photographers who have blessed us with this imagery. The inclusion of a photograph here should not be interpreted as an assertion of the model's gender identity or sexual orientation. If there is a photo included here that belongs to you and you want it removed, please email our tech director at cee [at] autostraddle dot com and it will be removed promptly, no questions asked.