We're celebrating Autostraddle's Fifth Birthday all month long by publishing a bunch of Top Fives. This is one of them!
---
5. Pig Snout
I just did some research and read that pork is the most popular meat in Japan; in fact, pig products are consumed nearly as much as chicken and beef combined.  Maybe this is a good explanation for why there are three pig-related emoji, one full-body pig, one pig face, and one pig snout.  There is some other animal-related emoji overlap – two sheep, for example, three different cows, three dogs, two mice and a rat, but none are as random and unnecessary as the pig snout.  No other animal (besides the human being) has a specifically dedicated emoji for a singular body part quite like this, and I cannot fathom why it exists in the first place.  When's the last time you had a conversation about a pig snout?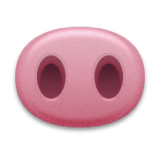 ---
4. Tears Of Joy 
At least that's what Emojipedia says this is.  To me, it's always read as "stabbing myself in the eyes with shards of glass," which come to think of it is a pretty useful emoji.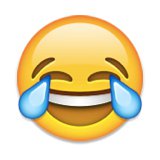 ---
3. Meat On A Bone
The amount of time spent wondering exactly what part of a mystery animal this orange band of meat could possibly even be connected to renders this emoji just unfortunate and gross, sorry.
---
2. Sweet Potato
The only reason I know this is a sweet potato is because I looked it up.  First of all, how often do you talk about sweet potatoes?  Like, just half of one?  Let's take a really realistic look at all the other foods we talk about that could replace it – an avocado maybe, or a hunk of cheese, or a goddamn taco.  Secondly, this thing doesn't even really look like a sweet potato.  I used to describe it as the "tamarind-looking thing," or it could be a nut, but it definitely doesn't look appetizing and it does not belong here.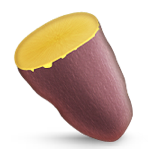 ---
1. Oni
Apparently this dude is some kind of yōkai in Japanese folklore, but I'm having a really hard time working him into casual conversation.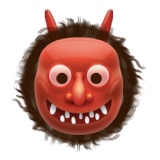 ---
If you enjoy this, don't miss the companion piece, Top Five Best Emoji Ever.
Header Image by Rory Midhani