Last June, after months of debate and stalemates,
the City Council in Pocatello, Idaho voted
4-2 to pass an LGBT Non-Discrimination Ordinance, making it the sixth city in the state to do so in the last four years. Things were looking up for Pocatellans, who live in a state where there is no legal protection from being fired or denied housing because a person is gay or transgender. However, a group in Pocatello claiming that they would lose their religious freedom to discriminate and that they want protection from "men" going into women's bathrooms and locker rooms started a petition and has successfully gathered enough signatures to put the Non-Discrimination Ordinance up for a public vote this upcoming May.
In response to the ballot proposition, a group of Pocatello residents has formed a campaign called Fair Pocatello. The goal of this campaign is to make sure that LGBTQ Pocatellans continue to be protected by the ordinance. They are challenging this ballot initiative, called Proposition One, not only to ensure that the ordinance remains and that the protections stay in place, but to set a precedent for similar ordinances in other areas. Jonny Carkin, the group's Campaign Manager, says that "protecting this ordinance has implications beyond Pocatello and beyond Idaho. Many municipalities across the nation have implemented similar protections and, as one can imagine, not everyone is happy about them. If Prop One passes, it could very likely send a message to other groups in other places that this is a viable strategy for rolling back the tide on these basic protections against discrimination."
The group behind the petition for repeal 
released a statement
outlining just how far out of left field their reasons for wanting to repeal the ordinance are.
The referendum to overturn the Nondiscrimination Ordinance has always been about protecting ALL Pocatello citizens from discriminatory, oppressive law.  Pocatello's so-called "non-discrimination ordinance" legalizes and promotes discrimination and bigotry against Pocatello citizens who just want to work hard, earn a decent living and raise their families.  Should your friends and neighbors in Pocatello be forced to choose between living free or making a living?

It is UNFAIR; these laws are being used across America to force private citizens to participate and/or facilitate same-sex wedding and/or commitment ceremonies and celebrations in contradiction to their beliefs when an abundance of other businesses are readily available.

It is UNFAIR; Pocatello business owners who regularly service the LGBT population without exception could face jail time and/or fines for abiding by their convictions in limited situations in which their business overlaps into the marriage industry.

It is UNFAIR; that the privacy rights of our girls and women are put into jeopardy to be abused by criminals who will exploit the law.

It is UNFAIR; that people of varying faith backgrounds are being targeted by extreme activists who are using these laws, not to protect our LGBT community, but to legalize discrimination and bigotry against people of faith who disagree with their views…

It is DISHONEST that the proponents of these laws don't readily admit it is their intention to not only overturn Idaho's marriage amendment, but to also enact state level protections, so that they may codify their view of morality and incorporate it into our public schools…

Pocatello MUST REPEAL the ordinance to protect our community from the hatred, bigotry and discrimination of the extremists who want to ridicule, stigmatize and criminalize people of traditional beliefs.
As you can see, this group is positioning itself as the victim. They are not only claiming that their right to discriminate will be infringed upon, but they are also making several other unfounded claims about rights and safety being taken away. Carkin explained, "defeating Prop One won't be an easy task. We are expecting our opposition to spend a lot of money to spread misinformation in the community. Our challenge is to dispel those arguments that vilify the LGBTQ community and let the voters of Pocatello know everyone deserves to be treated with respect and dignity and that the city's non-discrimination ordinance serves that end." By using scare tactics, with little or no real information or evidence to back up their claims, this group is hoping to rally a large number of people who wouldn't normally vote in a local May election.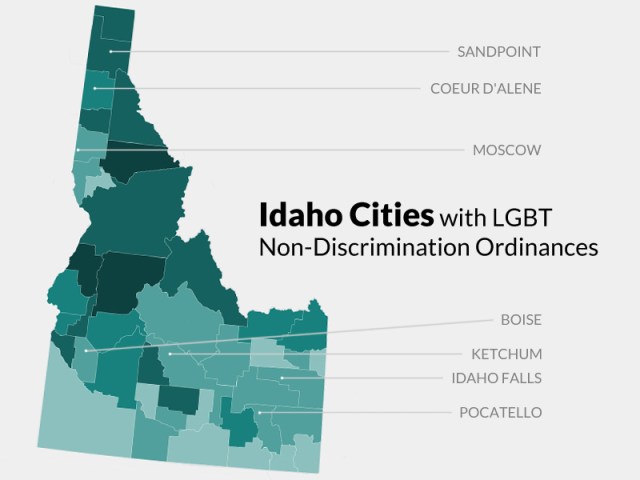 Perhaps their most insidious claim is that "criminals" will exploit the law so that they can pretend to be transgender and use women's restrooms and locker rooms. Not only is this claim (and the other claims made by the group) completely unfounded, it is also extremely harmful to trans women. When experts in states who already have similar laws 
were asked about the idea
that men would use transgender protections to infiltrate women's spaces, they said everything from "we have not seen that," to "I personally have not seen any factual basis for it," to "there have been no incidents of men dressing up as women to commit crimes in female bathrooms and using the city ordinance as a defense." This group is purposefully creating a picture of trans women as dangerous men who are just pretending to be women in order to assault "real" women. Not only is misgendering trans women like this harmful, but by perpetuating the myth of the "predatory trans woman," they are contributing to the countless acts of violence and murder against trans women.
Fair Pocatello isn't going to to just sit back and allow the ordinance to be repealed without a fight. Carkin said, "We are confident that if we can speak with enough voters and let them know that this law is about fairness and opportunity and that no one deserves to be treated as a second class citizen for who they are or who they love, we can defeat Prop One and keep Pocatello a place where all people are treated fairly." They're goal is to show that the ordinance is protecting the rights of Pocatellans and that it will help make the community stronger.
James Ruchti
,
one of Fair Pocatello's Co-Chairs explained
, "I think what it does is it goes to the inner core of what it means to be part of a community. We need one another and that we're all in this together… I feel like this is a fantastic opportunity for Pocatello to show that we really meant it when we said that discrimination stops at the City's doors."
Another group, in the capital city of Boise, has also banded together to fight for the rights of LGBTQ people. This group, with its campaign Add The Words, is protesting in the capital in order to amend the Idaho Human Rights Act to include protections for gender identity and sexual orientation. One of the leaders of the protests is Nicole LeFavour, a former Idaho State Senator and the first openly gay lawmaker in the state. She also made headlines last week when she was arrested and banned from the Senate floor after she was found hiding in a closet in the Statehouse. When asked why she was hiding in the closet, LeFavour said that "Closets are never safe for gay or transgender people. It's a very large closet. There are lots of people in closets out there, and they're not comfortable." LeFavour and others have been calling for the words "gender identity" and "sexual orientation" to be added to the Human Rights Act for years, but it's never even had a full committee hearing. This was the sixth time LeFavour has been arrested for protesting in the Capitol.
The Add the Words campaign has been protesting in the halls of the capitol building by standing with their hands over their mouths to represent how they are being silenced by the lawmakers. So far this season, around 100 protesters have been arrested. Jess McCafferty, one of the protesters described the protests as being "somber — it was hard to watch people stand in front of doors that others were trying to get through. People were yelling whenever they were touched, so a crowd of people otherwise silent would start yelling — it was a very jarring experience." She said that "the goal was to show the legislators that they weren't going away — the problems weren't going away, the people who identify as gay and transgender weren't going away, the plea to be heard would not go away."
Idaho has long been a solidly Red state, and these movements calling for equal protection of LGBTQ people could bring a welcome change. Although seven cities across the state have passed non-discrimination ordinances in the past few years, the fact that the issue is being flat out ignored at a state level and that there is a movement to get rid of the protections at a city level is very troubling. Idaho currently has no protection for LGBTQ people in it's hate crime laws and no statewide protection from being fired or denied housing based on gender identity or sexual orientation, so if the Human Rights Act isn't amended and the city non-discrimination ordinance is repealed, the well-being and safety of LGBTQ people in the state would be put at risk. Thankfully, citizens have risen up and decided that they are going to fight for the rights of LGBT Idahoans. These campaigns may be fighting an uphill battle, but they are tenacious and hard working. If you want to get involved in the fight to help secure protections of LGBT Idahoans, Add the Words protests are still going on in Boise and across the state, and the Fair Pocatello campaign is currently looking for volunteers and open for donations.